Introduction & What to Expect from This Book
If you've ever searched Google for how to get a fashion design job, you were probably pretty disappointed with the results.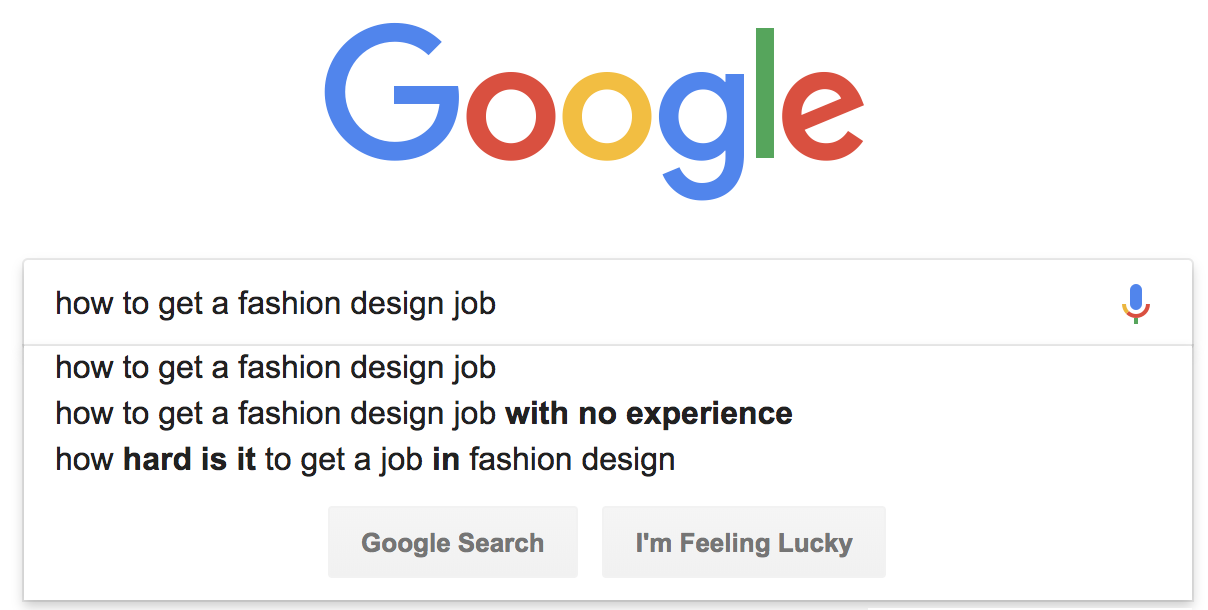 Beyond the actual job listings that populate a lot of the results, the "advice" out there is pretty sad.
Why? Because they're dinky 800-1000 word blog posts that share fluffy and obvious fashion job hunting tips like:
"Get an internship!"
"Create an amazing portfolio!"
"Network!"
I mean seriously, this is the SECOND result that comes up:

"SWEET!" you might think at first, an Ultimate Guide! So you expect something beefy. Something with good substance. Something that's really ultimate!
But it's just another clickbait link. In reality, this 1,100 word "ultimate guide" (insert eyeroll) is your average dinky blog post with 4 bits of advice:
Be a team player
Keep moving forward
Design for the brand
Hustle, Hustle, Hustle!
To be fair, numbers 1 and 3 are not bad. In fact, we'll dig into those strategies in this book too. But numbers 2 and 4 are pretty much the same. And while inspiration is great, most of us already know we need to keep going and not give up!
But the biggest problem with most of this advice, including the "ultimate guide" above from Google?
It's generic. It glosses over the obvious. And it doesn't offer any specific examples of how to actually implement it.
Which makes it really hard to apply to your unique situation.
This book is the exact opposite.
Here you'll find real life stories and advice from regular everyday people just like YOU who've made fashion pay the bills.
You'll meet successful fashion professionals from around the world at every stage of their career, from recents grads to design directors. I promise, you'll see a little bit of yourself in them.
Unlike most fashionistas out there who are competitive and secretive, these fashion professionals (myself included) have pulled back the curtain and spilled ALL the beans.
Get ready to meet some of the most kickass fashion designers out there who are sharing their best advice to help you kickass too.
WHAT TO EXPECT FROM THIS BOOK
First off, I want to be very clear about what you should (and shouldn't) expect from this book.
The Ultimate Guide to Getting Your Dream Fashion Design Job is packed full of real life, actionable and strategic advice. It's all the knowledge I've gained from working as a designer and 6-figure freelancer for over a decade, as well as the insights I've learned from interviewing over 75+ professionals on my Successful Fashion Designer podcast.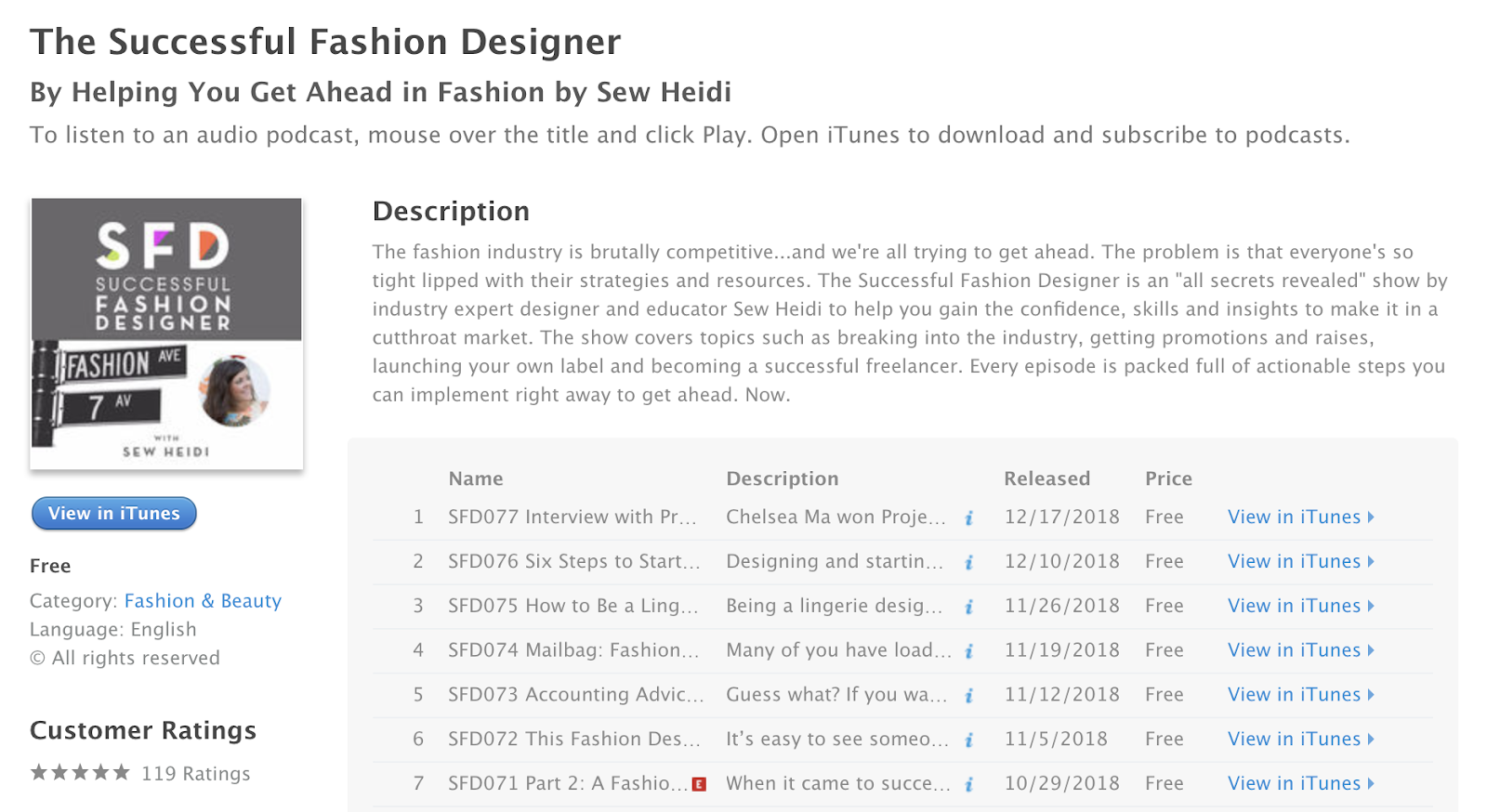 But you want to know the best part about all those insights? All the guests on my podcast are mothers, students, sons, and regular everyday people (just like YOU!) who've made fashion pay the bills.
Their stories are RELATABLE. They are filled with ideas and advice that ANYONE can do. And the best of their tips and insights have been handpicked and delivered to you with a bow right here in this book (plus other advice I've learned along the way!).
One of the reasons this is so exciting is because most of the other content out there – the other interviews or books – are written by, or about, FAMOUS designers. And nothing wrong with that – their stories are inspiring and fun to hear.
But sometimes it's REALLY hard to take what they did and apply it to OUR lives. We are just normal, regular people (mothers, students, sons, etc) trying to make a living in fashion. So who better to learn from than other normal, regular people who made fashion pay the bills!
Sound good? Good. Here are a few other quick things before we get started…
Why I Wrote This Book
The inspiration for the Ultimate Guide to Getting Your Dream Fashion Design Job came after I started making my Fashion Industry Secrets Revealed videos. What started out as a mini collection of a few videos turned into two full seasons of FISR.
After filming season 2, I realized that packaged up together and tied with a bow? We had something that would come together beautifully into a book about finding your dream fashion design job.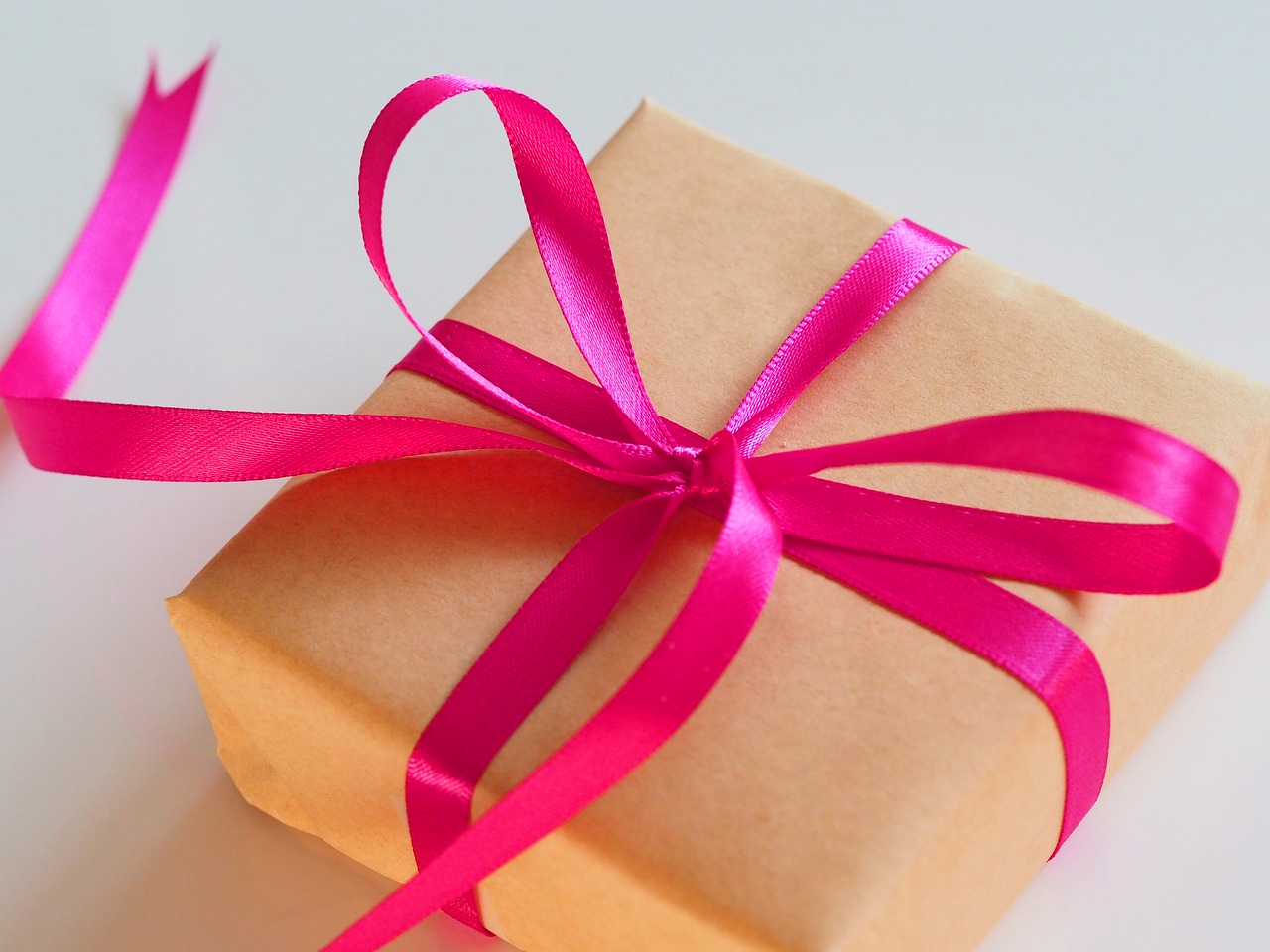 So, I've compiled all of that info for you here, filled in some gaps, and linked through to additional content and resources to help you find EXACTLY what you need. I've also linked to the videos if you prefer to watch, but you can gain the same insights by just reading too!
---
---
How to Get the Most Out of This Book
There is SO much to cover that I couldn't fit it all into this book. We go through tons of specific strategies step by step that you can use to land your dream fashion job, but sometimes I'll point you to additional resources if you want to learn more.
Don't be overwhelmed by this, you don't have to check all of that stuff out. But in the case that you DO want to dig in deeper, I wanted to point you in the right direction.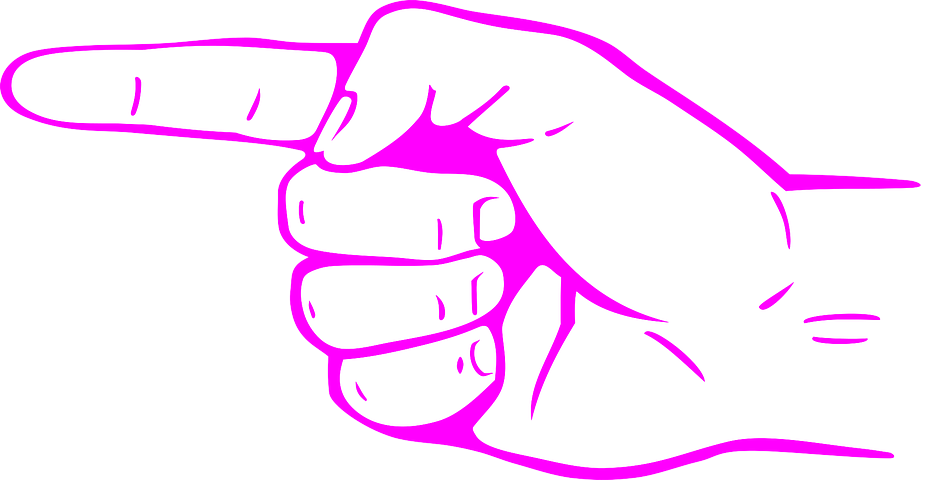 You'll also notice that some chapters are specific based on where you're at in your career (total beginner vs experienced). I've organized the content in a way that you can hop around and read what you like. There's no requirement to every single word in order, or to even read every single word at all!
On that note…you may notice a bit of duplicate content. Why? Because of how the book is designed (for you to pick and choose what you read) there were stories and advice that were relevant in multiple chapters. Feel free to skip those parts, or read them again (because hey, sometimes we need to hear things a few time before they sink in)!
Now, if it were me? I'd actually recommend at least SKIMMING everything, even if you don't think it's for you.
Why? Because one of my mentors – Ramit Sethi – once said something like this (I paraphrase):
"If you get just ONE valuable piece of advice from a book, it was worth the time and investment."
And sometimes, you just don't know where you'll find that ONE piece of advice that could CHANGE the entire trajectory of your career. It's happened to me with books (or with chapters) I didn't think would be super valuable. And then, there TUCKED away in a section you didn't think was for you, you find the absolute best gold nugget piece of advice that changes your life. No joke.
So my best advice? SKIM it all, and then dig in deep where you want more.
You got this and I can't wait to hear about how much ass you kick. Email me anytime, dreamjob@sewheidi.com, to tell me your story. I love hearing from you and I read every email.

TABLE OF CONTENTS: HERE'S EXACTLY WHAT WE'LL COVER
Are you SURE that's what you really want to do?
A day in the life: what's it really like being a designer?
Expectations vs reality of working in fashion.
The 3-step fashion design process and your job role        
SEVEN AWESOME FASHION JOBS YOU NEVER KNEW EXISTED
Because being a fashion designer isn't your only option!
#1: CAD Designer
#2: Technical Designer / Garment Technician
#3: Product Developer
#4: Merchandiser (different than a visual merchandiser!)
#5: Visual Merchandiser (sometimes called a stylist)
#6: Sourcing Specialist
#7: Customs Compliance Coordinator        
HOW TO GET A FASHION DESIGN JOB
2 Essential Skills You Won't Learn in Fashion School
How to prepare yourself for a real life fashion design job
Where to learn these essential skills (for FREE!)         
HOW TO FIND YOUR FIRST FASHION DESIGN JOB AFTER COLLEGE
Even If You Have No Experience!
#1: Show Commercially Driven Designs in Your Portfolio
#2: Send Customized Resumes and Cover Letters
#3: Do Something to Stand Out From the Competition
BONUS STRATEGY: How to Make Non-Fashion Experience Relevant in Your Application
BONUS STRATEGY: How to Turn Your Fashion Design Internship Into a Full Time Job
ONE LAST BONUS STRATEGY(!): If You're Absolutely Stuck and Can't Land Your First Fashion Design Job        
HOW TO LAND A FASHION DESIGN JOB IF YOU'RE 35+
Have experience but in between jobs? Take time off for a family? This chapter is for YOU!
How to Present Yourself as a Modern Candidate
How to Show You're a Good Investment
How to Not Undersell Yourself
How to Put a Positive Spin on Everything
How to Show You're up to Date and on Trend in Your Category
How to Put Yourself Out There and "Network"
8 MORE STRATEGIES TO LAND YOUR DREAM FASHION DESIGN JOB
That anyone can use, no matter your skill level or where you live
#1: How to Remind People You're "around" Without Being a Pest
#2: The Simple Strategy to Be the Kind of Fashion Designer Brands Want to Hire for Every Job
#3: Why "having Conversations" Will Lead to More Fashion Design Opportunities Than "Networking"
#4: How to Make Sure Brands Think of You for Every New Fashion Job Opportunity
#5: How to Find Fashion Design Work in Your Local Community (No Matter Where You Live)
#6: The Two Magic Words That Can Make or Break Your Fashion Industry Career
#7: How to Stand Out from 99% of the Fashion Competition to Make Sure You Get the Job
#8: The Easy Way to Maintain Your Fashion Industry "Network" and Have Fun Doing It
YOUR FASHION PORTFOLIO CAN MAKE OR BREAK YOUR SUCCESS
5 deadly portfolio mistakes that will cost you the job (and what to do instead)
#1: Including Designs from Multiple Categories
#2: Including Fashion Illustrations
#3: Showing "Conceptual" Collections
#4: Showing Hand Sewn Designs
#5: Showing Way Too Much – or Not Enough – Inspiration
What's next?