---
---
INTRO: WHY READ THIS GUIDE (AND WHY I CREATED IT FOR YOU)
You know that making it as a freelance fashion designer is hard in this industry.
As in really, really hard. But what if I told you there were strategies to:
figuring out your pay rate and wages
finding (and reaching out to) new clients
and presenting your portfolio
…that were simple to follow?
That's exactly what you'll find in this step by step guide.
If you want to:
find and get hired for your next freelance job
discover what your salary could be
confused about contracts? I gotchu 😉
and know what to include in your design portfolio
…this guide is for you.
It's over 20k+ words and it's absolutely free.
So, why did I write this guide for you (and why am I giving it away for free)?
Because I know firsthand how hard it is to make it as a full-time freelance / contract fashion designer.
Because I know what it takes to negotiate remote work that you can do from home and still earn a fair, living wage.
Because I know what it's like to work with clients who have no education and expect things that are unreasonable.
And I know what it feels like to deal with people who say ridiculous things like:
"Can you do my tech pack for $15? I don't think it should take that much time?!"
Because absurd expectations like this make you laugh hysterically.
And they also make you cry a little.
Because you start to think that this "freelance fashion designer" thing is never going to work out.
But maybe you're just not talking to the right brands? "I just need to work with more established brands who have money and know what it takes to do a tech pack. They know it's not a $15 job".
The problem with that? It seems like they only ever want you to work on-site.
And that's a job you're not doing. Because what's the point of being freelance…on-site?
It defeats the point of the whole work-life balance thing people tell you comes with being a freelancer.
The last few years, you've gotten a few random freelance gigs.
You're an accidental freelancer!
You've done everything from fashion illustration, hangtag design, and even some tech pack projects.
They've all come from people you know or a friend of a friend.
So you convince yourself, "I just have to network more. I need to put myself out there. Get out and talk to people".
Oh, and of course, start your website.
Because your friend told you that's what you should do.
So you did just that. You started your website.
But it's still a work in progress. It's up there, but nobody really knows it's there.
Maybe if you update it, add some more work and get the SEO up so people can find you, that would help.
Because you're convinced if you can just get the right people to see your website and portfolio, you can get a meeting or call.
And if you get a meeting or call, you can get a project.
Right?
WRONG.
I know because that's exactly what I thought.
"It's really important to have an industry accepted website – something to direct some traffic to. Once that's ready, I can get some projects."
You become so obsessed with your portfolio that it takes over your whole life. Of course, that allows you to inflate it into something more daunting.
So you spend hours in Illustrator working on a logo and branding. You order some fancy new business cards from VistaPrint or Moo.
And the day they arrive on your stoop, you think, "today is the day".
"I can finally get out there and network. Pass out my shiny new cards and get my freelance career off the ground."
It's been months – maybe even a year – you've been getting all this together.
And you're giddy with excitement to start passing out your cards and getting work.
There's an industry mixer tomorrow in the Garment District right around the corner from your office.
Perfect. You register on EventBrite.
The bar is dark and you go straight for a drink. A vodka tonic – you need to loosen up.
Your left hand holds your cocktail and your right hand's in your coat pocket.
You can feel the rounded corners and metallic foil on your new business cards. And you're glad you splurged on these details.
After all, in fashion, details matter.
People will be impressed with these cards!
They'll go to your website!
They'll call you for a freelance project!
This is going to WORK!
You approach a group of 3 women who are clearly here for the mixer.
"Hi, I'm Kim," you say with a big smile. "I work as a women's knitwear designer, and I just started my freelance business. Nice to meet you!"
You're still figuring out your pitch and it's not bad, but you know you need to sex it up a little.
They introduce themselves and you all shake hands.
And your stomach drops a little when you realize you have met 3 other people looking for work:
A women's activewear freelancer.
A recently laid off lingerie designer who needs a job.
And a menswear designer exploring new opportunities.
It must be coincidence that all the job hunters have congregated.
You escape the conversation and talk to a few more people.
But you keep discovering the same thing:
Everyone here is looking for work.
It hits you like a semi-truck.
"I'm networking in a room full of people who are also networking."
You give out a few more cards because hey, you never know.
One woman was a knitwear designer at Ann Taylor and it sounded promising that they may need some freelance help.
But you don't keep your hopes high.
It's 22 blocks to your apartment, but you decide to walk in the cold anyway. Your $27 bar tab makes you think twice about dropping another $10 on Uber.
A few weeks pass and you still feel defeated.
You drag yourself out to a couple more events, but it's the same thing over and over again.
All of these networking things are just full of other people looking for work.
And you feel like giving up on this whole freelancing thing.
Because freelancing is hard. And freelancing in fashion is really hard.
But it is possible.
And that's exactly why I created the Ultimate Guide to Being a Freelance Fashion Designer.
To show you, step by step, exactly how to get more freelance work and earn more money.
We have a lot to cover.
You'll learn what it means to be a freelancer in fashion.
You'll gain confidence to market and present yourself and your portfolio.
You'll discover how to price your services.
You'll understand what you do (and don't) need for proposals and contracts.
You'll figure out how to find clients and reach out to them.
And you'll land your first (or second or third!) paying client.
---
Before we get started, there are few other things I should share about my experience.
For 10+ years, I earned a full time living ($100k+) doing freelance and contract work in the fashion industry.
But in year one as a freelancer, I didn't make any money.
Not. A. Single. Penny. (Whew, it feels good to get that ugly fact out of the way early on.)
Just like you, I thought it was as easy as going to some networking events and asking friends of friends for work.
But it wasn't.
In 2009 I left the comfort of a full time job and regular paycheck to start my new career.
It was one of the scariest decisions of my life, and during year one, I couldn't help but think:
"Did I just make the worst decision of my life?"
I kept feeling like my big break was right around the corner, but weeks and months seemed to slip through my fingers like quicksand.
I felt "busy", but somehow I didn't make any real progress.
I applied for random gigs on Craigslist and asked everyone I knew if they had any work.
I knew I had to get out there and network, but I wasn't sure where to start.
I had a website, but it wasn't getting any traffic.
Somehow, things started to fall into place during my second year as a freelancer.
One by one, industry contacts had projects they needed help with.
I was finally getting to design again and it felt good. I didn't realize how much not designing had affected my creative self esteem.
And on top of that, I was generating some income.
Income I didn't feel guilty spending.
From there, things seemed to grow magically.
Bigger clients. Bigger projects. Consistent work.
Projects seemed to "luckily" fall into my lap.
In my second year of freelancing, I earned $35k – more than my previous $22k salary as an inhouse designer.
Then, I tripled that and passed 6-figures.

I even got to travel overseas to China and Vietnam with some of my clients.
Industry friends would tell me, "you're so lucky!"
And for a long time, I thought it was just luck too.
But when I stepped back and really looked at how it all happened, I had a huge realization.
Yeah, like with anything, there was some luck involved.
But there were freelancing strategies.
Some of them, I unknowingly used.
Some of them, I should have used to get started much faster…especially during year one when I was totally broke.
And I'm sharing tons of it here in the Ultimate Guide to Being a Freelance Fashion Designer for you.
Because I want to help you on your journey to being a freelancer.
Because I want to make sure you earn more than a few pennies in your first year.
Because I don't want you to just throw shit at the wall and see what sticks.
I want you to know what sticks.
So you can kick MAJOR ASS.
Listen, this guide is long (20,000+ words).
It's in depth (which is why I broke it into 4 parts).
It requires that you take action (like anything in life) if you actually want results.
If that's not for you, no hard feelings. Close the page right now and have a great day.
But if you're willing to get out of your comfort zone and take action, this guide is for you.
If you want to land your first – or second or third – client, this guide is for you.
If you want to earn your first few hundred – or hot damn, even your first few thousand – this guide is for your.
If you've randomly gotten some freelance gigs and you're ready to put yourself out there and get more work, this guide is for you.
So grab a coffee, glass of wine (that'd be me), or whiskey, find a comfy seat, and let's do this.
---
WHAT'S INCLUDED IN THIS GUIDE?
Here is a table of contents of everything that's included in this 20,000+ word guide. You can either go through it all (which I highly recommend) or you can skip to the part that's most interesting to you if you're short on time.
Here's what you'll learn from this guide:
---
---
---
PART 1: WHAT DOES FREELANCING IN FASHION REALLY MEAN…AND IS IT RIGHT FOR YOU?
Freelancing in fashion is tricky because, let's be honest, our industry is whacky.
So before we dive into strategies, tactics and step by step instructions, we're going to go through this other stuff first.
Like what freelancing in fashion is – and what it isn't.
Because it's not all rainbows and roses.
Part 1 will help you decide if it's the right path for you.
And then we'll go through step by step how to start with well thought out plan instead of floundering in frustration for years.
---
Chapter 1.1: Why do you even want to be a freelance fashion designer?
A work-life balance sounds pretty nice.
Imagine, you wake up at 8:37, no alarm.
You spend a few minutes catching up on Instagram, and like always, you give in and let your dog in bed for some morning snuggles.
You checked your calendar the night before and don't have any client meetings. So, you throw on leggings and an oversized Zara sweater.
You skip makeup all together, something you can't believe is becoming the norm.
The weather's nice, and you decide to spend the morning at the park with your kids. You can make it up by working later tonight if you have to.
And you don't mind working late because you're actually excited about the work! You're juggling 3 clients right now, but the work is stimulating and varied.
It feels good to be so busy.
Flats and specs for a technical project.
Color and trend inspiration for a design project.
And vendor research for a fabric sourcing project.
The freedom is priceless, and you're relieved not to have someone dictating your every move.
For too many years, you were forced to sit in a chair until 6pm and be there no matter if you had work to do or not.
That *bitch* of a boss was constantly breathing down your neck every minute.
It felt awful.
---
By now, you're probably thinking:
"Woah, Heidi, all that sounds great!
I hear about people freelancing full time in fashion – sometimes.
But me? I just haven't quite connected with the right thing yet. I've applied for a couple opportunities that I felt were the right fit, but I haven't gotten them.
Maybe there's just time in getting that right one.
I'm not sure freelancing is for me."
Listen, it may not be. It takes hard work. It won't happen overnight. And it can be a really tough road.
I've had really hard months, and I've had really great months. I've had to learn to manage my finances, my time and face difficult client situations.
But I wouldn't trade it for the world.
Because the benefits are priceless.
---
Chapter 1.2: Is freelancing in fashion really right for you?
As a freelancer in the fashion industry, you have to wear a lot of hats.
You're a creative.
You're a salesperson.
You're an accountant.
You're a business owner.
You have to manage your time and yourself.
This isn't for everyone.
It takes self discipline, and it's easy to get distracted. Days turn into weeks into months and all of a sudden, you're not sure what you did with yourself.
It can hurt your self esteem.
This has happened to me. And it sucks.
You have to put yourself out there and face fear + rejection.
A lot of brands will say no, tell you now isn't a good time, or kindly dance around the fact that they simply don't like your portfolio and design aesthetic.
It can sting.
This has happened to me. And it sucks.
Now, I don't want to scare you. But I don't want to sugar coat anything either.
If you're feeling intimidated, that's ok. It's normal.
And maybe I told you all that scary stuff way too early.
Sorry.
Let's back up a little.
Instead of diving in headfirst and getting your head spinning with managing time, finances and all the complicated stuff that comes with freelancing full time, let's take this one step at a time.
We'll start with freelancing on the side to earn some extra cash.
This is where I suggest you begin.
And by that, I mean:
"Don't quit your day job. Yet."
If you want to freelance full time, you can get there too.
Maybe you're almost there and just need one more client or one more thing to work on.
This guide will help you find that one more thing.
Maybe you're trying to get your first, second or third client and start getting a better rate.
This guide will help you find that next client at a rate you feel good about.
But first, I want to be 100% transparent about a huge misconception some of you may have about "freelancing" in fashion.
It's not your fault – the industry has done this to you.
And for that, I'm sorry.
But I want to get this straight so you don't get out there accepting "freelance" gigs that aren't really freelance gigs.
Because these "freelance" gigs aren't going to give you the work-life balance you're looking for.
---
Chapter 1.3: What does "freelance" actually mean in fashion?
It makes me sick when designers say things like this:
"I just got a great new freelance job with Ralph Lauren [or insert favorite brand here]! I'll be working onsite from their Madison Ave office 40 hours a week. It's a really great opportunity and I'm sooooo excited to start Monday!"
This is not a freelance job.
And I'm going to tell you why three times.
Why three? Because that's how many times we have to hear something before it really sinks in and we really get it.
And I want this to really sink in and for you to really get it.
Working onsite 40 hrs/week is not freelance. It's a temp job without benefits.
Going to an office full time for 3 months is not freelance. It's brands taking advantage of you.
Showing up 9-5 and acting like an employee but not getting any benefits of being one is not freelance. It's abusive, and it's actually illegal.
Now, listen. Some designers like this set up. If that works for you, ok.
But I don't think it's good for you or our industry.
And if you feel like this is a really shitty deal because in 3 months, you're basically unemployed again looking for your next "freelance job", you're not alone.
These 'freelance" set ups are shitty for many reasons. Here are just 3:
It's impossible to have multiple clients.
You don't get to work on a variety of projects like you wanted.
And you don't get that amazing work-life balance we talked about.
Instead, you get more stress and anxiety than a full time job gives you.
And you don't get any of the benefits.
Yeah, if I were you, I wouldn't want that either.
The problem is fashion designers, like you, have been trained to think that "temp work" is actually "freelance".
Most designers don't know any better, so they put up with it.
But it doesn't mean you have to.
Our industry is unique and whacky and competitive.
That's why brands get away with this.
That's why freelancing in fashion is harder than in other industries.
That's why you've seen a lot of groups out there to help creative freelancers, but they're all focused on graphic or web design.
That's why there's no one out there helping fashion freelancers.
And that's why I created this guide.
---
Chapter 1.4: So, can you even be a "real" freelancer in fashion?
I've already told you that yes, you can.
You can be a full-time "remote work from home in your sweatpants without makeup" freelancer in the fashion industry.
You can do "real" freelance work for the big name brands – even in NYC.
Beyond that, there are a ton of "non-traditional" or "non-obvious" opportunities.
There are endless startups and indie designers that need loads of help.
Small brands you've never heard of – and they all have work to be done.
In fact, there's more opportunity today than there was five years ago. (And you can earn waaaay more than you can in a full-time job.)
Not only did the pandemic force brands into realizing remote work was possible…
They realized working with freelancers was less risky than hiring full-time employees.
Beyond that, there are tons more startups than there used to be. All the designers who were let go around March 2020 said, "screw it, I'm not working for someone else again. I'm starting my own brand."
And those startup brands need freelancers to help. Because it's virtually impossible to build a brand on your own, even if you have industry experience.
There are hundreds – no thousands – of brands out there doing really amazing things.
And they need work done.
They have problems to be solved.
They have goals to be met.
And as a freelancer, you can help them with that.
In fact, a lot of them prefer to hire freelancers (more on that in a sec).
So yes, you can be a "real" freelancer in fashion.
Depending on your experience, skills and network, your journey will be unique.
How long until you see results will vary (although with the right strategies, it's a lot quicker than you may think).
Your earning potential may be less or more than other designers.
And it takes work. Just like finding a job or launching your own clothing line.
If you're not up for it, no problem. Stop reading now.
But if you want the unbeatable rewards and payoffs like:
Getting to work on a variety of projects
Being able to pick your kids up from school every day
Working from your couch…in leggings and no makeup
Then this guide is for you.
One day, maybe you even want to be your own boss full time so you never have to go to an office again.
It is possible. And this guide is for you too.
It will show you how to put yourself out there, present yourself and your work, figure out your rate, and find clients to reach out to.
Even if you're used to a salaried job and have never done freelance before.
Even if your portfolio isn't ready and you're not confident reaching out yet.
Even if you feel totally clueless about how to value your work.
---
Chapter 1.5: What kind of fashion brands can you work with as a freelance designer?
When it comes to freelancing, some brands will be better – or easier – to work with than others.
Some of this is because of our industry.
Some of this is your personal preference.
Some of this is based on your experience.
And I know, this isn't the sexiest topic.
You're probably wishing we were figuring out your rates already.
Don't worry, we'll get there!
But brand types is something you need to think about. And the types of brands you work with can also affect how much money you make, the kind of work you'll do, and the services you offer.
You don't have to decide right now or limit yourself to one category, but I want to walk you through them so you can start thinking about what sounds good.
Or, just as importantly, what sounds terrible.
Now, there are tons of different kinds of brands out there.
They all have goals to achieve, problems to overcome, and challenges to work through.
If you can help them do any of these things, they will love you and happily pay you.
But each brand has pros and cons.
Let's look at 4 broad categories. Some may be a better fit for you based on experience or preference, so think about that too.
The pros and cons I've outlined are generalized. Each brand within each category will vary, but this will give you a good overview.
Startup Brands and Indie Designers
This sector of the fashion industry is seeing the fastest growth right now and there's a lot of opportunity for work.
I know one freelancer who did a ton of tiny projects with over 60 indie designers in one year!
I also know a freelancer who worked with just 5 startup brands and had a great year.
So even within this category, projects can vary greatly.
Don't be so quick to dismiss these brands.
Why? Well, first, there is an unlimited supply and new ones pop up almost daily.
Many of them have small teams, or maybe they're even run by just one person, so outsourcing is something they have to do.
Since they are small, you can also have a greater impact and more involvement – which can be really cool.
Remote opportunities where you can work from home is also easier to come by because some of them don't even have an office.
But startup and indie brands have their challenges too.
They can have smaller budgets, and you may have to lower your rates or compromise.
While new ones are launched daily, many of them are gone next season, so this could be a one time project.
And since they're new, they can require a lot of hand holding or management.
Arguably, this could be a good thing for you. Either way, it's something to consider.
"Middle America" Brands (that you probably have never heard of)
Personally, I think this is one of the best types of brands to work for.
It's also one that most freelancers forget about.
What do I mean by "Middle America"?
I mean brands that aren't located in NYC, LA, London or other fashion hubs.
I mean brands that make everyday clothes for everyday people.
These brands are usually not glamorous and you've probably never heard of them, but they have their own niche in the market and many of them are doing really well.
There are way more of them than you think (and yes, soon I'll show you exactly how to find them).
They don't have access to huge talent pools like the New York or LA brands, so hiring remote freelancers is sometimes their only option.
Because of this, they're more open to remote work (meaning you get to work from home).
But there is a sacrifice.
This may not bother you, but for some designers, this is a deal killer.
Looking to add sexy lines to your resume and do brag worthy work to tell your friends about?
Want to work on runway designs with loads of glamour?
Most of these brands won't give you that.
I don't care about those things, but a lot of designers do.
It's up to you to decide.
Big Name Brands
In my opinion, it's most difficult to get remote freelance work from these types of brands unless you have a pre-existing relationship.
Even then, it can be really hard to negotiate.
I know one woman who worked for a big name brand for 9 years. She left to start a family and offered to do remote freelance work.
They said no.
Because they were worried she would steal their designs! After she had worked there for 9 years!
Now, to be totally transparent, I haven't done any freelance work for big names.
And every time someone asks me what brands I work for, I hate having to say "a bunch of random ones you've never heard of".
That's where I miss out on the brag worthy work. But in the big picture, I'm 100% okay with it.
If you do want to work with the big names, it is possible.
I even know a couple designers who have had success with remote freelance work for fair wages with big companies in New York.
They then get to show off those names on their website and portfolio, and it can help get them more work.
But landing these jobs is pretty rare and convincing them to let you work remotely is even harder.
Plus, competition for work is higher and you'll probably be forced to lower your rate.
And, depending on how big they are, creative freedom can be limited and work can feel more like you're a "regular employee".
Some freelancers like this structure, so it may be a good fit for you.
Just remember, this is the hardest type of brand to get true freelance work from.
Non-Glamorous Brands (uniforms, trading companies, resort brands, etc)
In my decade as a freelancer, I've done a lot of work for these types of brands.
I will tell you honestly that they're often the easiest to work with and have the least drama.
They have budgets and can pay, and there's often little to no competition for this work.
Because it's terribly un-sexy.
Have you ever heard of the Sex & Cash Theory?
Here's how it works: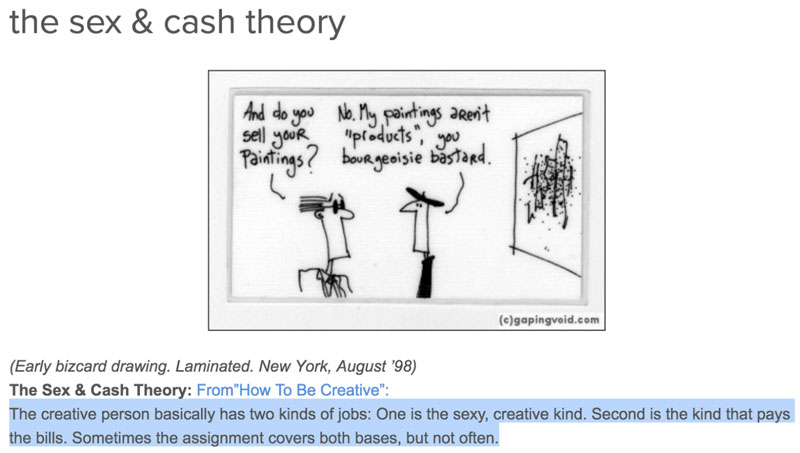 These "non-glamourous" brands offer the kind of work that pays the bills.
---
So think about what you want from your work and which types of brands may be a good fit.
You don't have to limit yourself to just one type, and you don't have to decide right now.
In fact, one of the great things about freelancing is that you have the freedom to explore different companies and see what you like best.
I've worked with startups, and I hated it! It was too much hand holding, too much fuss, and the process was too tedious.
I realized I prefer to work with people who already know what they're doing.
But I know a lot of designers who work with startups and absolutely love it.
So figure out what's right for you.
If you take a gig and hate it, you can explore something else next time.
Whatever you do, don't make assumptions like "oh, they're so established, they don't even need more help" or "oh, they're too small and don't have any money".
I'll remind you that all brands have goals to achieve, problems to overcome, and challenges to work through.
If you can help them do any of these things, they will love you and happily pay you.
---
Chapter 1.6: What kind of work can you do as a freelance fashion designer?
The sky is really the limit.
I've done everything as a freelance/contract fashion designer, from moodboards and trend / color direction to fabric sourcing and fittings.
Some brands I work with, I do everything from initial concept through managing bulk production. Some brands, I just do design or tech packs.
Here are a few things to think about when figuring out what kind of work you can do:
What type of brand are you working with?

Established brands may not want you doing vendor correspondence, while startups may love to have you do this.

Where are you located?

Some tasks, like production management, are easier done on site. Although I approve lab dips, fabrics, and review protos remotely, so don't exclude this. It can be harder and the clients' FedEx bill reflects this arrangement, but sometimes it's the best option for you to manage everything.

What is your experience and skillset?

You may not want to handle everything from design through development, or you may not even be experienced enough. And that's okay! You can offer full package services, or just one specific task like sketching flats. It's up to you.
The point here is that you can get creative with your offer.
Don't underestimate your skills or underestimate and what brands need.
Here's a quick list of things you could do as a freelancer. I'm just spitballing here, and keep in mind I've purposely made it broader than just "fashion design" to help you get inspired and think outside the box.
Creative Services

Full collection design
Trim / Finding / Hangtag / Label design
Catalog layout
Photo shoot art direction / management

Technical Services

Textile repeats / specs
Spec / grading
Pattern drafting
Proto / sample review / commenting
Fittings
Vendor correspondence / follow up

Sourcing Services

New fabrics / trims
New factories / suppliers
Price / MOQ negotiation
Vendor correspondence / follow up

Consulting Services

Collection / merchandising review / analysis:

what categories are missing / not needed?

Sales analysis / reporting:

suggestions for moving forward (what styles to run again in new colors, what should be dropped, etc)

Market analysis

untapped opportunities / market segments

Distribution analysis

New sales channels (wholesale, retail, DTC, pop-up shop, email, web, etc)

And beyond…

Marketing / sales / promotion

Are you really good at building Pinterest following that gets a lot of click throughs? Startup brands may be dying for this!
You know how to build and run an email list? Trading companies who are a little behind the times may be dying for this!
So start thinking about it, what kind of freelance work do you want to do?
If you're not sure, answer these three questions to decide.
What do you love doing?
What are you really good at?
What will brands pay you to do?
Don't be afraid to get really specific.
If I told you to pick just 3 specific services from these lists (or other things I missed), what would they be?
And if you had to pick just one product category like men's active, women's denim, or kidswear, what would it be?
Take a minute right now to brainstorm this and write it down.
---
Chapter 1.7: What do you need to do first before you start freelancing as a fashion designer?
You probably feel like there's a lot to just to get ready for freelancing.
You know, just to make sure you have your ducks in a row and look professional.
You want to be prepared, have your rates figured out, have an email template, know what to say and how to say it, and are ready to respond to any situation.
That way when you do get that client, you're not in panic mode.
Because panic mode is an awful place to be.
I've been there.
If you haven't, here's what it can look like:
Client: "Sounds great Heidi, we'd love to have you work on this project with us. What are the next steps?"
Me, inside my head, in full panic mode: "Next steps? I don't know what the next steps are. Shouldn't you know that? I don't even know what my rates should be for this – should I charge hourly or by the project? What do I do if they keep asking for endless revisions? Or what if I underestimate the time and can't finish on time? And don't I need a contract? What should it even say? And then what about invoices? How do I even do that? Do I need Quickbooks or some bookkeeping software?"
Listen, when you first start freelancing, you feel like these are all the things you have to think about.
But you're way overthinking a lot of it, so just sloooooowwwww down.
This even gives me anxiety. I'd be overwhelmed too.
So it's no wonder you haven't really gotten started.
Like you, I'm the type of person who likes to have everything figured out before I dive into anything.
I'm not a "fly by the seat of your pants" person either.
It works for some people. But for people like you and me, it doesn't make us feel good.
And when we don't feel good, we don't feel confident.
And we start to worry.
And we question ourselves.
And we start to spiral.
We're going to go through all of these things one by one. I'll tell you what to focus on and what can be ignored (for now).
It's not as overwhelming as you think.
But it's a problem many designers face.
You get stuck in the "getting prepared" stage for a few reasons.
One reason is because you feel more comfortable if you're prepared before you go out and start looking for work.
And that's fair.
But two is because the "getting prepared" stage is a more comfortable place to be.
It's easier to work on your portfolio, figure out your rates and think about contracts than it is to actually go out and get the work.
"Getting ready" is a place you feel secure, so you spend a lot of time there.
And you never actually get to the "uncomfortable" things like reaching out for work.
Because whether you admit it or not, that's the stuff that scares you.
You're afraid of rejection.
Maybe worse, the thought of them saying yes is more scary. Which sounds absurd, but it's true.
So you spin your wheels working on your portfolio, updating LinkedIn, and figuring out how to get out there and network.
But you never actually get out there and really look or ask for work.
So nothing gets done.
I don't tell you this to be an a-hole and make you feel bad about yourself.
I tell you this because it's a real problem we all have. I've gone through it with my freelance work and with other things in life.
But once you start getting out of your comfort zone, really putting yourself out there and getting work, you'll discover it's not as scary as you've made it out to be in your head.
Because unfortunately, our brains are really good at imagining the absolute worse case scenario and then convincing us that's what will happen.
When most of the time, it never happens.
Which is why I created this guide. It's why I spent countless late nights writing with a glass of wine and long days typing away at coffee shops drinking Americanos.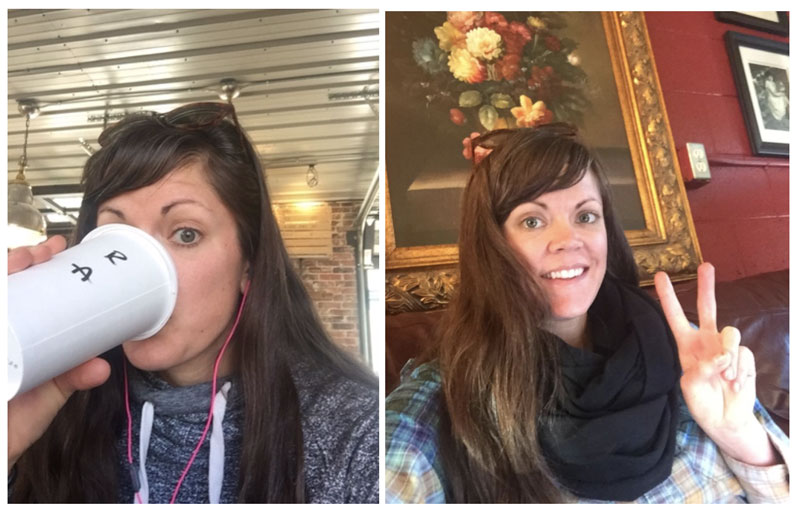 And this guide will help you in a few different ways.
It will help you get out of your own head.
It will help you quit making the "I just need to work on my portfolio a little more" excuse.
It will help you get out there and actually find work.
---
Chapter 1.8: Where do you find this "freelance" fashion design work?
Most fashion designers feel like they just need to get out there and network.
I talked to a lot of you while researching and writing this guide, and these are some of the things you told me:
"I'm trying to find new ways of networking and getting out there."
"You just have to network a lot, and I'm trying to do so many different things right now, it's hard to get out there enough."
"I go through my contacts and see if anyone within my network is an employee at a company that I really want to work for. I'll try to network that way and meet for a cup of coffee, that way I learn more insights about the company."
So you reach out to everyone you know.
And you even go to some of those industry mixers we talked about earlier.
But it doesn't lead to much.
Listen, at the end of the day, freelancing is a relationship business.
So having a network and contacts can be helpful.
But there are a few things you must realize.
First, you have to know how to ask for the work.
(And most designers mess up here.)
Second, your existing network and contacts may lead nowhere – or you may not even have one.
So you need to know how to find brands to work with.
Here are five different places you can discover freelance opportunities.
Some of these work better than others and depending on your personality, one may be better for you.
Agencies or Recruiters
If you do a search on a popular agency site like 24 Seven, your first thought probably goes something like this:
"Oh, this freelance thing is going to be great! Look at all these jobs!"
The page scrolls and scrolls with what feels like hundreds of freelance opportunities.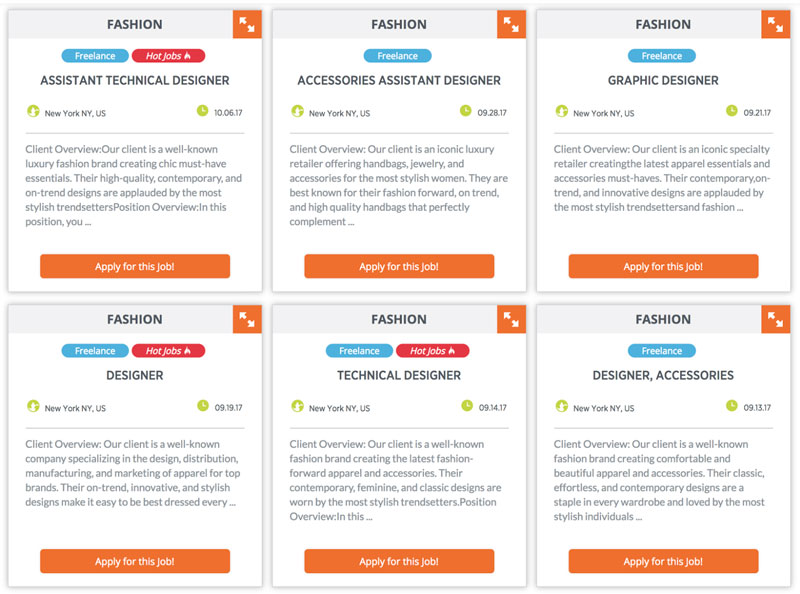 So you set up your profile and start applying.
But here's the problem with these "freelance" jobs.
They're actually just "temp jobs" like we talked about earlier.
You're required to show up and work 40 hours a week on-site.
Even worse is the little known fact that most of these agencies take 50% of your wage.
That means if you're getting $35 an hour, they're charging the client $70.
Listen, I realize for some of you, you don't want to look for work and you don't mind going on-site. If that's the case, these "freelance jobs" may be a good fit for you.
But that's not what we're focusing on in this guide.
We're talking about true remote freelance work.
And for that type of work, recruiters and agencies are the worst place to find it.
Gig sites like UpWork / Fiverr / PeoplePerHour
This option works great for some freelancers and I know a few who've gotten steady work and reliable clients from UpWork (the others are mostly crap).
If you hate selling and pitching, these sites are great. You can browse the jobs and apply to what looks good.
But it's really hard to spot the good gigs from the bad ones unless you know what red flags to look for.
You'll wind up sending out tons of proposals only to find none of the people who posted these jobs were even serious.
And you'll wind up settling for a lower wage. Because people on these sites are often looking for a really good deal.
If I were you, I wouldn't invest much time here unless you really don't want to pitch or you're just starting out and are willing to work for a lower wage.
Using Your Network and "Getting Out" to Network
I always suggest you utilize your network.
I've told you a few times already that freelancing is a relationship business.
So you never want to ignore or neglect your network.
As you grow your freelance business, you'll find that your best customers come from referrals or people you know.
In the long run, it's the easiest and quickest way to get work.
But to start, you probably can't rely exclusively on your network.
If you're in a fashion hub like New York, chances are a lot of these brands don't even hire remote freelancers. (And you already know by now that the "networking" events you go to are just full of other job seekers.)
Trade shows can be good, but they're also hard because brands are there to sell, not to be sold to.
It also requires a certain personality type and sauvity to go up and talk to people.
I know one really successful freelance designer, Marissa Borelli, who did get work this way. Her story is inspiring and hysterical and you can listen to it here.
To give you a quick visual, it included doing jumping jacks in the hallway to psych herself up before approaching brands at trade shows.
Marissa also had her pitch and strategy really dialed in. She didn't just blindly going up to brands to ask for work or tell them about all her industry experience.
I told you earlier it's not just about how you find the work, but how you ask for the work.
But the biggest challenge with most of these "networking" strategies is that they're nearly impossible if you don't live in a fashion hub.
Which is why we're not going to focus on "getting out to network" in this guide.
Design Agencies and Service Providers
These are companies that help brands go from idea to launch. Most of them work with startup and indie designers, although not exclusively.
As the indie designer and startup scene grows, more of these are popping up every day.
You can pitch them via email, and I suggest you do.
They can be great to work with since not only do they act as a funnel to send you work, but they handle and manage the client.
This is a great setup for many designers.
But it comes with a price.
Literally.
Like the recruiters and 24 Seven agencies, they take a big cut of the money. Which arguably is fair since they found the work and manage the client.
Just realize your earning potential has a cap if you work with these design agencies.
And while I do recommend reaching out to them for work, especially when you start out, I wouldn't rely on them exclusively.
If they go out of business, you could be at risk of losing a huge chunk of or all your clients.
Email Pitching
Email pitches are an amazing way to "get yourself out there". Why?
With email, you're in 100% control of who you contact.
And your options are limitless.
You don't have to rely on meeting people at networking events – which is really tricky when you don't live near a fashion hub.
In this guide, the step by step strategies I'm going to show you are tailored for finding freelance work using email pitching.
But keep in mind that you can use all of these techniques to reach out to anyone on LinkedIn, whether you know them personally or not, or even to apply for gigs on sites like UpWork.
PART 1 SUMMARY
We've gone through a really big overview of what it really looks like to be a freelancer in the fashion industry.
We'll get to some more actionable steps next so you can start making progress towards getting out there and getting work, but what we've covered so far is still essential.
You understand that freelancing takes hard work – you have to put yourself out there, work hard and face rejection, but you're willing to do it for the awesome work life balance payoff.
Plus, the thought of working on a variety of projects instead of just being a sweater designer for one brand sounds pretty freaking fantastic.
One mistake you're not going to make? Working "freelance" temp jobs – unless that's what you want. I wrote this guide to help you land real freelance gigs – that you can do remotely on your own schedule while working for multiple clients.
You see your friends – architects, graphic designers, web developers – doing work like this, and it's possible in fashion too. It's just not as common and you may have to work a little harder for it than they do.
But the work is out there, and there are all sorts of brands you can work with from startups to big names and "Middle America" companies to non-glamourous businesses like trading companies.
And you can reach out to them at networking events, on LinkedIn, or through good ol' fashioned email. And I'm going to show you step by step how to do this.
The to do list you need to accomplish before getting started? Not as overwhelming as you may think. You don't need an LLC, you don't need QuickBooks, and you don't need super fancy contracts.
What you do need? You can get it together in a week. And I'll show you exactly how next in Part 2: Figuring Out Your Rates, Services and Contracts
---
---
PART 2: FIGURING OUT YOUR RATES, SERVICES AND CONTRACTS AS A FREELANCE FASHION DESIGNER
Figuring out rates, services and contracts is where most designers get stuck. In fact, in my research for this guide, almost all of you had questions about these things, which is why I decided to dedicate an entire section of the guide to it.
First, let's just be totally honest about something.
Chances are, you're over thinking most of this stuff.
I don't want to trivialize your concerns, and don't get me wrong, rates, services and contracts are important.
But I also don't want you to get so concerned with these details that you don't actually go out and get work.
So, we'll cover each one so you can be a confident freelancer.
---
Chapter 2.1: How much should you charge as a freelance fashion designer?!
This is by far the #1 question designers ask.
And unfortunately, there's no magic answer.
Your rate will be different than my rate or the rate of the other fashion designers reading this guide.
Because we are all different. Just like a job salary for a designer in NYC vs Tennessee or an assistant vs senior designer will vary, your freelance wage will vary.
We don't live in the same area, we don't have the same skills, and we don't offer the same services.
But, as different as we are, there is one thing we will all go through.
No matter where you live, your skillset, or how much I prepare you right now, we will all experience the same thing during our freelance journey.
It's called undercharging. And it sucks.
It's also the biggest mistake most designers make.
In the fashion industry, nobody talks about money, so you don't know what to charge.
Sometimes you feel like you're just guessing and then later, you realize that $150 project took you 10 hours.
And $15 an hour (before taxes) is not a living wage.
So, why does this happen? There two main reasons. (And remember, we all go through this, so don't feel bad.)
First, you lack confidence to charge a higher rate, so you tend to lowball yourself.
Second, you underbid a project.
I've done both of these things, and I've done them more than once.
It will happen to you more than once too.
Just don't let it discourage you.
Learn from it and move on so you can do better next time.
But to help get you started on the right foot so you don't feel overworked and underpaid, I'm going to give you the simplest strategy to figure out your rate.
How to Charge Hourly for Freelance Fashion Design Work
I suggest everyone start with hourly. It's the simplest option for you and your clients. Here are some techniques you can use to figure out how much to charge.
Drop 3 zeros: If you've worked as an employee, this is the easiest option. Take your yearly wage and then drop 3 zeros.

For example: If your yearly wage is $60,000, charge $60/hour. If it was $35,000, charge $35/hour.

Charge industry averages: Depending on your skills and location, this number varies. Do some googling, ask around to industry friends, and pick a price that's fair based on what you discover.

Other fashion freelancers are your friends, not your competition, so meet them and don't be shy to talk numbers. Chances are they're dying to know your rate just as much as you are theirs.

This is not a perfect science! Yes, you need to charge reasonable rates, but that doesn't mean competing with people on Fiverr charging $15 for a tech pack. I know designers who charge anywhere between $20 to $150/hour. Again, it depends on your experience, location, project, and client.
Pros and Cons to Charging Hourly
PROS:

It's simple to plan your finances based on how many hours you work
It's a comfortable option for many freelancers, especially when you're starting out
It's normal and understandable for clients

CONS:

You only have so many hours in the week and your income potential is capped
You can only raise rates so much before your client refuses to pay $xxx/hour
It's laborious to track time for every email, phone call or meeting
As you get faster at doing the work, your rate doesn't scale proportionally
How to Charge A Day Rate for Freelance Fashion Design Work
This pricing structure is more common with UK freelancers than US ones.
I also see it being used more for temp work "onsite" freelancing, which I discourage unless this is the arrangement that you prefer.
If you're doing a few days of onsite consulting, a day rate may be a great option. This is the only time I've ever used this pricing structure.
To calculate your day rate, multiply your hourly by 8 hours and adjust to a flat rate.

Example: $35/hour x 8 hours = $280. Your day rate could be $300.
Pros and Cons to Charging A Day Rate
PROS:

It's simple to plan your finances based on how many days you work
You don't have to track every minute and can just invoice how many days you worked

CONS:

If you do onsite days, an 8 hour day somehow always turns into a 12 hour day
Your leisurely morning dog walk and coffee shop stop (one of the reasons you started freelancing) can *poof* be gone real quick. If you're just doing a few days of consulting here or there, this may not be a huge deal, but think carefully about signing up to do a day rate 5 days a week. You may not be creating the lifestyle you were imagining.
How to Charge by Project or Piece (ie one tech pack or one flat sketch) for Freelance Fashion Design Work
You can earn more money this way, but it can bite you in the butt if you underestimate or don't put your foot down against an abusive client.
Even almost a decade into my freelance career, I can still underestimate big projects, especially when working with new clients.
Things get tricky and you have to know what questions to ask and be really good at clearly outline and managing client expectations.
You also have to make sure you look through any files you'll be inheriting so you don't wind up with a bunch of unusable Illustrator flats that have thousands of anchor points and aren't grouped or joined.
Because if fixing or recreating that wasn't part of your proposal, it's a hard thing to bring up after the fact.
You don't want to look inexperienced, so you wind up doing the work and resenting the project and the client, and that feels shitty.
Which, in a nutshell, is why I really recommend you start out hourly and move into project rates later.
But if you're more advanced, the easiest way to calculate a project rate is to just track your time and do some simple math.
Charge based on estimated hours: If you know a tech pack takes you 3 hours, and you want to earn $50/hour, then you can charge $150 for a tech pack. Your client doesn't know the rate or the hours, they just know a tech pack costs $150.
Be careful of setting an absolute flat rate for things like tech packs though. The time and work will vary based on design complexity. A tech pack for a basic t-shirt is going to be a lot easier and quicker to do than one for a fully lined piece of outerwear. Are you creating the flat sketches or do they already exist? Do you need to create the graded specs, or does your client have them done? In reality, you really wouldn't want to have a flat rate for tech packs but instead offer a range depending on the design.
Remember what I told you about how project based rates are more complicated? Look at how many questions I had to ask – and that was just for a tech pack. And I didn't even ask all the questions I should have.
If you are going to do project based, make sure your proposal is very thorough and outlines exactly what the client will get.
If the client is doing excessive revisions or being overly demanding, you'll need to be prepared to pick up the phone and tell them the price needs to be adjusted (this can feel really hard, which is why hourly may be better).
Pros and Cons to Charging By Project or Piece
PROS:

The faster / more efficient you are, the more money you can make
You can charge based on value
Some clients like knowing a flat rate of what something will cost

CONS:

It can take time to develop skills to accurately assess a project and what work needs to go into it. Most freelancers tend to underestimate at first (I've done this and learned the hard way).
Scope creep (when the scope of a project creeps beyond the original agreement) is common and can create difficult conversations. Either you get abused (doing too many revisions, etc) or you have to raise the rate mid project
Whatever option you choose, set a rate you feel good about.
Don't try to get the max wage possible right away, but don't go so low that you resent the project and client.
Pick something in the middle and focus on getting really good at understanding your client, reaching out to get work, and closing deals.
You can always raise your rate later.
---
Pricing is a sensitive area and can be a difficult conversation for you and your client.
You'll get better as time goes on and these discussions will become easier.
You'll also mess up a lot and that's ok.
It's a learning process, don't beat yourself up about it – you can always resolve it later.
Always remember, you're in charge.
Be reasonable, BUT be fair to yourself.
Be confident and don't be afraid to put your foot down for a fair price.
Again, one of the joys of freelancing is we get the freedom to choose who we work with, what we work on, and define how much we earn.
And that is priceless. No pun intended. Ok, maybe a little 😉
---
Chapter 2.2: What if someone asks you to work for free (for exposure or experience)?!
DO. NOT. DO. IT.
NO.
NEVER.
These projects never go anywhere. These people are abusing you and taking advantage of your skills.
It also contributes to the unfair wage gap that's already a huge problem in our industry.
Out of respect to yourself and our industry, do not do it.
You can tell them your rate and say you'd be happy to do it for that, but no matter what you do, tell them working for free is not fair to you or our industry.
The more of us who put our foot down and say this, the better place our industry will be for everyone.
---
Chapter 2.3: What if you are looking for more experience and offer to work for free?!
You can consider it.
If you reach out and initiate a free project, that's a completely different scenario than someone asking you to work for free.
And it can be a great way to grow your portfolio and resume.
But be transparent about why you're doing it, and define clear boundaries.
You cannot work for free forever – again, that's not fair to you or our industry.
---
Chapter 2.4: What services should you offer as a freelance fashion designer?
After undercharging, the second biggest mistake designers make is trying to do everything for everyone.
Please don't be a denim, knits, swimwear and textile designer who does menswear, womenswear, and kidswear.
You very well may have experience in all these categories, and as your business grows, you can offer more services.
When you're pitching, the more focused and niche you are, the better you'll be able to connect with brands and speak their language.
Let's play the would you rather game for a minute.
If you've ever played this game in real life, it can get really crude and rude (mom and dad, if you're reading this, you're probably LOLing right now).
Ok. Would you rather…
Work with a career coach who helps graphic designers, web programmers, and other creatives get more work?
OR
Work with a career coach who helps fashion designers with 5-10 years experience get more work?
Would you rather…
Buy a bra from a company that offers sizes for everybody from 32AA – 40GG?
OR
If you're [large] or [small] busted, buy a bra from a company that sells "bras made just for [large or small] busted women with the exact support they need."
Let's look at one more example, because I really want to make this point clear.
Have you ever read a guide or book like this one about freelancing in general?
No, because they're made for "creatives" like graphic or web designers, or they're about freelancing in any industry.
The reason you're reading this guide is because it's made just for you and people like you working in the fashion industry.
So just like you want a freelancing guide that's made just for you and your industry, your client wants a freelancer who can do something just for them in their industry.
And I'm going to get nerdy cliche marketing on you here for quick sec. Because it's true:
If you talk to everyone, you talk to no one.
"But Heidi! If I focus on just one category, won't I limit myself?"
We'll go through how to figure out your exact offer and market in just a sec, but here are two reasons you won't limit yourself if you focus on just one category:
There are more than enough brands out there. One of my freelancing students, Alison, focused on small to medium womens brands that were print heavy. Within a few days, she had a list of 400+ brands to pitch to in this super niche market. Whaaattt!!!! Yes, true story.
You could reach out to 100 brands with a focused offer and land 2 new clients. OR, you could reach out to 1000 brands with a broad or generic offer and land 2 new clients. I know what I'd choose.
Focusing your offer doesn't just make pitching easier, it's going to make your portfolio much easier to get done too.
We'll cover your portfolio in the next section, but think about it this for now:
How are you going to show denim, knits, swimwear and textiles for menswear, womenswear, and kidswear all in one website, book or PDF?
You're going to have too much stuff.
Your client will be confused and put off.
And the process will overwhelm you so much you'll probably never get it done.
Which means you'll never get to the point of pitching or finding clients.
Which means you'll never actually get any freelance work.
And I see a lot of designers stuck in this exact spot.
Spinning their wheels for weeks, months or even years trying to get their portfolio just right and making sure it includes everything they can do.
Which is really hard.
But if you focus, things become a lot easier
The easiest thing to do is to pick a niche.
Simply put, that means pick one or two services (it can be anything — flats, tech packs, textile design, product design, trend research, patternmaking, product development, consulting, etc) and one or two categories (again anything — sweaters, denim, lingerie, handbags, accessories).
Combine them and there you go.
Fashion flats for active and swim brands.
Design and development for sustainable sweater knits.
Patternmaking for small womenswear startups.
You'll play with this a little once you get started. And you can always change it.
For now, the key is to get something down and get work.
Don't worry about being too narrow with your offer.
Don't panic that you're only offering design services when you can handle all the development too.
Once you get your foot in the door with a brand and they love you, you can expand your services then.
Sell them initially on one thing, and show them that you are the absolute best at that one thing, then grow from there.
---
Chapter 2.5: How do you protect yourself as a freelance fashion designer? What about contracts?
First, the obligatory disclaimer.
In case you hadn't guessed yet, I am not a legal expert.
Therefore, I cannot offer you legal advice about contracts.
My lawyer would get mad and I'd probably be in a lot of trouble.
Everything in this guide is my opinion and not to be taken as fact.
But I will tell you this.
Don't overthink it!
Contracts can and do become important, especially as the price of the project grows.
When you're getting started, a simple email with and outline of the deliverables is often sufficient.
Once your price hits a certain point, you'll want to get a deposit before you start working. This will also help protect you!
It's as simple as something like this:
"50% is due at start of project, 50% due at completion."
And don't start working until you get that first 50%.
Bottom line? Don't get hung up on contracts and let this be the reason you never actually get out there and start looking for work.
PART 2 SUMMARY
By now, you have a solid system to figure out your rates. If you mess up and undercharge? Don't beat yourself up. It happens to all of us, even sometimes after years of being a full-time freelancer.
You know you're not going to work for free, unless you initiate the project as a learning experience.
And it's okay to say no to some clients!
You know that you shouldn't try and do everything for everybody, and can use the services worksheet to figure out your offer and market. Remember, the more niche, often the better.
Last, you're not going to overthink contracts. An email works fine to get started.
So, what's next? You guessed it – your portfolio. And no, you don't need to spend months on it. I'll show you exactly how to get your portfolio together fast in Part 3: Presenting Yourself & Your Work
---
---
PART 3: PRESENTING YOURSELF AND YOUR PORTFOLIO AS A FREELANCE CLOTHING DESIGNER
---
---
There are a lot of places designers get stuck. We've gone through two of the big ones so far: pricing and contracts.
But the biggie? The one place you'll spin your wheels forever? The black hole every designer gets sucked into and takes over their life?
Presenting yourself and your portfolio.
Putting a digital portfolio together has always been like a stone around your neck, and it's what clients want to see first. So you know you need to focus more attention on it.
But this is where your head starts spinning out of control, the overwhelm becomes too much, and the task feels too big to tackle.
"I have this idea in my mind that the portfolio should take over my whole life.
Of course that allows me to inflate it into something more daunting.
And I'm not even sure how or where I should do it.
I have Adobe portfolio because I pay for it with my CC subscription, but what about LinkedIn?
Or maybe I should just go with Wix or Coroflot?
But some people say I need to build my own WordPress or Squarespace site…but I'm not sure where to get started.
Or what about StylePortfolios.com? That way it's connected to my freelance job search on StyleCareers.com.
Should I put it there?"
Your head is spinning a million miles a minute trying to figure out where to start.
So instead of doing anything, you do nothing.
And I don't blame you. If this was how I felt, I'd do nothing too.
Which is why I'm going to tell you that your portfolio doesn't have to be this complicated. And you don't have to be everywhere – Coroflot, LinkedIn, Adobe, StylePortfolios.
(BTW, if you choose StylePortfolios, that's fine. But don't choose it just because it's easily linked to StyleCareers and your freelance job search there. Because the kind of "freelance" jobs you're going to find on SC are the "temp" jobs we talked about earlier. They're not real freelance jobs. You're not going to find those on job boards or through agents.)
In fact, some of the most successful freelancers I know (like this one, this one, and myself) have a pretty minimal portfolio that they hardly ever update. #truestory
In just a sec, I'm going to share some tips on how to quickly get your portfolio together.
First, I want to remind you what we talked about earlier.
Remember what I said about picking a niche market and offer instead of trying to do everything?
This is going to define what goes in your portfolio.
And what you need to include should be pretty minimal based on your market and offer.
You don't have to show everything you've ever done, and you don't even have to have a website.
Eventually, that's a good idea. But you don't need one to get started.
---
Chapter 3.1: What format should I use to present my fashion design portfolio professionally?
I just told you that this is where all designers get stuck.
And there are two reasons this happens.
We already talked about one: because it's overwhelming.
But the big reason? It's one you don't want to admit to yourself. You'll probably even deny it. But if you're really honest with yourself, this is the real reason you get stuck here.
Because working on your portfolio is comfortable. It's your safe zone. It's easier to do than putting yourself out there for work. Than pitching. Than handling clients.
You're afraid of doing all the things that actually get you work, so you spin your wheels doing things that aren't scary – like working on your portfolio.
But you can't afford to do this, because working on your portfolio doesn't get you results.
Do NOT overthink your portfolio!
A client is going to glance at it for 2 seconds and make a decision. If they see a few projects that match what they're looking for, they'll reply.
They're not going to spend 10 or even 5 or even 2 minutes browsing. They don't care if the work was from last month or last year.
They're too busy.
So keep it simple and include just a few examples of your best work for the niche you've chosen.
To make it easy on yourself, just do it as a PDF. It's much easier to update and customize a few PDFs to send to different clients than it is to update a website.
Give yourself permission to stop fighting with technology and the internet, and create a few simple PDFs.
Don't over think this and just focus on getting 2-4 really great projects together.
Oh, and a protip? When sending your portfolio, link to it in DropBox or similar instead of attaching it. This way you're not crowding inboxes with huge files!
---
Chapter 3.2: How do you navigate including client work in your fashion design portfolio??
You've probably heard somewhere along the way that including client work in your portfolio is not ok since it's technically their property.
Again, I'm not a legal professional so I will give you my opinion and not legal advice.
Depending on what contracts you may or may not have signed, you may need to figure out what you can and can't include in your portfolio from your clients.
Don't stress over this, just figure out a way to deal with it and move on.
Here's how:
Just ask: Once the product has launched and is available for sale, ask your client if you can include your designs in your portfolio. They'll probably be more than happy to let you do this.
Just do it: Again, once the product has launched, it's available for sale in the mass market. There's no reason you can't include it in your portfolio unless you've signed something that says otherwise.
Create mock designs: Do a few self directed projects to show.
I've done all three of these things and they all work. So pick one and move on.
---
Chapter 3.3: How long should you spend on your portfolio?
A lot less than you think.
Your portfolio does not require 3 months or even 3 weeks!
Set yourself a hard deadline and get it done in ONE WEEKEND.
Yes, that's it. One weekend. I'm giving you that deadline because I know you need to hear it from someone else.
Do not spend more time than this, just get it done and put yourself out there.
Spend 10-15 hours MAX (one full weekend or 2-3 hours a night for a week) and do it as a PDF.
And DO NOT worry about
updating your entire website
getting your brand identity, a logo and color palette together
making business cards
setting up an LLC or business bank account
None of these things matter right now.
---
Chapter 3.4: How much work do you need to include in your portfolio?
Here's exactly what I suggest: keep it specific and short.
3-4 pages or 2-4 small projects is enough.
If you only have 2 projects, just show 2.
Don't add more just to make it bigger.
Your portfolio is about quality, not quantity.
Brands don't have time to browse through 20 pages of your work.
Give them a snapshot of your best stuff that's relevant to them, and they'll be able to glance at it and know if you're right for them. If they want to see more, they'll ask to see more.
This is the best way to show your experience and knowledge that matches their needs.
Again, this will be much easier if you niched your target market and offer.
If you're doing like I told you not to and offering services to denim, swim, lingerie, knitwear and handbag brands, you're creating a nightmare for yourself.
So don't do that!
If you want to reach out to a couple different types of brands or offer a couple different types of services, you can create 2 or 3 versions.
But to get started, stick with just one and start outreaching.
Remember, don't spin your wheels in the "comfort zone" of working on your portfolio.
It's a place you can't afford to spend too much time hanging out because it's not a place you'll find any work.
Oh, and one last tip? Make it easy to get in touch and include contact (phone and email) on the bottom of every page in your PDF. It's amazing how many designers don't do this!
PART 3 SUMMARY
I hope you're feeling a little relieved about your portfolio by now. Remember, don't overthink it. Keep it focused and targeted toward your customer.
There's no need to get stuck creating a beautiful website. You'll get there eventually, but for now, a PDF that you can link to in DropBox works great.
Choose a few of your best projects (2-4) and put together a couple pages.
---
---
Up next? You're almost ready to start pitching. And next in Part 4: Getting to Know Your Customer, Reaching Out to Get Clients, and Getting Work, I'm going to tell you the 4 parts of a proven pitch.
---
---
PART 4: GETTING TO KNOW YOUR CUSTOMER, REACHING OUT TO CLIENTS & GETTING FREELANCE APPAREL DESIGN WORK
If you haven't noticed a pattern yet, I'll point it out again.
Picking a niche market and offer will make everything you do easier. It's easier to market yourself. It's easier to your portfolio together.
And it will make understanding your customer a lot easier.
What do I even mean by "understanding" your customer?
I'll explain.
---
Chapter 4.1: How do you get inside your customer's head? (And why you need to.)
As a freelancer, the best thing you can do for your customer is solve their problems and help them achieve their goals.
They will love you for this and happily pay you.
But if you don't understand your customer, then you won't know their problems and goals.
You can ask yourself a few questions to start figuring this out.
What do you see broken in the industry from your past experience, that you can go into other brands and fix for them?
What are challenges brands in your market experience and how can you solve them?
You can also ask people you know in the industry. This could be your boss, coworkers, or friends.
Keep it light, simple and noninvasive.
To a friend or coworker:
"What's the biggest obstacle you face during [sampling, design, etc]? Why?"
OR
"What are your top 3 goals for this season? Why?"
To your boss:
"Where do you feel things get stuck during the design and development process? Why?"
OR
"What are your top 3 goals for our team and the brand this season? Why?"
Here are a few more example questions to get started:
Tell me about your [design, development, sampling] process?
What goes into that?
What are some of the holdups?
Where could things be improved?
What are the biggest challenges?
What are your business goals right now?
What are you working on right now?
Have you ever thought about doing this?
Bottom line? Just be curious.
You'll be surprised to find that people actually love talking about their goals and challenges.
Listen carefully and take notes.
You'll use this information later in your pitches.
---
Chapter 4.2: Where do you find fashion brands that need to hire for freelance or contract work?
There are an unlimited number of brands you can pitch to. But like putting your portfolio together, finding them may seem daunting.
It does take some time to put together a list, so to help get you started, here are places you can look.
Before you do that, keep yourself organized.
I like to create a spreadsheet (if you haven't heard me say it before, I'm a big spreadsheet nerd).
Here's what my list looks like:

Whatever system you use is fine, just keep track somehow.
Okay, so where exactly do you find the brands to put on your list?
Here are 4 great places to start, but get creative! You've heard of this thing called Google? Your options are endless!
Scour trade show listings

Where would your category of brand be exhibiting?
Google "ABC tradeshow exhibitor list" to find a PDF or webpage listing

LinkedIn (you may need to get a premium account, the first month is free!)

Pay attention to the right hand column to find "similar people"

Instagram

Discover the right hashtags (and finally have an excuse to get sucked into the rabbit hole!)
This is a great place to find startup brands who may not have a big online presence or be active on LinkedIn
You can also discover what brands are working on like new collections, collabs, or sponsorships. Make note of these things as you can reference them in your pitch to show them you're paying attention and engaged (more on that soon).

The internet is great, but real stores in real life still carry clothes!

Go shopping (yes, another excuse I know you needed) to stores that carry brands in your market. It's a great way to discover new brands you never knew existed.
There are thousands of brands out there that you've never heard of.
And all of them have problems to be solved and goals to reach – the things you'll be helping them do as a freelancer.
A lot of them aren't located in NYC, London, LA or other fashion hubs.
In fact, the ones located outside fashion hubs are often easier to get freelance work with.
So think outside the box and don't pigeonhole yourself.
---
Chapter 4.3: Who should you pitch to? (Making sure you email the right person.)
You've done a lot of the hard work by now, and you're getting really close to pitching.
But to increase your chance of landing a new freelance gig, you'll want to reach out to the right people.
Decision makers are key. Think directors and C- V-level people (CEO, VP, etc).
This takes some digging and work…but you'll get in your groove.
Sometimes I do this tedious work at night on the couch with a glass of wine. Whatever works, right?!
Here are a few tricks:
Search LinkedIn – again, you may need to go premium for a month or two

Pay attention to the keyword search feature on the right hand side column to find the "director" or "VP" level person

Look on their website (depending on the size of company, they may or may not list this)
Google exactly what you're looking for!

"CEO of ABC company" or "Design Director of ABC company"
If you find 2 people who may be right, you can reach out to both (CC them both on the email)
---
Chapter 4.4: Crafting your freelance pitch: what exactly do you say?
You've got a list of emails, your portfolio is ready, and your heart is racing because now it's time to actually write the email and hit send.
It's scary, I'm not going to lie.
It's totally normal to get butterflies pitching.
Here's the thing though.
The design director on the other end of that email? She's just a real person like you and me.
The CEO who may want to talk to you about doing work for his brand? He's just a guy who thinks you may be able to help him.
And you probably can.
Which may terrify you even more – them saying "yes, we'd like you to do some work for us"!
It's ok to be nervous.
Just be honest about your work, what you can and can't do, and relax.
You got this.
Ok, so what exactly do you write in a pitch email?
First, be yourself. Write something that feels like you. You have a voice, and you'll refine it over time.
Second, don't over tweak it. Your emails will get better the more you outreach like everything else you do in life.
Third, don't be overly salesy. They're a real person, and they want to feel like you're a real person too. If your email is salesy and robotic, they won't reply.
Like finding your market and offer and creating your PDF portfolio, we're working on getting started and doing something – not being perfect.
It's okay if you mess up or do a bad job. This is a learning process!
There are a variety of formats and there isn't one cut and dry template, but they all have 4 parts.
4 Parts to a Proven Pitch
Be specific. The person reading it should feel like it was written just for them, not a generic mass email.
Talk about them more than yourself. Your pitch should be 80-90% about the brand and 10-20% about you.
Include some sort of value. It's not all about sales!

Start with a compliment and tell them why you love their brand.
Comment on their new collection or collaboration.
Give them an idea about how they can expand their brand or something they could do better at!

Close with a CTA (call to action) – tell them what you want them to do next, and make it a super simple yes or no question. The goal of the first email is just to get a response. From there, you can talk workload and details like rates and contracts.
Don't be afraid to play with all of this to see what works best for you and your market.
Experiment, get creative and have fun. This is work, but it can also be fun 🙂
If you're wondering what NOT to do, here's a bad freelance email pitch example.
This is an actual email someone sent to me to ask for freelance work. There are a lot of things wrong with it, and I'll go through each one.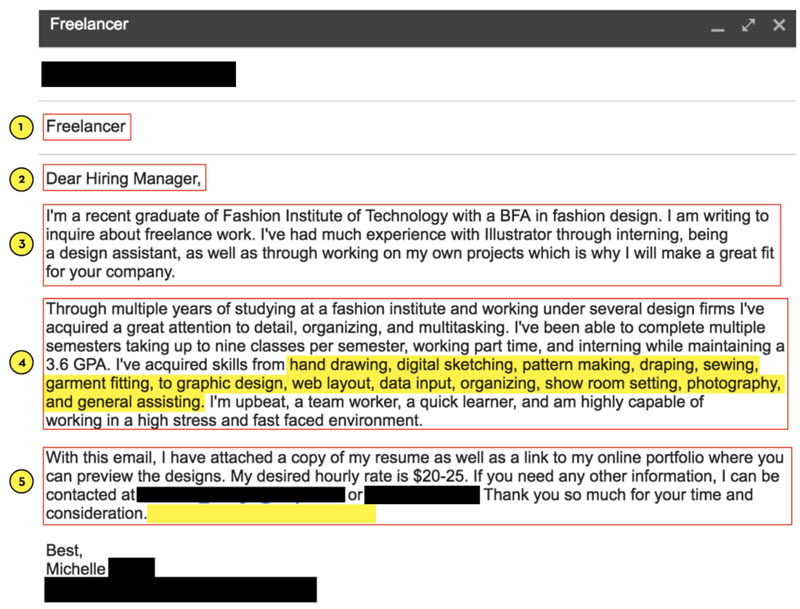 Subject line is vague – it's not terrible, but could be better.
Go to the effort of figuring out who I am and what my name is.
There is no introduction or talk about my company, instead she goes right into talking about her credentials and experience.
Look at all those things she can do! Web layout? Data input? It's way too much and all over the place. The list is so broad, I feel like she can't do any of those things well.
Too many details in the first email, and there is no CTA. She has not asked or told me to do anything, so as a result I do nothing.
Do you feel overwhelmed reading this email? I do. It's long and there are too many big blocks of text with long lists.
---
Listen, if you're feeling intimidated, that's totally normal. Just remember that most people write terrible emails that are summaries of their resumes, so even if yours aren't perfect, you'll be doing better than 99% of the people out there.
And that's way more than good enough.
---
Chapter 4.5: You got a small freelance fashion design project, now what?!
"I have to be honest Heidi, that was an assload of work to land one small project.
This is absolutely insane.
I don't think there's any way I'll be able to do this whole freelancing thing."
Yeah, I know.
Getting set up to pitch is hard.
Sending out your first emails is hard.
And then you land one small project, make a few hundred bucks, and now what?
There are two simple things you are going to do to turn all that effort into more projects and more money.
Without having to do all that work over again.
With the right strategies (that I'll save for another whole guide!), your freelance business will grow. Your potential is unlimited.
YOU'VE REACHED THE END OF THE GUIDE. CONGRATULATIONS! WHAT'S NEXT?
I wrote this guide to get you through the hardest parts.
To prevent you from getting stuck where most designers get stuck, like putting your portfolio together.
To push you out of your comfort zone and increase your confidence to negotiate a fair rate.
To show you exactly how to do the hard work that gets real results, like reaching out and pitching.
If you want to put in the work and do what it takes to have that work life balance you dream of, I wrote this guide for you.
Congratulations on making it to the end.
You've already made it further than 90% of the designers who started reading.
If you want to be in the top 1% of designers, take action and actually do the work.
You'll find the competition's not that tough. It's that most people aren't willing to put in the effort to get there.
Once you do, share your results with me.
I'd love to hear your wins, failures (we all have them) and feedback.
Email me anytime at learn@sewheidi.com with the subject "Ultimate Guide to Being a Freelance Fashion Designer." My team and I read every email!
Cheers to your successful freelance journey – I'm right here alongside you, cheering you on.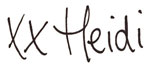 P.S. If you enjoyed this guide, I'd LOVE it if you shared it on Facebook (on your own wall or in your favorite online community), LinkedIn, or wherever you hang out online. You can also email it to a friend that's just getting started as a freelancer or who already has a few clients – they'll thank you for it!
---
---
---