The fashion job search process is not one to be taken lightly. Thankfully, my guest for this episode of The Successful Fashion Designer is Shellie Simpson, the Fashion Division Talent Director at Atrium Staffing. Shellie and her team at Atrium are creating a more personable relationship between top talent candidates and recruiters.
Shellie shares her 4 best practices for aspiring fashion professionals, and her insights will surely make your job search process easier and more enjoyable. She also explains the common freelance/employee dilemma, how to get started with a talent recruiter, and the one area that should NOT be the biggest highlight in post-internship interviews.
Shellie shares this advice in a transparent and honest way that you don't want to miss. Listen now!
Outline of This Episode
[0:45] Shellie Simpson, Talent Director, Fashion Division, at Atrium Staffing, is my guest for this episode
[3:52] How does someone get started with a recruiter?
[5:27] Best advice for presenting your portfolio in an effective way
[14:52] What works and what stands out with resumes
[21:32] Do these things to prepare for your interviews
[26:07] Avoiding the freelance vs. employee trap in fashion design
[33:31] Can you break into the industry without a lot of work experience?
[38:37] Creative ways to gain experience without a fashion design degree
[41:22] Shellie's best advice for older job seekers
[49:54] This skill should NOT be the biggest highlight in post-internship interviews
[55:05] Shellie's final words of advice for fashion industry professionals
---
---
Shellie's best advice for presenting your portfolio in an effective way
A fashion professional's most effective tool is their portfolio – a creative display of your most effective ideas and a showcase of your design process. Shellie explains that interviewers want to see your work in Adobe Creative Suite programs and how you complete your design process. It's also critical to demonstrate through your portfolio where you draw your inspiration from.
Regarding the size of your portfolio, you can highlight your capabilities without overwhelming your interviewer. Including every project since your fashion school days may not be necessary – ensure you tailor your portfolio specifically for every company. Hear the full details on why portfolios can be your biggest asset when completed well by listening to this episode. .
Resumes receive 6 seconds worth of attention – make yours stand out!
Resumes go through trends, just as every other segment in the fashion industry. The current best practice is to keep it simple! Shellie explains that many interviewers favor easy to scan, bullet-point format resumes. Results-driven resume language can also set you apart from the competition. Go beyond just a list of tasks that you performed! Be sure to explain if one of your designs became a best-seller, or if you increased revenue by a certain percentage.
Shellie also explains the importance of letting your recruiter and/or interviewer know about any gaps in employment that may be on your resume. It will come up in conversation, and it's important to explain why the gap is present and what you were working on during that time period. Remember, the average interviewer only spends 6 seconds per resume, so yours needs to highlight your best achievements in a succinct, engaging way.
Perfect these interviewing skills and land your dream job!
After you've worked with a recruiter, fine-tuned your resume, and perfected your portfolio the final step is to interview in-person with an employer. If you chose to work with a recruiter, they will help prepare you for the interview because they know the client. It's essential to research the company and know their product well before walking through the door.
You should also study your own resume ahead of time. Develop ways to explain your resume in an engaging, storytelling manner. Consider bringing printed tech packs, swatches, knits, or other physical items to supplement your portfolio and resume. Shellie explains, "Whatever physical items you decide to bring, they should show how you're always drawing inspiration from the world around you."
Keeping everything organizing, being authentic and relatable, and asking questions are sure to allow you the greatest chances of success in your in-person interviews. For more tips, don't miss this episode.
This one step is key for success in your post-graduation fashion job search
The most important takeaway from this episode of The Successful Fashion Designer is the importance of internships. Shellie says that "They're so key to getting a position in the industry, and they'll help elevate you moving forward." Internships completed while in school and post-graduation will allow you to build your network and work on "real world" projects.
Even if they are unpaid opportunities, don't immediately shy away from them. The academic credit and resume-building experience alone will put you light years ahead of students who have fewer internships under their belt. The sweat equity will be worth it, we promise. Don't miss the rest of this conversation with Shellie, you'll be glad you listened!
Connect with Shellie
Save this "4 Best Practices for Fashion Job Search Success, with Recruiter Shellie Simpson" episode to Pinterest so you can find it later!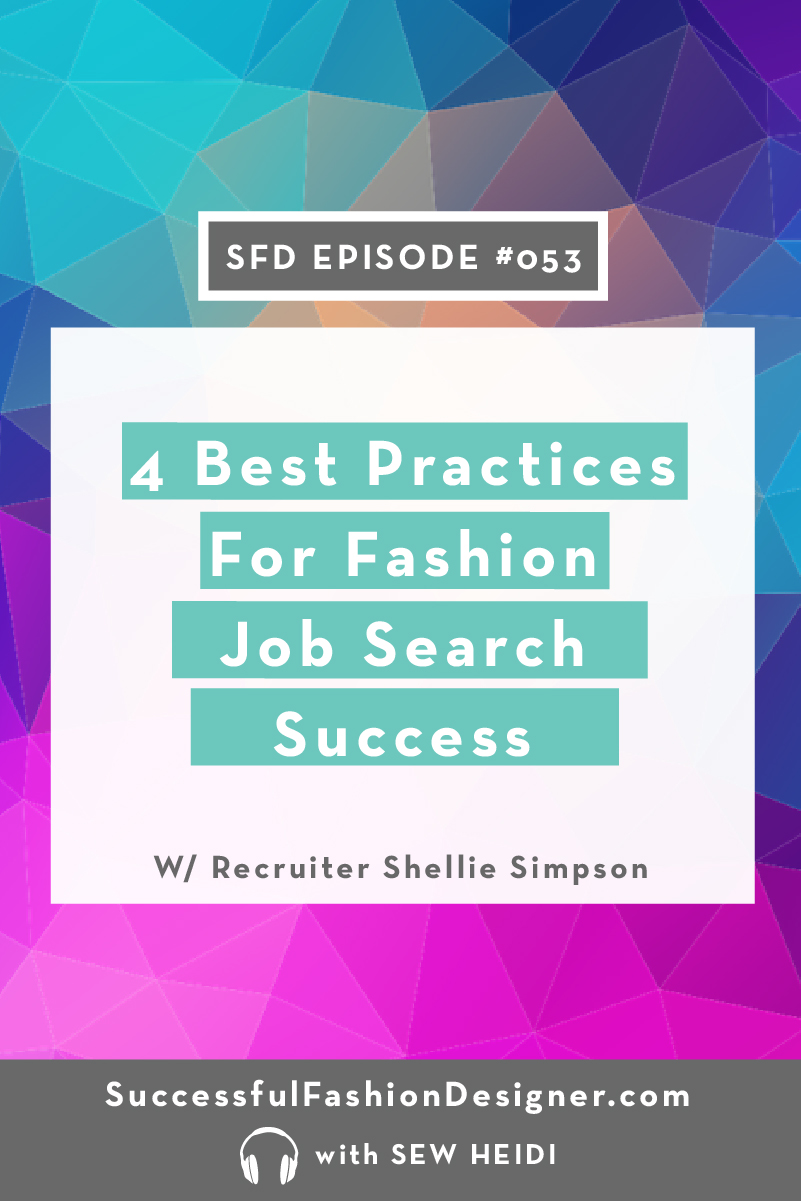 Subscribe to Successful Fashion Designer on
iTunes, Stitcher, Google Play, YouTube or Spotify