When you're getting started as a freelance fashion designer, it can be hard to find clients. While I don't always recommend using freelance sites to scale and grow your freelance business (fees and competition are high, among other reasons), it can be the easiest way to get started. But which freelance sites are the best for fashion designers? (And which are the worst?)
I was curious too, so I asked all 500+ of my Freelance Accelerator: from Surviving to Thriving (FAST) students this exact question:
"What are the best freelance sites for fashion designers?"
Spoiler alert, there's only ONE site my students (and I) recommend for finding freelance fashion design work!
It's UpWork.
Why?
Keep reading to learn why Upwork is the best freelance site for fashion designers, and the pros and cons of other freelance platforms.
You'll also learn how to differentiate between cheap and quality clients, tips for a professional profile that attracts brands, and getting started on Upwork.
Table Of Contents:
Upwork: The Best Freelance Site for Fashion Designers
If you're looking for remote freelance opportunities as a fashion designer, start with Upwork. Of all the freelance platforms out there, it has the best quality clients, is the most accessible place to get started, and offers the best protection.
(More pros and cons on Upwork and the other freelance platforms are below in the comparison chart.)
Now if you're thinking, "but Heidi, I've been applying to tons of gigs on Upwork and I'm not landing any jobs!"…
There are many reasons this happens.
It's exactly what Lucia, one of my FAST grads, experienced.
Lucia left her full-time job to freelance because she wanted more time to be with her two kids.
But even though she was sending out pitch after pitch on UpWork, she wasn't making any headway. She thought she must be doing something wrong, but she didn't know what it could be.
So she joined my Freelance Accelerator program, and used my strategies to make a few simple but powerful tweaks to her pitches. Within just a couple weeks, Lucia had landed a project for $1,890! Then she got another project. And another one. And another!
Lucia's growth has been unreal in just a few months and she's getting amazing feedback and repeat work from her clients (using strategies I teach in FAST!).
So, how did Lucia start landing so many fashion freelance clients on Upwork? She followed some simple strategies.
Strategies for Identifying Quality Clients on Upwork
While Upwork does have good quality clients, there's still a lot of junk on there! Here are 3 tips to find well-paying freelance opportunities on Upwork.
Look at the client's budget: Money isn't everything, but a higher budget indicates a more serious client. I always joke that cheap clients expect a tech pack for $5 😭, but the truth is those fashion brands are out there! There's a fine line between them not knowing the value of the work (if they're not experienced in fashion) and being cheap. Use your judgment or offer some education about what goes into the work in your proposal if their budget expectations are too low.
Review project descriptions: Look for detailed project briefs with specific questions and requests. They don't need to be "fashion industry" perfect (many startup brands may not know the right terms and abbreviations), but make sure they're giving you enough detail to show they're serious.
Avoid bidding wars: Projects that have too many proposals can lead to high competition and lower bids. There's a good chance they've already hired someone, or have stopped looking at candidates because they have too many options already. Move on and look for fashion design jobs that have less competition. (And yes, this means setting alerts and jumping on a gig right when it's posted.)
Creating a Professional Profile to Attract Ideal Fashion Brands
Your Upwork profile is where you get to show fashion brands, at a glance, that you're the right person to hire. Most people get this wrong! Which is why I've compiled my top 3 tips for a professional and standout Upwork profile below:
Create a niche headline: Most brands aren't looking for someone who does everything. They want someone who does the *exact* thing they need. You don't want to be the fashion designer who does swim and lingerie and denim and kids! You want to be the fashion designer who does cashmere sweaters, or the technical designer who exclusively does tech packs. Being niche in your Upwork profile is the best way to get ahead.
Your profile should be more about your client and less about you: Most people's Upwork summaries look like a resume: I have 3+ years experience with fashion design, I went to FIT, etc. Sure, some of those things are important. But you want to talk more about your client than yourself. What problems are they facing? How can you resolve those? What results can you deliver? How will the client benefit? Speak their language and focus on them more than just listing your experience.
Add relevant (and niche!) portfolio examples: You don't need a ton of projects in your Upwork portfolio, you just need a couple *relevant* examples (a strategy I talk more about in my free book on fashion portfolios). 2-3 projects (either real life or self-directed) that are specific to your niche is sufficient. You just need to show the brand, at a glance, that you're the right person for the job.
With these 3 strategies, you're already ahead of most freelance fashion designers trying to get hired on platforms like Upwork. It's not going to happen overnight (persistence is key), but this is how you get started.
---
Want more resources for getting started as a fashion designer on UpWork? Check out these Successful Fashion Freelancer podcast episodes.
---
Now that you know the best freelance website for fashion designers…I'm obliged to share the worst so you don't waste your time.
Again, this is not my arbitrary opinion. This is data I gathered from the 500+ fashion freelancers inside my FAST program.
Worst Freelance Sites for Fashion Designers
One of the quickest ways to burnout when you're getting started as a freelance fashion designer is trying to be everywhere. Whether that's having a profile on alllll the freelance websites out there, or creating content for every social media platform, it's impossible to keep up and do a good job everywhere. Stay focused on Upwork while avoiding sites like Fiverr, People Per Hour, LinkedIn, Indeed, and StyleCareers.
Fiverr: High Competition and Low-Paying Gigs
Fiverr, originally named because you could literally hire someone to do something for $5, is one of the worst websites for freelance fashion designers. It's full of cheap clients and the competition is high.
Stay away.
People Per Hour: Popular in the UK but Attracts Cheap Clients
People Per Hour, popular in the United Kingdom, tends to draw clients who aren't willing to pay fair rates for quality work. Just like Fiverr, you'll likely find cheap brands.
Skip it.
LinkedIn, Indeed, Style Careers: Better Suited For Full-Time Employment or Temp Jobs
LinkedIn, Indeed, and Style Careers are great for full-time gigs, but not for true remote freelance opportunities. You may think you're finding "freelance" jobs there…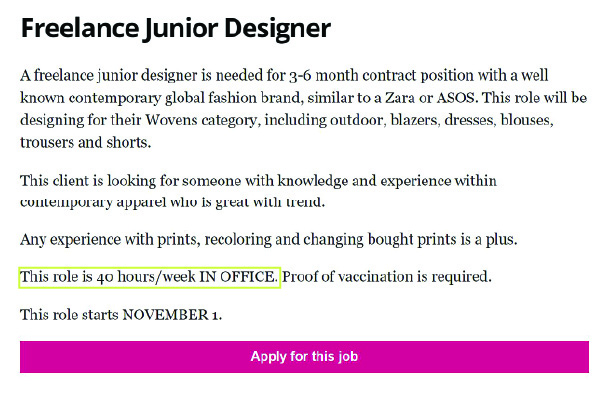 But pro tip, this is not freelancing. It's a permalance temp job, and in my opinion it's abusive to freelance fashion designers.
Only uses these sites to look for full-time fashion design jobs.
Freelance Websites for Fashion Designers Comparison
Here are some general pros and cons of the different freelance websites out there for fashion design jobs. Again, this data is polled from my 500+ Freelance Accelerator students.
Website
Pros
Cons
Other Notes
Upwork
– Best quality clients for true remote work
– Payment protected- International reach
– Accessible if starting w/o experience- Easy for clients to discover you (once you've gotten reviews)
– Many startups- Good customer support
– Good place to learn what brands are looking for
– High fees
– Takes time to build profile / reviews
– Postings often lack enough info
– Still some cheap clients
– Can be hard to communicate and get clients off the platform
– Oversaturated / lots of competition
Many FAST students have seen massive success with large and ongoing projects on Upwork. It's the only "freelance" website I personally recommend.
Fiverr
– Good for small, one-off projects (like drawing a fashion flat)
– Less complicated to set up
– Payment protected
– International reach
– Accessible for starting w/o experience
– Attracts cheap clients- Lots of competition
I've only heard poor experiences about Fivver from the freelancer's perspective.
People Per Hour
– UK based / aimed more at the European market
– Offering "hourlies" can allow potential clients to come to you
– Doesn't publicly show your earnings
– Attracts cheap clients
– Lots of competition
– Complicated to set up
– Less variety of projects / clients
I've only heard poor experiences about PPH from the freelancer's perspective
LinkedIn
– Brands are typically established or at least have a budget
– Connections can help get your foot in the door
– Potential to find brands' contact info
– Lots of recruiters and jobs that don't fit your skillset
– Tends to be "permalance" jobs (although they did just launch a new freelance platform late 2021)
Many FAST students have seen success on LinkedIn through cold pitching, not through job postings.
StyleCareers
– Brands are typically established or at least have a budget
– Fashion specific platform
– Mostly full-time
– "Freelance" opps are usually "permalance"
– Many postings are by recruiters
– Somewhat outdated site
I've never heard about a true remote freelance job on SC.
Indeed
– Brands are typically established or at least have a budget
– Tends to be "permalance" jobs
One FAST student landed a great true remote gig on Indeed, but it seems pretty rare.
There you have it. The best (and worst) sites for freelance fashion designers. Stick to Upwork to get started. From there, you can grow, raise your rates, and start building your career as a freelance fashion designer.
Additional free resources to get started as a freelance fashion designer:
You got this!
xx Heidi