Congrats! You got your foot in the door. It's exciting, but figuring out how to prepare for a fashion interview is also nerve-wracking AF. You're one step closer to your dream job in the industry, and it's a lot of pressure.
There's a lot of generic fashion interview advice out there, so I'm going to take it one step further with tips that no one else talks about.
Yes, you need to do the basics like understand a company's values, refine your portfolio and practice potential interview questions.
But there are small things beyond this that you can do to prepare for fashion interview, like coming with ideas and questions, and using the Briefcase Technique that I swiped from Ramit Sethi.
Let's cover the fundamentals of how to prepare for a fashion interview first, then we'll dive into the small things you can do to put you ahead of 95% of the competition.
Let's land you your dream job!
(And psst, these strategies work whether you're interviewing for a full-time fashion design job or for a freelance fashion design job.)
Table Of Contents:
Before the Interview
Research the Fashion Brand AND the Interviewer(s)
Every job site tells you to research the brand. It's one of the most common tips for how to prepare for a fashion interview.
But you also want to research the person you'll be interviewing with!
Do a little LinkedIn stalking, find their personal Instagram, and search for articles featuring them. The News tab on Google search (just input the person or brand name) is a great way to find press features.
See if they have any recent successes you can compliment them on, or personal interests to better relate.
Even small things that have nothing to do with the fashion industry can be great points of connection.
You both love terriers? Or vacationing in Mexico? These rando commonalities are great at relaxing the energy and building rapport.
Prepare A Professional (and niche) Fashion Portfolio
The mistake that most fashion designers (both experienced and beginners) make in their portfolio is showing too much scattered work.
I call it "portfolio vomit," and I've seen hundreds of fashion portfolios that do this.
One of my Freelance Accelerator students, Alison Hoenes, was super guilty!
The best fashion portfolio is one that includes projects that speak directly to the brand.
I call it the Portfolio Golden Rule (learn more in my free book on fashion portfolios) and it goes like this:
Bottom line: If it's a kidswear brand, they don't want to see your men's designs. A denim clothing line doesn't need to see your lingerie work.
Yes, you can have these in your back pocket in case they're curious what else you've done, but focus first on showing them projects that are relevant to them and the role.
I cover allllll the fashion portfolio tips in my free book, but the main points are:
Show your process: include mood boards + inspiration, sketches (flats in Adobe Illustrator), tech pack screenshots, and finished garments if possible.
Stay relevant: you don't need a huge variety of work. Instead, include projects that are visually relevant to the brand and role.
Don't look like a student: I know, that feels like a lot of pressure. But be careful with work that looks too "school project-y" (more tips here).
Show impact/results: if possible, include mentions of best sellers or positive customer feedback. One of my Freelance Accelerator students, Amy Barnhart, includes a screenshot of a bunch of 5 star reviews her design has on the company website. Her clients are always impressed.
Review the Fashion Job Description
Read the job description to see what skills and experience they are looking for. Note specific requirements or responsibilities and figure out how to show them you're qualified.
If you don't have fashion industry experience for that specific requirement, think about transferable skills from other roles.
Better yet, SHOW them you're proactive.
Let's say one of the requirements is PLM / tech pack software, which you haven't used before. The best way to prepare for this during the fashion interview is to research ahead of time.
Familiarize yourself with some common PLM / tech pack software. Download a free trial of one and play around. You don't have to become proficient, but then you can say:
"I spent some time before the interview checking out tech pack software and downloaded [name] to give it a try. While I don't have hands-on experience with it, I'm confident I could quickly get up to speed and am happy to do that on my own time."
No one, NO ONE (!!!) does this.
But fashion brands love to hire people who are proactive, take initiative, and have the drive to learn. Yes, it takes extra time, but that can be the difference between you and all the other candidates who are competing for the same fashion design job.
This is one of my favorite tips for how to prepare for a fashion interview. I really hope you take it and run!
Familiarize Yourself with Common Fashion Design Interview Questions
I know, I know, such an obvious tip on "how to prepare for a fashion interview." But there's a lot of value in this. These may include:
What inspired you to pursue a career in fashion design?
Can you walk me through your design process?
How do you stay current on trends in the fashion industry?
Can you walk me through your design process from concept to finished product?
To prepare for these questions (and others), practice answering them out loud so your responses sound natural during the actual interview.
Better yet, practice with a friend who can give feedback. It can feel uncomfortable AF, but it's better to get comfy in these situations than not preparing for the actual fashion job interview.
Dress Appropriately for Your Fashion Interview
I once interviewed someone for a role here at Successful Fashion Designer. My jaw hit the floor when she showed up.
It was peak pandemic, so it was a Zoom interview of course. When she popped into the Zoom room, it looked like she was NAKED.
WTAF. Who shows up to an interview without clothes on?!
Once she started talking and moving her body around, I realized she was wearing a tube top.
Bad choice my friend. Zoom interview or in person, a tube top is inappropriate.
So, what sort of outfit should you prepare for a fashion job interview?
Think about the fashion brand you're interviewing for and dress accordingly.
A fashion design job at The Gap is a very different look than one at David's Bridal. You wouldn't show up to a job interview at Billabong wearing a suit and heels. Use your judgment!
Choose something simple that's somewhat in line with the brand. Make sure it's clean, pressed and fits well. Most importantly, make sure you feel comfortable and confident.
Grooming matters too. Make sure your hair, makeup (if applicable), and nails are well kept. No chipped polish or runny mascara.
Oh, and of course, nothing too revealing or flashy. Save your tube tops for club nights.
During the Interview
Arrive Early & Show Your Enthusiasm
I've interviewed hundreds of people over the years, and I know many hiring managers. It's unreal, UNREAL how many candidates don't show up on time and also bring some pretty "meh" energy.
Do a test run on Google Maps to estimate travel time, and if there's any chance of traffic, give yourself plenty of padding. Plan to be sitting in the office at least 15 minutes before your scheduled time.
If your fashion job interview is on Zoom, make sure the software is up to date and restart your computer well in advance. Enter the room 2-3 minutes before it's scheduled to start and wait for the host to admit you.
And for your enthusiasm, it actually feels sad to have to say this, but BRING IT people!
I can't tell you how many blasé people I've interviewed (and heard other hiring managers complain about). If you're not excited about the role, then you won't get it. Show your passion about the job and be enthusiastic when talking about your work.
Fashion is competitive. So whatever you need to do to amp yourself up and prepare for that job interview, do it!
(I interviewed fashion freelancer on the Successful Fashion Freelancer podcast, Marissa Borelli. She did jumping jacks in the hallway before pitching brands at trade shows. It got her adrenaline and energy up!)
Prepare Questions for Your Fashion Industry Interview
When hiring managers ask, "do you have any questions for me?" one of the worst answers is "no."
Brands want to see that you're curious and put in the effort to come prepared for your job interview. Brainstorm thoughtful questions to demonstrate your interest in the position and company culture.
What might a day-to-day look like for this role?
What are some challenges you've had with previous people in this role?
What are goals for the next 3-6 months and how do you see this role contributing to those?
Can you describe any upcoming projects or initiatives that I would be involved in if hired?
What do you enjoy most about working here?
What challenges have you faced and overcome within your role?
You don't need to ask all of them, but being prepared with 2-3 questions like these will show that you're genuinely interested.
Use the "Briefcase Technique" for A Fashion Job Interview
Full disclaimer, I did not create this idea. I swiped it from Ramit Sethi, who coined it as the Briefcase Technique.
It involves preparing "something -" ideas, designs, or similar – just for that brand. At the end of your fashion job interview, you pull this "something" out of your briefcase to share.
So, how to prepare for a fashion interview using the briefcase technique? Here are some examples for different fashion industry job roles:
Fashion Designer: "Have you ever thought about introducing cashmere accessories to go along with your sweater collection? I think it would be a great add-on and easy upsell to increase revenue. I put together a few ideas…"
And then you pull out a page or two of designs you created to show them what this could look like.
Technical Designer: "I don't know what your current tech pack process looks like, but I wanted to show you something I implemented in my last role that saved a ton of time and decreased the number of protos. Let me show you…"
And then you pull out an example tech pack and explain the process.
Product Developer: "I'm not sure what your current sourcing process looks like, but I've been working to find more suppliers who are offering GOTS certified activewear fabrics with low MOQs. I brought a few swatches to share…"
And then you pull out some swatch cards.
You are making a few assumptions by using this strategy. But as long as you've done your research and know that the brand hasn't yet introduced cashmere accessories, or is interested in sustainability, your ideas will land well. They will be impressed you took the time and initiative to bring this idea.
And if you're worried about the brand stealing your idea and not hiring you…yes, that may happen. Listen, these things happen in fashion. We cannot change that. But would you rather stand out against the competition and have much better chances at getting the job? This is a risk you have to take.
Things NOT to Say (or Ask) During a Fashion Interview
One of the strategies for how to prepare for a fashion interview is also know what not to say or ask! Avoid these topics and you should be set:
Don't badmouth previous employers or colleagues – it's unprofessional and raises concerns about your teamwork skills. If you left your last job because it was "toxic AF," spin it around to say, "I wanted the opportunity to join a new team and see how other brands operate."
Don't ask about salary or benefits too early – show interest in the company and role first. The money and perks discussion will come, but the first interview for a fashion job is not the time to bring up salary or compensation.
Don't ask about remote work opportunities – if there is flexibility in the role, it was likely mentioned in the job description. Let the interviewer initiate this conversation. (I interviewed a freelancer for a remote role once. I asked why she was interested. She told me, "because it's fully remote." This is the LAST answer someone wants to hear. Talk about your excitement to contribute to the brand, to help them grow and reach their goals, but do not mention working remote or a flexible schedule as the reason you're pumped.)
Don't discuss your personal life excessively – yes, it's ok to connect on the fact that you both love terriers or vacays in Mexico. But don't bring too much personal information into the conversation. I've interviewed people who've brought up the divorce they're going through, the student debt they're paying off, or how they're trying to move out of their parents' basement. Not great topics for a job interview! A few light personal tangents are fine, but keep it mostly professional.
Your goal is to demonstrate that you're the ideal candidate by being well-informed, showing initiative, and keeping conversation topics relevant.
After the Interview
Follow Up After the Interview
I have a personal rule that I won't hire someone if they don't follow up after the interview. And I know fashion freelancers and job seekers who've landed clients and jobs specifically because they did follow up.
Because when it comes to getting hired, it's not just how to prepare for a fashion interview in advance, it's what you do after that has a massive impact on your chances of landing that dream job.
A follow-up after is a great opportunity to thank them for the opportunity, and remind them why you're the perfect candidate. Personalize your message by mentioning specific topics discussed during the interview, like sustainable fashion practices or adding a cashmere accessories line.
If they had any concerns about your experience or portfolio, you can address those and show initiative and commitment.
You have no idea how many other candidates they are interviewing or their schedule, so be prompt with your follow-up. Within a couple hours is ideal, and no more than 24 hours later.
Looking for A More Flexible Career in Fashion? Consider Freelancing.
I'm not talking about freelancing jobs like these: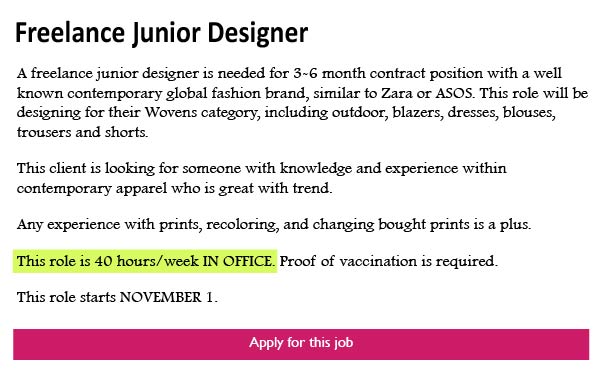 I'm talking about real freelancing, where you're in control of your own business. If you want more freedom in your day and not be tied to a desk…
Or if you're doing all the things in this "how to prepare for a fashion interview" article but still aren't landing the job, consider freelancing in fashion.
You can work wherever (and whenever) you want, get to work with brands you're passionate about (instead of mass production companies), and you can make more money.
Learn more about how freelancing in fashion works and how to get started in my free Ultimate Guide to Becoming a Freelance Fashion Designer.
And That's How To Prepare for A Fashion Interview
We covered A LOT. I don't want to overwhelm you, but I want to make sure you land. that. job!!!
Let's recap real quick how to prepare for a fashion interview.
Research the Fashion Brand AND the Interviewer(s): Make sure you learn what you can about the brand and the person you'll be meeting with. A little LinkedIn stalking goes a long way, and don't discount the News tab on Google search.
Prepare A Professional (and niche) Fashion Portfolio: Your portfolio doesn't have to be huge, it just needs the right projects. A few projects that speak directly to the brand and visually make sense are much better than a ton of projects from different categories. Don't do the "portfolio vomit" thing!
Review the Fashion Job Description: Be prepared to address how you're qualified (or how you'll get up to speed) on all the skills and tasks that were listed in the original job posting.
Familiarize Yourself with Common Fashion Design Interview Questions: Have succinct answers prepared, and practice them with a friend. Awkward, but it works.
Dress Appropriately for Your Fashion Interview: No tube tops! HA! But seriously, consider the brand and what makes sense. Make sure clothes are clean and pressed, and you're well groomed (no chipped nail polish).
Arrive Early & Show Your Enthusiasm: Whether in person or on Zoom, be early and be pumped! Show them you want this role and you're excited.
Prepare Questions for Your Fashion Industry Interview: Come with 2-3 questions to ask about their goals, the role, and projects you may be working on.
Use the "Briefcase Technique" for A Fashion Interview: Take the time to put together something – a page or two of ideas – relevant to the job role that you can pull out of your "briefcase."
Things NOT to Say (or Ask) During a Fashion Interview: Steer clear of topics around money, benefits, and remote work perks. And keep your personal stuff, well, personal!
Follow Up After the Interview: Within a few hours, send a thank you note. Include a few specific references to the interview, and remind them why you're a great candidate.
Looking for A More Flexible Career in Fashion? Consider Freelancing. Full-time fashion jobs aren't for everyone. But a lot of people in fashion don't even know "real" (aka not "temp job") freelancing is a thing in our industry! Get started with my free guide here.
You got this! You know alllll the tips (beyond most of the generic stuff out there) on how to prepare for a fashion interview. You're going to do great! Congrats on your interview, I hope you nail it!