Oni Auer is a design director and fashion career mentor in NYC. She got started in fashion by scoring a position with BCBG when she was a mere 18 years old. She had an associates degree, but no industry connections or advantages to help her get ahead. Since then she has worked with a huge variety of companies including Bebe and UnderArmour. In the interview, she shares the skills and strategies she used to launch her career, keep working through the recession, and advance herself to design director, in the category she wanted most, at a company she loves to work for. If you want to advance your fashion design career, this episode is for you.
In the interview (which you'll love), we will cover:
How she got her first job in fashion at just 18 years old
The things she credits for her career success
How she managed to continue working during a major economic recession
How she jumped between a huge variety of categories, and why she finally settled on activewear as her niche
The big opportunity she turned down–on her first day of work
Why she moved from California to New York
The new opportunity that convinced her to stay in New York AFTER she'd made up her mind to leave
The unique thing Oni does at interviews to make sure the job is right for her
The questions you should ask before taking a job
What she looks for in new hires as a director
And more!
Press the play button below to listen here, or listen on Apple Podcasts:
Starting out in fashion
Oni Auer didn't have a perfect childhood. Adopted at the age of 6, Oni grew up without much money. She learned early that if she wanted something, she had to work hard for it and never give up. She describes herself as scrappy, and she carried that attitude into her fashion career.
One of the youngest graduates from her high school, Oni went straight to FIDM for her associate's degree. By the time she graduated, she had secured a freelance position with BCBG through an agency.
She had a LOT to learn at that first job, as her fashion school education hadn't done much to prepare her for the real world of working in fashion. But she brought her can-do attitude and tremendous work ethic with her, and it paid off. Her manager at BCBG loved her so much that the company paid to buy out her contract from the freelance agency so they could keep her.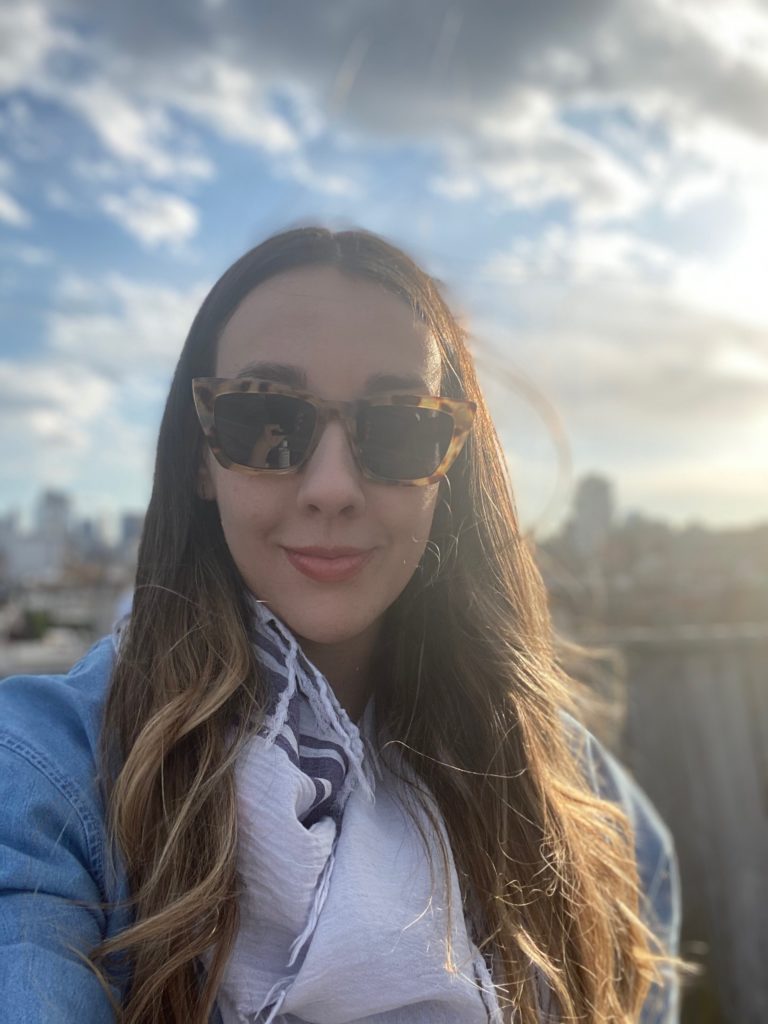 Advance your fashion design career
Since that first job, Oni has worked with a variety of different companies, designing everything from denim to swim to runway couture. Along the way, she found that she has a knack for launching new lines and new businesses. And after having the chance to design in so many different categories, she also realized that her biggest passion was designing activewear. As Oni puts it:
"I felt like it was much easier to create a beautiful gown, or runway piece or a sexy swimsuit than it was to make an interesting activewear piece that was actually functional, actually comfortable and had some real use and technology to it."
If you're looking for inspiration to further your own career in fashion, you won't want to miss this interview!
Loved this episode? Check out episode 108, How to Become a Senior Fashion Designer by Age 27!
Resources & People Mentioned
Enjoy the show? Help us out by: