If you're starting your own brand or freelancing, going into production is intimidating. Sourcing fabric, finding a factory, and then putting together a fashion tech pack is a LOT to tackle.
Which is why I created this guide.
During my 10+ years working in fashion, I spent a lot of time nerding out over my tech packs to make them as efficient as possible. Things like linking cells across tabs, adding formulas to make Excel do the work for me, and other subtle functions were added to my template. I worked hard to make it as close to file > save as when you're creating a new design, and while it won't be quite that quick the first time you use it, every tech pack you create will get easier and easier.
I've used this template and tech pack system to successfully manufacture and produce 1000s designs, and I'm sharing it to help you do the same!
It includes step by step video tutorials to help you with every part of the tech pack process, and my free tech pack template that you can use for any design!
Before we get to that, let's go through some of the essentials to make sure you're solid on what a tech pack is and why you need one.
Pro Tip: This article references terms and abbreviations included in fashion tech packs that you may not be familiar with. Reference my Ultimate Guide to Fashion Industry Terminology & Abbreviations.
Good? Ok, first some essentials.
What is a tech pack?
A tech pack is a set of instructions, also called a spec sheet, to get your designs made. It includes the exact steps and materials required to manufacture your product. It's similar to a blueprint for building a house, or the set of instructions you use to assemble Ikea furniture.
What's the goal of a tech pack?
With a complete tech pack, the factory should be able to make your entire product perfectly without having to ask any questions. The goal is to minimize the number of protos / samples, decrease costs and speed up production time. It also serves as a master document to track product development including comments, revisions and changes made.
As a freelancer, producing complete, professional tech packs means factories will take you seriously, your clients will be happy, and you'll be able to charge more!
Why do I need a fashion tech pack?
If you're working with a FPP (Full Package Production) factory, they can help you create your fashion tech pack. But if you're working with a CMT (Cut Make Trim) factory, they'll expect you to provide one. If you show up empty handed, they'll see it as a red flag that you're unprofessional or don't know what you're doing. Most of them won't give you the time of day.
Just like instructions from Ikea, your factory needs instructions to build your design.
Otherwise, how will they know what materials to use? What size the pockets should be and where exactly they go on the product? What the inside of the garment looks like?
This is exactly why you need a tech pack.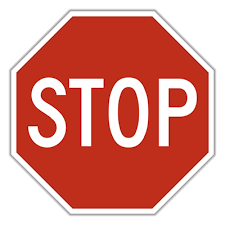 BEFORE YOU GO FURTHER, DOWNLOAD THE FREE TECH PACK TEMPLATE TO FOLLOW ALONG!
What the heck goes in a fashion tech pack!?
Here's the quick checklist. We'll go into each part in detail. But this is a 10,000 foot overview.
Your tech pack should include these 6-7 parts:
A cover page
Tech Sketches
A BOM (Bill of Materials)
A Graded Spec
Colorway Specs
Artwork Specs (if relevant)
A spot for proto / sample / fit comments
Below are tutorials on how to build each of these pages in your tech pack.
---
A Cover Page
A cover page is an overview of your design. This page should include high level details about your design with a finished color flat sketch. This includes:
The Brand's Name & Contact
Style Name / Number
Season
Vendor
COO (Country of Origin)
Date
It also includes an area to track any changes or revisions.
Your tech pack acts as a living breathing document to track the entire product development process, so anytime you or your clients make any change (no matter how small), note it in your fashion tech pack. Best practice is to note what you changed something from and what you changed it to and a reason, if applicable. This helps keep your factory accountable and responsible for implementing all changes. In the worst case scenario that they mess up in production (it happens), you can often use your tech pack as leverage for negotiating.
Example: "Changed decorative side seam stitch from contrast color to tonal per request of Design Director."
Here's an example of a tech pack cover page: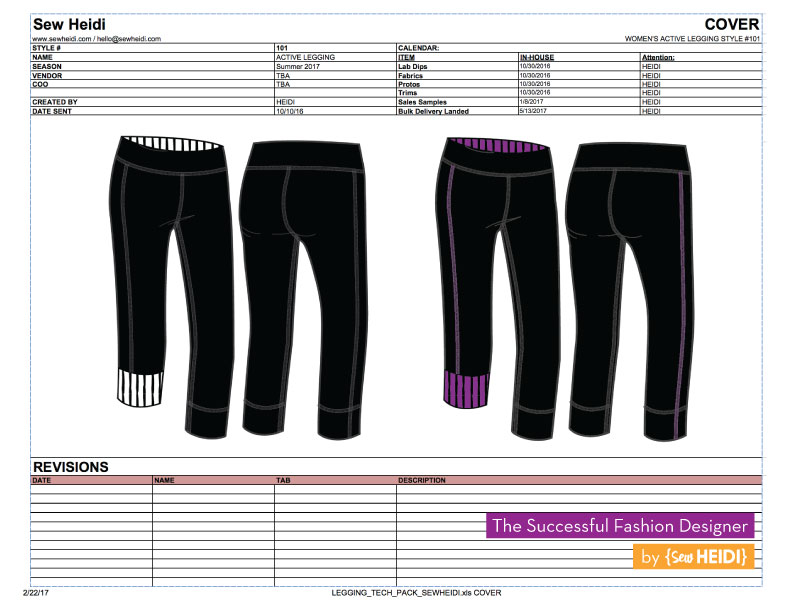 Tech Sketches
Tech sketches are flat black and white sketches with text callouts to specify design details. They should include every detail from stitching and trims to construction techniques and placements and are most commonly drawn in Adobe Illustrator. You may need to show more than one angle (front, back, side, inside) or closeup sketches.
The best practice is to create them using layers in Illustrator. Here's exactly how to do that:
Once you've finished your sketches in AI, this is how you want to bring them into your tech pack in Excel:
Here's an example of a flat sketch page in your tech pack: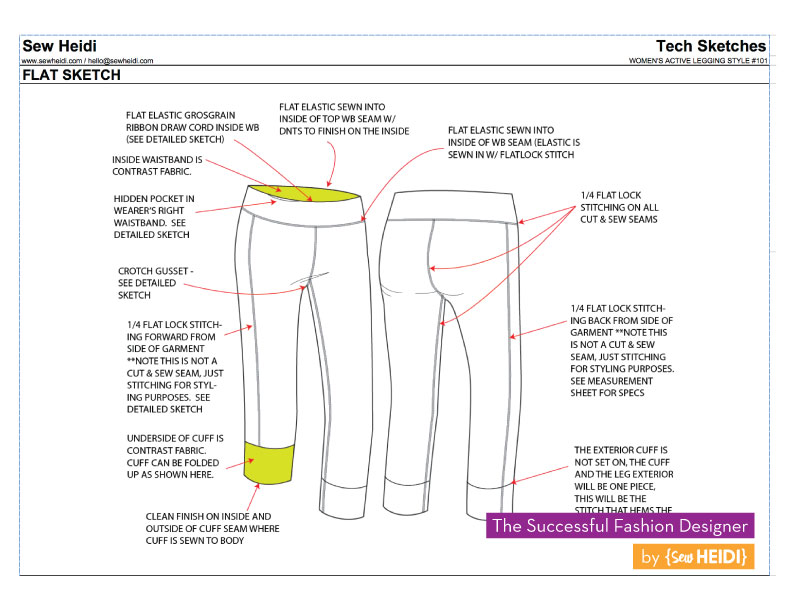 A BOM (Bill of Materials)
A BOM is the master list of every physical item required to create your finished product and where it goes on the product. This includes everything from fabric and labels to hangers and poly bags.
(Psst! Wondering where you get all this info? The suppliers you buy your fabric and other materials from will have them. Here are the exact fabric details to include.)
This can be one of the most tedious parts of the tech pack to fill in, especially if you're creating product with lots of details and trims like outerwear or complex bags.
One of the best tricks to fill in the BOM is to reference a similar product in the market. Examine it closely and make sure your BOM includes every material used, whether it's on the outside or inside of your product (even on the very inside like interfacing or elastic), or part of the packaging materials.
It also helps to close your eyes and do a mental scan of your design in your mind. Envision each and every part of your product as it would look when it leaves the factory (remember, this includes things like hangers, tissue paper, cardboard inserts for stability, etc.) and make sure you've included all materials in your BOM.
Here's an example of a tech pack BOM: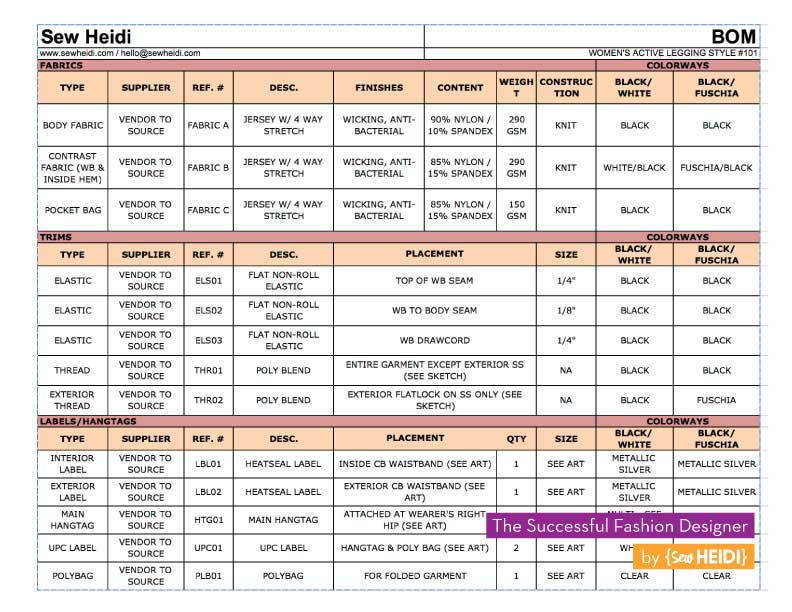 ---
A Graded Spec
A graded spec is a chart of POMs (Points of Measure) for your product in all sizes.
It's crucial to how your garment will fit and should be created by a technical designer or pattern maker, so unless you're skilled in this area, it can be best to hire a freelancer who specializes in pattern grading.
Here's how to create the POMs. If you want to learn more about Graded Specs so you're familiar with how they work, The Spec Manual by Michele Wesen Bryant and Diane DeMers is the best (and only one that I know of) reference book.
Check out the video below to see why it's a must have for fashion designers:
Once you have all the numbers from a technical designer or pattern maker, here's exactly how to use Excel to auto-calculate your grade rules to avoid any math mistakes or make sure your sizing auto updates if you do make any changes:
Colorway Specs
The colorway specs show each of the colorways and what color goes where in the garment. Pantone is the most common color reference in the industry and what most designers use to spec colors for their designs.
After you've loaded Pantone colors into your AI workspace, use this video to quickly create colorways that you can add to your tech pack:
Here's an example of a tech pack colorway page: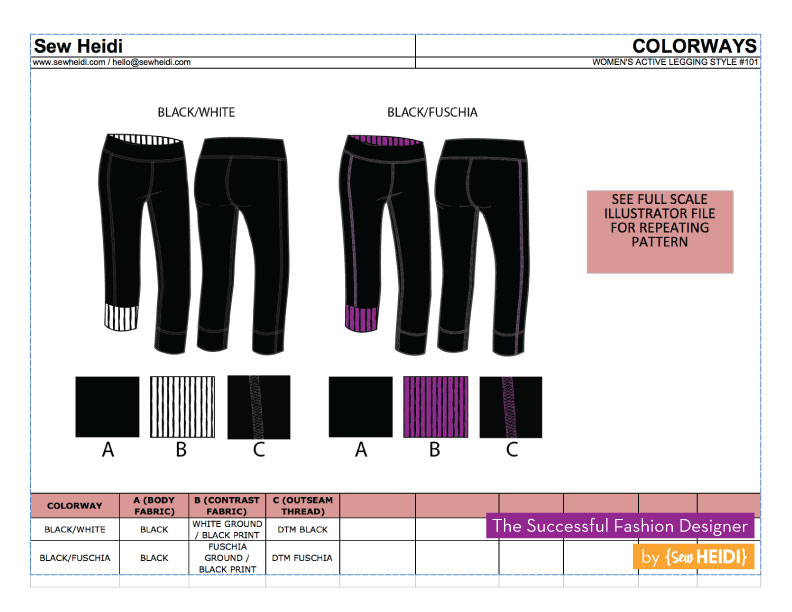 Artwork Specs (if relevant)
Shows details for any textile patterns or prints including colors, scale, repeat, placement, etc. I typically spec these in Illustrator and provide the factory with native artwork for development.
If you're working with repeating patterns, you can spec them like this:
If you're working with placed / engineered artwork or cut and sew panels, use this trick to mock them up at full scale to make sure they execute correctly in production:
Here's an example of a tech pack artwork page for a repeating pattern: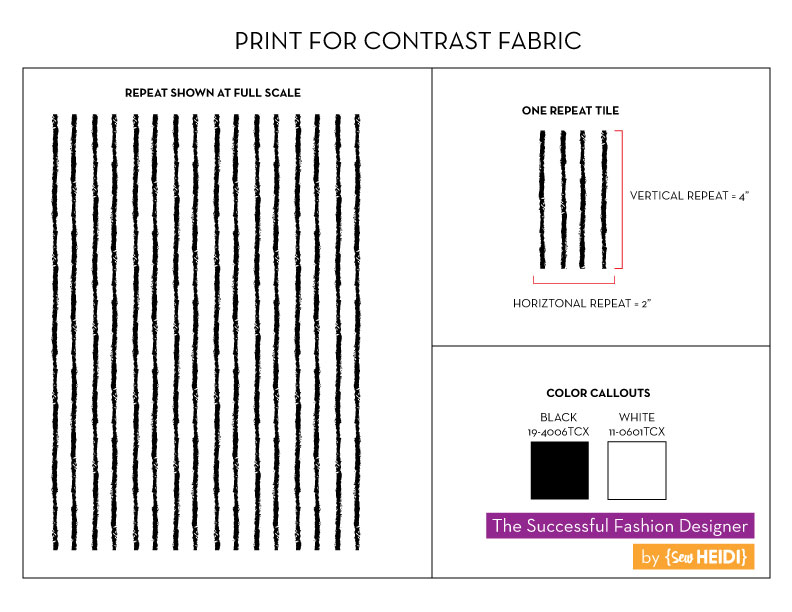 A Spot for Proto / Fit / Sales Sample Comments
Since your tech pack serves as a master document for tracking, these are pages you will enter measurements / comments / approvals / rejections about various samples (protos, fit sample, sales sample, photo sample, etc). (Pssst – these are the 12 types of samples in fashion, and which ones you actually need!)
It's common to include photos of samples marked up with comments to communicate changes or construction issues. Be sure to also highlight any measurements that are out of tolerance so the factory can easily see corrections that need to be made.
You can duplicate this page as many times as you need for however many samples you get.
Don't trick yourself into thinking that tiny comments can "just be made in email" because it's quicker!
No matter how small, any feedback to the factory about samples should be made right in the tech pack. Trust me – two months or two years down the road, you won't remember the comment and probably won't be able to find the email. It's just too easy for things to get lost this way!
Here's an example of a tech pack proto comments page: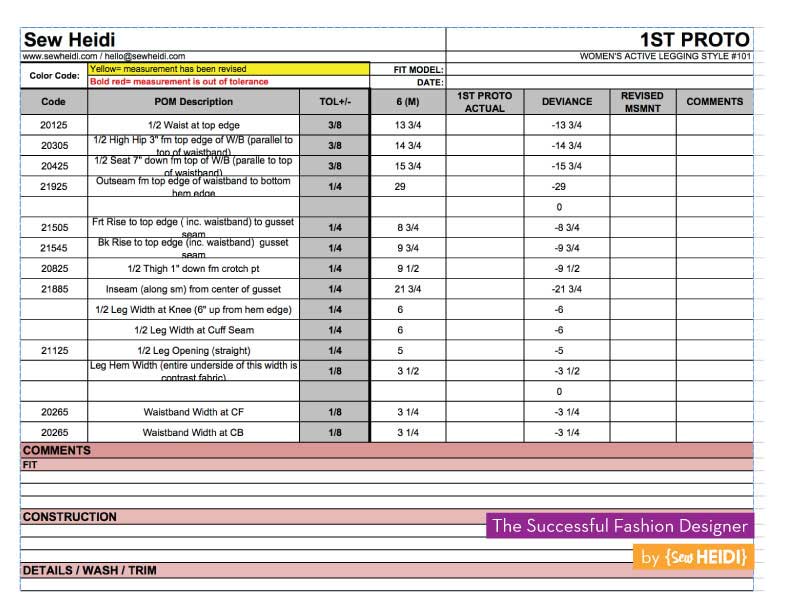 ---
So there you have it. All the various pieces and parts of a tech pack plus step by step videos of how to put them together.
I know it feels like a lot of moving pieces and parts + industry terminology to wrap your head around. Instead of getting overwhelmed and worrying how everyone else does their tech packs or what the best way is, start by understanding the components and pieces of a tech pack that I outlined above. How you assemble them is ultimately up to you – and once you've created a few, you'll figure out a system that works best.
You'll probably even start having dreams about them. Guarantee it 😉
You got this – and I'm here to help make sure you succeed.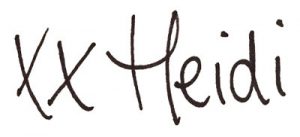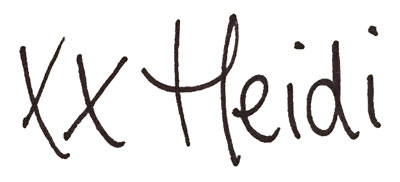 ---
---