I'm going to put on my glasses and wag my finger at you for a quick minute.
Like the true nerdy old lady that I am!
Because there's a BIG lesson many people (and you?) need to learn to advance their fashion careers.
It starts with emails like these:
---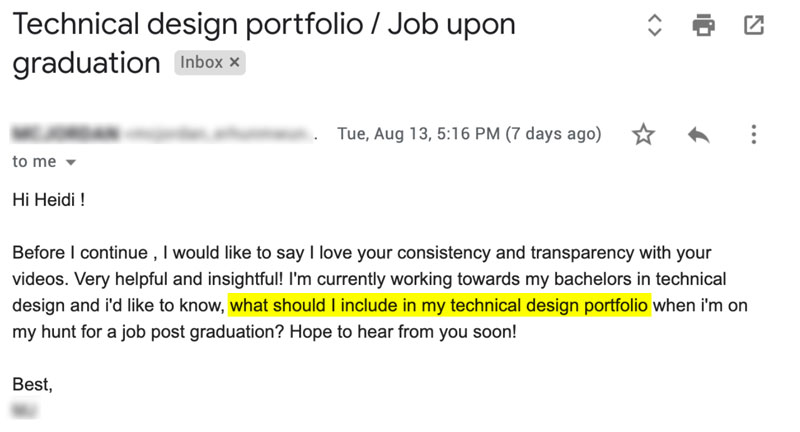 What should I include in my fashion portfolio?
---
Is a remote position even possible in the industry? Any advice where I'd start networking?
---
Now ask yourself:
Have you ever sent an email like this to a super busy person (aka most people)?
Be honest! No one's judging…
But my guess is that you have!
And you know what? I have too (years ago before I learned any better).
Since I want to teach you all the stuff I figured out the hard way…
I'm here to say loud and clear:
DON'T SEND EMAILS LIKE THESE! 
Because it's the fastest way to sabotage your success in fashion.
WOMP WOMP
Here's why:
Fashion is FAST paced.
Brands need people who find answers themselves.
I'm not saying we don't all need help sometimes.
But if you ask questions you can Google (but clearly haven't)…
You're the last kind of person ANYONE in fashion wants to hire (as a freelancer or employee).
And questions like these (which I get almost DAILY) are VERY Googleable.
Look at what comes up on the FIRST page for all three questions!!!
---

Fashion portfolios for technical design
---

How to be a remote freelance fashion designer
---

10 easy networking tips to get ahead in fashion
---
Not only are the answers out there, they're from my site!
(And it's not a coincidence. It's because I've gotten these questions SO many times over the years, I created all this bada$$ content to answer them for you!)
But many (read: most) people don't bother looking for answers.
Instead, they just blindly ask!
DON'T be this person! ❌
Don't ask your boss, your teachers, your friends, your colleagues, or influencers GOOGLEABLE questions!
Instead:
✅ DO YOUR RESEARCH
✅ LOOK FOR THE ANSWERS
✅ SEE WHAT YOU CAN LEARN ON YOUR OWN!
You'll be 100x more attractive to employers, freelance clients, factories, and more.
---
Ok, now that we got THAT out of the way…
I'm going to do you a real solid.
Here is EXACTLY where you can find answers to these common questions, delivered on a silver platter.
(Because sometimes I cave )
---
You'll learn simple ways to network in fashion and get ahead, no matter where you live or what your skill set. Of course, it's totally FREE.
---
You'll learn exactly what to put in your portfolio, how to create one for tech (or other "non-design") jobs, and tons more to land your DREAM JOB (no matter what skill level you're at).
---
You'll learn exactly how to find remote clients, negotiate pricing, write contracts, and tons more to land your first (or next!) freelance gig.
---
PSST! All of these books are divided into SHORT chapters so you can find JUST what you need.
Skip the parts that don't matter to you and squeeze every last drop out of the rest.
AW YEAH.
So, your big takeaway?
Before you ask anyone another question, Google it first and see what you discover. You may just surprise yourself!
(Also, do yourself a solid and sign up for my email list! I deliver tons of this stuff right to your inbox because that's just how I roll.)