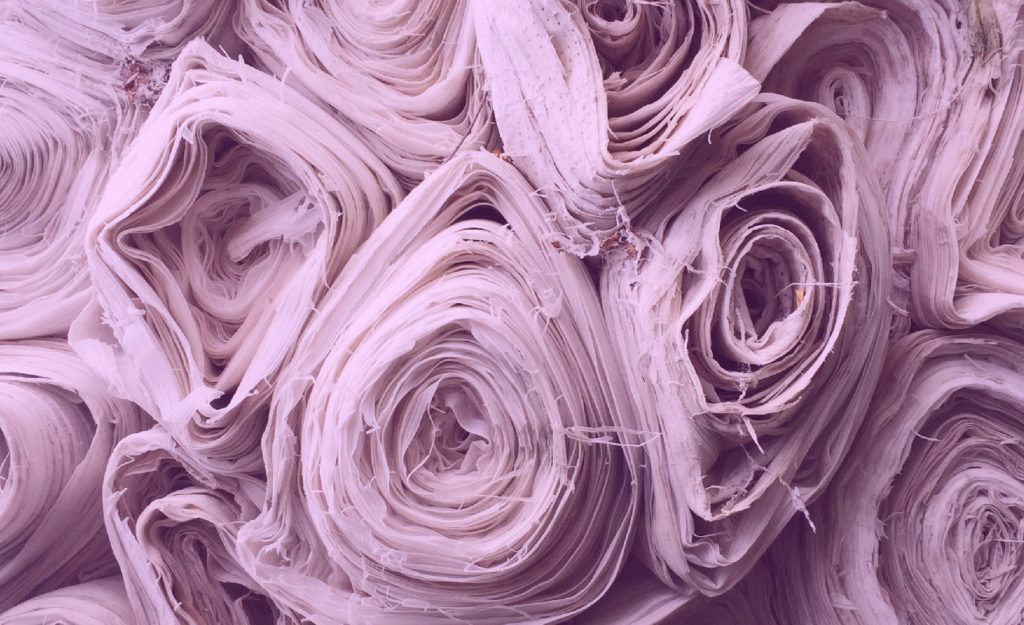 When you have an idea for a clothing line, or you're helping brands get their designs to production as a freelancer, one of the steps you'll have to figure out is how to source fabric.
So, What is Fabric Sourcing?
Fabric sourcing is the industry way of saying finding a supplier who has the fabric you need for sale. This is how fashion designers get their fabric. They source – or find and buy it – from varying suppliers. This guide is going to tell you exactly how to do that, step-by-step, whether you're looking to source fabric in the USA or online.
Unless you've been in the fashion industry for a while, knowing how to source fabric (and trims!) can be really overwhelming. Whether you're starting a fashion brand or you're a new freelancer, doing this as a complete beginner with no experience feels like a monumental task.
But when you know what you're talking about when it comes to sourcing fabrics for a clothing line, you'll have more confidence and more to offer your clients. You'll save time, money and headaches during production, and you'll be able to communicate so suppliers and factories will take you seriously!
(Just be sure to be honest with your freelance clients about what you know, and what you'll be learning as you go. For fashion freelancers, open communication is HUGE.)
This guide is going to walk you through how to source fabric with low minimums, where to find suppliers, and the pros / cons of different types of vendors and fabric options that you can use to freelance for brands or start your clothing line.
I even have email templates you can use to reach out to fabric suppliers (to make sure they'll answer you!). Swipe my professional templates (fully customizable for your unique brand) so you can begin to source fabric for your clothing line:
---
---
How to Source Fabric: The Simplified Step-By-Step Process
There are many options to source fabric when starting a clothing line. Let's start with a 10,000-foot view of what the process looks like:
You send cuttings of fabrics you like (reference swatches) to suppliers you've researched
The supplier sends you similar swatches for fabric they carry (headers)
You pick what you like and order a small quantity (sample yardage) to make prototypes for testing (using a tech pack)
You test wear / wash the garments to make sure the fabric is perfect
You order a large quantity (bulk yardage) for production
Now this is a reeeally, REEEALY, REEEALY zoomed out view. There are a lot more details to this process, and this guide will go through all of them!
---
What Other "How to Source Fabric Guides" Tell You
I did deep research before writing this guide and found that all the other "guides" on how to source fabric for your fashion brand are generic and incomplete.
They tell you different places to source fabric, but don't advise how to actually find or reach out to them. They don't tell you what questions to ask, red flags to look for, or how to know if you're getting the right product.
Which is why this guide is different! I'm going to give you everything you need to know to source the perfect fabric for your clothing line or your freelance clients, including email templates and word for word scripts you can swipe. This way you can make sure you're ready to reach out to factories.
(Psst! You can also use these exact strategies to source trims + findings like zippers, buttons, ribbon, etc!)
We'll go through all the details about types of fabric, types of suppliers, and must-know terminology first. Then I'll share a simple step-by-step process you can easily follow to source fabric today.
---
Here's Exactly What You'll Learn in this Guide:
---
Where NOT to Source Fabric for your Fashion Brand or your Clients
Let's get this out of the way first, because it's a mistake TONS of designers make.
Project Runway feels glamorous, and it may be your only exposure to "real" fashion. But the problem is that it's pretty, well, unreal.
Sourcing fabric at Mood (or the Garment District, Joann's or your local craft store) is exactly what you don't want to do. You're paying FULL RETAIL, which is at least 2x what you should be paying.
Retail stores have markups, and you and your clients don't need to pay them. This guide is going to show you where and how to buy fabric wholesale (even if you only need a few yards) no matter where you live.

---

---
What Fabric Do You Need for Your Clothing Line?
The best way to figure out what fabric you need for your fashion brand or your client's line is to see what's already in the market and find a reference sample. This is called counter sourcing, and it's the easiest way to find the materials you need.
You can do this a couple ways:
Look in your closet: You may already have the perfect coat or pair of leggings that has the fabric you want to use. It doesn't matter if the labels are torn out and you don't know what the contents are; you can use this as a reference to source fabric + trims. This is a great option because you already know the fabrics wear and wash well.
Shop the market: Go to your favorite stores and find something similar to what you want. Ask the sales reps what fabrics are selling best right now. They are often super knowledgeable and always happy to share. You don't need to tell them about your brand, just ask: "What fabrics are doing really well for lounge pants, I'm looking for something that won't pill, doesn't collect lint and hair and feels like butter!" Buy a few options and then wear them! Wash them! Love them hard to make sure they hold up!
Once you have a reference sample (or a few), you know what fabric you're trying to source wholesale.
---
Must Know Fabric Sourcing Terms
Before you start to source fabric for your clothing line or your freelance clients, here are some basic details you should be familiar with.
End Use: What will the fabric be used for? Leggings, outerwear, dresses? You probably have this figured out by your reference samples and what you want to design, but make sure you know this before you approach any suppliers.
Content: What is the fabric made up of? 100% Cotton, 100% polyester, a blend? If you have a reference garment, use that content as a starting point. If not, look at similar garments in the market.
Fabric Weight: This is calculated by how many grams per square meter (GSM) a fabric weighs. You don't need to calculate this, but it's good to understand what it means. When someone asks what weight you're looking for, you can say "I'm not sure of the exact weight, I have a reference sample and it's being used for a summer jogging pant." This is enough to get started!
Fabric Construction: This is how the fabric is made. The two most common types of construction are knits and wovens. Knits are made up of a single yarn that is sort of braided together to create the fabric. Wovens are made up of many yarns that run right to left (called weft) and top to bottom (called warp), weaving over and under each other to create the fabric. When you begin to source fabric, the first question they'll probably ask is if you need a knit or a woven. If you don't know, tell them the end use and the supplier can help. Here are a few examples:

Knits: leggings, bathing suits, t-shirts, underwear
Wovens: button down dress shirts, jeans, bed sheets

Special Finishes / Treatments: Does the fabric need to be waterproof, anti-bacterial or require a distressed look? You may not know the exact treatment needed (that's ok), but decide if you want a specific function or look so you can communicate it to your supplier.
Minimum Order Quantity (MOQ): The minimum number of yards you have to buy. May vary for sample vs bulk orders.
---
Types of Fabric You Can Source for Your Clothing Line (plus pros / cons of each)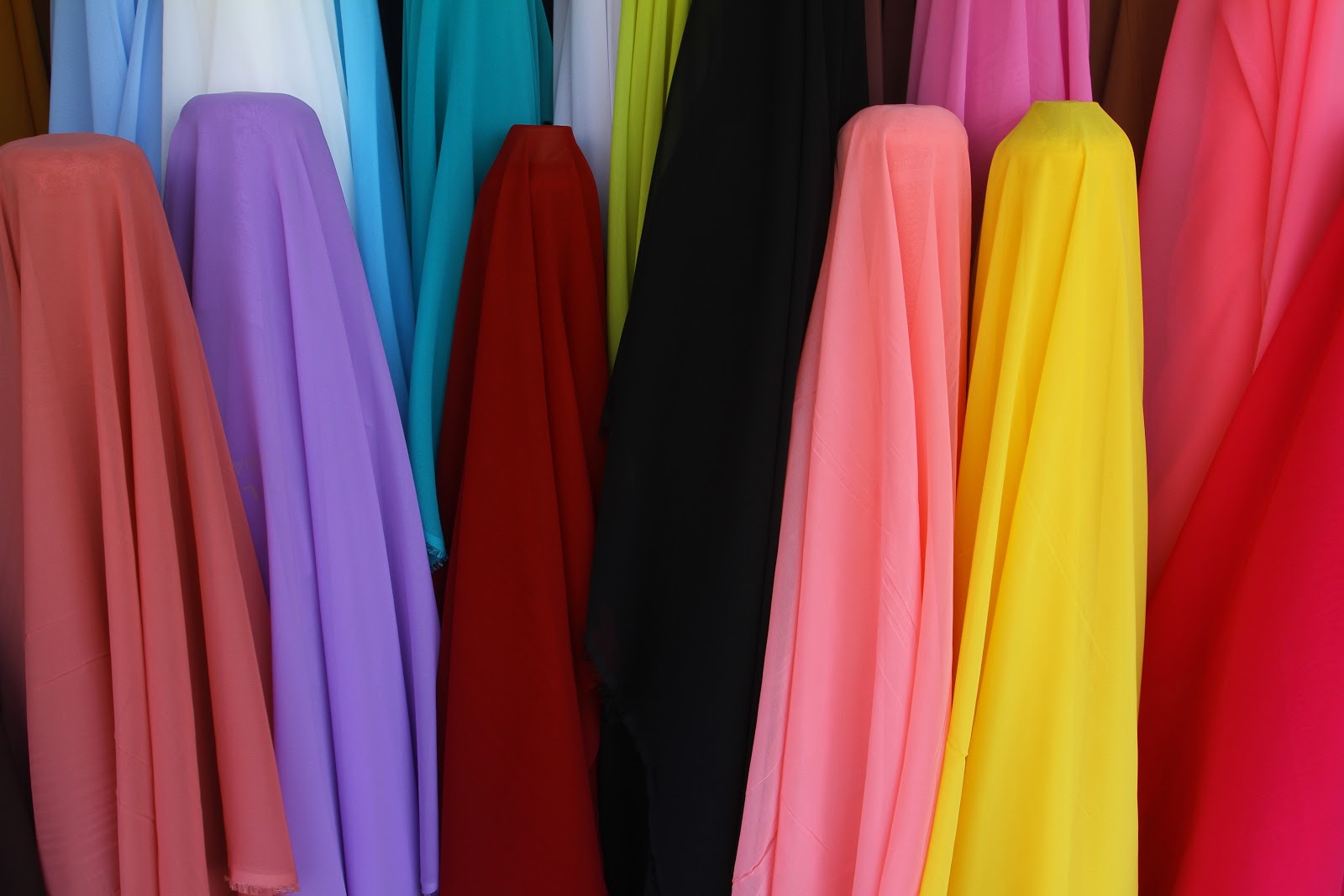 In Stock Fabric
This is fabric that is in stock and ready to buy. The colors, quality and any finishes are done and you buy it off or by the roll as is. This may feel limiting, but it's actually a great option.
Pros of Buying In Stock Fabric:
It's available immediately
It's in stock (meaning it should be available in 6 months when you need to reorder, but always confirm continuity – that they stock the fabric and guarantee color matching)
MOQs are typically much lower (some places let you buy just 1 yard)
Cons of Buying In Stock Fabric
Limited customization (beyond printing or embellishing)
You can't get the exact color or quality you want
Other brands can use the same fabric
Deadstock Fabric
This is fabric that is leftover or rejected. It may be an overrun from another brand, or didn't pass quality control inspections.
Pros of Buying Deadstock Fabric:
It's available immediately
Limited availability (can be a selling point)
Cons of Buying Deadstock Fabric
Limited availability (if it sells well, there's no more)
It may not be the best quality (inspect and do your research)
There's controversy about whether deadstock fabric is sustainable. Do your own research to see if it's the right choice for you.
Greige Goods
This is raw fabric that is unbleached and undyed, ready for custom colors, finishes or treatments. (It's a neutral color combo of grey + beige = greige!)
Typically you'll buy a large quantity from the fabric mill and then have smaller cuts dyed and finished per your specifications.
Pros of Buying Greige Goods:
Fully customizable for colors, finishes or treatments
Cons of Buying Greige Goods:
Large minimums (500-1000+ yards)
More moving parts (you have to have it dyed / finished elsewhere)
Overhead and deadlines (you have to store whatever you don't dye / finish, and raw fabric will deteriorate over time)
Long lead times (a couple months +)
Fashion Startup Advice: In-stock or deadstock fabrics are a great low risk and low minimum place to start. Buying greige goods is a huge investment, can incur big liabilities and typically isn't worth it for small or startup fashion brands.
---
Types of Suppliers to Source Fabric from (plus pros / cons of each)

What is a Fabric Mill (vs house vs factory)?
A fabric mill takes the raw materials and creates fabric by weaving, knitting, etc. MOQs are often very high (500-1000+ yards) but they do allow for complete customization.
A fabric house takes the raw fabrics (greige goods) and dyes, finishes or treats them.
A factory is where the fabric is cut and sewn into finished products.
Unless you're an established brand ready to order 1000's of yards, you probably won't be working directly with a fabric mill.
Pros of Buying from a Mill:
Lowest prices
Fully customizable
Cons of Buying from a Mill:
Very high MOQ
You're buying raw fabric (and still have to coordinate dyeing / finishing etc)
What is a Fabric Agent / Rep?
A fabric agent is a representative of many fabric suppliers and is a liaison for you. Their fee is usually built into the fabric cost, so you will pay a little more (in my experience about 3-5%), but their relationships, knowledge and time they'll save you can be worth it.
If you can't find the right fabric, get ghosted by mills, or aren't sure what you're looking for, an agent can simplify and streamline the process.
Think of a fabric agent like this:
Pros of Buying from an Agent:
Access to more suppliers
Streamlines the process
Cons of Buying from an Agent:
Fashion Startup Advice: Agents can be amazing. You can find them either at trade shows or through online research, and when you've get a good one who understands your needs and serves you well, hold on to them! I've worked with many in my career who helped source fabric for tons of products ranging from outerwear to underwear.
What is a Converter
A converter buys greige goods (raw fabric) directly from the mill, dyes / finishes it, and then sells it. They tend to stock on-trend colors + prints that are sold with lower MOQs (sometimes just 1 roll). Some converters will also offer custom dyeing / finishing of greige goods with lower MOQs than you can get from a mill (a few hundred yards).
Pros of Buying from a Converter:
Immediately available
On-trend colors
Available for reorders (confirm continuity)
Lower MOQ than from the mill
Cons of Buying from a Converter:
Other brands can use the same fabric
Limited customization
Fashion Startup Advice: Converters are a great middleman for low MOQs and on-trend fabrics.
What is a Jobber?
Jobbers have been around in fashion for a really long time. They buy mill ends or small lots of leftovers from fabric mills and resell it for a profit.
Pros of Buying from a Jobber:
Available immediately (if you choose from what's in stock)
Low minimums (often just 1 yard)
Cons of Buying from a Jobber:
Higher prices than buying directly from a mill
Typically not reorderable and can't guarantee continuity (matching color + quality over time)
Fashion Startup Advice: You can find good jobbers, but they're hard to come by. They have a reputation for "misleading" and saying things will be in stock or continuous when they won't.
Full Package Production (FPP)
An FPP is a provider who can take you from napkin sketch to finished production for your startup clothing line, including sourcing your fabric and trims. When you're working with an FPP, all you need to get started is an idea.
That's because they're a one-stop shop that will help you through every step of the fashion startup process (which of course costs more). However, the time and mistakes they'll save you from can quickly make up for the additional expense.
I've interviewed a few great FPP providers on my podcast. Here are a few episodes to help you learn more about how they work:
---
Where to Find Low Minimum Fabric Suppliers for My Clothing Line?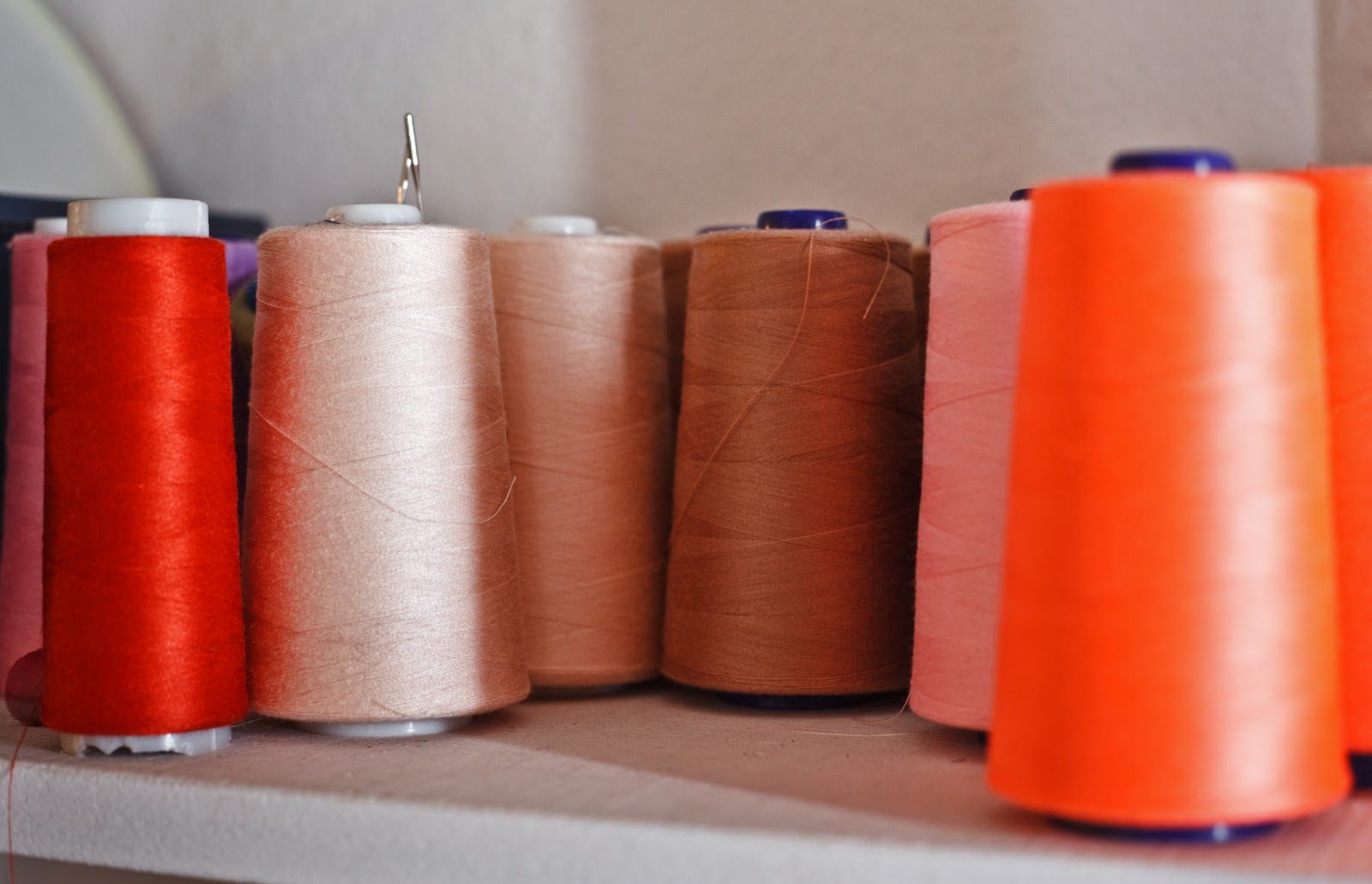 There are a few places to find fabric mills, jobbers, converters, agents or FPP providers for your clothing line. The two best options are trade shows and online. Each of these offers plenty of low minimum options.
Trade Shows
Often, there is a sourcing section at fashion trade shows. But there are specific fabric sourcing shows too.
If you can't physically go to a trade show, look through the list of vendors (you can find this on the trade show website) and contact them directly.
Textile trade shows where you can source fabric + buy wholesale. Many of these fabric vendors have sustainable and eco-friendly fabrics, offer low minimums, and are located around the world – USA, Paris, London, and beyond.
Online
The easiest place to start is looking through the vendors listed at trade show websites. But if you still can't find what you need, dig deeper online.
A lot of wholesale fabric suppliers are old school and don't have the greatest online presence, so this can be a rabbit hole. But with some digging and googling you can find great options. Don't be afraid to pick up the phone and call them. It can be a lot easier to quickly get what you need than waiting for an email (that may never get answered).
Online resources where you can source fabric + buy wholesale:
---
What to Do Once You've Found Fabric Suppliers
The next step is to ask for sample swatches. If you know the specs (weight, construction, finishes, etc), the supplier may be able to send you swatches from that info.
Otherwise, you'll send them swatches of your reference fabrics (the garments you bought or pulled from your closet, and yes this means you have to cut those garments up). The supplier will find similar fabrics and send you samples.
Most suppliers do charge for swatches + shipping, so be prepared to pay for this and be sure to account for the cost in your freelance contract.
Once you have swatches, decide which fabrics you like or get approval from your client and buy sample yardage. The price per yard may be higher than buying for bulk, but do not skip this step. Sew up some samples for wash / wear testing to make sure the fabric is perfect before ordering bulk yardage (use a tech pack for sample / bulk production).
---
Must Know Fabric Details for Sourcing
You'll be talking to a lot of people and looking through a lot of swatches when sourcing. Make sure to keep detailed notes about who you talked to, where swatches came from, and all the fabric details.
Most suppliers will send their swatches on header cards or hangers. These informational cards are attached to the fabric and include details like the supplier, content, weight, etc. They look like this: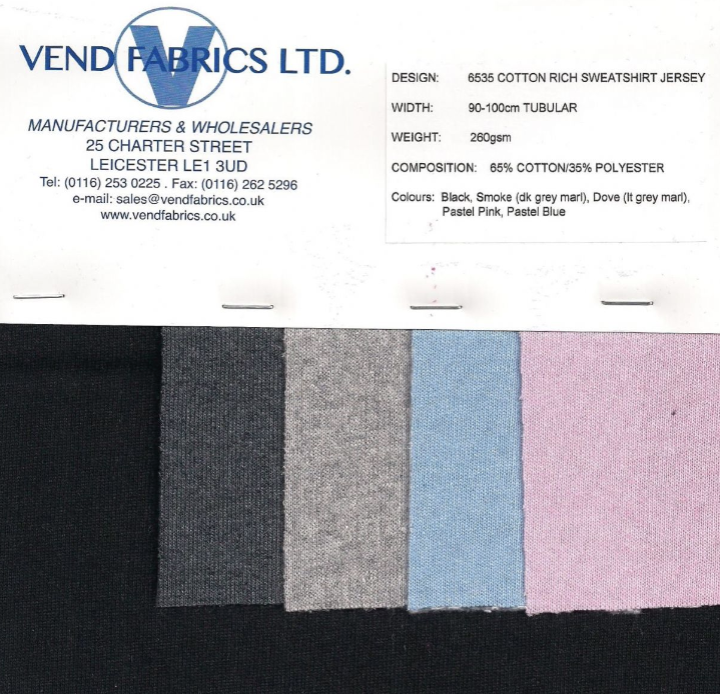 Photo credit: Vend Fabrics LTD
If the header card doesn't include the following details, ask for the information and take your own notes:
Supplier
Article or Item # (so you know what to order)
Fabric Weight
Content
Construction
Width
Price (sample vs bulk)
MOQ (sample vs bulk, surcharges, etc)
Delivery lead time
Country of origin
Care instructions
You'll want all this information for your tech pack!
---
Payments + Timelines for Custom Wholesale Fabric
If your fabric is being custom dyed or developed, pay 50% down and 50% when the shipment is ready. Do not pay 100% up front. (For in-stock, deadstock or other available fabric, you'll simply order what you need and pay up front.)
Custom development can take a few months. While your fabric is being developed, keep in touch with your supplier every couple of weeks to see how things are going and get status updates.
(In fashion, it's very typical to check up on your factories and suppliers frequently to make sure things are on track. Don't feel like you're pestering!)
---

---
How to Contact Fabric Suppliers for Your Clothing Line and Freelance Clients (and get a reply)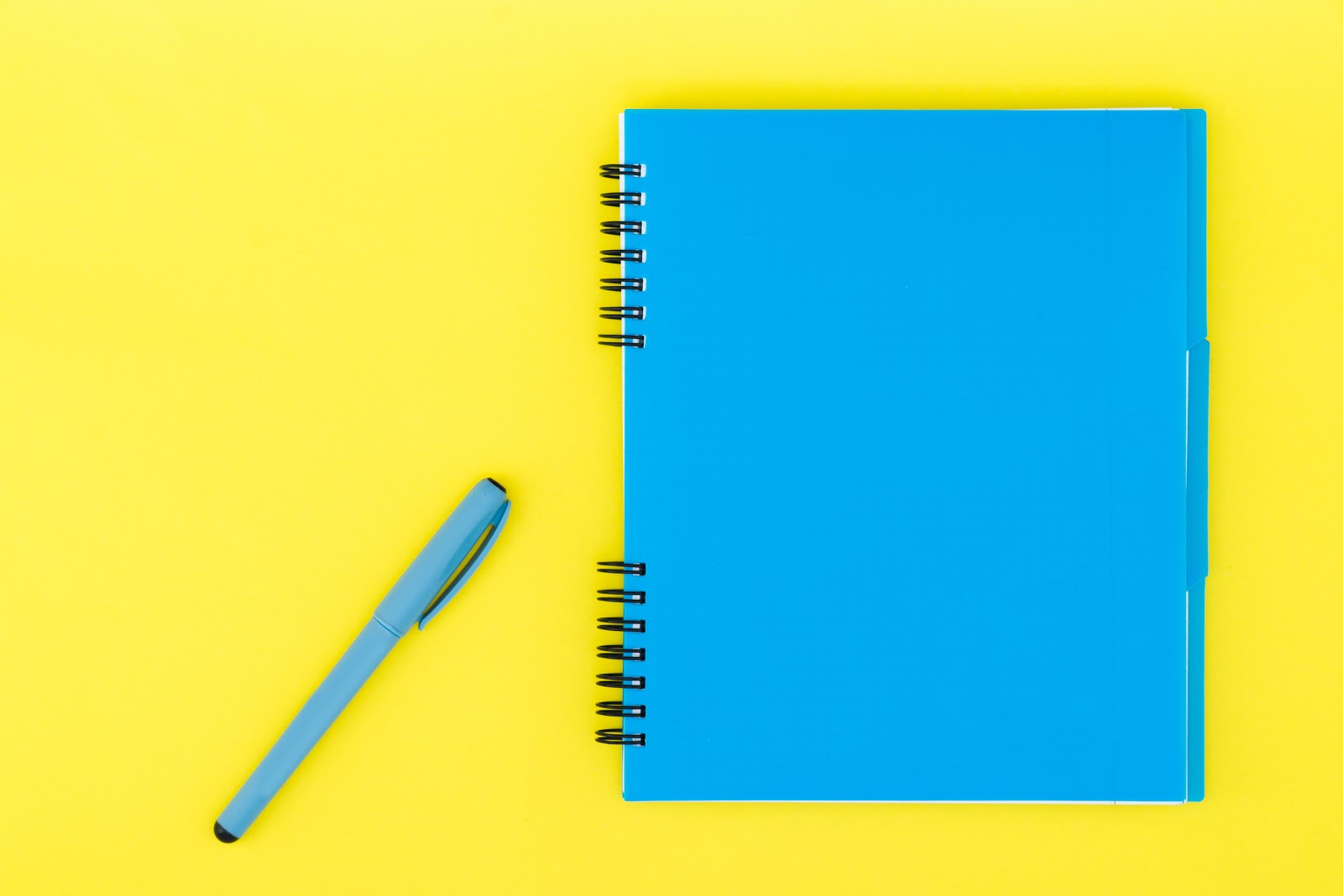 If you've been ghosted by fabric suppliers, chances are it's because:
You sent too much or not enough detail
You didn't sound like you knew what you were talking about
You didn't seem serious enough
There are a lot of people out there who want to start a clothing line, and suppliers get a lot of inquiries. Your message may get pushed to the bottom and never answered.
Which is why I created templates you can use to email fabric suppliers to make sure they'll answer you! Swipe my professional templates (fully customizable for you or your client's unique brand) so you can start sourcing fabric for your clothing line:
Wrapping it up: What to Do Next to Source Fabric for Your Clothing Line
This guide covered a lot of types of suppliers, processes and steps along the way for sourcing fabric. It can be an overwhelming part of the whole process of starting a clothing line but it's an important step to make sure you're ready to reach out to factories!
So to review, if you're starting a clothing line or freelancing with limited knowledge on fabric sourcing, here's what to do, step-by-step:
Find reference samples for your desired garment by shopping the market.
Research suppliers from the trade show vendor listings to see if any specialize in your category (active, outerwear, lingerie, etc).
Contact suppliers once you have an idea of what you're looking for. Use the free email templates I've provided, and remember, sometimes picking up the phone is easier! Have a list of questions ready to ask (swipe these from my email templates!).
Order swatches and choose the best fabric for your design.
Order sample yardage to make some sample garments.
Test the sample garments. Wear them. Wash them. Wear them. Wash them. Wear them. Wash them. A LOT! Give samples to people in your target market for feedback.
If the fabric doesn't work, go back to the suppliers with comments about what you did / didn't like to see other options. If the fabric does work, then order bulk yardage to begin production (using a tech pack).*
*There are a lot more steps to launching a clothing line, such as marketing, pre-selling, etc. that you'll need to explore as well! But this guide is about sourcing, not marketing, so we're keeping it super simple and focused on getting fabrics and trims for your clothing line. Make sure to check out the Successful Fashion Freelancer podcast to learn more about how you can help your clients kickstart their brands!
And a couple things I would NOT do (that I see a lot of newbie freelancers and startup designers trying to do):
Develop custom fabric or get custom colors dyed. It's too expensive, takes too long, and MOQs are too high. The risk is too big when you're just starting out, and there are plenty of great options available in-stock.
Skip using an agent because it's a little more expensive. A relationship with a good agent is priceless and is worth every penny.
---
---
Time to take action on launching your clothing brand!
Now that you understand the process of sourcing low minimum fabrics and trims for a small clothing line, it's time to take action! Don't overthink it. Use the links and free email templates I've provided to reach out to suppliers who are a good fit for you and your clients, and keep track of what you learn! Before you know it, you'll be another step closer to your freelance biz goals and getting your fashion designs into production.
---
---