Creating an Excel tech pack template from scratch is TEDIOUS! And if you don't set it up right, you'll be stuck manually updating A LOT of data. With my free tech pack template, you'll save hours of hard work.
Tech packs are crucial in fashion, and they can be a super profitable service to offer as a fashion freelancer. Yet creating one is an underrated skill that a lot of fashion schools still don't teach! #seriously?!
Most sites charge for tech pack templates…

Mine is FREE!
During my 10+ years working in fashion, I spent a lot of time nerding out over my tech packs to make them as efficient as possible. Things like linking cells across tabs, adding formulas to make Excel do the work for me, and other subtle functions were added to my template. I worked hard to make it as close to file > save as when you're creating a new design, and while it won't be quite that quick the first time you use it, every tech pack you create will get easier and easier.
I've used this template to successfully manufacture and produce 1000s designs, and I'm sharing it to help you do the same! Keep scrolling to see exactly what you get with the free template, plus exactly what goes in a tech pack!
Here's Exactly What You Get with My Free Excel Tech Pack Template
Everything is built into ONE easy to use, tabbed Excel file:

---
Tech Pack Cover Page
The cover page is where you add the high level information about your design, plus the full color fashion flats. This includes the style name, number, season, vendor and country of origin. It's also the main page to keep track of dates and deadlines so you and the factory know when things are due. Last, it's the place where all revisions are tracked, so at any time you know what changes were made.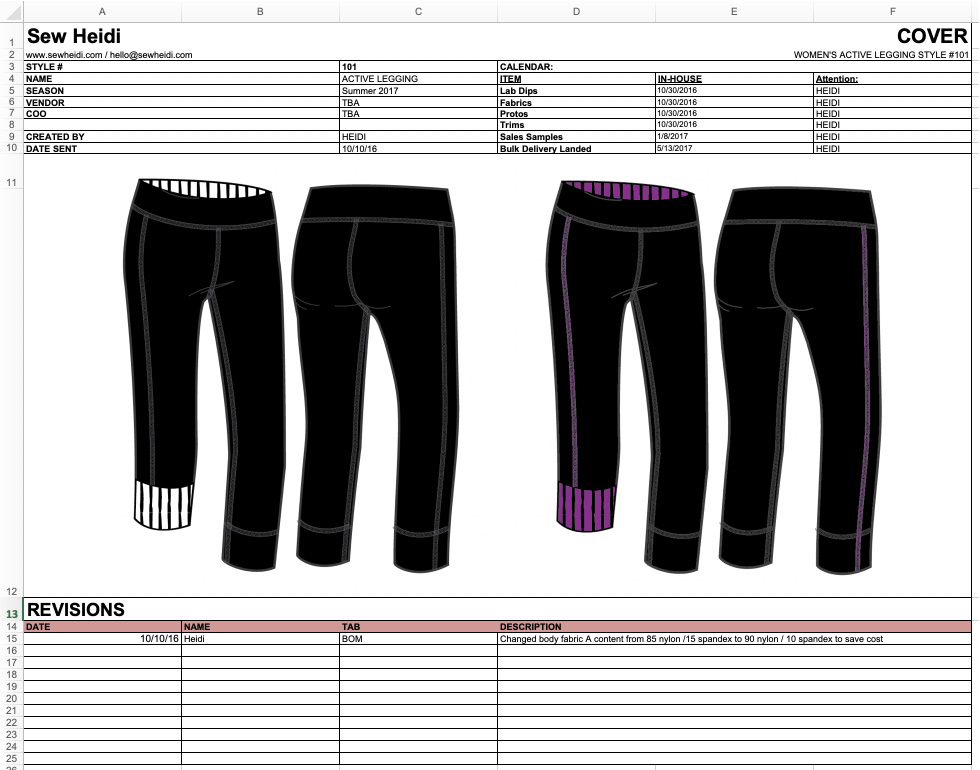 ---
A Spot for Technical Sketches (Alternate Views + Close Up Details Sketches)
This is where you'll add flat technical sketches of your garment from Illustrator to Excel. They'll include specific details about how the design should be constructed. This section usually gets pretty detailed, as you'll want to make sure you have closeups of any details on the garment, both inside and outside. Think things like: pocket bags, draw cords, waistband construction, lining, etc.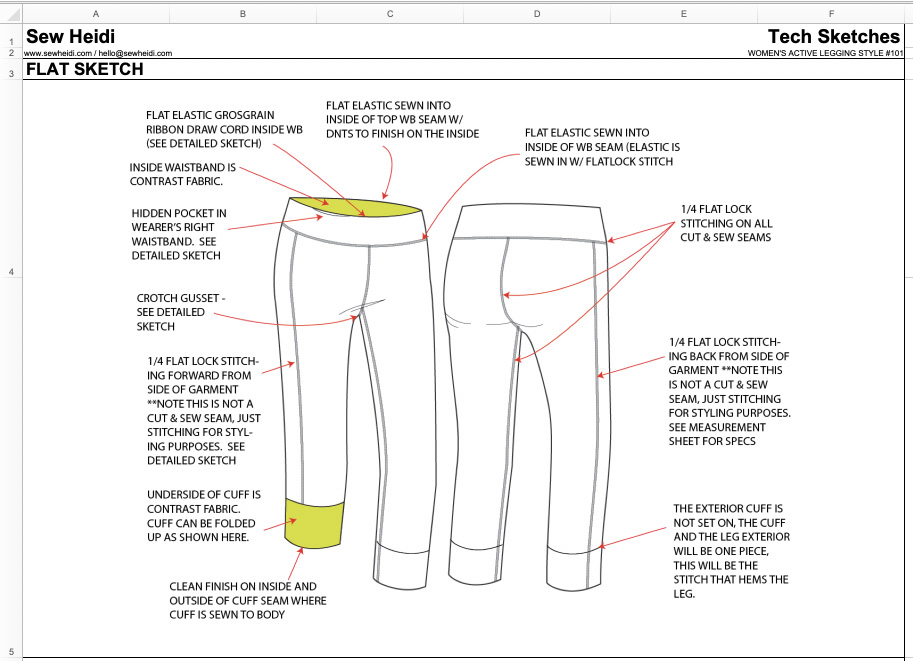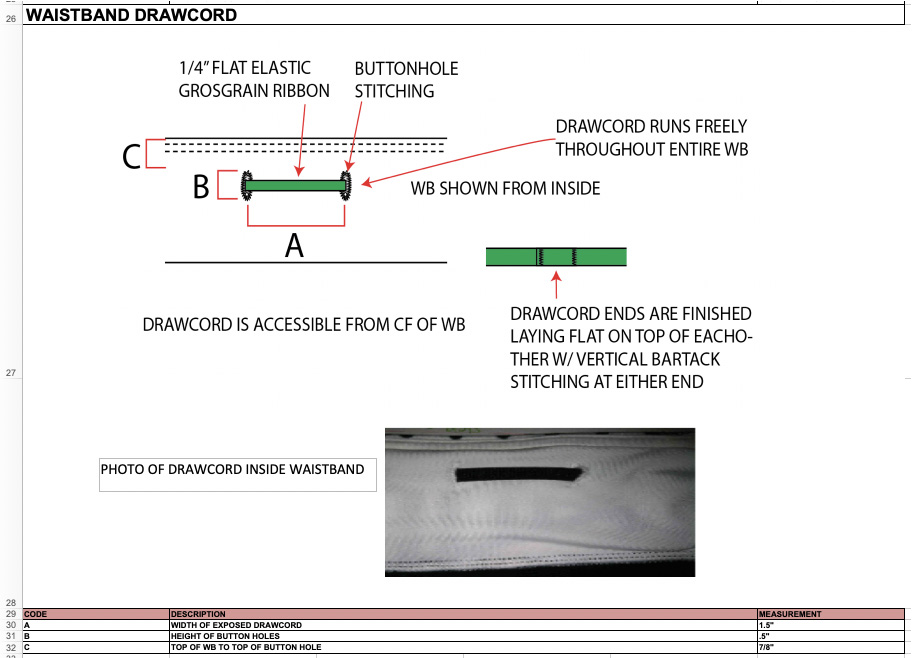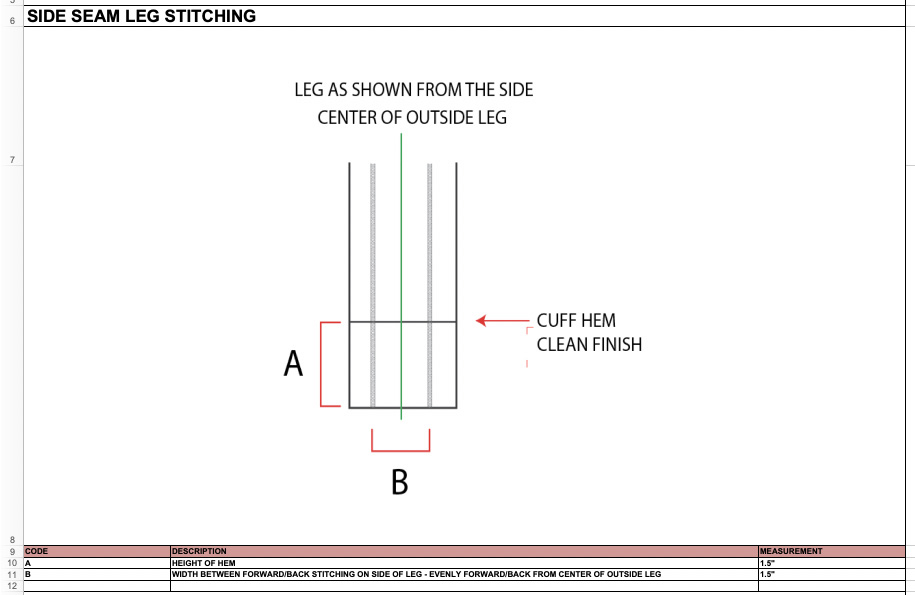 ---
A Colorways Section (with LINKED cells that are easy to fill in and update)
This page shows your factory what colors go where. It's fully customizable to add as many colorways as you need, or just keep it to one depending on how many you're offering for this design.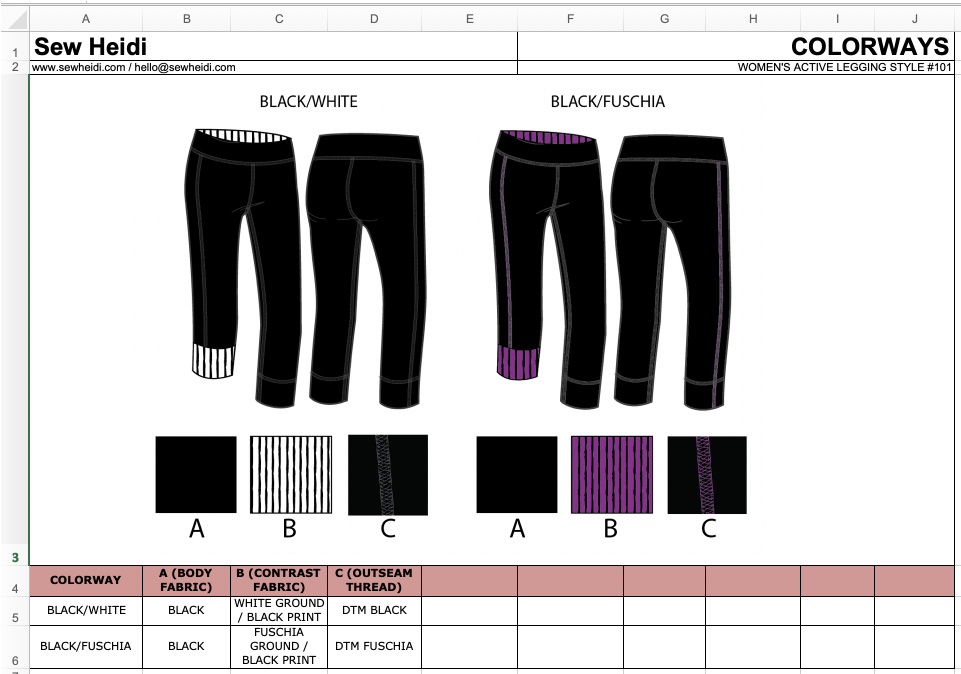 ---
A Bill of Materials (BOM) formatted to quickly add fabrics, trims and labels / hangtags
The BOM is where you'll input every physical component required to make your design. This includes everything from fabric, lining and fusible to thread, hangtags and poly bags.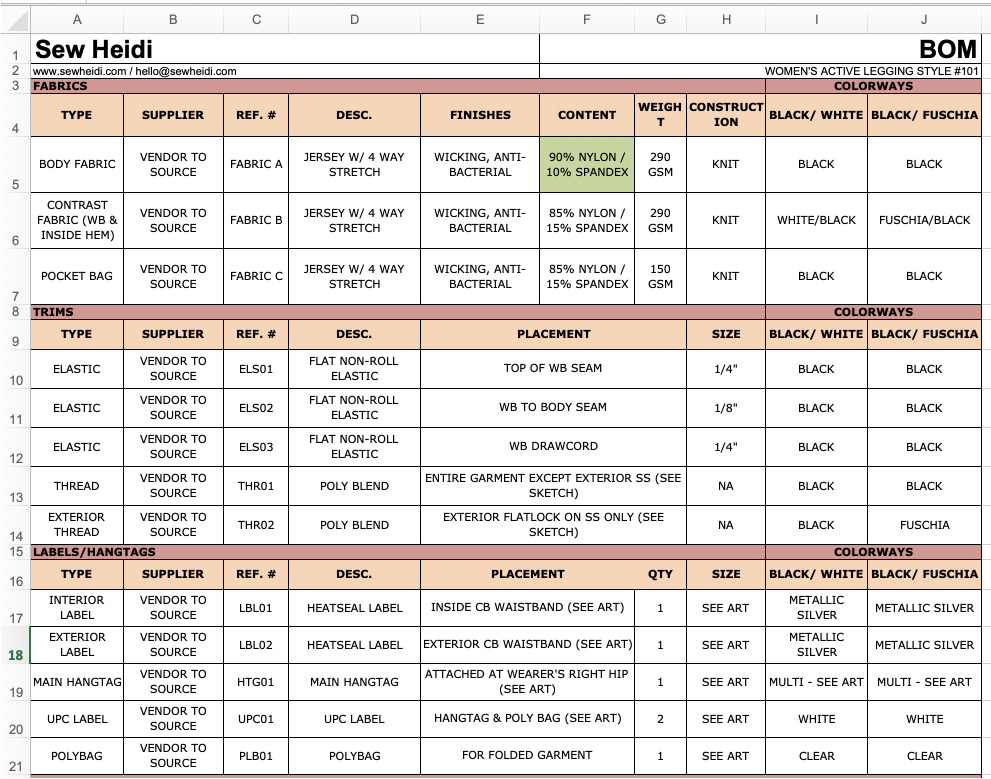 ---
A Graded Spec Template (with built in formulas so you don't make mistakes on measurements!)
The graded spec makes sure your garment is made correctly in every size. I've seen A LOT of designers do this in Illustrator, which is a TERRIBLE idea! Why? Because Illustrator doesn't do math! To make sure your designs get made right and your freelance clients are thrilled, doing a graded spec in Excel is the ONLY way to go. My free template has formulas built right in to ensure you don't make any mistakes. (After all, we're designers, not accountants!)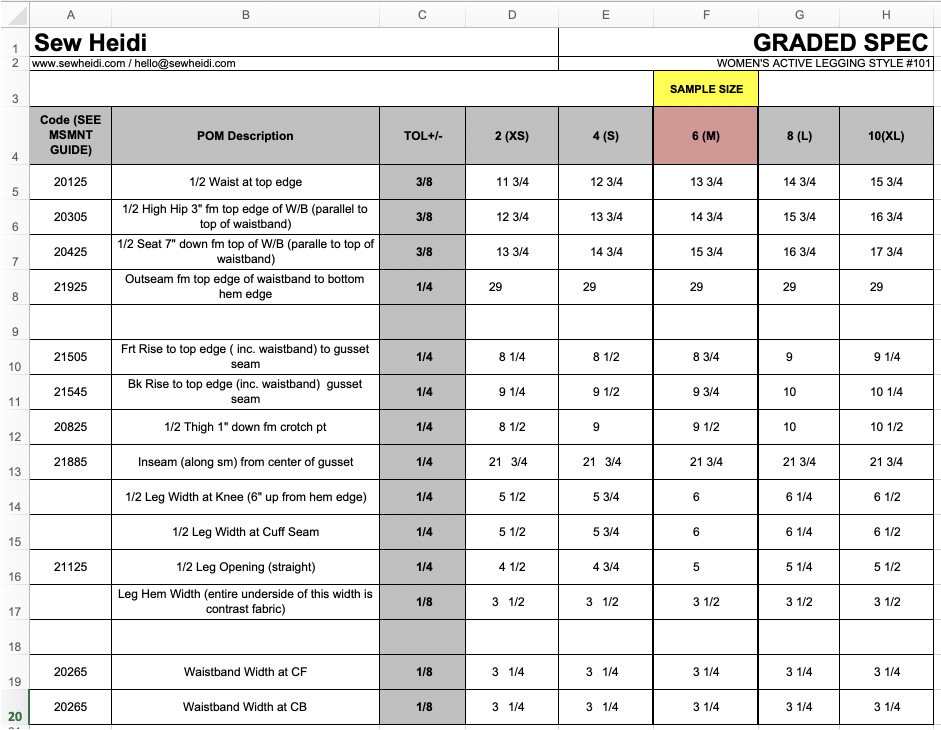 ---
A Spot for Proto Comments (with data linked to your graded spec so your measurements match up!)
Once the factory makes the first proto, you'll need to measure and compare it to your graded specs to make sure it's the right size. You'll also need to make comments on the overall fit, construction, and details. This page is where you'll do that, and don't worry, all the measurements and data are linked to the Graded Spec tab so you don't have to manually input ANYTHING!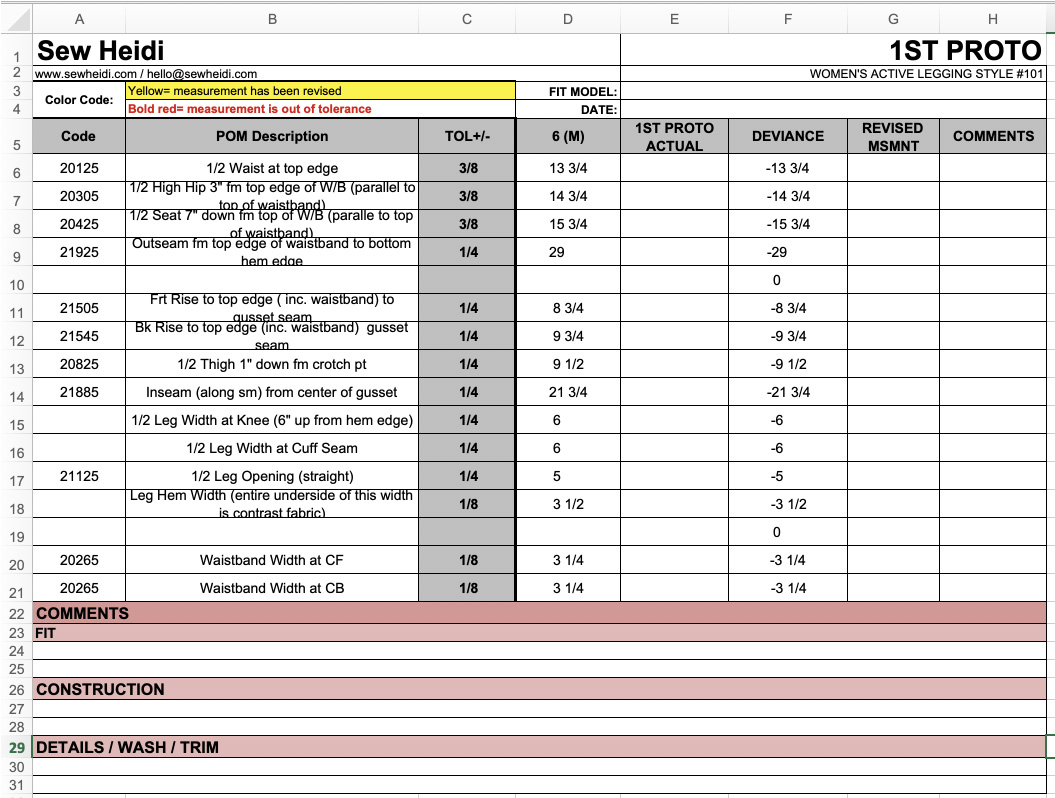 ---
You'll get my COMPLETE tech pack template in Excel to use as a reference, plus a blank one you can easily fill out with your design!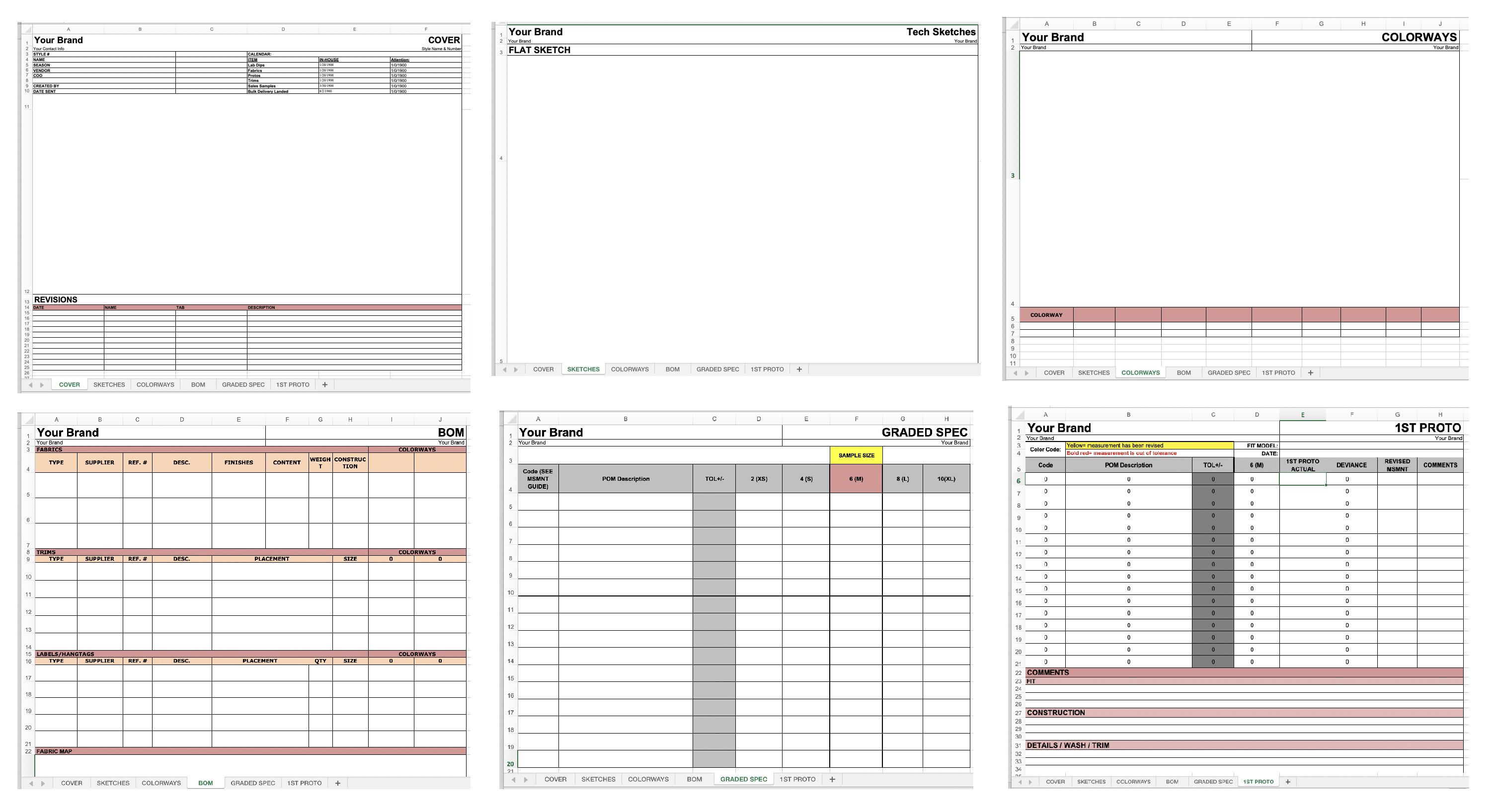 ---
Cells are LINKED (so you only have to input information ONCE)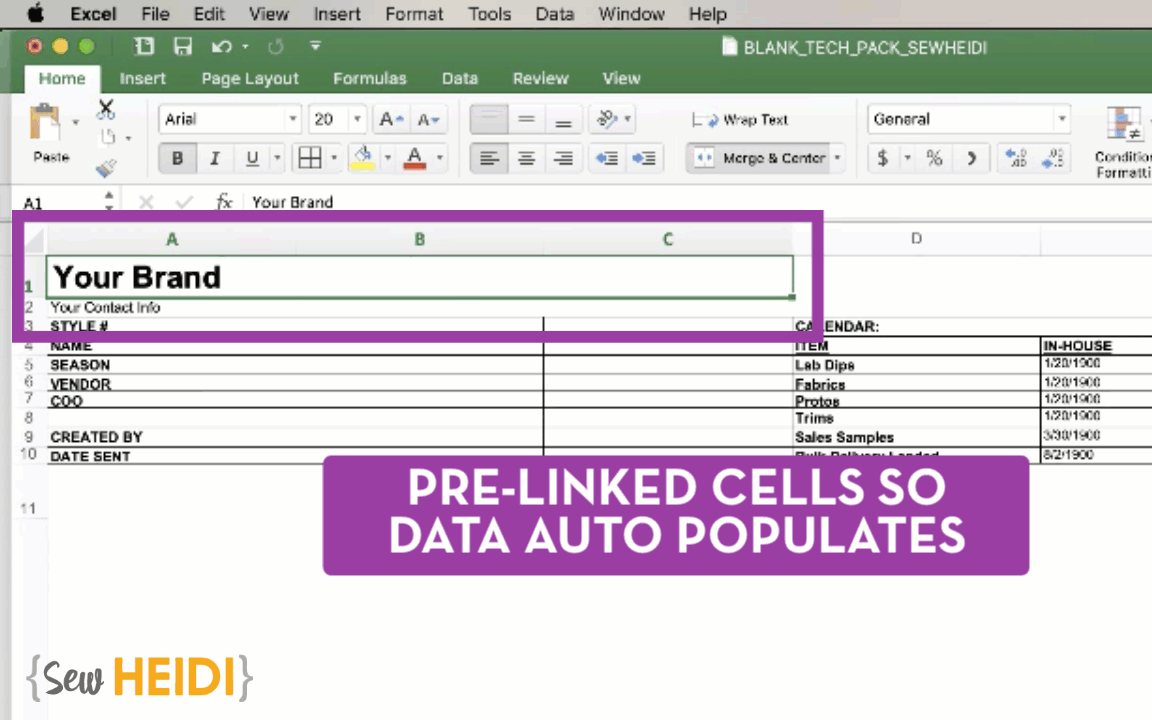 ---
Formulas are BUILT IN (so you don't make math mistakes!)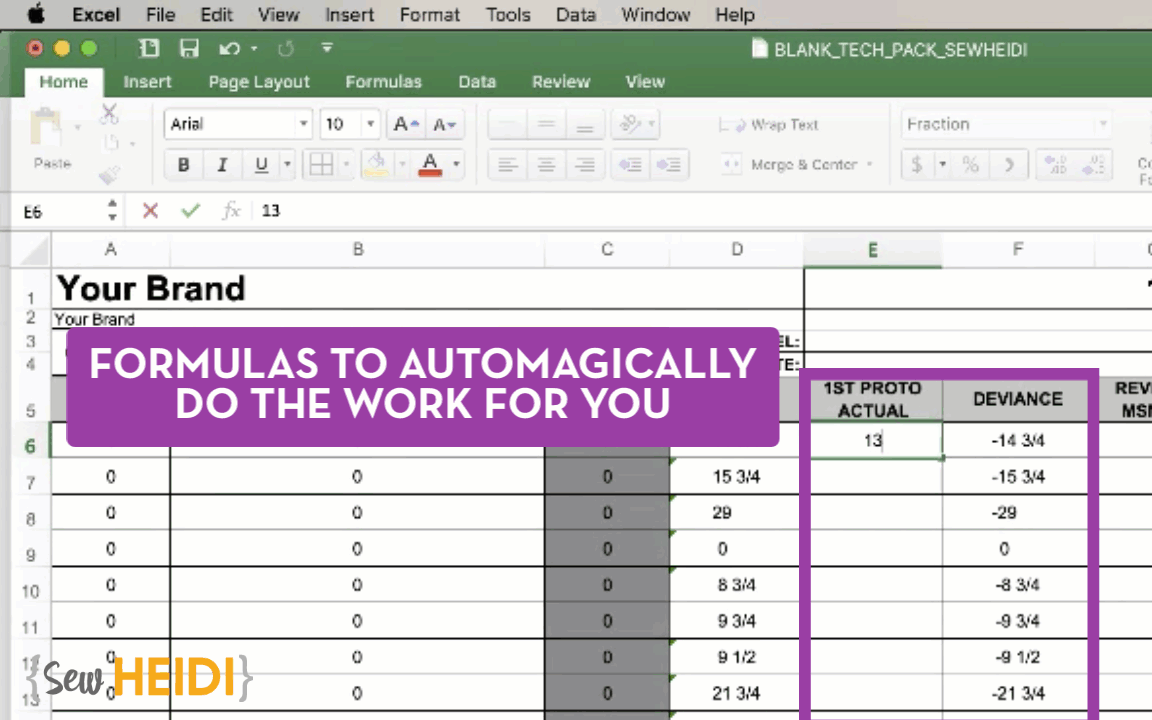 ---
So stop fighting with Excel to make your own tech pack! Drop your info below for instant access to my free proven template, and start wowing your freelance clients this week. I perfected this file over 10 years and now it's yours, absolutely GRATIS.
---
---