Real advice (those other guides don't have!) from successful fashion entrepreneurs who've been there
There are so many things to know when starting a clothing line. And there are a million guides out there that go through the concrete steps to launch one. There are some good ones (and some terrible ones), but most of them cover all the same stuff. Anyone can tell you you need good branding and the right factory. And those things are super important! But what those guides don't give you is these tips from designers who have actually been there.
There have been dozens of guests from all sorts of backgrounds on the Successful Fashion Designer podcast who all have one thing in common: They've each created and launched a successful fashion brand. The tips these entrepreneurs have shared will help you save time, money, and headaches when you're starting an apparel business!
So here are nine tips you haven't heard before for starting a line of clothing, plus plenty of resources to help you take those next steps!
---
1. You can start a clothing line with no experience
It might sound crazy, but tons of successful fashion entrepreneurs have started their brands with little or NO fashion experience.
If you're willing to learn, a drive to succeed, and the determination to keep going even when things get hard, then it is possible to start your own clothing line with no experience.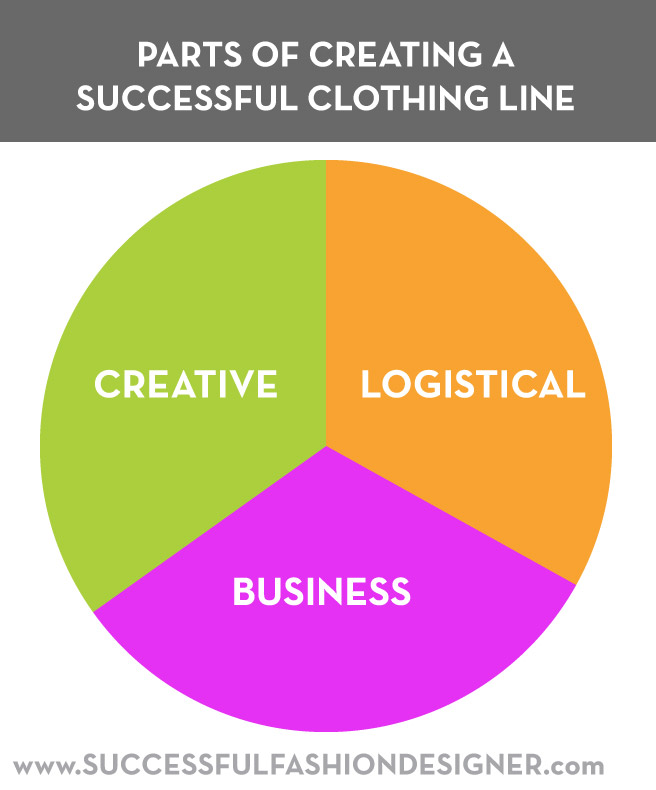 Creating a successful clothing line requires that you really understand ALL the steps of a fashion business:
Creative: Designing garments that people want to buy
Logistical: Getting your designs produced at a price your target customer can actually afford
Business: Marketing, fulfillment, and growth
Are you ready to learn each of these things, then figure out how to put them together? You have to be willing to learn and make mistakes (like any new endeavor). But with the right guidance, you can do it.
(Tip: If you don't feel ready to jump into this process, but you still want to sell something of your own, consider starting a print-on-demand clothing line!)
For step-by-step tips, check out these podcasts from people who started their fashion brands with NO fashion experience!
---
2. Your designs should solve a problem
In today's hyper-competitive fashion market, it's not enough to design something that's beautiful. Beautiful clothes are everywhere. To get the attention of consumers who have way too many options, you have to create something they need.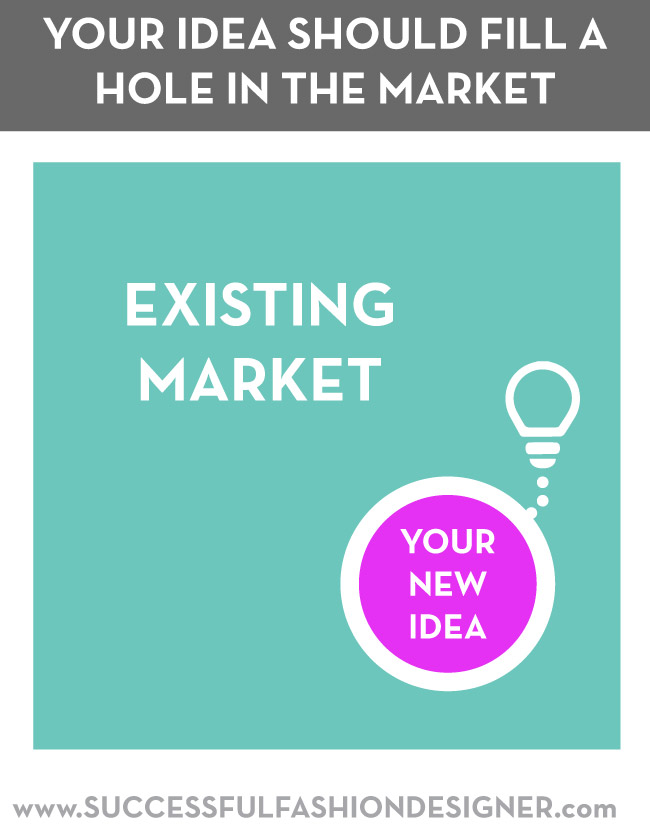 How do you do that? Find a hole in the market. In other words, a problem that you can solve. You probably won't get much traction as the millionth brand of yoga pants. But if you can find a specific need that customer has–say, leggings for hot yoga that wick sweat better than anything else on the market–you can get your brand noticed.
If you already have an idea for your clothing line, ask yourself: Does this solve a problem? Am I meeting a need that my customer has (even if they haven't realized it yet)? The answer has to be YES! If it's not, you need a stronger idea before you'll be able to build a successful clothing brand.
And if you don't have that perfect idea yet, here's the BEST way to come up with one! Start paying attention to your life and the lives of people around you. What pain points do you see? Maybe you have an engaged friend whose mom can't find anything flattering to wear to the wedding. Or maybe you play soccer, and you're fed up with the lack of variety in soccer shorts. Pain points are everywhere! And if you can design something to solve a problem that a lot of people have, you're probably on to something.
To see how this designer solved a problem and got her brand featured on Oprah, check out one of our most listened-to podcast episodes: Why solving a problem is essential to building an essential brand.
---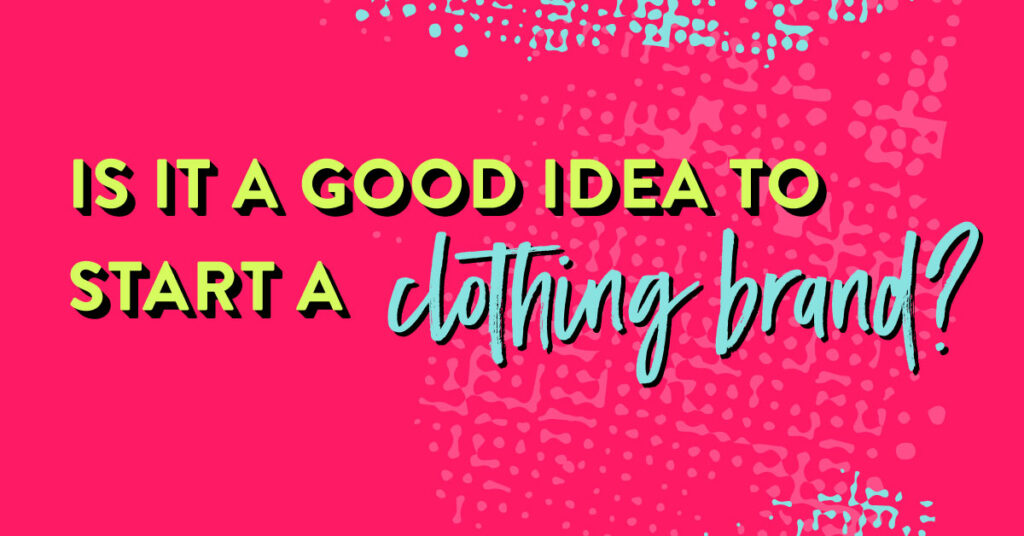 ---
3. To start a clothing line, you've gotta know the lingo
Imagine showing up to a meeting with a potential investor. You have beautiful, full-color sketches of your product, and you've drawn up a business plan that makes you sound like a boss. But when you can't tell them whether you're planning to use a CMT or FPP manufacturer or why there's no BOM in your tech pack, they'll think you don't know what you're doing.
Or let's say you want to find fabrics or trims for your line. You can have the best concept in the world, but if you don't know greige from GSM, you're wasting everyone's time. The best fabric houses and factories won't hold your hand. But…
When you go into that meeting, make that call, or write that email sounding like you understand the industry, you'll feel empowered and people will take you seriously!
Show them that you know what you're talking about by familiarizing yourself with terms you need to know.
Don't know where to start? Check out the Guide to Industry Terminology, and the awesome FREE Fabric Sourcing Guide!
---
4. To get your fashion designs made right, tech packs are key
To get clothes manufactured, you need a tech pack.
Knowing how to put together a professional tech pack that your factory can read will save you time, money, heartache, and countless errors!
If you approach factories and other suppliers with a tech pack, they'll be more willing to work with you, and they'll take you seriously.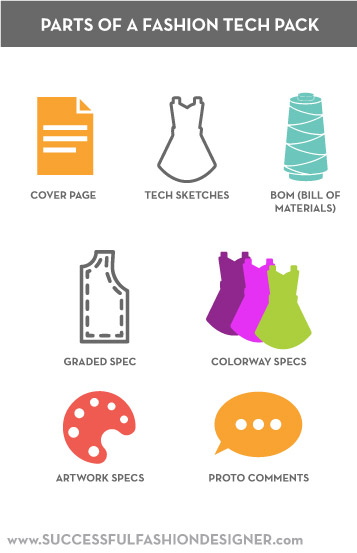 Your tech pack acts like a blueprint for your garment, with everything your clothing factory needs to produce and package your design exactly how you intended. When it's complete, you're more likely to get exactly what you envisioned. That means your tech pack needs to include every detail about your product, from technical drawings and graded spec to info on buttons, labels, hang tags, and more.
Tech packs are detailed, but they don't have to be hard. This tech pack guidewalks you through the steps, and you can even download a FREE tech pack template to get you started.
For more about how tech packs work and why you need one, check out this SFD podcast episode all about tech packs!
---
---
5. Don't quit your day job (yet)
When you research what it takes to start a clothing line, you may feel like launching your fashion brand is a full time job. And in some ways it can be!
Don't be fooled– you don't need to quit your job! It might even hurt your chances of succeeding.
Unless you have a trust fund or 3+ YEARS of living expenses in the bank, you need a way to pay for your brand expenses AND your living expenses while you're getting started. Because here's the cold hard truth: Most startup brands, even very successful ones, don't make enough for you to pay yourself a real salary for the first few years. All the money goes back into the business to make more product, market and promote.
If you're worried about money for food or rent, you're not going to be putting your best work into your brand.
Without a steady stream of income to get through the early stages, you're more likely to rush, make mistakes, and ultimately, give up way sooner than if you weren't stressed about bills.
So don't fall into the trap of thinking you have to quit your job. Your future self–and your brand–will thank you!
To hear how other brand founders worked while they grew their clothing line, check out these podcast episodes:
---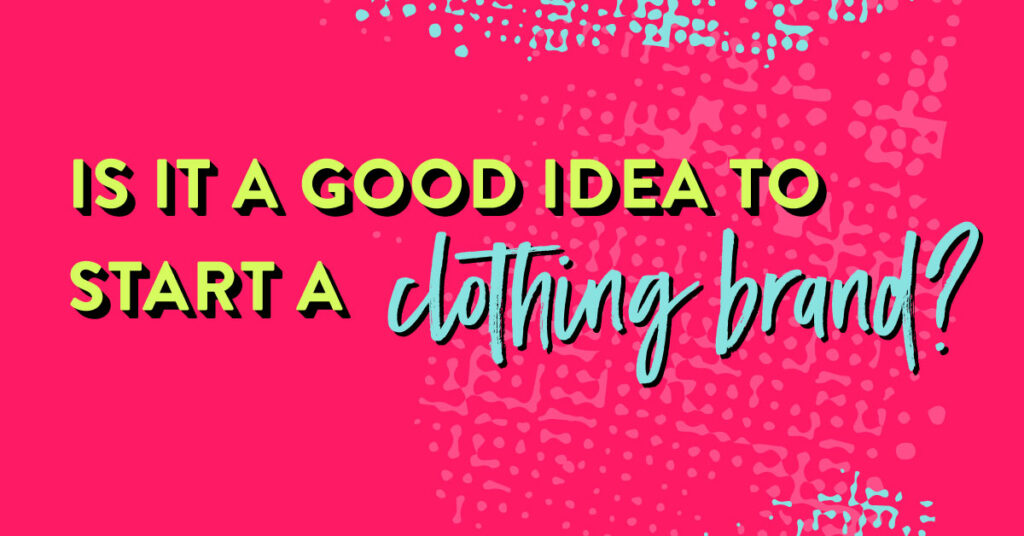 ---
6. Making the time to work on your clothing brand
Of course, if you don't quit your other job(s), finding the time to work on your brand can be a challenge.
There are a million tips out there on time management. You've heard most of them, right? Track your time every day for two weeks and see where your hours are being wasted. Stop watching TV. Get up an hour earlier. Delegate or eliminate tasks. But here's an idea you might not have thought of: Freelancing.
It may seem weird to become a freelancer when what you REALLY want is to have your own brand. But there are actually a lot of benefits to freelancing while you build your fashion line.
Here's how freelance work can make building your brand easier:
It eliminates your commute. No more sitting in rush-hour traffic to go to and from the office. You just got back an hour or two (or more!) to work on your clothing line.
You choose how many hours you work. As a freelancer, you get to decide which projects to take on. You can balance your schedule much better than you can at an office job so you have more time to work on your brand.
You'll develop skills that will help with your brand. Many skills you need for freelancing will also help you start your clothing line. Networking, pitching, tech packs, project management, sourcing, communicating with fabric suppliers and factories, the production process, are all skills you'll use for both.
Freelancing has similar benefits to launching a label. Remote freelancers are self-employed. They choose their schedule and priorities. They get to choose who to work with and set their own deadlines and pricing. Freelancers get to help small and large brands with all different aspects of the development and production process. Some designers even find that they really want to freelance permanently instead of moving on to starting a brand. (And if it turns out you hate working for yourself, freelancing is a much more affordable way to find that out!)
Freelancing isn't right for everybody. But if you want more freedom and an income while you're launching your clothing line, it's definitely worth looking into.
Want to hear from a designer who did just that? Check out episode 113 of the SFD podcast, How to fund your fashion brand with a freelancing career.
And for a step-by-step guide to becoming a freelancer, don't miss The Ultimate Guide to Being a Freelance Fashion Designer.
---
7. How to save money when starting a clothing line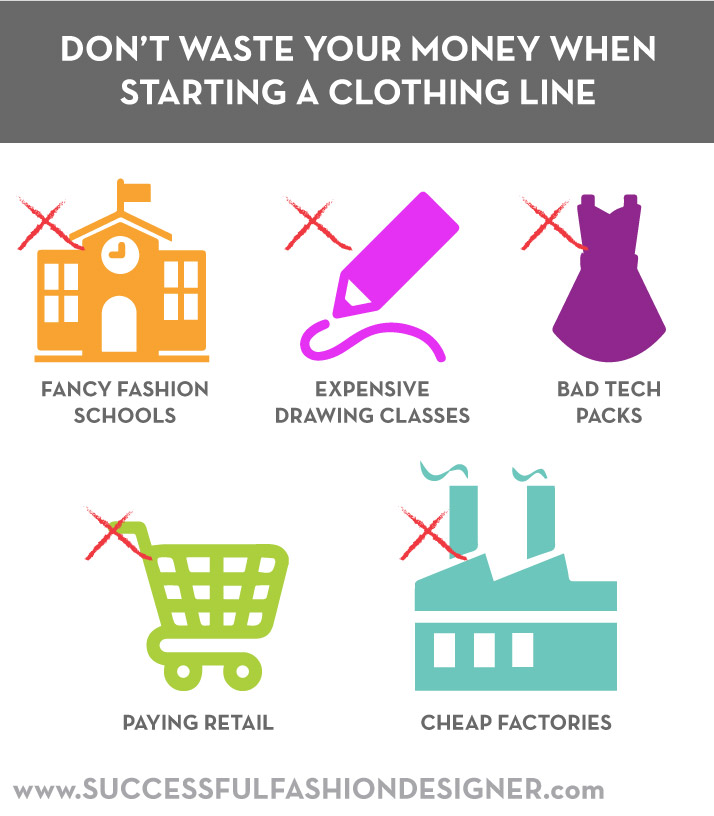 When launching a clothing line, it can be tempting to invest in a book here, a class there, and buying up "sample" fabrics at Mood or Jo-Ann. After all, it's a business expense, right? It's tax deductible!
But spending on things you don't really need means less money for the things that matter. So what's a waste of money?
Fancy fashion schools. Really consider your goals and whether the program you choose will help you get there. Classes on advanced couture draping techniques and medieval fashion history can be fascinating, but they won't help with your athleisure brand. If fashion school is the right choice, really consider the program by looking at the cost and classes required to graduate. Will those things help you get the knowledge and experience you need to launch a successful brand? You may find that taking a few online courses is a way better fit than a four-year degree from a famous fashion school. (And some designers never go to fashion school at all!)
Expensive drawing classes. It might sound crazy, but you don't need to draw beautiful fashion sketches to start a successful clothing line. Modern fashion production is done from technical flats, not fancy concept drawings. Instead of sketching by hand, learn how to use Adobe Illustrator to draw flats!
Not having a complete tech pack. Tech packs are essential to getting clothes made right. If you don't have a good one, you'll be wasting both time and money in production! Save yourself the hassle by making sure your tech pack is complete!
Paying retail price for fabric and trims.Stop doing this! If you have a business, you should be getting your fabrics wholesale. Don't be put off because you're starting small; there are ways to get wholesale fabrics with super low minimums! Learn exactly how in The Complete Guide to Sourcing Fabrics for your Clothing Line (with low minimums!)!
Choosing the cheapest factory. Yes, finding the right factory can be a challenge. But if you just go with the cheapest option, you could be setting yourself up to waste a ton of time–and big bucks–on defective production runs that you won't be able to sell. Take the time to research, ask questions, and choose a factory with a good reputation that does quality work.
To hear from three designers who learned some of the wrong (and right) ways to spend money for a clothing startup, listen to SFD Podcast episode 91, 100 ways NOT to start a clothing line!
8. Know your customer like you know yourself
Customer research isn't sexy, but it's one of the most important parts of starting a clothing line. If you don't take the time to get to know the customer , you're setting yourself up for failure. Because it's impossible to sell to someone you don't understand! Talking to the people in your target market will help you create something that real people actually want to buy.
Think back to tip number 3, solving a problem. You can't just assume you've got the right solution without talking to your customer. You have to get out there and learn what they want and need. When you can meet those wants and needs with your product, they'll be excited to buy from you!
To learn exactly how to get to know your customer (and why it will help you succeed), check out episode 94, This designer built a big fashion brand with a tiny niche, and 70, How to build a fashion brand with a cult following.
---
9. Don't get stuck!
This might seem simple, but it's probably the most important thing in this list. Whatever you do, don't get stuck. Sure, starting a clothing line can feel complicated and overwhelming. But each of the steps is doable. And you don't have to be perfect. Like with any new adventure, you're going to learn as you go.
So many people have an amazing idea for a clothing line, but then get so stuck researching the perfect factory that they never actually choose one. Or they keep designing and redesigning their first collection, convinced it's never quite good enough to move forward.
Don't get so caught up trying to do things "right" that you end up doing nothing at all. So many people waste so much time waiting for things to be perfect. But perfect isn't real!
You're going to make mistakes, and you know what? That's great! Mistakes are probably the best way to learn. Failure sucks, but it's a great teacher. And five years from now, you're not going to regret the missteps and pivots. The thing you'll regret is spinning your wheels when you could have been making progress toward your goals.
Follow our Pre-Production Checklist and then start reaching out to factories to get your designs made!
If you want to be inspired to keep making progress on your clothing line, listen to SFD episode 100: To reach your goals in fashion (and life!), just do ANYTHING.
These nine tips will help you get started with your own clothing line. You can avoid headaches and make more progress when you learn from people who've done it! So remember:
You can start with no experience
Your brand has to solve a problem
You need to know the lingo
Tech packs are key
Don't quit your day job
Make the time for your business
Save your money
Know your customer
And most importantly,
If starting a clothing line is your dream, you CAN do it. The process feels less daunting once you get started! So make a plan, take that next step, and then keep going.
You got this!