A lot of aspiring startup fashion designers say it's hard to find a factory to make their clothing line. Which seems weird, since there are TONS of great articles that teach you how.
I've even interviewed a few factories on the SFD podcast including Good Clothing and Kathleen Fasanella of the Albuquerque Sewing Factory.
So I asked my Instagram followers: Why is it so hard to find a factory to make your clothing line?
One of the top reasons was:
"I'm not sure if I'm ready for manufacturing! How do I make sure I'm prepared?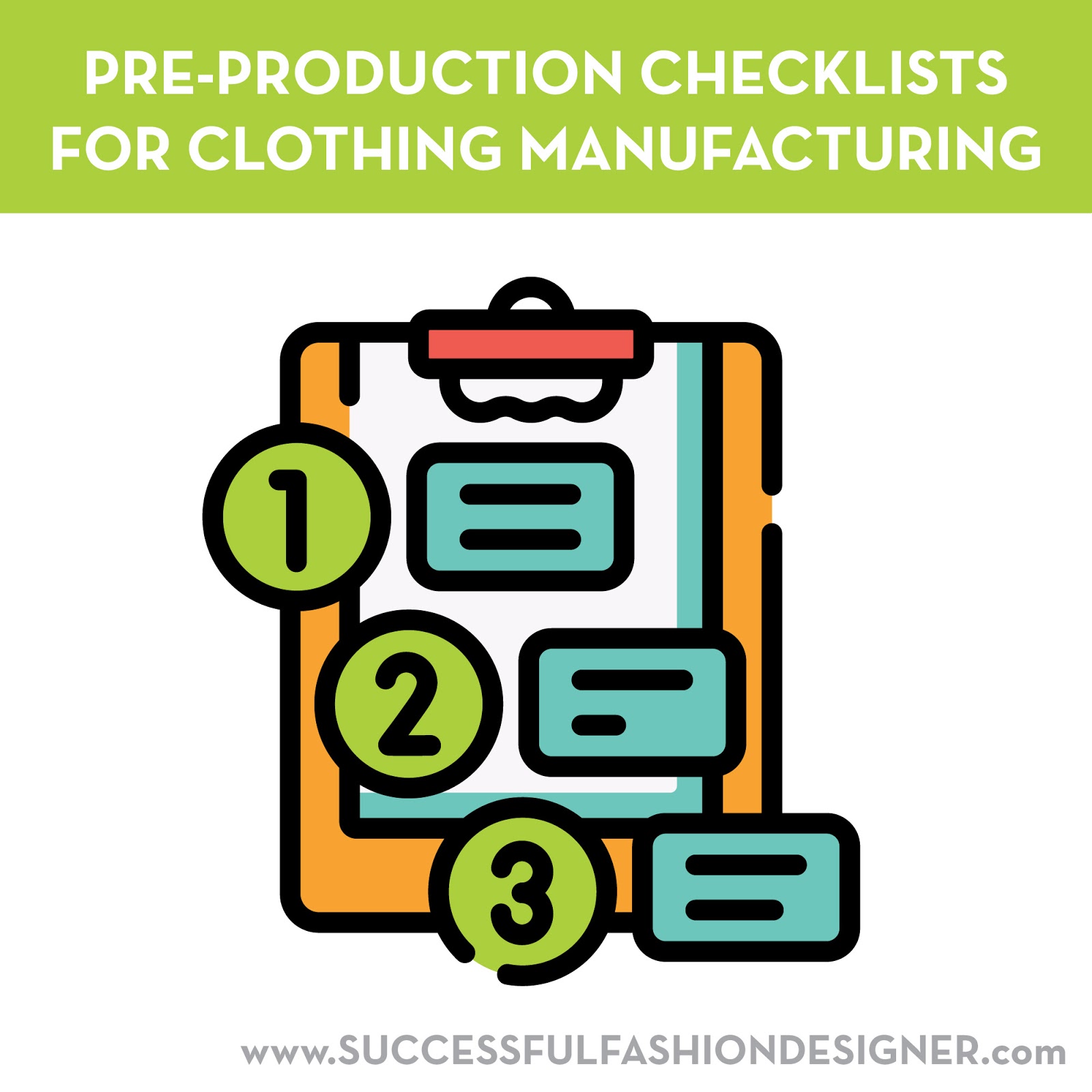 I couldn't find any great articles on this exact topic, so I decided to write one!
BONUS: I've included easy to follow pre-production checklists to manufacture your clothing line. If you get nothing else out of this article, please read to the end and use them.
---
Before figuring out if you're ready to contact factories, you need to understand the two main types of factories in fashion.
Types of Factories to Manufacture Your Clothing Line
There are two main types of factories to manufacture your clothing line. A Full Package Provider (FPP) can help you with all the steps of starting a clothing line from refining your rough idea to making bulk production. A Cut, Make, Trim (CMT) supplier cuts the fabric, makes the garment, and adds the trims. Depending on your budget, timeline and needs, one may fit you better.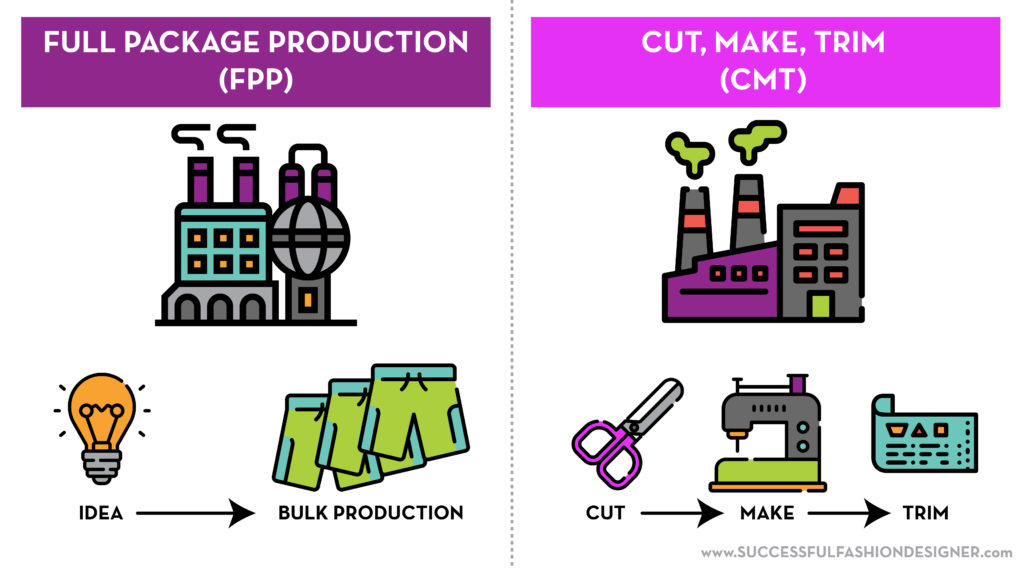 Let's dive a little deeper into each one, plus the pros and cons.
---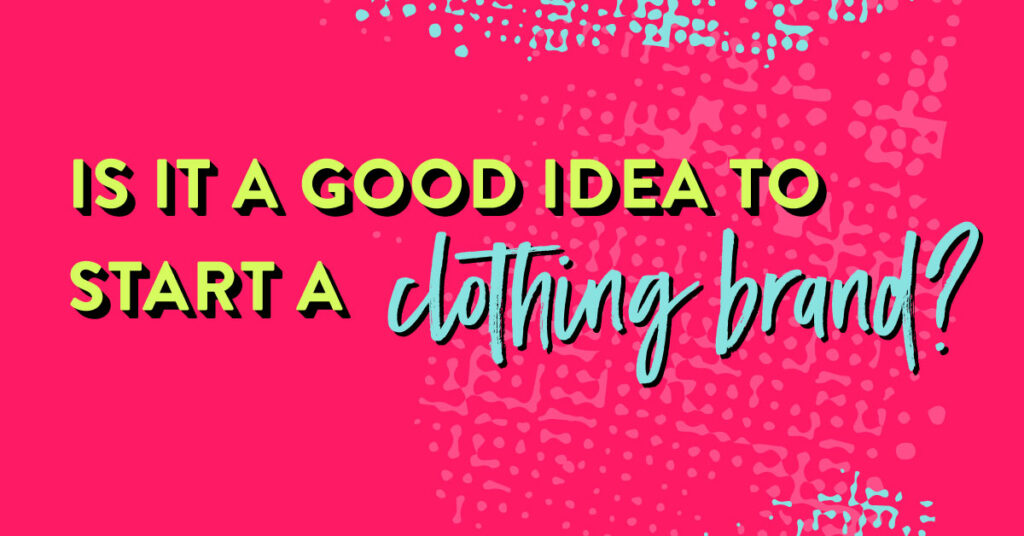 ---
A Full Package Provider (FPP) is a one stop shop.
Most FPPs can help you from a very early stage, even if you just have a rough napkin sketch. Some do all the work in-house, like Good Clothing Company who I interviewed on the SFD podcast. Others act as a middleman to coordinate manufacturing for you, like Vmora, who you can hear on this SFD podcast interview.
Either way, an FPP will work with you to source fabric, get labels made, and everything in between. It can be a great option if you want your hand held the entire step of the way, but it does cost a lot more.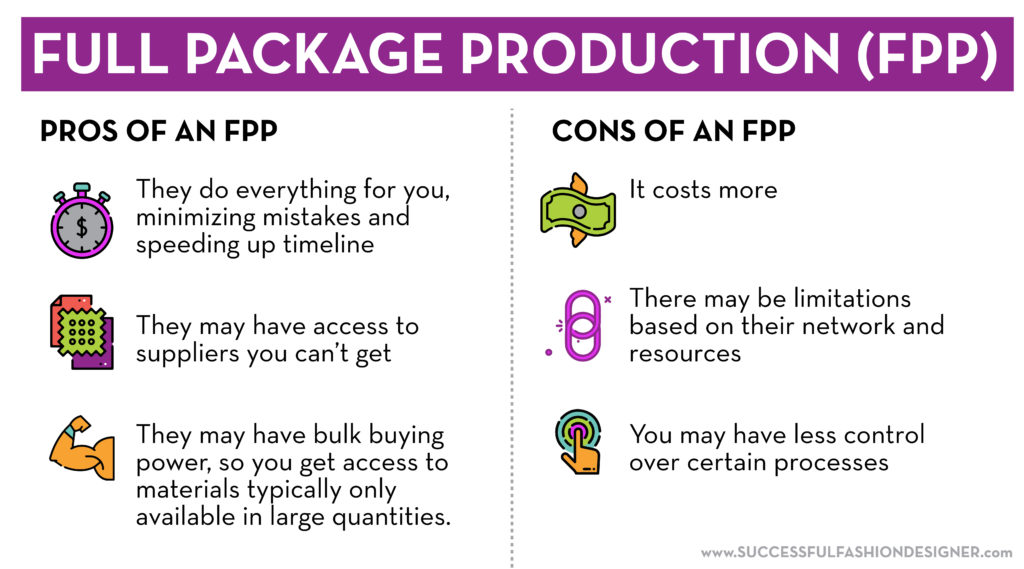 Pros of working with an FPP:
They do everything for you, minimizing mistakes and speeding up timeline
They may have access to suppliers you can't get
They may have bulk buying power, which means you get access to materials that are typically only available in large quantities.
Cons of working with an FPP:
It costs more
There may be limitations based on their network and resources
You may have less control over certain processes
A Cut, Make, Trim (CMT) supplier cuts the pattern pieces, makes the garment, adds the trims (buttons, labels, etc). They are also known as sewing contractors.
With a CMT supplier, you provide all the materials (fabric, labels, buttons, etc), sewing patterns, and instructions. This means you'll need to do all the leg work of sourcing fabric + trims, finding a pattern maker, creating a tech pack and beyond.
You can save money, although if you make big mistakes along the way, it could wind up costing you more. If you're starting from scratch and don't have any supply chains established, it will take more time than an FPP. But if you want to learn the process of manufacturing clothing and be in control, working with a CMT is a great option.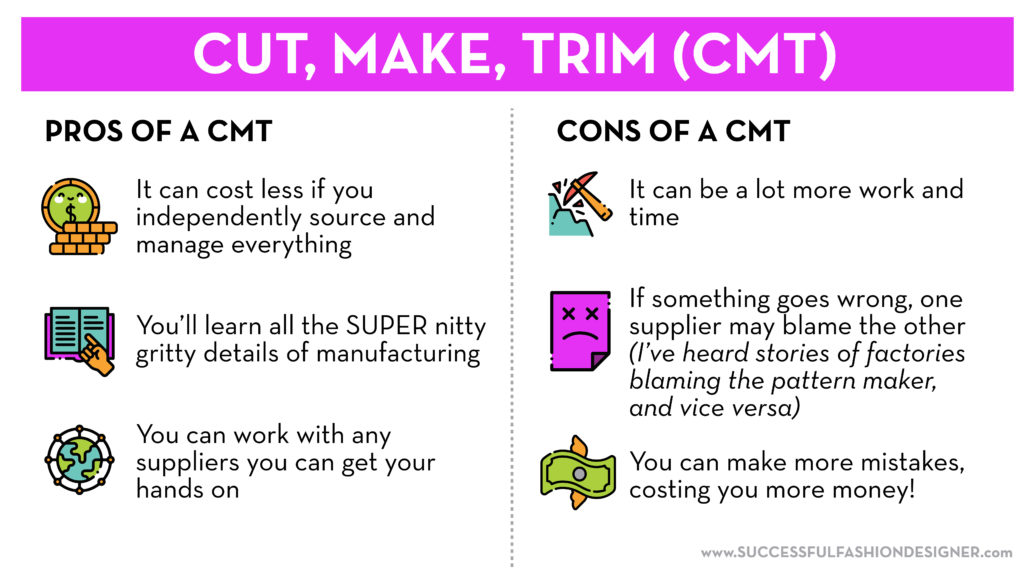 Pros of working with a CMT:
It can cost less if you independently source and manage everything
You'll learn all the SUPER nitty gritty details of manufacturing
You can work with any suppliers you can get your hands on
Cons of working with a CMT:
It can be a lot more work and time
If something goes wrong, one supplier may blame the other (I've heard stories of factories blaming the pattern maker, and vice versa)
---
STARTUP FASHION TIP: Not all clothing manufacturing options fit perfectly into the FPP or CMT mold. Some are a hybrid. For example, some CMT factories can make your patterns, but won't source your fabric. You'll learn this by asking, which you can do with my free email templates:
---
---
---
Pre-Production Checklists for Manufacturing Your Clothing Line
Here are step-by-step pre-production checklists you can follow to make sure you're prepared. This will ensure the factory takes you seriously and you don't waste time (or money)!
Pre-Production Checklist for an FPP (Full Package Provider)
Remember, an FPP offers a FULL PACKAGE service. Meaning they can work with you even if your idea is, well, just an idea!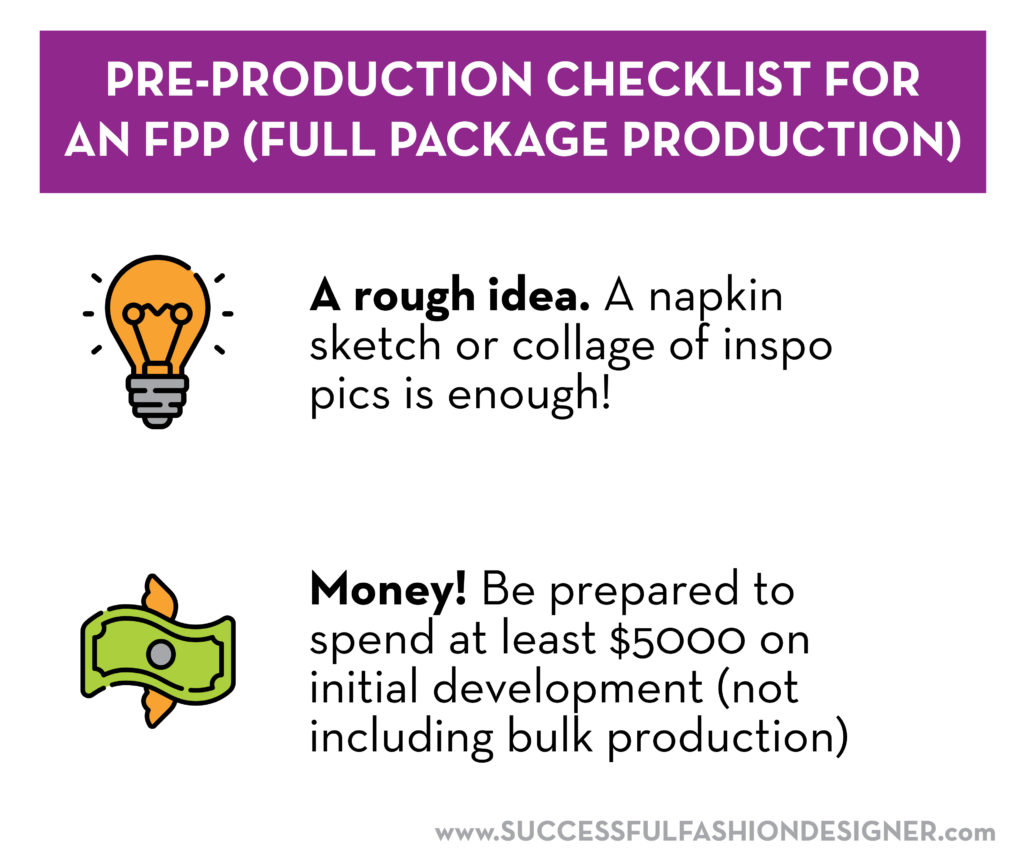 If you're reaching out to an FPP, you really only need two things:
A rough idea

This can be a napkin sketch or a magazine tear collage of inspiration. Maybe you have 3 garments from your closet that you want to "Frankenstein" together. If you have an idea about the end functionality but aren't sure how to execute it, that's ok. Your FPP should be able to help you figure out all the details.

Money!

Since an FPP is a very handheld service, be prepared to pay more. Depending on the design and how much development it takes, the price will vary a lot. Be prepared to spend at least $5000+ on initial development, not including costs for bulk production.
---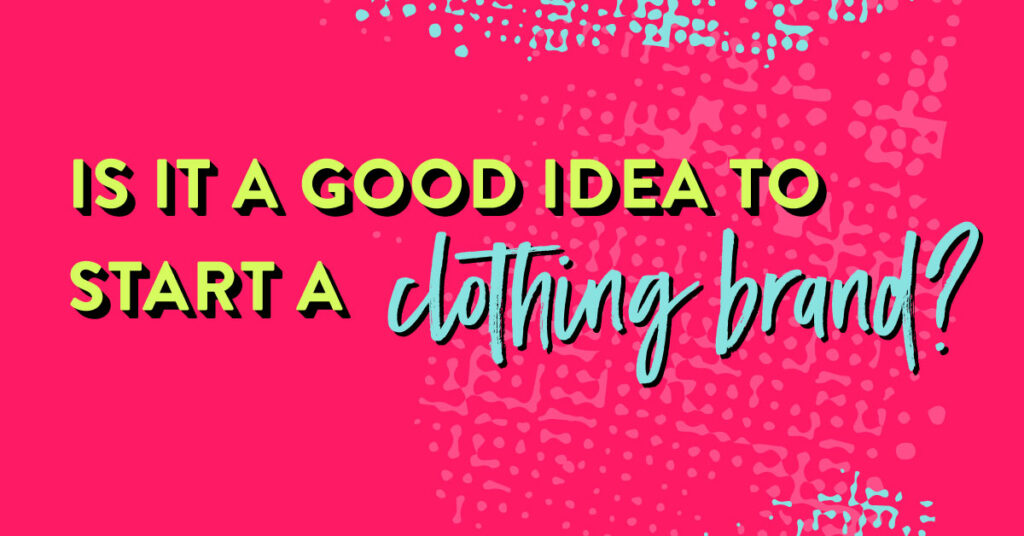 ---
Pre-Production Checklist for a CMT (Cut Make Trim) factory (also called a sewing contractor)
Since a CMT really just does the cutting and assembly of the clothing, there's a lot more to prepare before contacting them.
All factories work a little differently, so it's ok to reach out ahead of time and ask about their process. Inquiries to understand how a vendor works are completely normal!
If you're not sure what to say when reaching out to suppliers and factories, download my free word-for-word email templates!
---
STARTUP FASHION TIP: Have you ever heard of a PITA fee? PITA stands for Pain In The Ass, and it's a real fee service providers implement (without telling you)! If you're prepared and easy to work with, you won't get any PITA fees. But if you need a lot of hand holding, they'll blindly add an extra 10-20% to your bill. Save money by doing the work up front!
---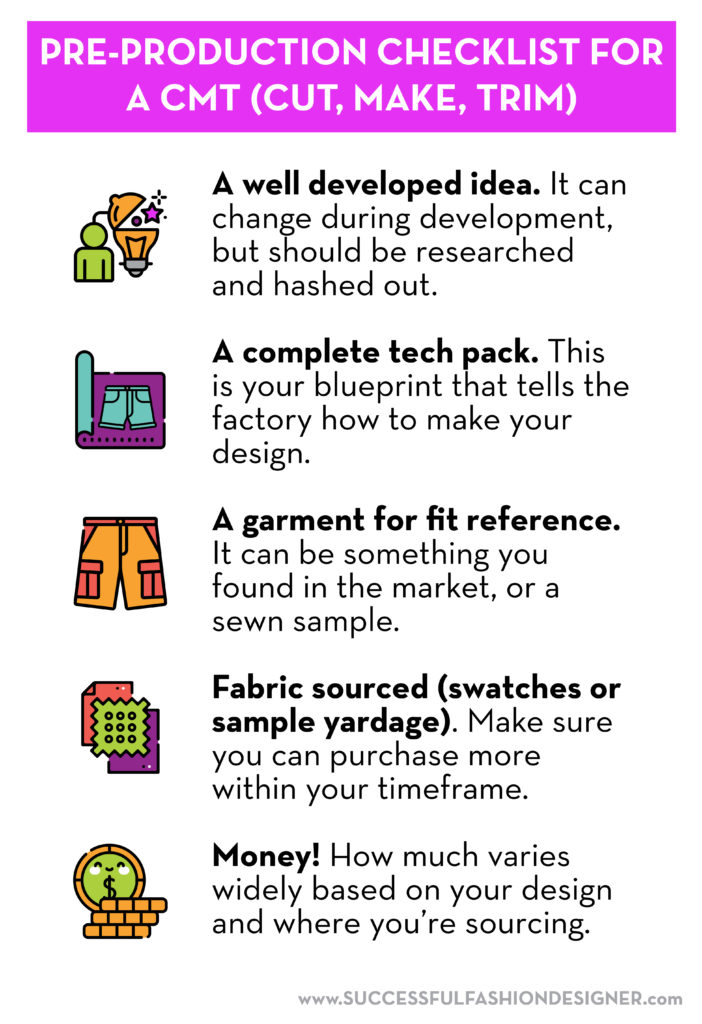 Here's what you should have ready before reaching out to CMTs:
A well developed idea

This doesn't mean your idea can't evolve during sampling. Most designs go through a few iterations. But your concept needs to be much more hashed out than a napkin sketch.

By this stage, you've researched your target market, and may even have a sewn sample as well as technical sketches (more on that further down!).

A complete tech pack (or at least technical sketches)

A tech pack is a blueprint that tells the factory how your design should be made including what materials it uses, fit / sizing, and color specs. Technical sketches can be done by hand, but ideally they're digital. Digital sketches are often easier for the factory to read, and they make you look more professional.

The more upfront work you do by preparing sketches and a tech pack, the better success you'll have in production. It'll also save you money in the long run.

A garment for fit reference

This can be something similar you found in the market, or a sewn sample of your design that you or a pattern maker / seamstress made.


Fabric sourced (with swatches or sample yardage in hand)

Make sure you have chosen a fabric that's in stock and you can purchase more within your timeframe!

If your fabric quality changes throughout sampling and bulk production, it can cause fit issues. You may have to get patterns adjusted and samples redone, which will cost time and money.

Money!

How much varies widely based on your design and where you're sourcing. It also depends on if you have a pattern that the factory can use (something you should outsource to a reputable pattern maker). Some factories can make patterns, so you'll have to ask.
---
STARTUP FASHION TIP: I mentioned this earlier, but it's worth repeating. It can be easier and safer to have the factory make the pattern, so if something comes out weird, they can't blame the pattern maker you hired. Whoever makes the pattern, make sure you own it and you get a digital and / or physical copy. You don't need a fancy contract, just get this in writing before committing to working with them.
---
The Key to Saving Time and Money in Pre-Production + Manufacturing
A lot of manufacturing comes down to being prepared and educated. Suppliers and factories don't expect you to be an expert, and of course you'll have questions. But if you've done this work upfront, vendors will be more excited to work with you, and you'll save time and money!
Beyond the pre-production checklists above, make sure to download my sourcing guide with word-for-word email templates. You can copy these to reach out to factories, fabric suppliers, or any vendor you need to manufacture your clothing line.
---
---
With these email templates and the research you've done, don't second guess yourself! You can feel confident moving on to the next step in bringing your clothing line to life.