I originally wrote this as a guest post for Points of Measure but wanted to share it here too. Enjoy!
---
It's obvious that the pandemic made remote work more common, even in traditional "butts in seats" industries like fashion. But how in the heck do you work remotely as a freelance technical designer?
For designers who've spent their careers in-house, the logistics are hard to wrap your head around. But the truth is, remote TD work has been possible long before March 2020 and Zoom stock soared. (I know from firsthand experience and from students inside my Freelance Accelerator program.)
Before I talk about specific how-to's, I invite you to think about how you've worked remotely with factories overseas as a TD. (Because the process isn't too different.)
The quick answer? You use Zoom and FedEx! But for more details, let's take a look.
Your typical communication with a remote factory includes some sort of the following:
Fittings are done and protos are marked with adjustments (sometimes the factory even joins on Zoom)
Photos are taken and added to the tech pack with arrows and text to communicate changes
POMs are edited with new measurements to improve fit
Protos are (sometimes) shipped back to the factory to ensure accurate adjustments
If you haven't had these experiences, then I'm here to tell you now, this is how it's done!
So, the process of working remotely with a freelance client is going to be pretty similar.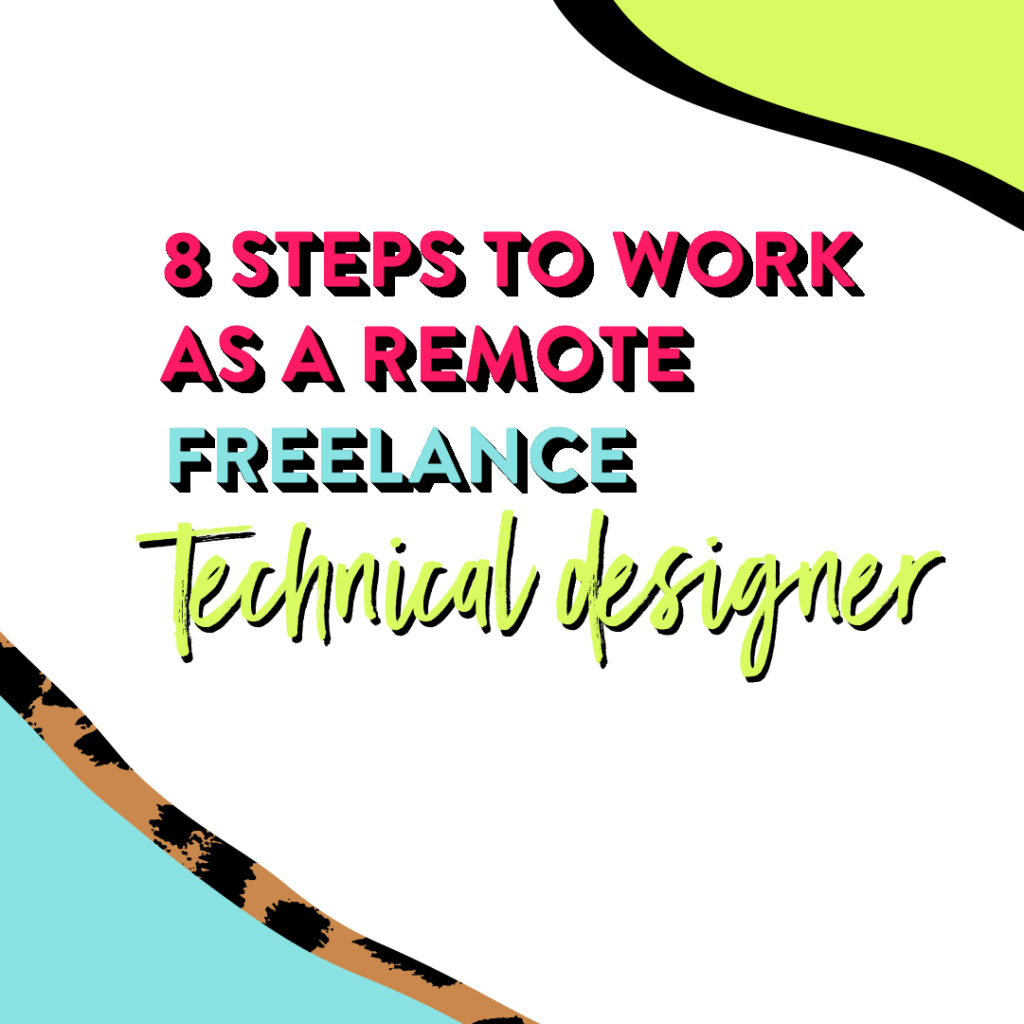 Here are 8 steps to work remotely as a freelance technical designer:
(You may or may not offer all these steps.)
Freelancer interprets sketches into a tech pack, asking questions as needed and using photos / sample garments (as available)
Freelancer + client agree on garments to use for fit reference
Client purchases size set and sends to freelancer
Freelancer develops POM (and/or possibly patterns)
Factory makes proto(s) / size run(s)*
Freelancer measures proto / size run
Freelancer sources fit model (client's expense) and does fitting on Zoom with client
Freelancer adjusts POMs and sends changes to factory
*If the client wants to see the garment firsthand, you have two options. You can do the fitting and then send the proto to the client. If the marked up proto needs to go back to the factory, then the client can pass it on. This option not only adds shipping costs but eats up a lot of time. A more efficient option is to request two protos. The factory sends one each to the client and freelancer so they can both review in tandem. While this adds development and shipping costs too, it streamlines the process.
---
As you can see, the process of working remotely as a freelance technical designer isn't too much different than working onsite. Beyond some additional shipping costs, hopping on Zoom for a meeting, and possibly some added development costs, the process is fairly similar.
So, what opportunities are there for a freelance technical designer (working remotely)?
There are plenty of remote freelance TD opportunities out there (I've interviewed a lot of successful TD freelancers on my podcast!). But I can see how it may be hard to think so since I just told you it can add cost, time and some Zoom logistics to the process. What brand wants that?
Well here's the thing…
Not every brand needs a full-time technical designer. In fact, a lot of brands don't.
Truth is, you can actually earn A LOT more working as a freelancer than an employee.
If you've only worked on-site as an in-house TD, you've only seen brands do it one way. But there are a ton of companies out there that do things differently. There are plenty of more modern thinking brands that are open to (the now norm of) remote work.
But beyond brands just being more "open," many can't justify a full-time employee or don't have access to great local talent.
Whether they're startups, mid-sized "middle-America" companies, or established brands who may need extra support during peak season, there are more than enough freelance (remote!) technical design opportunities out there.