While it's a terrible idea to go into fashion just for the cash, it sure is possible to make a lot of money in the fashion industry. And I'm going to tell you exactly how…
It's not by starting your own clothing line.
Because if you're lucky enough to create a successful fashion brand, it's going to take 3-5 years before there's maybe enough money to take a paycheck. In reality, most brands end up crashing and burning in debt with boxes of inventory that they can't get rid of.
It's not by getting to the top of the corporate ladder.
By the time you work 60-80hr weeks, most fashion jobs pay less than minimum wage. Sure, director and c-level fashion jobs can pay a hefty salary upwards of $150k+ in the US. But the chances you'll get there are slim.
Don't mean to be a dream crusher, just being realistic that there are few jobs at the top and a kajillion people fighting for them. Plus, they're demanding AF. Get ready for loooong hours and be ok that your family may forget what you look like.
So, How Do You Make a Lot of Money in the Fashion Industry?
Money is a sticky subject. While I'm going to tell you the best way to fill your bank account with cash, create a flexible life (I'm talking to everyone, but especially you, moms in fashion!), and do the work you love in fashion…
And I'm going to share exact dollar amounts for different types of roles in fashion…
And I'm going to show you actual real life earnings from different fashion professionals (with screenshots)…
I'm also going to say that "a lot of money" is verrry relative.
For example, the average pay for a fashion designer in the US is $54,853 while the average for a designer in India is $3857.13. But beyond the obvious factor of location, there are subjective factors to consider.
If you want to live in a nice apartment in the East Village of NYC and eat out 5 nights a week, "a lot of money" may mean $300,000+.
If you want to live in a small mountain town in Iowa and grow your own vegetables, "a lot of money" may mean $60,000+.
I realize those are extremes. But I feel obliged to remind you that money is relative. As you read this, keep that in mind.
Cool? Cool.
So, how do you make "a lot of money" working in fashion? If it's not by starting a clothing line or working your way to the top of the corporate ladder?
Drumroll please…it's by:
Becoming a Successful Fashion Freelancer.
I'm not talking about full-time "permalance" freelance jobs where you show up on site 5x a week and act like an employee but are as disposable as leftover salad. #yuck
These temp job permalance roles are abusive to you, and our industry. You commit to 40hrs a week, yet don't get the benefits of being an employee like insurance, paid time off, healthcare. When the project's done, you're basically unemployed again. It's a shit deal for you.
So what kind of freelancing am I talking about?
I'm talking about true remote freelancing where you pick projects you're passionate about and you do them whenever and wherever you want, as long as you meet the deadline.
It's the kind of freelancing where you have control over what clients you work with and when and where you work. That's right, you get to set your schedule.
It's also the kind of freelancing where you can make a lot of money in the fashion industry (even if you want to work part-time). We're talking way more money than you'll earn as an employee or with your own brand.
So, How Much Money Can You ACTUALLY Make Freelancing In the Fashion Industry?
How much money you can make is up to you. And your income may range from $20-$300/hr or $5,000 extra cash on the side to $300,000 a year. You can 2x or 10x your full-time salary, in fewer hours than you worked as an employee.
Your potential to get paid well in fashion is HUGE.
Katerina, a Freelance Accelerator: from Surviving to Thriving (FAST) grad, earned more in her first year of freelancing than she did the previous year in her full-time industry job.
"In my first year of freelancing I have already surpassed my earnings from when I was working full-time for a brand!"

Katerina Dimovska, textile designer, Macedonia
Your earning is limitless, but…
There are factors that will affect how much money you can earn as a fashion freelancer (and whether or not you get paid well).
The biggest factor that will affect your earning potential is how confidently you set your rates and present yourself.
Because the worst mistake most fashion freelancers make when it comes to money is undercharging or thinking they're not "good enough."
It took FAST grad Alexandra, who earns more in one day of freelancing than she did in 2 weeks at her last industry full-time job, a year of freelancing before she realized her worth.
"I got a client a few months ago from the SSF facebook group that has been SO amazing to work with. It really put into perspective my worth$$ and raised my confidence / standards on the type of clients I'll work with. It's so so true the saying like, the more money a client is willing to pay the easier they are to work with! It's such a relief having someone trust me, not having to justify the work I'm producing."

Alexandra Agreda, 3d patternmaking, Pennsylvania
Now, you may make assumptions about people like Alexandra and think "of course she can make that much, she probably has a degree from FIT and years of experience."
But you know what?
Alexandra is a fashion school dropout who spent her first 5 working years doing nothing related to fashion. Yet she earns more in ONE DAY as a freelancer than she did in TWO WEEKS as an employee. #forreals
You don't need a degree or a kajillion years of experience to make a lot of money freelancing in fashion.
Like FAST grad Alison who started her freelance career with just a few years of industry experience.
"I'm earning 75% more as a freelancer than I did as an employee. And I'm working a comfortable 40 hours."

Alison Hoenes, patternmaking, Missouri
It also doesn't take a crazy long time to start making serious cash (like it does with your own fashion brand or climbing the corporate ladder).
Look at Connie, a FAST grad who started freelancing during the pandemic and in less than a year, built a team of 6 freelancers because she had so many clients.
"Signed 2 new clients this week! And rough dollar amount of the two projects I scored from the FB group has been about $15k!"

Connie Bourgeois, designer, Missouri
You can make serious cash (while doing work you love) as a Successful Fashion Freelancer. Confidently presenting yourself and setting competitive rates is one key to getting there.
But beyond confidence, there is another factor that can affect how much money you'll make freelancing in fashion.
And that's what services you offer.
What Freelance Jobs Make the Most Money in Fashion?
Before I give you the answer, I want to share my personal opinion. When it comes to working in fashion, I think it's a terrible idea to pursue it just for the money.
You'll be set up for better success if you focus on what you love and are passionate about. If that overlaps with what will make you the most money, that's great.
Just don't do it only for the dollah billz.
So, what freelance services make the most money in fashion? Not taking into account variables like where you live, where your clients are located, and your experience (which can affect your confidence…which then affects your rates…), I'm going to share some of the top money making freelance jobs in the fashion industry.*
---
Highest Paying Jobs in Fashion
Mid-Paying Jobs in Fashion
Lowest Paying Jobs in Fashion
* Specialized patternmaker (ie large cup lingerie, denim)
* Patternmaker
* Business Consulting / Strategy
* Technical Designer
* Product Developer
* CAD Artist
* Sourcing Specialist
* Customs Coordinator
* Designer
* Trend Research / Forecasting
* Assistant Role (ie drawing fashion flats)
---
*Some roles float between high/mid or mid/low. For example, I know patternmakers who charge $30/hr and designers who charge $150+/hr. While "on paper" some jobs pay more than others, the true earning potential is up to you, how well you present yourself, and how specialized you are.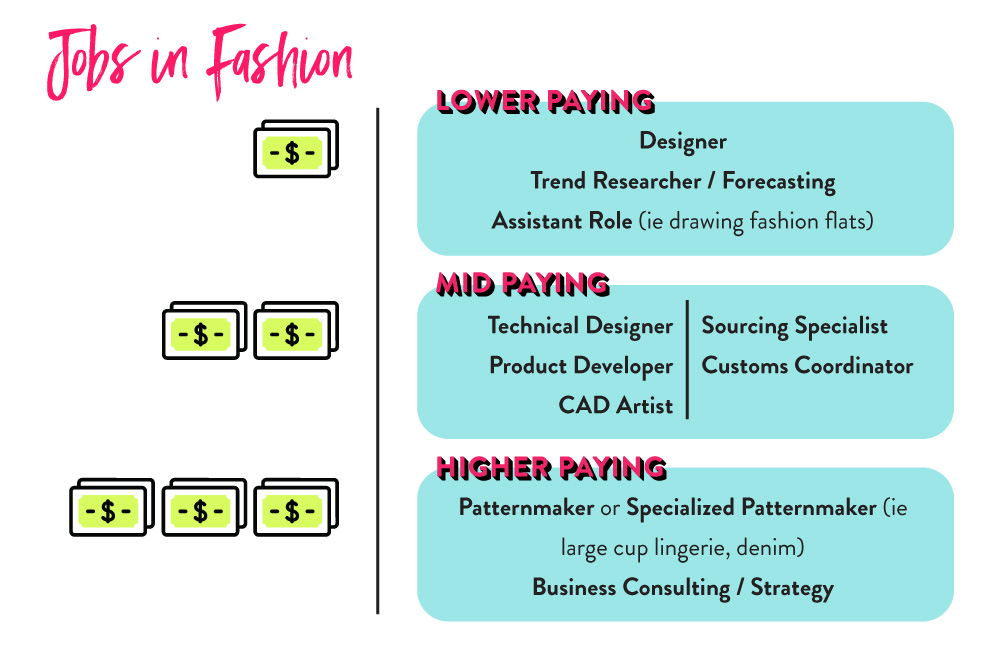 Generally, the more specialized your skill (and the fewer people that offer that skill), the more money you can make in the fashion industry.
Being a "jack of all trades" doesn't pay.
When your skills are specialized and niche, you're more of an expert (and there are fewer people who offer the same thing). Which means you can charge a higher rate.
Also? Glamour doesn't (usually) pay.
Design roles and trend forecasting will tend to earn less (lots of people can do it and lots of people want to do it) and more technical skills like patternmaking tend to earn more (fewer people are qualified to do it and it's less glamorous).
Let me share a few examples that will help you understand better.
FAST grad Mari, a Puerto Rican living in NYC, specializes in sustainable sweater knits. She does everything from design to tech packs and sourcing to product development. So, she gets to work on every part of the process from the glamorous (trend) to the tedious (spreadsheets).
Because she's so specialized in her niche of sustainable knit sweaters, she's regularly sending $2-3k invoices (and recently just sent her first $5k one!).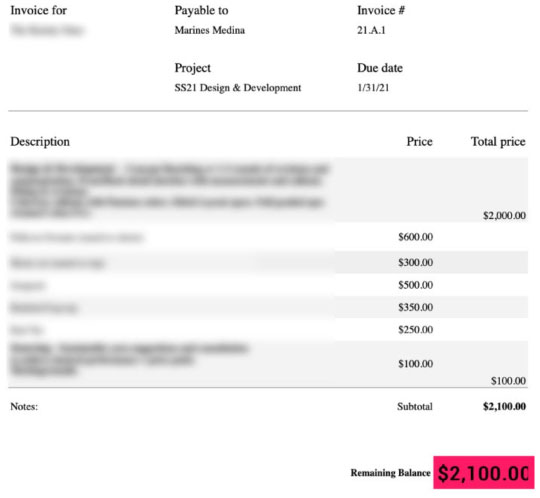 On the other hand, there's Arya Mishra, a FAST grad from India with no experience who didn't go to fashion school.
Her freelance service is drawing fashion flats for brands – that's exclusively what she does. She charges $20 per flat (and after 5 weeks of joining FAST already had 6 paying clients).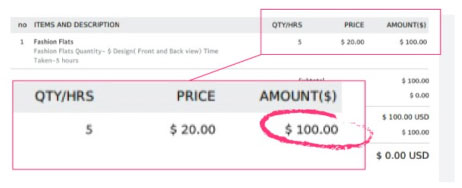 For some people, that may not seem like a lot of money. But remember, money is relative! Arya is 20 years old with no experience. She lives in India, a third world country where wages are very different from places like the US or a lot of Europe. For her, $20/flat is a great rate. She's fulfilled, doing work she loves, and making a very fair rate.
---
I hope these stories and examples help you see your earning potential as a freelancer in fashion. It took me suffering through my own clothing line and the Exhausted Employee rat race to learn that freelancing was the best way to have a work-life balance AND make a lot of money in fashion.
My goal is to help you skip past all that stuff and get you straight to the gold. So, let's wrap it up!
What Should You Do To Make A Lot of Money and Get Paid Well in Fashion?
Making a lot of money in fashion comes down to just 6 steps:
Don't start a clothing line
Get out of the Exhausted Employee rat race
Become a Successful Fashion Freelancer
Offer a niche / specialized service
Set a competitive rate
Confidently pitch yourself
(And psst! If you want to make a lot of money in the fashion industry AND get to be super creative, freelancing is the best of both worlds.)
YOU GOT THIS!