You've been thinking forever, "I want to have my own fashion brand." It's your childhood dream and you feel like, "I could really do this!" But there's a lot of stuff no one ever talks about – like logistics and money and profits (or lack thereof).
I've shared snippets of my fashion journey before. But I've never been 100% transparent with you about how I got started in this industry.
And I've never shared the most painful parts of having my own fashion brand.
Today, that's changing. I'm pulling back the curtain and am going to tell you everything.
We'll start in 2004. It was a time when I hated my life.
I had just graduated college with honors and a dual degree in graphic design + marketing from a top school.
And I was trapped behind a receptionist desk at a non-profit, answering phones and filing papers 40 hours a week.
I'd always dreamed about being a fashion designer, but I'd locked that dream in a cage and thrown away the key.
And I settled for a dead end job that I despised.
So, like any passionate young creative, I did something. I did the only thing I knew how. I did what my mom had taught me years ago.
I started obsessively sewing.
I took night classes to learn about design and construction and how to draft patterns.
I created. And it felt good.
The red Husqvarna that my mom passed down to me became my best friend. Every week, she hummed and sewed tens of thousands of beautiful stitches.

I saved the little spare money I had leftover from my $9/hour receptionist job and spent it at Joann's or the thrift store buying vintage fabric and materials to repurpose. I made random dresses and skirts and even gave a try at men's shirts, making Marc my fit model.
(BTW, men's shirts are a beast to sew from scratch. These never went anywhere.)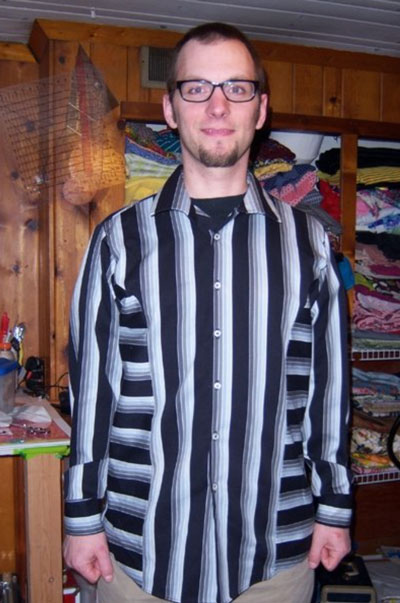 I saved up and bought labels and hangtags and business cards.
After a year of hibernating in my basement and declining every invitation to go to BBQ's or drinks with friends, I had a closet full of clothes I'd made.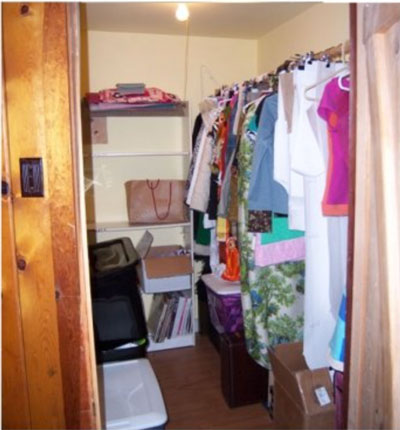 I'd just created my first "collection", and I had no idea what to do with it.
So, again, I did what any young passionate creative would do and I figured out how to share my designs with the world.
I did fashion shows.
Yes, even in little dinky cow town Denver, we have fashion shows!
I had no idea what I was doing and without any money, I pulled favors and negotiated like a boss to get things done for free.
I asked friends of friends to model, and got hair + makeup + a photographer to trade for product.
I worked my ass off preparing and promoting.
Show nights came and then just like that, poof they were gone.
Sure, they were glamorous and fun and you got a quick high seeing your designs go down the runway.
But it was a lot of work when all you got to show for it was pics from the makeshift photo shoot you did in the alley behind the venue (with a car you borrowed off Craigslist):

If you've ever done a fashion show, you know it's easy to wonder afterwards what you did all that work for.
Because no one actually buys anything at fashion shows.
The audience just cares about drinking and having a "glamorous" night out. Buyers don't come. No one's there to shop.
I kept doing shows because I was meeting more and more designers like me and it was fun. But it was a lot of work with no financial return.
And as much as I loved designing, I also needed this to be a business.
Which meant I needed to make money. And to make money, I needed to sell.
So, I rented booths at local markets.
I did more markets than I care to admit. Some weren't the best match, but I applied anyway. I was desperate to get my stuff out there.
Turns out, when you're desperate, you make bad decisions.
And the first market I ever showed at was just that.
There were booths selling random stuff from produce to local honey and fresh pouches of lavender to handspun skeins of wool yarn.
But I was young and naive and my hopes were high. I invited friends and coworkers and everyone I knew to come.
My mom even flew out all the way from San Diego to help me. We packed our white Tacoma the night before with my newly purchased canopy, rolling racks, hangers, full length mirror, cash box, and all the other things you need to do a market.
Those booth supplies set me back $1000 and drained my savings, but if all went as planned, I'd earn my money back and then some.
Market day came and we rose early at 6am on that Saturday in June. We drove the 45 minutes to Boulder dreary eyed and sleepy to set up.
We schlepped the racks, the mirrors, the tables, the canopy, and the giant Rubbermaid bins full of my designs from the Toyota truck bed through a damp field of grass to the spot I'd been assigned.
We got the canopy and table up, and hung the 50+ dresses and skirts I'd sewn over the last year.
I sipped my iced coffee and tried to stop sweating (I'm a sweater) from all the labor.
Attendees slowly trickled in and one by one, people stopped by.
Some were nice "Oh, this is really cool, did you make it?"
Some were snarky, whispering to their friends "I could make this myself."
But no one bought.
A few friends I had invited stopped by and I forced a smile to pretend things were going well.
The hours passed slowly as I faked that everything was ok. But on the inside I was embarrassed. I felt like I failure. I hadn't even made enough to buy my mom and I lunch.
How stupid was I to think this dream of being a fashion designer could come true?
It stung. It hurt. I wanted to cry.
And I secretly wished I had never tried in the first place. That way no one would have to know I was a failure.
Especially my mom.
I couldn't even sell one dress.
By the end of that long hot summer day, I felt like all the time I'd put in over the last year was a waste.
I hadn't made a dent in my $1000+ booth investment.
But I had made a huge dent in my pride.
I returned to my pathetic receptionist job and moped for a few weeks.
And in a way, I give that pathetic job credit for helping me keep going. I hated it so much that I had to keep trying.
So I did.
There were more failed markets, painfully early mornings, setting up and tearing down canopies, tables and racks.
It sucked.
And then, in one weekend, I made $2k from my own fashion brand.
I needed this win, more than you may know.
There was a new market called Fashion Denver. It was a new concept back in 2005-6ish before pop-up shops and indie fairs became a regular thing, but I had a good feeling.
I went through the motions again:
Wake up at the crack of dawn
Load the white Toyota pickup with racks, Rubbermaid bins, mirrors and signage
Drive 20mph on side roads hoping nothing flies out of the truck bed
Unpack the bins, hang the clothes, pin up the signs
Try to stop sweating before the crowds arrive
Right away, people flooded my booth. Sales started pouring in.
I sold my dresses and skirts. People loved my designs. And they were willing to spend their hard earned cash on them.
But most of the money came from the new product I'd made just for this show.
It was something my friend had suggested. It was totally random, but it merchandised well with my vinyl record cuffs: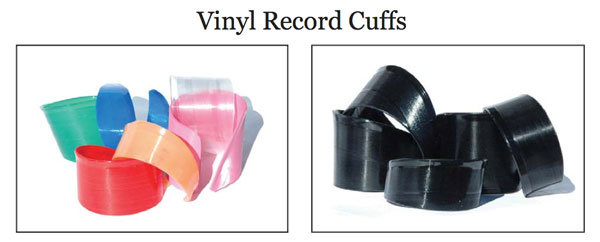 So I went all in and made 100 pairs of guitar pick earrings for the Fashion Denver market: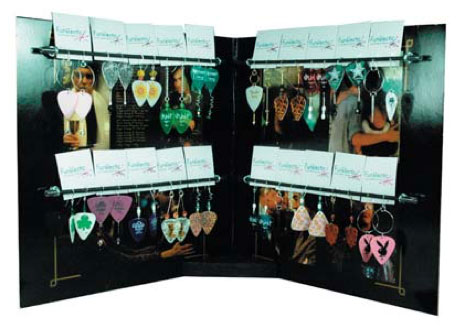 I didn't love the product, but the profit margin was huge. Hard costs were around $1 and if I batched production, took only a few minutes to assemble.
At $14 each or 2 for $20, they sold like hotcakes.
Moms, kids, husbands, everyone loved them.
People shoved crisp $20 bills into my hands and couldn't pick out their two pairs fast enough.
Designers at booths next to me were visibly jealous. Like I'd experienced before, people loved their designs, but not a lot of people bought.
I made $2k that weekend and for the first time in my life felt like I could do this. I could create and sell my own designs.
I was on cloud nine.
Even if it had to be jewelry because it sells faster and the profit margin is higher, I knew I could do this. I could be a designer.
My dream of having my own fashion brand was coming true.
I quit my depressing day job and got serious.
The next week, I took an insane leap of faith and quit my depressing day job as a receptionist. I was young, didn't have much overead, and figured now was the time to go for it.
I knew I had to get serious if I was going to make this work full time. I knew I couldn't survive on markets alone, so I created line sheets and emailed them to hundreds of boutiques.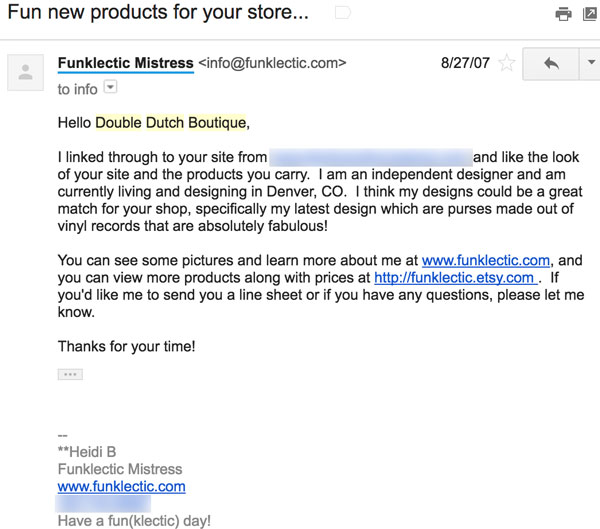 A lot of times, I never heard back.
But sometimes, they'd place an order: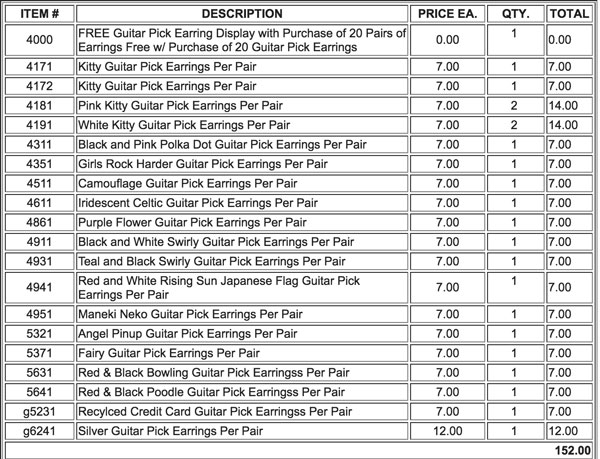 By mid 2007, business felt and looked like it was booming. I had my own fashion brand and this was working!
I was in 50+ stores. And I was getting some press, like in the Denver Post: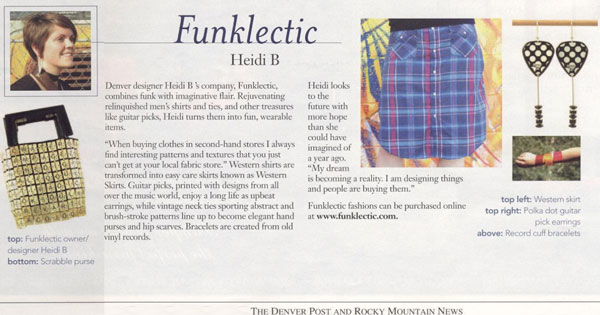 From the outside, things appeared like they were perfect. My designs were in shops around the world. I had two women doing production for me.
The pride I felt from that high was indescribable.
But behind the scenes, the realities of having my own fashion brand weren't great.
Every penny went right back into the business and there was nothing left for me.
It was a lot of tedious work and there were times I hated it.
I wasn't designing anymore. I was running a business.
I was doing customer service, packing and shipping, and dealing with inventory and chargebacks (when a store wants to charge you back if the product doesn't sell or gets returned).
I was chasing payments for thousands of dollars from some of my biggest accounts, like Hudson News (yes, the stores you see at every airport). Sometimes it took 6 months and 10s of emails and phone calls to get the money. Sometimes, I never saw the money even though they had sold through my product.
I thought about going back to retail sales. Profits were higher and I wouldn't have to chase payment. But that meant packing tons of single orders and dealing with tons of individual customers.
And setting up the booth every weekend.
I didn't have the energy for it.
No matter how you diced it, I realized that selling product sucked.
And to make it worse, I wasn't even excited about my product anymore.
Because you know what happens when you launch a collection and have your own fashion brand?
You have to move forward with the products that sell and make sense.
And sometimes, that's not the product you're actually excited about.
The clothes? Didn't make sense. Investment was high, profits low, and they were hard to sell.
As a smart business owner, I couldn't invest in product with a low profit margin that I'd wind up having to closeout at discount.
But the jewelry? It made sense. Investment was low, profit high, and there was no fit or sizing issues.
I had gotten myself this far. I couldn't give up now.
I had built some traction, and I stuck with it.
Even though I had come to loathe my best seller, the guitar pick earrings.
I was actually embarrassed of how silly it was (which is why I've never shared this story until now).
(And let's not even talk about my brand name…Funklectic!?! It was a word sandwich of funky + eclectic, but I wound up hating it after everyone thought it was funkadelic. Oh well, what do you do…)
Anyway, to help keep my creative self sane, I introduced a line of record purses.

They were a beast to produce and I went through 5 sewers and 3 laser cutting companies to figure them out. Even then, manufacturing didn't go well (more on that in sec).
To take the business to the next level, I started looking at trade shows. Not local craft markets, but a real, international trade show.
I applied for a specialty show in Philadelphia and I got in.
I scrambled to make enough inventory in advance. I didn't know how much I'd sell, but I wanted to be prepared. I'd heard stories that the fastest way to fail was if you couldn't fill orders.
And I didn't want that to happen.
I figured out how to put a trade show booth together. I invested in new display cases for my 100+ earring styles. I navigated the tricky (and expensive) logistics of packing and shipping a booth in crates.
And Marc and I went to Philly. And we got sweaty setting up my booth. And we schmoozed and sold.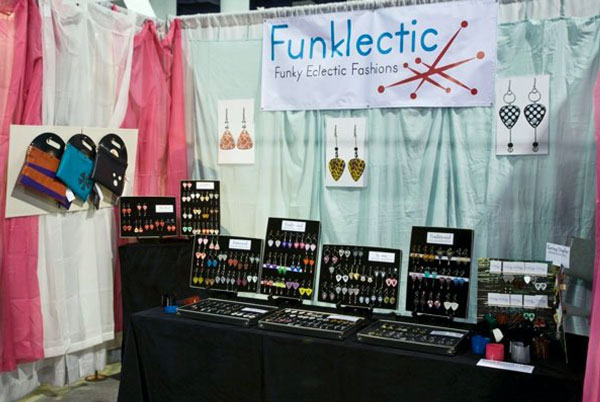 It was hard. It was tiring. It was exhausting. It was a lot of small talk and not a lot of order writing.
For 3 long days, we manned that booth and I hated every minute of it.
We'd done it on the cheap and ate at Subway and slept in grimey Motel 6 rooms to cut costs.
But I still invested $5k in that show. It was every penny I had.
And I wrote less than $2k in orders.
I knew there was bigger strategy to trade shows, and you couldn't just show up once and get the sale. Buyers had to see you there over and over to make sure you were legit.
I had talked to a lot of people, got a lot of compliments and had a lot of interest.
So I kept selling, filling orders and saved money again.
I did the next show a few months later in Las Vegas. Marc and I jumped through all the hoops again. The time, the money, the energy. The packing, the shipping, the setting up (and sweating). The Subway sandwiches and the disgusting cheap motels. The schmoozing, the small talk, all with people who had no intention of buying.
That show was even worse than the first. The floor was dead. The people who were there were just walking. No one pulled out their checkbook.
And the few orders I did get? I had to cancel a lot of them after running into the manufacturing issues I mentioned earlier: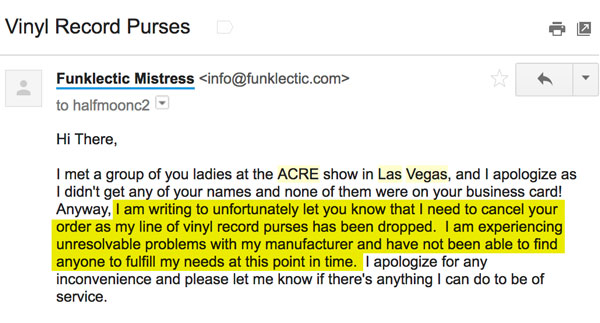 I was exhausted. I was emotionally and physically and financially drained.
By some standards, I had done well. I was in my mid 20s and had grossed over $40k in 2007 selling my own designs.
But this dream life I had created for myself wasn't such a dream.
Reality kicks in when you realize how much you're not making, how long it took you to get there, and how much work you put in.
I'd been building Funklectic for 3+ years. Sewing, designing, slowly finding my footing in an industry I knew nothing about.
And even though I'd made $40k in my third year, only about $8k was actual profit.
(The scariest part? By a lot of standards, in fashion that's actually really good).
But you can't live off $8k a year.
I couldn't go on any more not making any $$$. I wasn't willing to go into debt, like so many designers I know have. I wasn't willing to take a second mortgage on our home. I wasn't willing to dip into my 401k like people I know have.
I wasn't willing to go bankrupt over this, because I knew that taking money out of all these places was a slippery slope.
You fall into that "I just need a little more to make it work" mentality. You keep thinking your big break is around the next corner. And you keep spending and investing and you can't ever pay it back.
Listen, I don't want to make it all about money. But at some point, you have to think about that.
Life isn't free.
You can't survive on a dream. It's great when they come true (like seeing your designs on the runway or in shops), but that doesn't pay the bills.
As much as I wanted to keep it going, I couldn't. I didn't have the energy to keep selling. And even as a young mid 20 something with no kids and a supportive life partner who was helping pay the bills, this life wasn't cutting it.
I wasn't sure what I was going to do next…
…when my red Blackberry Pearl rang.
(yeah, you know the one)
I was in my basement studio sewing when I got the call. I had just finished the second trade show and I was out of money.
And like magic, my dream job as a fashion designer was on the other side of that red Blackberry Pearl. It was a random gig I'd applied for on Craigslist almost a year ago, and they finally had a position I was right for.
I went in for an interview and accepted the job on the spot.
2008 was an amazing but insanely hard and stressful year.
I was back to spending nights and weekends trying to keep Funklectic afloat. And on weekdays, I slaved away at my new job as a fashion designer.
I was overloaded and working a ridiculous 80+ hours a week.
The new job was stressful and the hours were long, but I wasn't willing to let my baby die.
I kept Funklectic alive into its 5th year until early 2009. For the last year, I filled orders but didn't doing any new marketing. I didn't set up the booth on weekends anymore.
And it felt good.
I felt relieved.
I could breathe again.
I was making just enough at my dream fashion design job to pay the bills and I was learning loads.
And the realization hit me like a semi-truck.
It smacked me in the face so hard I couldn't believe it took me this long to figure it out.
I realized that I enjoyed this type of work more. I enjoyed designing. I enjoyed working with vendors to get product made. I enjoyed the challenges and problem solving that the development process brings.
I didn't enjoy selling and packing and shipping and managing inventory. I didn't enjoy chasing payments and dealing with chargebacks. I didn't enjoy doing customer service. And I didn't enjoy the high overhead of running a fashion brand that only left a measly unlivable wage for me.
I contemplated it hard for six months. And in early 2009, I finally dissolved Funklectic. The recession had hit recently and I didn't have the capacity to sustain.
And you know what?
I felt better than I had in a long time.
I didn't have to keep up with inventory, pack and ship FedEx boxes 3x a week, or schlep consignment orders around town anymore. (BTW, consignment is the worst. Don't ever do it.)
The relief was palpable.
I felt good. No, I felt amazing.
I was working at my dream job as a fashion designer. I was designing product that was being made in large quantities at factories overseas, not sewn in my basement on my mom's red Husqvarna.
And someone else had to deal with selling. Someone else had to deal with inventory. Someone else had to deal with the logistics of wholesale, retail, chargebacks, margins, closeouts.
Someone else had to deal with all the stuff that comes along with running a fashion brand.
And I got to do the fun stuff: designing and doing fittings and approving lab dips and hand looms.
For the first time in my life, I felt like everything was perfect.
Until it wasn't.
Until my dream job turned into a nightmare.
Because as it turns out, as much as I didn't like dealing with selling and shipping my own physical product?
I didn't enjoy working for someone else.
To be continued…
Watch the blog tomorrow for the second part of my story: The ugly truth about working as an employee in the fashion industry.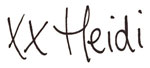 xx Heidi