How do you stay motivated when you aren't making any progress on your fashion portfolio?
First, don't be too hard on yourself. It doesn't do any good to beat yourself up.
Second, run with your energy and inspiration when it comes and stop trying to force things. As I told you before, when writing this book, there were days when the words wouldn't flow. I let myself be ok with that, and came back to it the next day.
Figure out what works for you.
There are a lot of different strategies out there help you accomplish your goals. It may be deadlines, it may be asking someone else to hold you accountable.
And if you don't have anyone to ask, then ask me.
I will be your accountability buddy.
Send me an email [heidi at sewheidi dot com] to publicly share your goals. Then, follow up once you've met your deadline.
I may not be able to respond to every message, but do I know I actually read every email. I'll be thinking about you and waiting for your update.

How do you compete with people willing to work for free or cheap to "gain a fashion portfolio"?
We have covered a lot of tough Q's in this book. And here is another one.
Unfortunately, you aren't going to like my answer. It's hard to compete with these people, and there's even a time and place that I recommend fashion designers do this.
There are brands that want a less expensive option and are willing to invest time in training someone. There are also brands that want to pay for the right expertise.
I think at some point, this is just how it is, in many industries.
And if we're honest with ourselves? A lot of us started out here. I know I did. My first job paid just $22k/year. I got my experience, and I moved my way up.
I've also worked with a lot of brands who are happy to pay a fair rate for someone more experienced who can work independently and get the job done without a lot of handholding.
There are opportunities out there for everyone at every pay scale, so just let this one go.
The people who work for low rates to gain experience are not your competition. The brands that want to hire people like that will not be your best jobs.
So instead, focus on finding brands that care about hiring the talent with the right skills. They are out there.

How do you stay ahead of the competition with your fashion portfolio?
We've already discussed a ton of ways you can do this. Here's a quick recap:
Follow the Portfolio Golden Rule. A niche book will get you so much further than something that showcases a variety of projects. Here it is, once more for good measure:
"This [project / collection / design] speaks to the brand, tells them that I understand their market, customer and aesthetic, and visually shows them that I am the right designer for the job."
Spend the extra time to customize your email / application. Show that you're paying attention and address the points in the job description. No one wants a copy / paste generic email.
Do your research! Be familiar with the brand, and know the competition. This doesn't mean "oh yeah, I remember going to DressBarn with my mom when I was a kid." This means going to DressBarn before your meeting and checking out their assortment online. It also means checking out the competition, which might require going to Chico's and Kohl's to see what they're showing too.
Be proactive and come to a meeting prepared with a test project. It's not dissimilar to the Briefcase Technique, coined by one of my mentors, Ramit Sethi. Talk about standing out from the competition! You will blow them out of the water.
Bring your portfolio to the interview! Whether it's on an iPad or in a physical book, don't show up empty handed assuming they already looked at your work online. It seems obvious to me, but I guess this is something fashion school doesn't tell you, because it's a mistake a lot of entry level fashion designers make. Sorry, it's not your fault.
Spellcheck! Ok, arguably, we didn't discuss this yet. But DO NOT have spelling errors in your portfolio, on your website, or in your correspondence. Details are important in fashion, and they're also important in how you present yourself.
But beyond that?
There's one simple thing you can do that most people don't.
It can get you the job over the competition.
It has nothing to do with your portfolio.
And it's surprisingly simple.
Be excited. Be enthusiastic. Show that you want this opportunity.
I talked to multiple hiring managers who said things like this:
"If one of these candidates would show up on time [38], prepared [do your research], have a few questions for me[39], and show some enthusiasm about the opportunity? I'd hire them on the spot."
---
[38] I actually couldn't believe how many people told me designers would show up 20 minutes late. Even worse? If the manager did reschedule? The next time, they'd show up 30 minutes late and still expect to get the meeting. NO WAY. If you can't be on time for an interview, you are DONE.
[39] Don't worry about preparing the world's best questions, but going in with some curiosity shows your interest. Brainstorm these beforehand, or don't be afraid to turn their questions around on them. "I'd love to know, what's the biggest challenge your team faces during the design process?" This will give you great insights into how you can help them solve those problems.
---
It seems like nowadays, a lot of candidates out there are showing up and just looking for a paycheck.
Now, you may be saying, "Heidi! That's not me, no way!"
I know, I know. Maybe your nerves get the better of you and you freeze. I understand, these situations can be stressful.
And I know, that's easier said than done.
Because I have been there.
Back in 2004, I totally bombed an interview that I really wanted.
The job was a graphic design position at (now defunct) Sports Authority. I way over hyped myself for the opportunity, and dreamed, "this could be my foot in the door to break into the fashion industry."
The opportunity had fallen into my lap when a recruiter called and asked if I could interview in 2 days.
Just like you, I scrambled in major panic mode to get my fashion portfolio together.
I thought I was prepared. I felt proud. I felt confident.
But in hindsight, I think it was my desperation (and lack of interview practice) that killed it for me.
It was during a time when I hated life and was working as a receptionist. I was dying for anything better.
And as soon as I walked into that giant office building for what felt like the biggest opportunity of my life, I was dying for this moment to be over.
I waited anxiously in the lobby for the hiring manager to get me while I death gripped the black zipper case that contained my (graphic design) portfolio.
She arrived on time (I was early) and escorted me to the interview room.
And that's when things got fuzzy.
Literally.
My vision blurred and my ears filled up with a high pitch ringing.
The last real detail I remember is sitting down at the oversized dark brown conference table across from 3 really rigid looking "adults" (at 22, I still felt like a child) wearing suits.
And I just shut down.
To this day, it is still one of the most intense moments in my career where I just crumbled. I had a total out of body experience, and I have no idea what I even said in the interview.
All I know is that my chest and face burned bright red, and I fumbled a lot.
I walked out of that interview and barely made it to my silver Nissan Altima in the sprawling parking lot before I had a full melt down in the driver's seat of my car. I called my mom from my flip phone and just bawled. Snot faced, teary eyed, can barely speak bawled.
(Thanks mom for talking me off the ledge and telling me it would all be okay. You are right, these things happen for a reason.)
---
---
Listen, I know how much pressure these interviews can put on you. And you know what? If you haven't yet, you'll bomb one eventually.
You just have to get it out of your system. It's like a right of passage or something.
So if this could be you, do yourself a favor and apply for a few "tester" gigs that you don't really want just to practice your interview skills.
And then, take a big breath for the opportunity you really want, straighten up your backbone, and walk in confidently.
Do your research, and be prepared (and early).
Show up, and just be yourself.
Show them why you're a good fit and how you can help with design (or patternmaking / TD / PD).
And for pete's sake, be enthusiastic!
(For more insanely brilliant and actionable advice on preparing for an interview, this is one of the best articles out there.)

How do you show you're still relevant if you've been out of the fashion industry for a while?
The first important thing you have to do is explain why you've been out of the game for a while. If there's a big gap in your resume, don't panic, just explain it.
Maybe you took some time off to raise a family. Maybe you had a hard time finding work for 6 months and worked retail in the interim.
Whatever it is, explain the gap.
All it takes is one sentence, as Shellie Simpson, Talent Director for the fashion division of recruiters at Atrium Staffing shares in episode 53 of the Successful Fashion Designer podcast.
Now, how do you show you're still relevant? If you didn't already guess, you do this by adhering to the Portfolio Golden Rule:
"This [project / collection / design] speaks to the brand, tells them that I understand their market, customer and aesthetic, and visually shows them that I am the right designer for the job."
Because as a fashion designer, it's your job to stay relevant. And even if you haven't been for the last year (or three), you need to show that you are relevant now.
Do your trend research.
Get back up to speed in your category.
And then, show that in your book.
Depending on how long you've been out of the game, that may mean doing a self directed project. That may mean just making a few updates to your book.
Look at your fashion portfolio with the same eye you use to do your fashion design work: what needs to be added / adjusted / taken away to make this just right for the end consumer (the brands you want to work for)?
Depending on how badly you want the opportunity, it may mean doing a capsule collection or showing them a few ideas before they ask you to.
As Bjorn shares in episode 1 of the SFD podcast, you're going to be asked to do a test project anyway, so if you really want to get your foot in the door and ahead of the competition, be proactive and go in with one already done.
Now, I'm not going to lie, having a gap in your resume can be a hurdle to get over.
Which is why you have to SHOW that you are relevant and that you are the right candidate by doing the work before they ask.
There's a chance you won't hear back.
There's a chance they steal your designs (like we talked about earlier).
This is fashion, and it can be a cutthroat and caddy and backstabbing industry at times.
That's just the way it is, so stop focusing on that and just focus on doing the best work you know possible.
Because there's a chance that it's just what they needed to see to give you a second glance. To make you stand out from the other applicants…even though you have a gap in your resume.
Sometimes, you have to go the extra mile to make up for what can be seen as a shortcoming…or just to get ahead of the competition.[40]
---
[40] Honestly, no matter where you are in your career, this can be a great strategy. Yes, it takes work, but it can also be just what you need to stand out and land that perfect opportunity.
---
Why your fashion portfolio will never be perfect (or completely done)
A few years ago, I heard something while listening to a podcast that stuck with me. A guy named Nathan Chan of Foundr said it, and it goes like this:
"If you're not embarrassed by the first version of your product, you've launched too late."
The instant I heard this brilliant one liner, it rang true for pretty much everything I've done in my fashion design career and life.
Remember my designs I shared earlier that I had my friends model? Embarrassing. Here are a few more: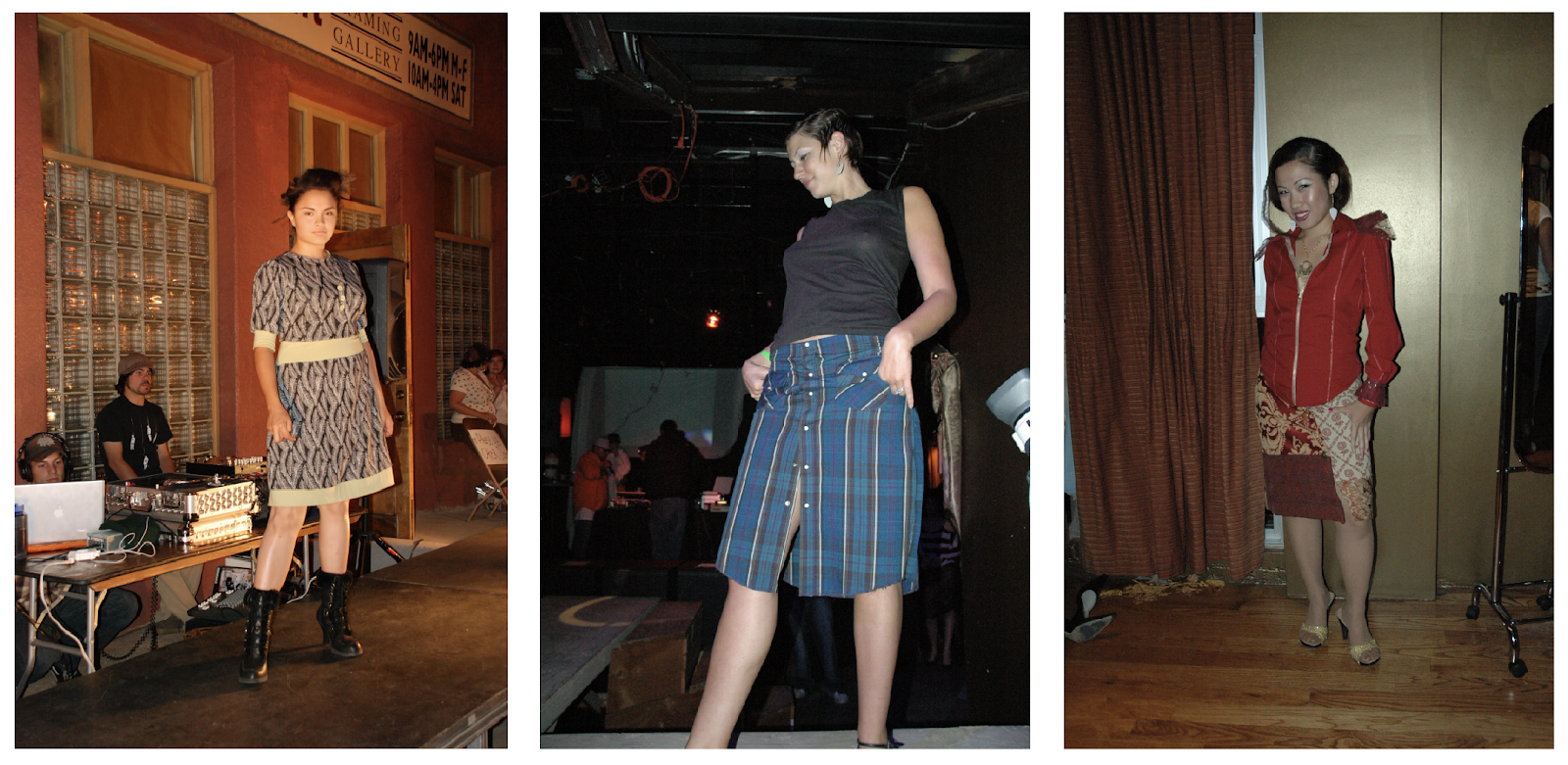 But with time, I got better. Here were some of my designs a few short years later in 2007ish (to this day, I am still proud of this collection):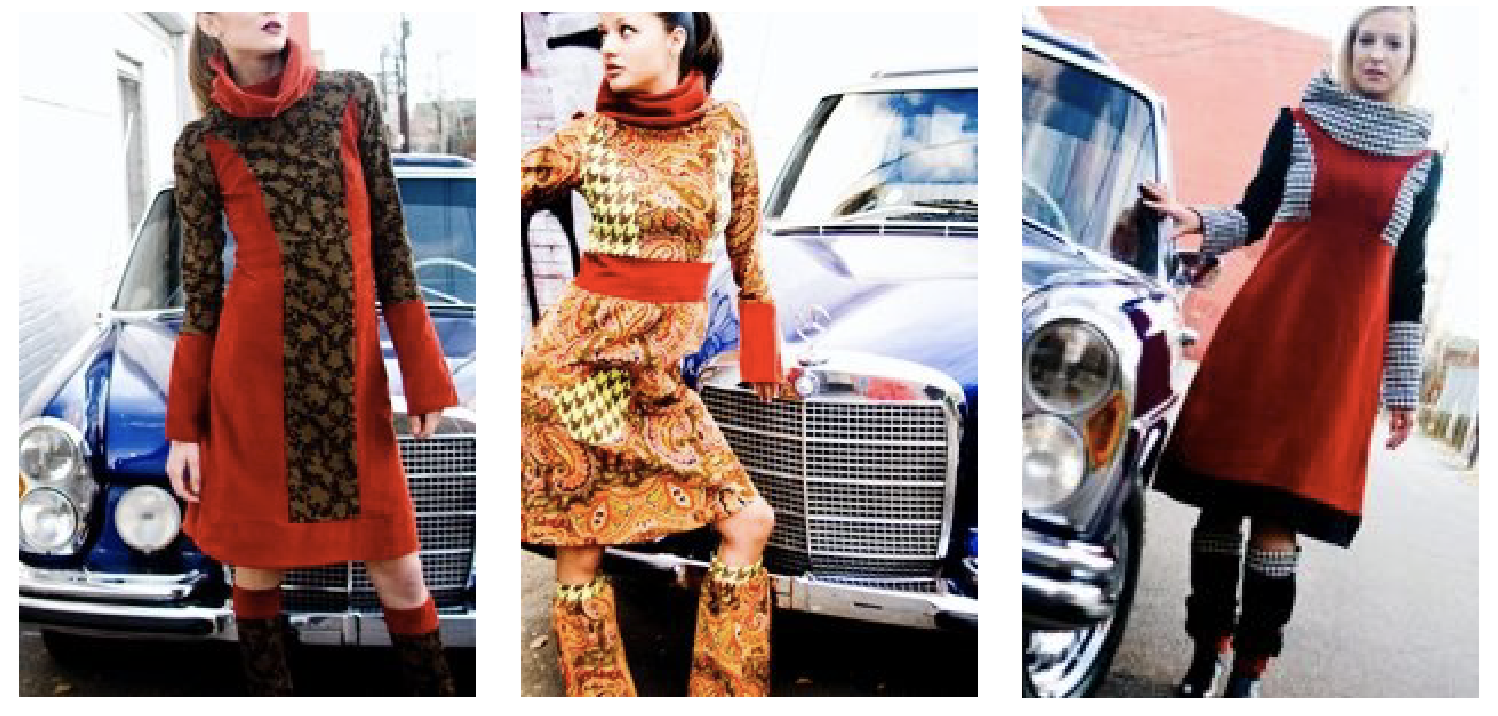 My first YouTube video? Embarrassing. I even wrote a blog post about it.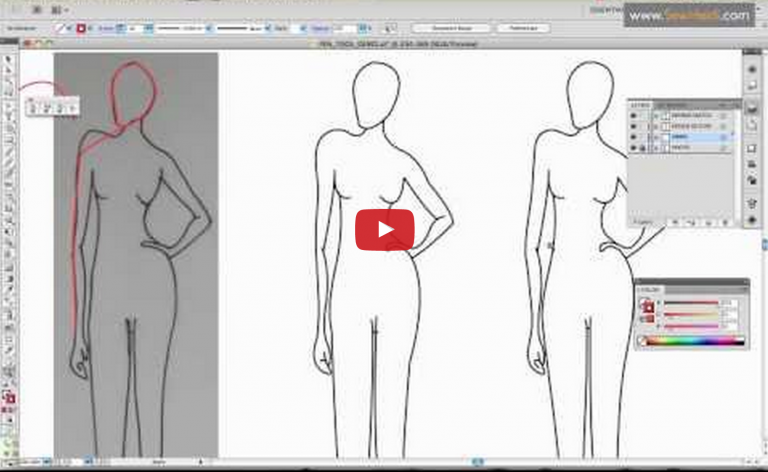 But with time, they got better. More professional. Like this one: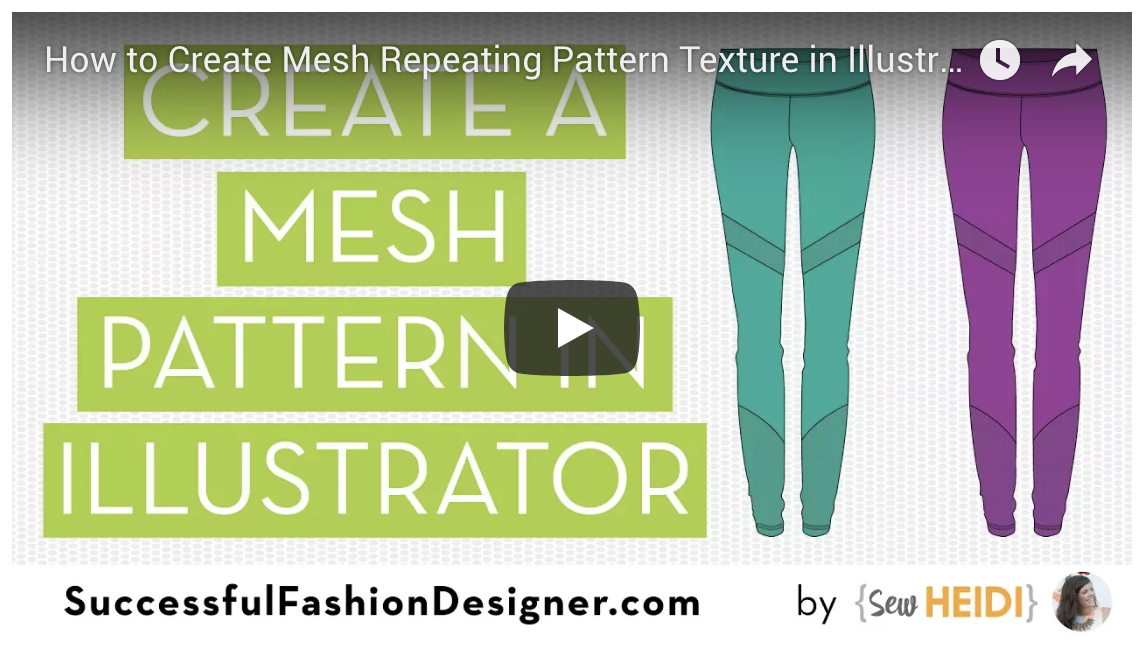 My first fashion portfolio? Embarrassing.
I did, contrary to my advice in this book now that I've learned a thing or two, include photos of friends modeling my handmade clothes. Some of the ones you've seen in this book were included in my portfolio.
I did not have any real life (read: internship) experience to show. I did not show that I understood construction or how to create accurate flat sketches. It did NOT pass the Portfolio Golden Rule test.
But somehow, the photos of my handmade clothes combined with my Illustrator skills combined with the enthusiasm, ambition and drive they saw in me, I got my first dream job working in fashion.
Some may say it was luck. And for a long time, I thought that's all it was. Now, I won't deny that luck plays a role in everything.
But as time went on, as I learned more lessons about life, I realized many things.
As it's about being an amazing fashion designer…
As much pressure as we put on ourselves to have the best book…
As much as it feels like your fashion portfolio is the difference between getting the job or not getting the job…
Enthusiasm and ambition and drive go a long way.
Show that you are the kind of designer who does an exceptional job…simply because you just care that much.[41]
Show them you are the kind of designer who sees what needs to be done and then does it…without being asked.[42]
Show them that you are the kind of designer who takes action…instead of just thinking about doing something.[43]
---
[41] Remember how we talked about wanting this so badly it's an extension of your being? This is the ambition they need you to have.
[42] Remember how we talked about doing a test project before they ask? This is the proactive attitude they care about.
[43] Remember Jasmine's story? These are the kinds of risks they want to see you taking.
---
Because that, combined with your "not perfect but good enough" portfolio, is what will get you ahead in this insanely cutthroat industry.
And if you don't look back in a year or two and feel embarrassed about the first (or even just the previous) version of your book?
Then you, my friend, launched your portfolio too late.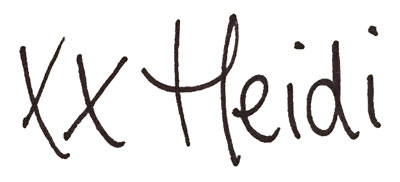 P.S. If you enjoyed this book, consider sharing it with a friend. I'm sure they'd appreciate it, and I would too 🙂