You want to make sure your freelance fashion design portfolio is professional. But since the industry is so cutthroat, sometimes it's hard to find good examples.
So, you're stuck wondering:
How do I create a fashion portfolio?
What kind of work do I include?
Should I make it an online portfolio?
Which feels overwhelming.
And you're feeling even more unsettled because you're not even sure if you can include client work in your portfolio…
But here's the thing:
You don't have to make it that complicated, it doesn't have to take forever, and you don't need tons of work to show.
How?
All you have to do is show your design process.
What does that mean?
I'll show you exactly how in this article, so you can start creating your fashion design portfolio.
(Oh, and even if you're a student or a professional – vs a freelancer – you can still use these ideas.)
There are a lot of places designers get stuck when it comes to getting freelance – or even full-time – work.
But the biggie? The one place you'll spin your wheels forever? The black hole every designer gets sucked into and takes over their life?
Presenting yourself and your portfolio.
There are two reasons this happens.
One: it's overwhelming.
But the big reason? It's one you don't want to admit to yourself. You'll probably even deny it. But if you're really honest with yourself, this is the real reason you get stuck here.
Because working on your portfolio is comfortable. It's your safe zone. It's easier to do than putting yourself out there for work. Than pitching. Than handling clients.
You're afraid of doing all the things that actually get you work, so you spin your wheels doing things that aren't scary – like working on your portfolio.
But you can't afford to do this, because working on your portfolio doesn't get you results.
Do NOT overthink your portfolio!
A client is going to glance at it for 2 seconds and make a decision. If they see a few designs that match what they're looking for, they'll reply.
They're not going to spend 10 or even 5 or even 2 minutes browsing. They don't care if the work was from last month or last year.
They're too busy.
So keep it simple and include just a few examples of your best work for the market you've chosen.
To make it easy on yourself, just do it as a PDF. It's much easier to update and customize a few PDFs to send to different clients than it is to update a website. If you already have a site, then that's fine.
If not, it's a good idea eventually.
But for now, give yourself permission to stop fighting with technology and the internet, and create a few simple PDFs.
Below are some examples.
Portfolio Example 1: Sheena Schoolcraft
Sheena Schoolcraft is a senior womenswear designer in NYC. Her online portfolio is really strong, but don't get overwhelmed about creating a fancy website like this.
She could just have easily have put together a PDF with a couple projects like I mocked up below.
Note: her website is niche to womenswear, but these projects are for very different customers. I wouldn't suggest sending both of these PDFs to the same brand. Put together 2-4 cohesive projects and share those.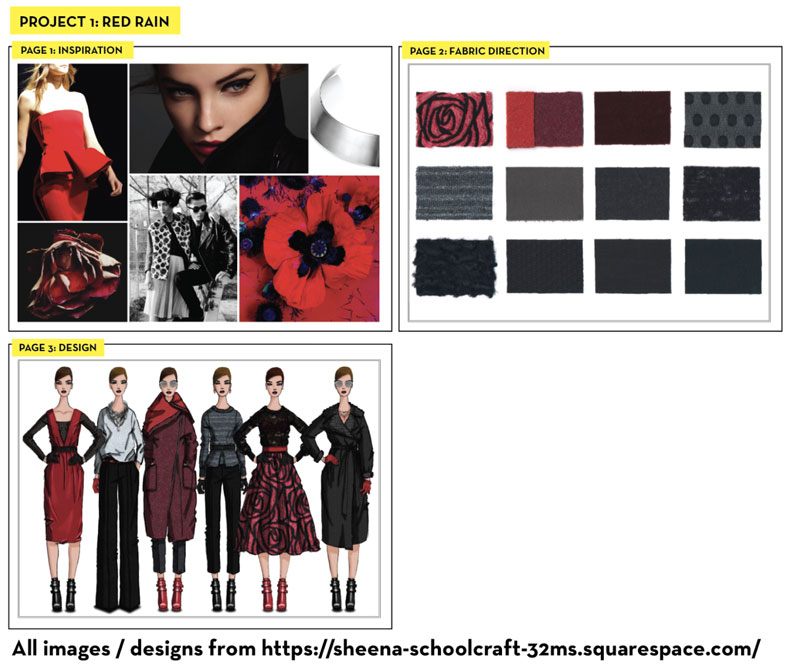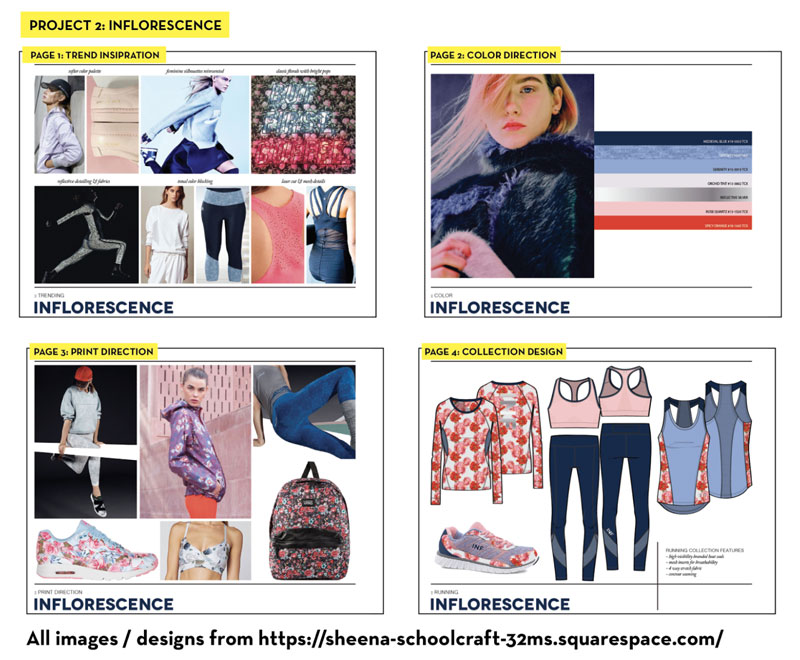 A few things that Sheena did well in her portfolio. She included:
Design, print and color inspiration. Brands want to see your process! Notice that this is not overly complicated – it's a simple collage of inspo photos.
CAD work or hand sketches. You can include either or both. I don't sketch by hand so only include CADs, but don't be afraid to show your sketches.
Portfolio Example 2: Hillary Glenn
Hillary Glenn is a full-time remote contract apparel designer specializing in knitwear, activewear and custom print design. Her online portfolio has tons of great work, but again, don't get overwhelmed about creating a fancy website like this.
Here is a great project she could have easily created as a PDF to send out to brands.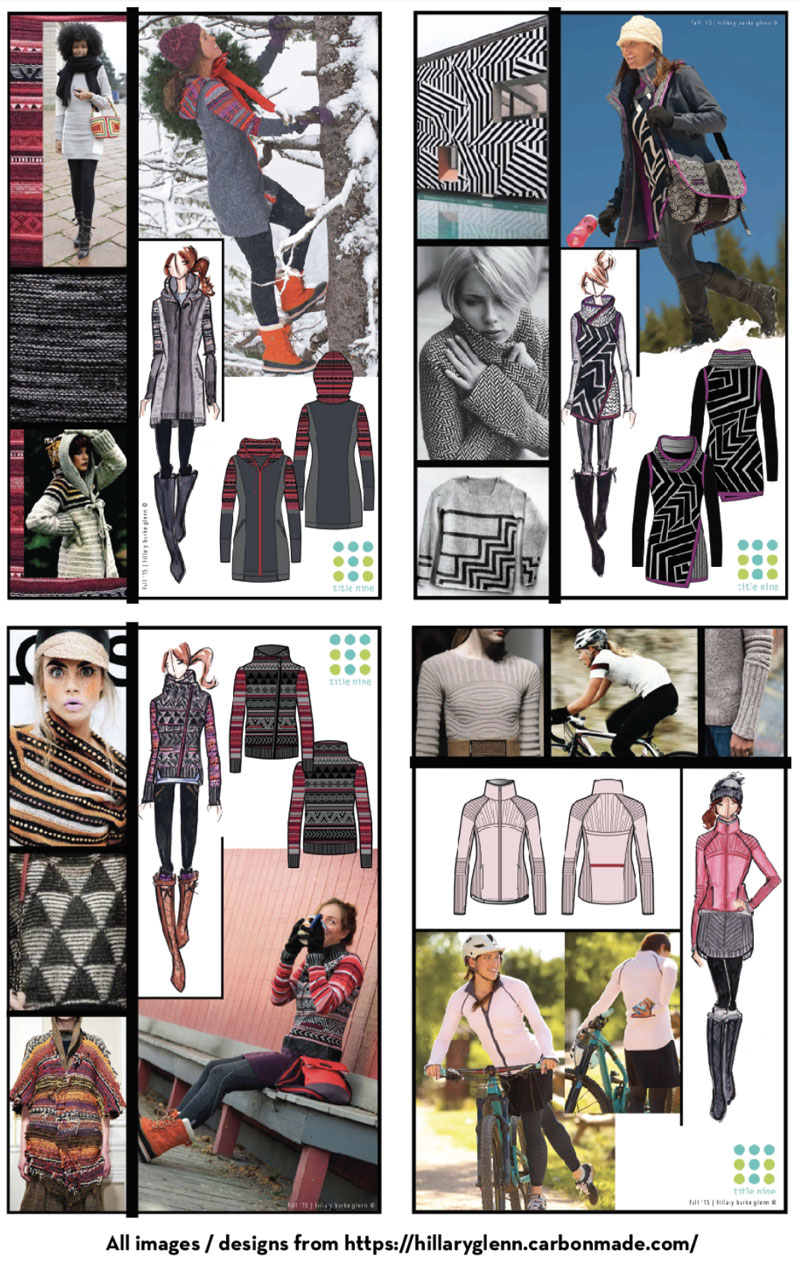 A few things that Hillary did well in her portfolio. She included:
Design, print and color inspiration. This was easily done using the actual inspo images she pulled for each design.
CAD work and hand sketches. Again, if you don't have hand sketches, showing CADs only is fine – this is how I do it.
Marketing photos of the actual finished product. If you can get these, it really helps show what the design looks like.
I'd also like you to note something that may surprise you. Did you notice how long it's been since Hillary updated her site? As of writing this (12/2017), she hasn't updated her portfolio in a couple years. I know because she told me!
I point this out to remind you that you don't have to constantly update your portfolio and it doesn't have to be this monumental task that takes over your life.
Put together a few specific and really strong projects and add more only when / if you need to.
Portfolio Example 3: The Fashion Element
The Fashion Element is a my full service design and development agency. We work with golf + lifestyle and trading company + resort brands.
You'll find a few of these images on the site, but this project was put together and sent out to a potential client as a PDF.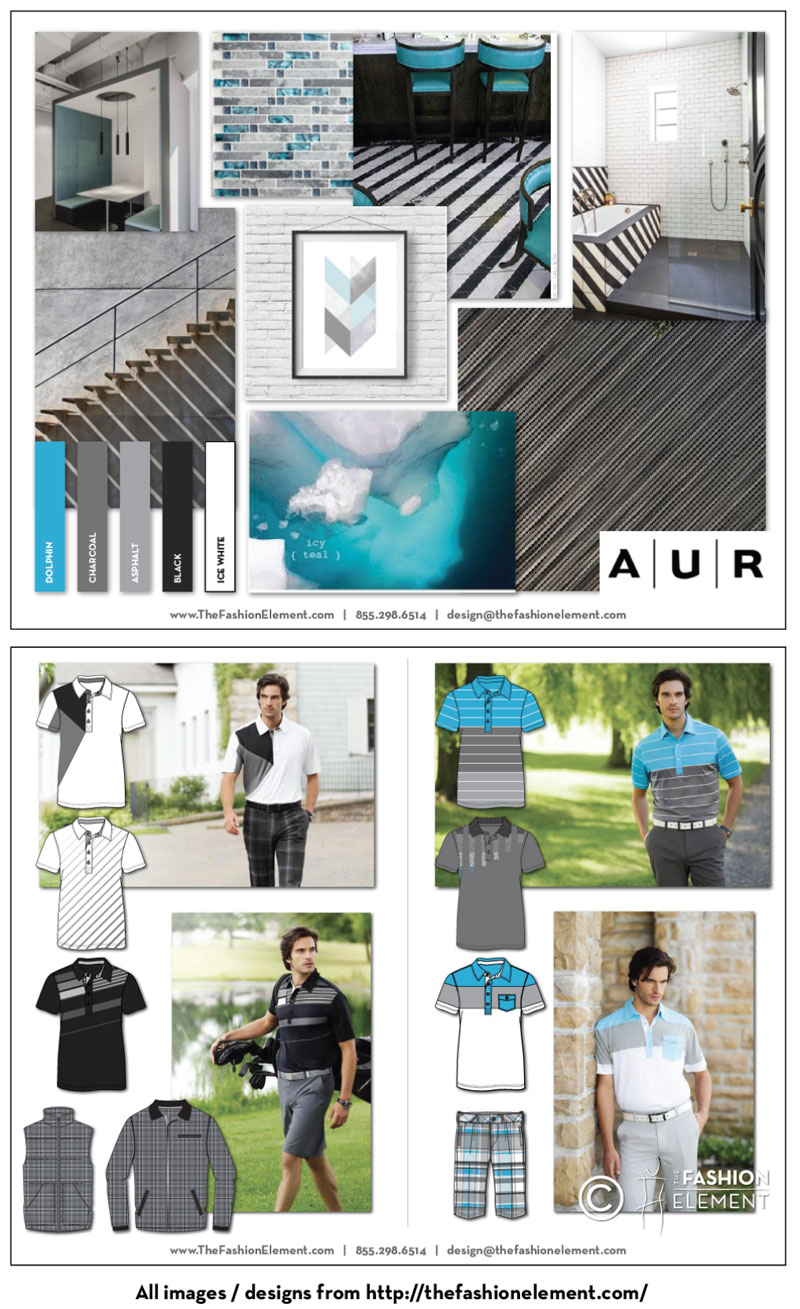 Here are a few things that work in this portfolio. It includes:
Design, print and color inspiration. Again, this is just a collage of photos.
CAD designs for capsule collections. Notice there are no hand sketches, and that's okay! A lot of us don't use a pencil and paper, so don't fake or force this if you don't.
Final marketing imagery of the completed designs. These really help show off the designs in real life settings.
So, what's the biggest takeaway? Show the project from start to finish as much as possible including your original inspiration, design process, and completed product.
Don't over think this and just focus on getting 2-4 really great projects put together as a few pages in a PDF.
Oh, and a protip? When sending your portfolio, link to it in DropBox or similar instead of attaching it. This way you're not crowding inboxes with huge files!