Everyone says the best way to break into fashion is by getting an internship. But what they don't tell you is how hard it is to get one, especially if you don't have a network from fashion school or any experience. So what can you do instead?
You have options! You have alternatives!
And the answer will surprise you.
---
What Can You Do Instead Of A Fashion Internship?
The best alternative to being a fashion intern is becoming a fashion freelancer.
(Not full-time "permalance" temp jobs that you find on StyleCareers, but rather true remote freelancing.)
I know, I know. It sounds crazy that you can be a freelancer without any experience or a fashion degree.
But hear me out.
---
4 Reasons To Kickstart Your Fashion Career Freelancing Instead Of Interning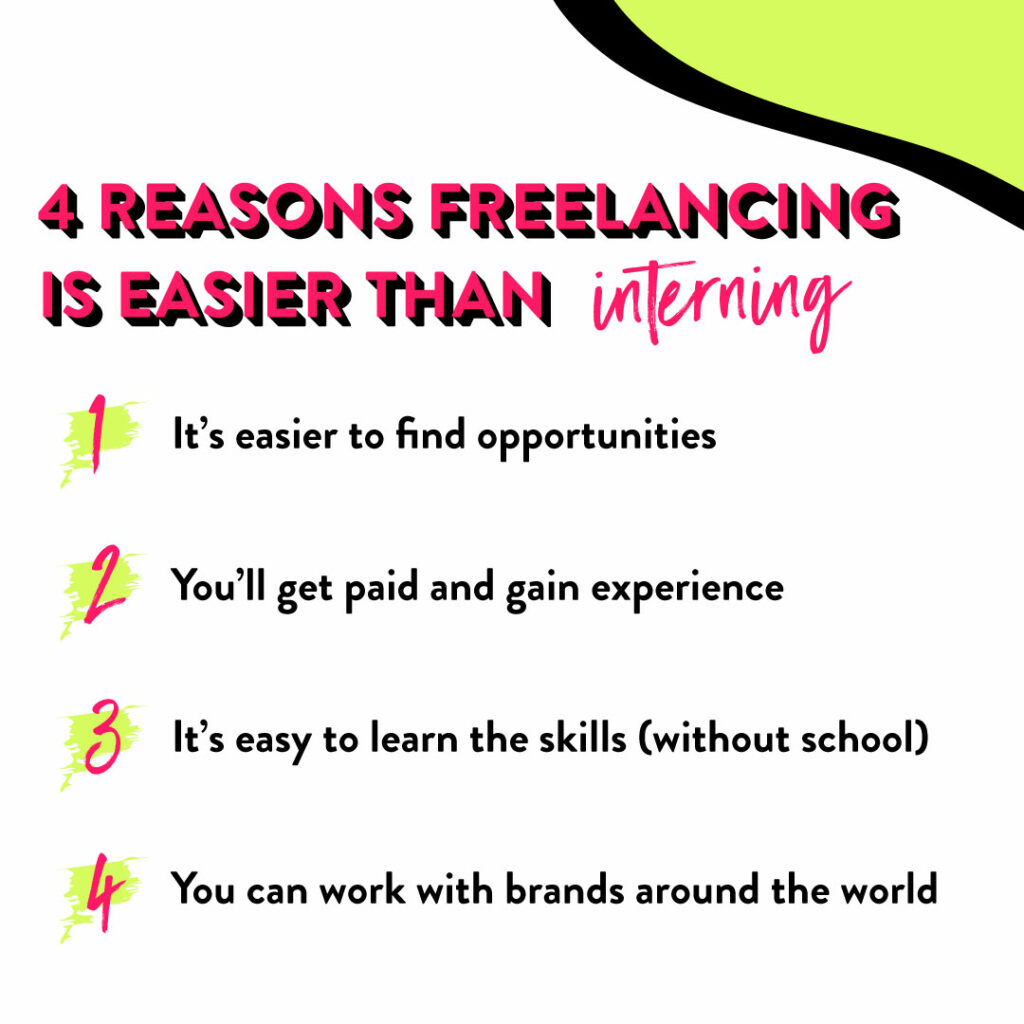 1. It's Easier To Find Freelance Opportunities Than Internships
Finding internships (especially if you didn't go to fashion school) is hard AF. I did an internship search on StyleCareers in NYC, a major fashion hub. There were THREE opportunities in the entire metro area.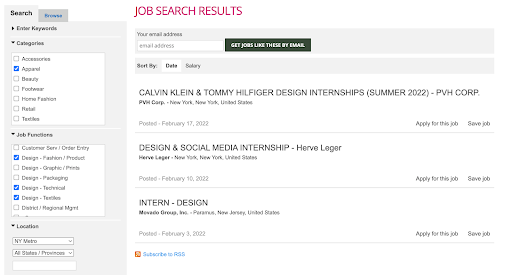 It's much easier to find freelance opportunities (true remote gigs, not temp jobs). Now, if you search for freelance gigs on StyleCareers, the results are just as abysmal. First, they're aren't a ton. Second, they're not actually freelance opps. They're just temp jobs in disguise.
So, where do you find freelance jobs in fashion? There are two simple strategies that no one talks about.
Instagram and tradeshow listings. They're both a gold mine for finding brands.
On Instagram, just see what *unique* hashtags brands you want to work for are using (not things like #fashiondesigner which has billions of posts, but things like #sustainableswimwear where you can actually pinpoint the brands).
And for tradeshows, you can either find shows specific to your niche (ie swim or sustainability), or use the "browse exhibitors by category" tool that many of the big shows have on their site. It's easy to narrow down and find a ton of brands. 
2. You'll Get Paid And Get Experience At The Same Time #Winwin
As a fashion freelancer, you'll get paid, even if you're still gaining experience on your first few gigs. Because like I said, you can start freelancing in fashion even if you don't have experience or didn't go to fashion school.
Unlike fashion interns, where you may be required to work for free and only get experience making coffee and copies, freelancers get the best of both worlds. Cash money and experience. BOOM.
Even more? You get to set your own rates. And your earning potential is unlimited
3. You Can Easily Learn Necessary Skills (Without School)
Two of the most in demand skills for freelancers are fashion flats and tech packs. These are also two of the easiest skills you can learn on your own. (I have a kajillion free tutorials.)
Once you have a basic understanding, you can start getting freelance clients.
Many of our Freelance Accelerator: from Surviving to Thriving (FAST) students have seen amazing success using these strategies.
Like FAST grad Arya Mishra, who lives in a small town in India and kickstarted her freelance career without a degree or any experience. Within a few weeks of joining, she had landed 5 paying clients exclusively drawing fashion flats. She "can't believe my fashion dream came true."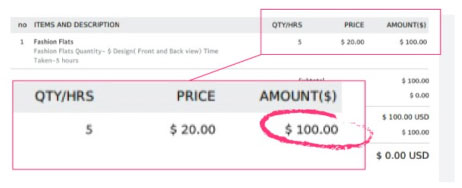 And FAST grad Eleni Apostolopoulou from Greece, who earns 4-5x the average industry wage working part-time. She started her freelance career with no real industry experience and now consistently makes $3-4k/month exclusively doing tech packs. Even better, she "cannot believe that I am actually living what I was once dreaming about."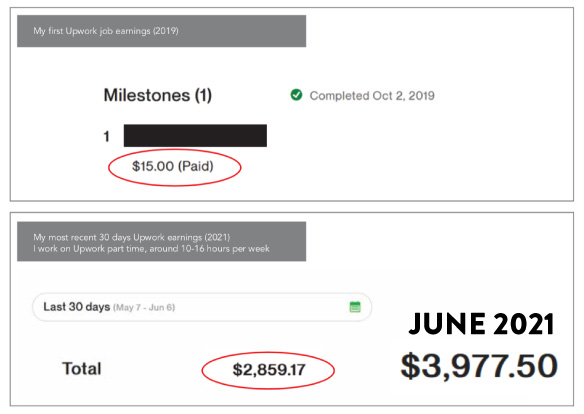 It's much easier to become a fashion freelancer without experience or a degree than it is to find an internship and get a design job.
4. You Can Work With Brands Anywhere In The World
Last, one of the best parts of freelancing in fashion is that you can live anywhere, and work with brands around the world. We have FAST students globally, including Germany, Macedonia, Canada, Columbia, Japan, India and more.
And the majority of our students' clients are located internationally. Which means you have way more opportunities, and you get to work remotely, from home. Or the beach. Your choice 😉
---
If You Can't Find A Fashion Internship, Become A Freelancer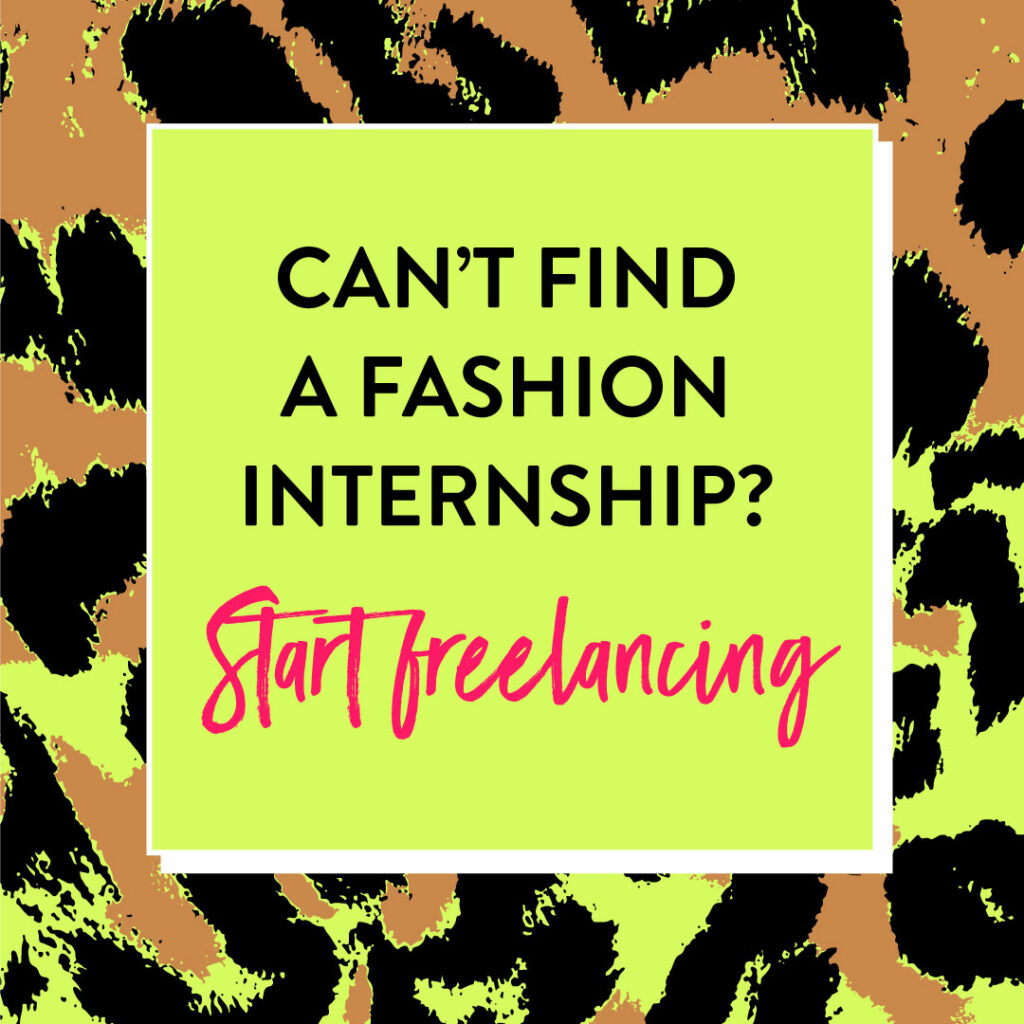 It's much easier and accessible to get started freelancing in fashion than becoming an intern. Not sure where to start? My free Beginner's Guide to Becoming a Freelance Fashion Designer will show you exactly how to do it, step-by-step.
YOU GOT THIS!!!