Whether you're a remote freelancer or go for a traditional job, as a fashion designer, you will spend A LOT of time drawing fashion flats in Illustrator.
What are fashion flats?
Fashion flats are drawings of what garments would look like if they were laying flat on table, like this: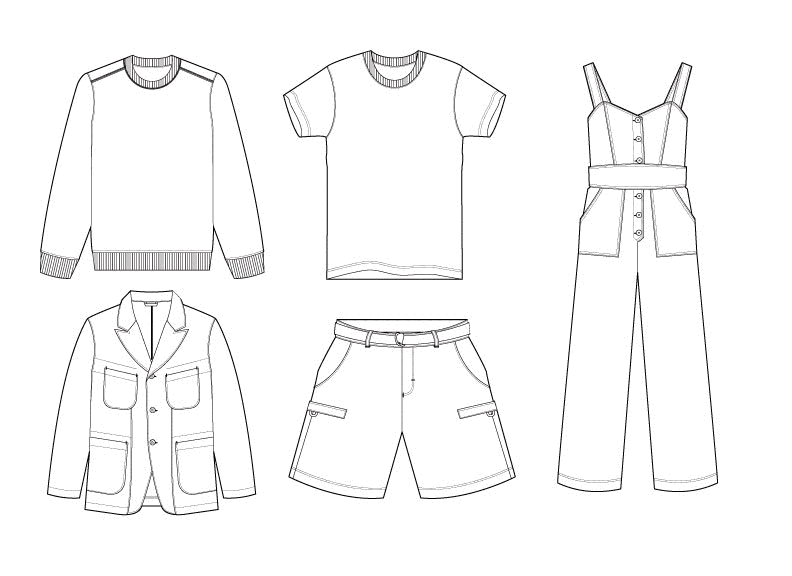 And whether you're a beginner or a successful designer with years (or decades!) of experience, you need to know how to draw them in Illustrator…quickly and efficiently.
Flats are a BIG topic, which is why this section of the guide has quite a few tutorials.
How to Draw a Fashion Sketch (or Flat) with the Pen Tool in Illustrator
Maybe you've heard the rumor: the Pen Tool is REQUIRED knowledge.
It's also one of the most FRUSTRATING tools to learn.
Because it DOESN'T work like a pen in real life. BIZARRO, I know.
Which is why I created a free mini course. In just 20 minutes, you'll know how to draw a fashion flat in Illustrator. Best part? You'll understand exactly HOW the Pen Tool works so you can PREDICT its behavior. #SERIOUSGAMECHANGER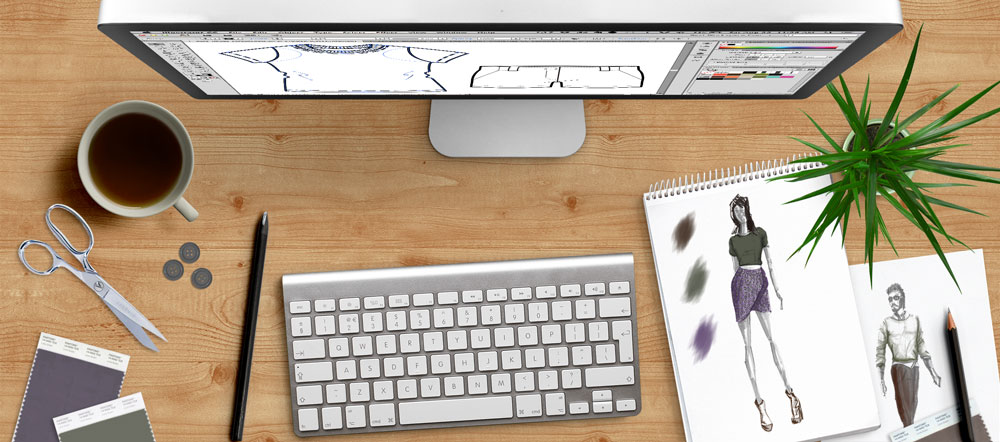 How to Fill Your Fashion Sketches with Color (or Patterns) in Illustrator
Are you old enough (like me) to remember MICROSOFT PAINT? The way you "color" your designs in Illustrator is TOTALLY different.
Without getting too technical, your fashion flats have to be CLOSED SHAPES to be filled with color (or repeating patterns → think stripes, plaids, prints, etc.).
Depending on your final design, there are DIFFERENT ways to draw that may work better than others.
Which is why I created this tutorial series: to show you 4 ways to CONCEPTUALIZE sketching flats in Illustrator (+ pros and cons of each) that are EASY to fill with color.
If this is something you FIGHT with? Watch all 4 videos. And don't panic – each one is less than 2 mins long. 😉
---
---
How to Trace a Photo of a Garment or a Hand Drawn Sketch in Illustrator
People ask me ALL the time if it's CHEATING to trace something (a photo or hand drawing) in Illustrator. #WHAAAT?
NO. It's not cheating.
If you can't draw freeform in Illustrator? NO PROBLEM!
I CAN'T EITHER.
So I use this workaround ALL. THE. TIME. It works great.
This is also a great way to start when you're working with freelance clients who've just given you a hand drawing or inspo pics of what they want.
What do you need? A photo of a garment or a hand drawn sketch.
Google something you like.
Take a photo of the jacket you bought to use as (cough, cough) "inspiration".
Scan a page from your notebook.
I don't care what you do, just bring that bad boy into Illustrator and start tracing RIGHT ON TOP using this tutorial:
How to Add Shading and Shadows to Make Your Fashion Flats more 3D
It's easy to feel like your fashion flats in Illustrator are, well, flat! But they don't have to be. With a few quick tricks, you can add shading, shadows, folds and more to your sketches to bring them to life!
And bonus? You can even save your shadow and shading settings as libraries so you can load them into EVERY Illustrator file (instead of creating them from scratch every. damn. time. BOOM!)
This tutorial will show you exactly how to do ALL of that:
How to Draw Fashion Flats in Illustrator If You're a Hand Sketcher
If you love the way a real life pen (or pencil) draws on paper, I have GOOD news.
There's a MAGIC tool in Illustrator. And who would have guessed…it's called the PENCIL TOOL.
Unlike the Pen Tool? It ACTUALLY works like a pencil in real life. BOOM.
It's quick to sketch with. It's easy to edit your drawings. And it gives a much more organic hand drawn feel than the Pen Tool does.
All my hand sketchers out there? You're going to LOVE this tutorial.
Not a hand sketcher? I think you'll love it (almost) as much…especially if you find yourself screaming at the Pen Tool ON THE REGULAR 😉
How to Draw a Shoe (and Other Asymmetrical Designs) in Illustrator
I have a tutorial similar to this one in my comprehensive Illustrator Masterclass for Fashion Designers (which is part of Freelance Accelerator).
And I created a FREE version to share with everyone on YouTube after a student told me:
"This was one of the most eye opening tutorials I've ever watched. I now understand how to conceptualize drawing my designs."
And if you think it's WEIRD that I took one of my best tutorials and shared it for free? That's just how I roll. Why? I'll tell you more about that later.
Now that you've watched these tutorials, don't forget the most important step:
You have to practice.
Because just like pitching your work to brands, pricing your freelance services, and fashion design itself, the ONLY way to really learn Illustrator is by jumping in and doing it.