If you wanna make it in fashion, you have to understand the nitty-gritty details of a cost sheet for fashion design. Whether you're a fashion freelancer, starting a brand, or working in-house, accurate costing ensures that designs are within budget and will generate a profit (cha-ching!).
When you know how much your design costs to manufacture, it's easy to calculate the final sell price – both retail and wholesale – and make sure margins are in a good spot. If they're not, you have to edit (remove a fancy trim, change the fabric quality, etc.) or increase the retail price and wholesale price.
In this article, you'll learn how garment costing sheets work and how they impact the fashion design process. I'll share an example of a fashion design cost sheet, and you can also snag my free cost sheet template (instead of paying for one on most other sites).
Table Of Contents:
Why You Need A Cost Sheet for Fashion Design
In fashion manufacturing, costing is an important process to estimate the total cost of producing a garment or item. Whether it's a dress, handbag, shoe, or any other item, you need to calculate costs before going into production (including all factors such as raw materials, labor, and other expenses for your design).
Accurate costing enables designers to establish competitive retail prices that will make a profit, without compromising on profitability or product quality.
With an accurate costing sheet, it becomes a lot easier to calculate costs for each piece of clothing produced.
What Influences Garment Production Costs?
The main costs that affect garment production include fabric, labor, dyeing, and additional processing requirements. These variable costs are important to keep in mind when calculating the final price for finished garments.
Let's break down each factor to help you understand and create more accurate estimates for your designs.
Fabric Cost: The type and quality of fabrics directly impact the manufacturing cost.
Labor Costs: Paying skilled workers plays a huge role in determining expenses for garment production.
Dyeing Cost: Custom colors or patterns may require specialized dye processes that add to production costs.
Additional Processing Requirements: These include special treatments like embroidery or printing and also contribute to increased manufacturing expenses.
Tech Packs and Garment Cost Sheets
Ok, we've agreed cost sheets are important! Now let's talk about ways to make your job a little easier. One essential tool in preparing a cost sheet is your tech pack.
A tech pack is a blueprint for apparel production, outlining all necessary information about materials used, processing required, sizing specifications, and more. Tech packs are your secret weapon in accurate garment costing since they have all the data needed to calculate costs.
Parts of a Tech Pack
Technical sketches: detailed flat sketches that show accurate construction
Fabric details: type, weight, composition, and dyeing process
Trims and accessories: buttons, zippers, labels
BOM (bill of materials): list of all physical components required for production
POM (points of measure): size chart with measurements for all POMs for each size
Finishing processes: washing, pressing, folding
Packing requirements: packaging materials, labeling instructions
Tech Pack Example
Here's an example of a tech pack for fashion design. It includes all the parts mentioned above, and tech packs may or may not include the actual cost sheet. In my decade + long career as a fashion designer, I always kept cost sheets separate. There were often too many costs that were spread across multiple styles (i.e., a mold charge for a custom zipper pull that was on 3 designs) that it didn't make sense to calculate costs at the tech pack level.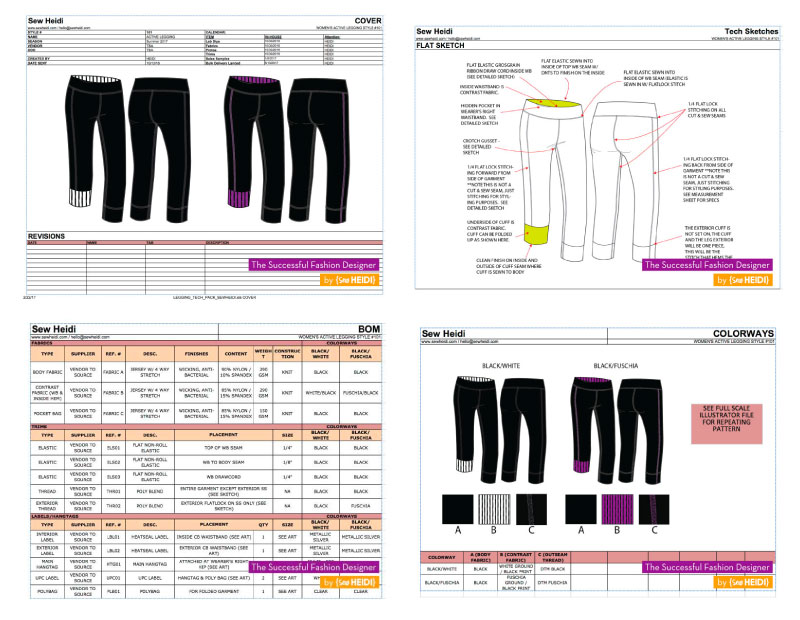 If you're not sure how to create a tech pack, I've got a free step-by-step guide you can follow.
Parts of a Cost Sheet for Fashion Design
A garment cost sheet is necessary for you and manufacturers to accurately estimate the total cost of producing a piece of clothing. It usually has two main parts: material costs and processing costs, which can be broken down into specific categories.
Fashion Design Cost Sheet Example
Here's an example of a cost sheet for fashion design. You can see it includes all physical and labor costs associated with fashion manufacturing, whether they're fixed costs or variable costs.
Material Costs Breakdown
Raw materials for a finished garment will include every physical component required to create the finished design. This includes the obvious such as fabric, trims, buttons, and zippers. But it also includes packaging items like hangtags, tissue and cardboard inserts, or a poly bag. It's easy for new fashion designers to forget some of these components in costing, but any physical items in your finished product must be included in your material costs.
If it seems like there's A LOT needed for a cost sheet, just refer back to this article and remember the more you make cost sheets, the more comfortable you'll get with knowing what to include!
It's also worth noting that material expenses can vary depending on the quality and quantity needed for your production. For example, if you buy 50 yards of fabric or 50 hangtags, the price per item will be much higher than buying 500. You'll need to start sourcing suppliers for accurate quotes based on your needs so that you can build that into your garment costing sheet.
Here's a quick checklist for materials costs:
Fabric cost: The price per yard or meter based on type (e.g., cotton), weight (GSM), and width (inches/cm).
Dyeing & Printing cost: Expenses associated with dyeing fabrics in desired colors or printing patterns / graphics.
Trims & Accessories cost: Expenses related to items like buttons, zippers, labels, etc.
Packaging cost: Expenses for packing materials like hangtags, poly bags, tissue, hangers, etc.
Congrats, you've got the first part down! Now you're ready for the other costs. (That's right, there's still more costs!)
Processing Costs Breakdown
The second part of a garment costing sheet involves costs that cover turning raw materials into finished products. This includes labor such as cutting, sewing, pressing, finishing (attaching closures/buttons/labels/etc.), and packaging final garments. Sampling costs should also be considered here.
Here's a quick checklist for processing costs:
Manufacturing costs: Expenses in production including cutting/sewing/finishing a garment, shipping, etc.
Design costs: Expenses incurred pre-production such as design/patternmaker charges.
Development costs: Expenses for things like prototypes, photo samples, mold fees, garment testing, etc.
The Challenge With Processing Costs
It's a little tricky to do accurate costing for parts of design and development that are fixed costs.
Let's say your patternmaking expense is $1000 for one design. You (or your client) plan to manufacture 100 of those designs. Your patternmaking expense per garment would be $10 (i.e., 1000 ÷ 100 = 10).
But you manufacture that design again, just with new colors. Your patternmaking expense would be cut down again as it's now spread across more units. You can imagine how this gets tricky with all sorts of costs!
The safest way to do this is assume design and development costs need to be absorbed in the first round of production. If you cannot cover that $10 patternmaking cost per design, then you need to get a lower-priced patternmaker (usually not a great idea!), increase your sell price, accept lower margins, or cut costs somewhere else. And then, if you do manufacture that design again, margins will increase as you have no patternmaking costs (yay!).
Free Customizable Cost Sheet Template Download for Fashion Design
The best garment costing sheet format is in Excel (or other spreadsheet software that can do math). But creating a cost sheet for fashion design can feel like a pain in the butt! Which is why I created a free cost sheet template you can download. It's compatible with Excel, Google Sheets, or Numbers. It's got all the formulas you need to calculate costs. Just input the details for your garment design, and it will show you what your costs will be, including suggested wholesale and retail pricing.
Quick Reference: Cost Sheet for Fashion Design FAQs
What is a Cost Sheet for Fashion Design?
A cost sheet for fashion design is a comprehensive document that outlines all the expenses associated with creating and producing a garment. It includes material costs, labor costs, overheads, and other miscellaneous expenses. This helps designers make informed decisions about pricing strategies and profitability.
Why is a Garment Cost Sheet Important?
A garment cost sheet is essential as it provides transparency into the production process, enabling designers to identify areas of improvement and optimize their resources. Accurate costing ensures fair pricing for customers while maintaining healthy profit margins for businesses in the competitive fashion industry.
What is a Costing Sheet in the Garment Industry?
In the garment industry, a costing sheet serves as an organized breakdown of all manufacturing-related expenses incurred during product development. It typically covers raw materials, labor charges, processing fees, packaging costs, and transportation charges, among others. Costing sheets help businesses establish accurate selling prices and manage budgets effectively.
The Fashion Design Costing Process
There are a lot of nuances to fashion design and product development! You're now familiar with the fashion design costing process, know what a final costing sheet should look like, and how it affects your range plan and final price of your design. Whether you're a fashion freelancer, are starting your own fashion company, or work in-house, you need a cost sheet for your range plan (even if it's just 1 style!).