Perceptions are fascinating. We believe them. We beat ourselves up over them.
And one of the most common misconceptions in the fashion world is that you have to know BOTH Photoshop AND Illustrator. Which can feel really overwhelming.
Photoshop does have a purpose, but it's not sketching flats (or most other things we do).
As fashion designers, Illustrator is our most powerful tool in the Adobe suite.
Some people feel the opposite, not only loving Photoshop, but actually hating AI.
What I've discovered over the years is that your "go to" platform is usually the one you learned first. Doesn't mean it's the "right" one, it's just the one you're most comfortable in.
I was an AI junkie from day one.
10+ years later, I still only use Photoshop for that: editing or cropping photos.
PS should be used for photos (just look at the name: Photoshop), and AI should be used for pretty much everything else (except multi-page layouts – but that's an entirely different discussion).
And while yes, you can do vector in PS, the process is miserable and doesn't work as well as AI.
I'm perplexed when designers sketch fashion flats in PS. It boggles my mind because it's not nearly as flexible or powerful as AI. It's like trying to edit photos in Illustrator. Yes, you can do some photo editing in AI, but it's a fight.
So let me spell it out loud and clear for you. Here are the tasks you should do in each platform.
Use Illustrator for:
Sketching fashion flats
Filling fashion flats with colors or patterns (even if patterns are raster based)
Creating colorways or changing colors in your sketches
Editing repeating pattern swatches (rotating/scaling)
Laying out simple line sheets (if more than a few pages, use InDesign)
Creating technical sketches for tech packs and spec sheets
Use Photoshop for:
Cropping raster (pixel based) artwork
Changing colors of raster based artwork
Photo retouching
Some types of textile design (for patterns that require raster artwork or certain texture effects, Photoshop is more robust)
---
I do 99% of my career related work in Illustrator. So if you're looking for a fashion design job and it says Illustrator and Photoshop proficiency required, don't worry about Photoshop. Here are two reasons why:
They're written by HR or management who *think* you need Photoshop to sketch
Designers use PS because they don't know how to do it the right way in AI
So just focus on Illustrator. I promise, it's all you need.
---
And if you do want to see a few examples of when (and how) I use PS, here are three tutorials (notice, they all have a theme: editing raster / pixel based accents).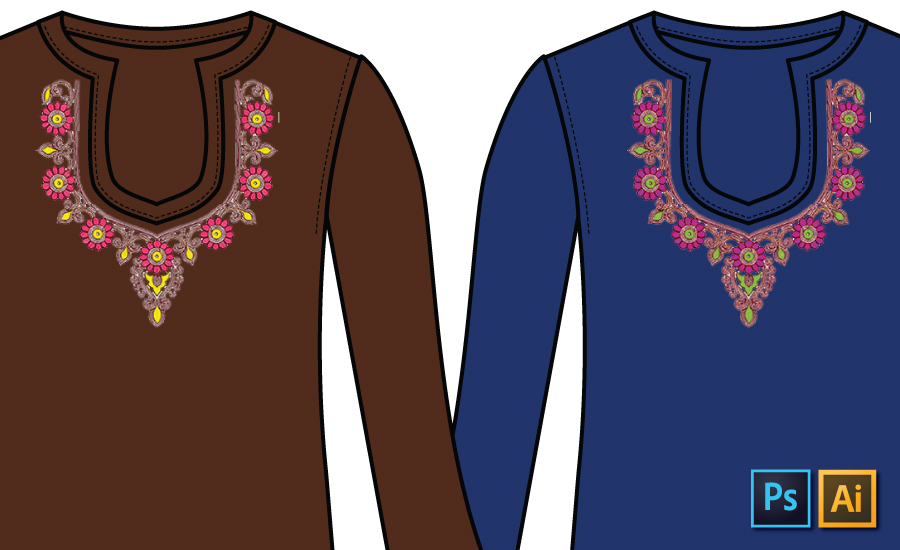 If you have a comp of embroidered artwork you want to mock up on your garments, you may need to cut out the background or change the colors. This tutorial will show you how (in both Illustrator and Photoshop).
---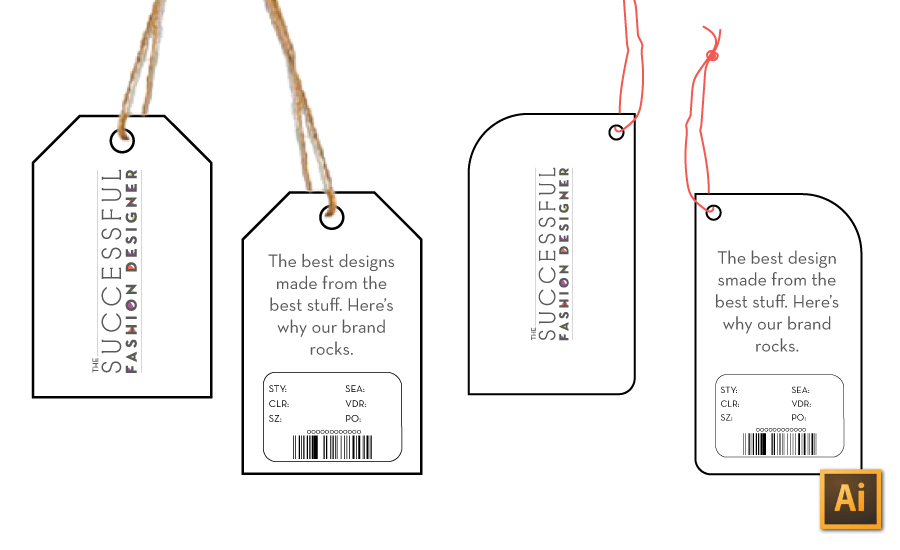 Fashion designers are expected to do a lot – and sometimes that includes designing and developing labels, hangtags and packaging. This tutorial will show you some cool Illustrator tricks (and a little photoshop) to help you create / mock up a hangtag for your badass designs.
---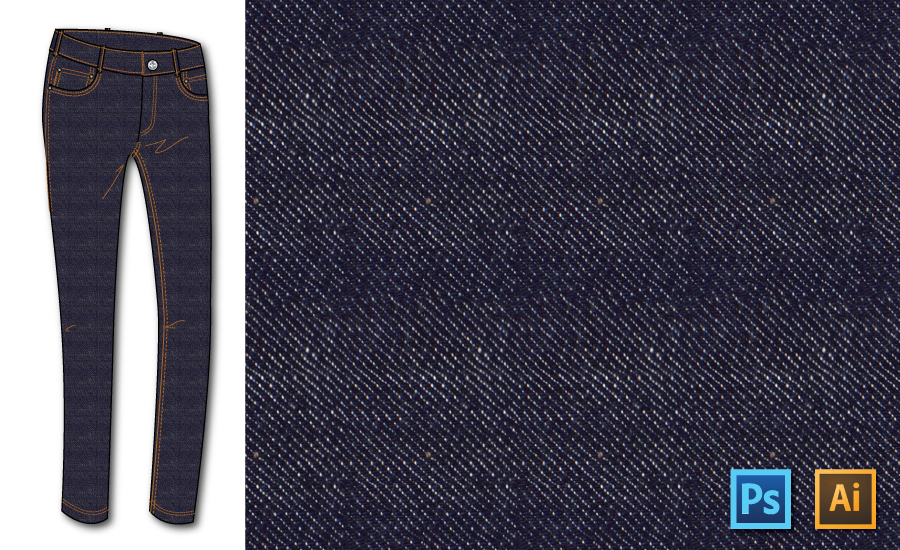 It's super easy to create texture swatches in Photoshop and then bring them into Illustrator to fill your fashion flat sketches. This step by step video tutorial will show you how to.
What program do you love and why? Let me know below in the comments.