If you work in fashion, you have to use Pantone colors. But how do you know what colors to use? And what's the difference between TCX & TPX codes?
Here's what you need to know. (There's also a video below if you prefer to learn that way!
Pantone colors for printing (think catalogs, hangtags, screenprinting, etc)
If you need to match your logo to anything printed, you need to ask your printer what codes they can work with. Some printers can certain Pantone codes, but not all of them. Some printers don't use Pantones, or they're *crazy* expensive to match. I've used printers who can use TPX/TCX colors, some can use Pantone coated values, while others require CMYK (cyan, magenta, yellow, black). If that's the case, you need to convert.
The book you want is the Color Bridge, which converts Pantone colors to CMYK for printing. It gives you a direct comparison of each Pantone color and how it will convert to CMYK.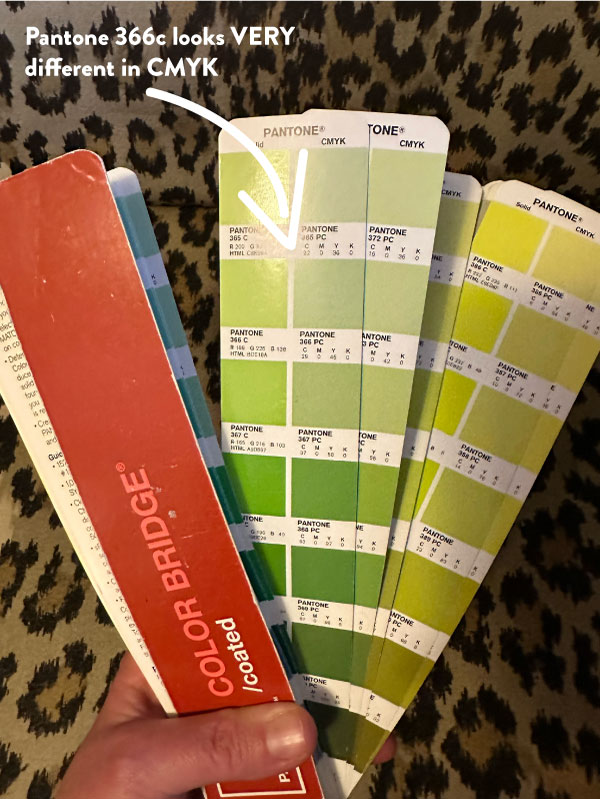 Pantone codes for fabric (TCX, TPX and TPG)
TCX, TPX and TPG codes are used for fashion and interiors.
TCX stands for Textile Cotton, TPX stands for Textile Paper, and TPG stands for Textile Paper "Green."
TPX was retired in 2015, and replaced with TPG for sustainability purposes. The books still function essentially the same.
TCX, TPX, and TPG books use the same color codes, but the C vs P differentiates between cotton and paper swatches.
The TCX (cotton) book is ideal for accurately matching fabrics and trims in development.
Here is one of the least expensive TCX books you can buy (yes, still expensive!) that have fabric swatches. It's called the Pantone TCX Passport, and yes, there are actually little pieces of cotton inside! They're adhered with double sticky tape, and while you can very carefully pull them out and stick them back, they're not designed to be removed. There are books with larger, removable swatches, but they get more and more expensive.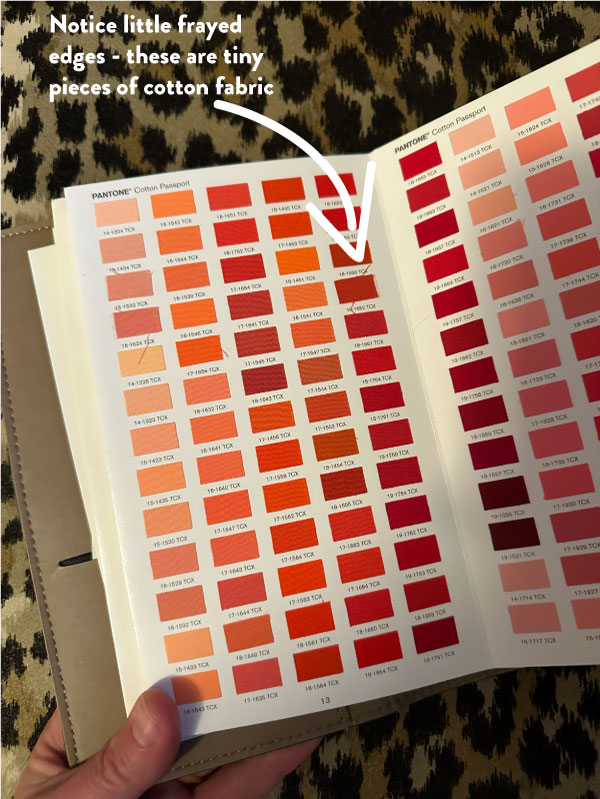 TPG swatches come in perforated sheets, allowing you to tear them out and compare colors easily.
The TPG books (yes, still expensive!) are great in a pinch, but I would never use them for actual design and development for fabric/trims. There's just too much difference between how colors look on paper vs fabric.
My book is old – it's a TPX one, but it functions the same as the newer TPG ones.
Buying Pantone Books
Pantone books are expensive. You will likely be buying them from Pantone directly. Some art stores carry them too. If you're lucky, you may be able to pick up a used set off Craigslist, Ebay, or Facebook/Meta Marketplace. I snagged my TPX book off Craigslist back in 2014 when I lived in NYC from a brand that was going out of business. But my TCX book I bought new.
If you're really searching for a deal, set up alerts on those sites for the keyword "pantone" and you just may get lucky!
Also…Pantone updates the colors every so often. You don't need to buy a whole new book! They sell inserts for each of the books with new updated colors, so you can add those as they come up.
Do freelance fashion designers need to buy the Pantone books?
I get this question a LOT. The answer is, "it depends!" Ideally, you get the TCX Passport (or a nicer one) if it's in budget. But a lot of freelance fashion designers don't need one! That's because as a freelancer, you will more likely be working with smaller, startup brands that are using/buying stock fabrics. They won't be doing custom dyeing, or custom color printing. You can mock things up "close" in Illustrator, and that will suffice. At some point, it's a great (and essential) tool to have, but you can likely get away without it for your first few (or more) projects.
Pantone Codes in Adobe Illustrator
While every screen and monitor will show color differently, you can still use them in your designs. Here's a tutorial on how to load various Pantone book codes in Illustrator.
And last, here's a video version if you prefer to see the books in action! I'm showing the TPX book, but remember, that has now been replaced with the TPG book.
00:13 What are Pantone colors and how do they work? What industries use them?
Why do I need to use them?
00:58 The Pantone Color Bridge book to compare Pantone to CMYK colors
01:50 The difference between Pantone TCX vs TPX codes (and how much these little books cost!)
02:20 The Pantone Textile Color Specifier (TPX) vs The Pantone Cotton Passport (TCX) and the pros and cons of each
04:21 How the colors are organized in each book, how to find the color you need, and how do the TCX colors compare to the TPX colors (hint: you may not be impressed!)
05:10 If you could only have one Pantone book for fashion, which one should you get?
06:00 How to use Pantone colors in Illustrator? Check out
07:00 What to do if you're not sure what color standards you need to use.