Disclaimer: Before you begin reading…I want you to know that the inspiration for this post came from a party I'm throwing I threw in NYC. In the process of planning the event, I wound up reflecting on the last three years we've lived in the Big Apple. Below is what came out of that process…and it leads right into more details about the party, so feel free to scroll down to the bottom to get right to that.
You probably know the saying "life is like a roller coaster ride".
But have you ever stopped to think that sometimes we voluntarily get on the roller coaster?
We sign ourselves up for these adventures…these scary rides. We hope we'll make it to the end of the ride alive and a better, stronger, more awesome person.
But when we're at the top of the steepest hill or at the bottom of the lowest dip, all we want is for the train to come to a halt so we can jump off at the next stop.
It's like the feeling you get when you've signed on for a new job or project that you're under qualified for. And you wonder if you're good enough to make it.
Maybe the feeling begins to take over the moment you even consider applying in the first place. And you wonder if you'll even be able to get through the interview.
The roller coaster clicks along as it climbs the daunting hill and plunges into deep valleys. Your stomach drops and your heart races as the journey goes from high highs to low lows.
Why, oh why, do we get on that roller coaster and strap on the seatbelt for dear life?
---
---
Three years ago, my husband and I made the voluntary decision get on one of those rides. We packed our bags and moved across the country. We left our "comfortable" life in Denver, CO, and we ventured into unknown territory: NYC.
It was one of the best decisions we've ever made.
It was also one of the scariest decisions we've ever made.
I admit to having at least one huge meltdown just weeks before our departure.
What if the roller coaster crashed somewhere along the way?
And just like that, I felt like we couldn't do it, like we shouldn't do it.
We might not have enough money. We might not make any friends. We might not be able to make it in a tiny NYC apartment.
I convinced myself we should call the whole thing off…
Tears running down my face and slightly hyper-ventilating, my mind raced through the logistics…
We could cancel our new lease in NYC – sure, we'd lose some money, but it was worth it.
We could tell the tenants who were moving into our home that they had to find a new place. After all, it was our home.
We had to figure a way out of this.
But, we had made a commitment…
To get out of our comfort zones.
To experience something new.
To be scared – voluntarily – on this ride we call life.
So, with a mixed cocktail of emotions (anxiety and fear with a dash of excitement), we kept to our original plan and we jammed our stuff into the car. It was an insanely tight fit, but we were off. Our little family of 4 got on that roller coaster ride, and there was no turning back.
We were moving to NYC with a cat and dog and car load of stuff.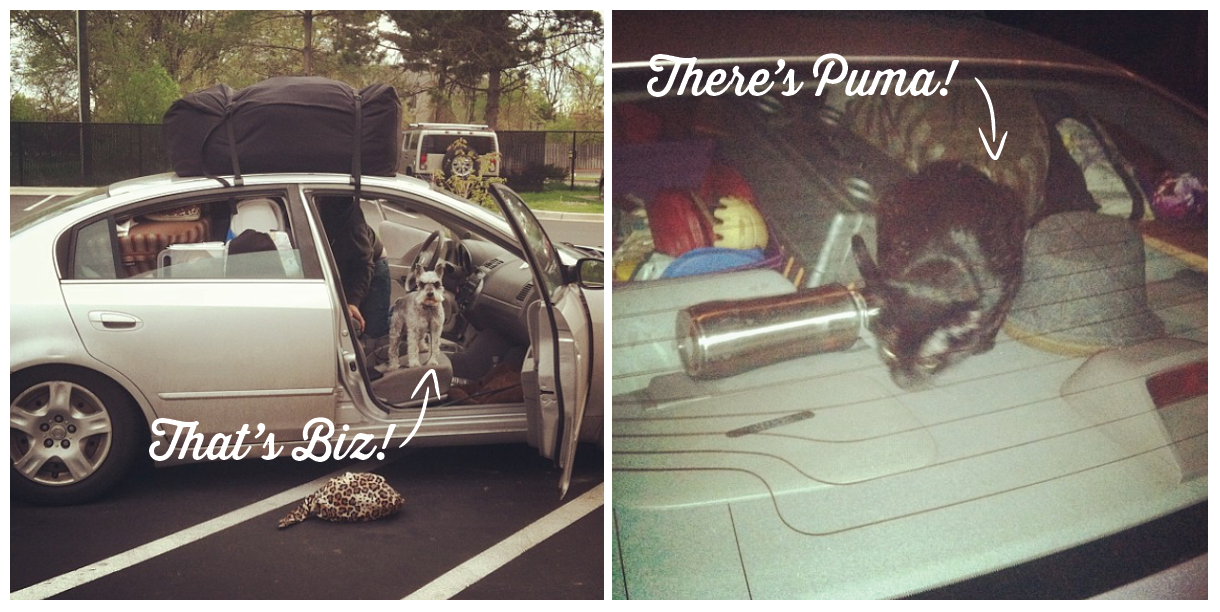 The very first hill felt like a steep climb and we tried hard to stay on the tracks. 30+ hours of driving with a howling cat and an antsy dog does not make for a "fun" road trip.
(As I would learn later, the process of moving to NYC does not compare to the stress of living in NYC, and I should have enjoyed this as the "easy" part of the ride.)
After a few small bumps along the way, we were relieved to finally arrive at our new home. I will never forget the moment we laid on our new bed for the first time or the taste of that first beer we drank to celebrate.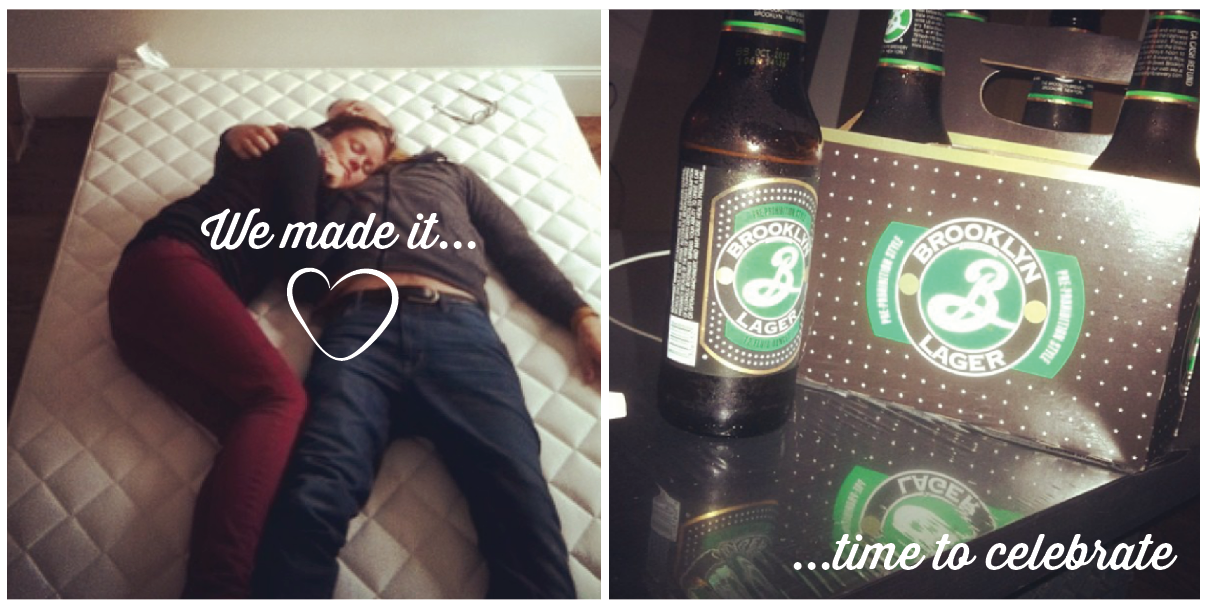 And then, just when you think you have a minute to breath, the exact opposite happens.
The roller coaster pace picked up speed.
Turns out, life in NYC does not move at a slow pace. Nope. It kinda just slaps you in the face like the wind at full speed.
It hits hard and it stings.
Everything raced by.
It was exhilarating.
It was exhausting.
It felt like we had barely whipped around one turn before the next one began. It became hard to differentiate one day from another as life seemed to never stop. One thing blended right into the next.
In 3 short years, we covered a lot of ground.
I taught a ton of Illustrator workshops, and some of you traveled from a states away just to learn with me. I was hugely flattered and humbled.
We launched the Illustrator Stuff community site and many of you jumped on board to start selling your flats. The growth has been impressive, and I have you to thank for that.
I created online versions of my courses, and hundreds of you have joined me to learn digitally. Your response has been off the charts, and I'm grateful to be able to connect with you no matter where you live.
I also continued to (and still continue to) freelance – a side of my life you see very little of. Day in and day out, I kept up with designing and getting products into and through production.
This ride has been one of the best of our lives.
It's made me realize why you get on the roller coaster in the first place.
For an adventure.
To learn something new.
So you grow as a person.
Over the past few months, we've had countless long talks over delicious dinners paired with whiskey and wine to figure what path the roller coaster will take.
We love NYC, and our time here has been phenomenal. Yes, life is more stressful here, more expensive here, and just plain harder here, but nothing compares to living in this city.
From lazy afternoons falling asleep in Washington Square Park to walking down 5th Ave during a whiteout blizzard.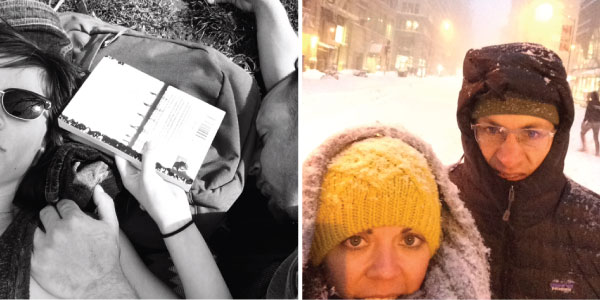 From ice skating and whiskey on Thanksgiving to eating arguably the best gelato in the world on a freezing cold winter night.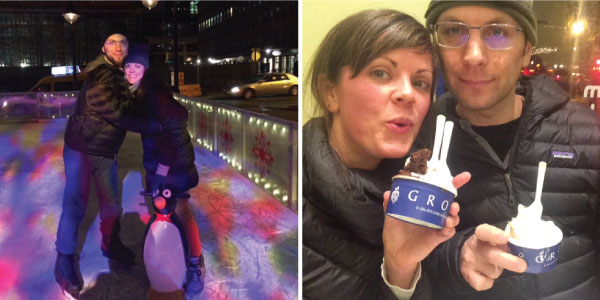 From razor-ing around Chelsea piers to the back stage meet and greet at Westminster (and yes, we're totally those weirdos who go to dog shows).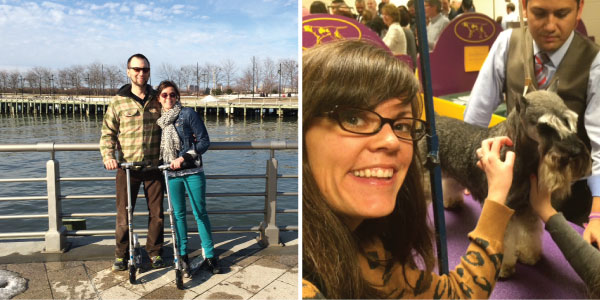 New York City is a place unlike any other.
I will say it now, and I'll say it again:
If you can figure out a way to live here, I suggest you get on that roller coaster and hang on tight for at least a year.
It will change your life in ways you will never expect.
But like all adventures, rides don't last forever.
The truth is, at least for now, our roots are in Colorado, and that's the next stop on this train. We have family and friends there. We have a home with enough space for each of us to each have our own desk…and an area to do projects that isn't on the floor.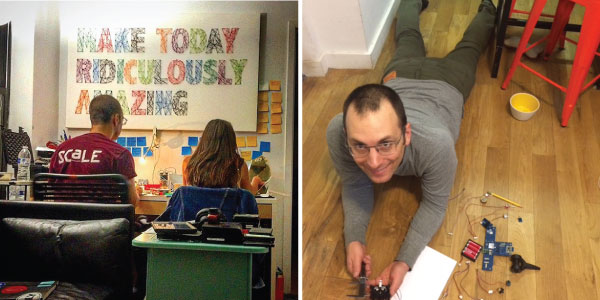 It would be understatement to say that our East Village apartment is small. 350 square feet for our family of 4 is a tight fit. After a few years of this kind of "cozy", we're ready for a little breathing room.
So, what does this all have to do with the party I mentioned at the beginning?
Well, I know that many of you live all over the world, but I also know that a lot of you are within reach of this crazy place I've called home for the last few years.
So, I decided to throw a little party…just for you.
Now, I want to be extra clear about one thing:
This isn't a "going away party".
This is a "I want to hang out with YOU for a night in NYC party and get you all together to meet each other as well (hint hint: good networking opportunity!)."
(It just happens to coincide with our departure at the end of May.)
With that, I officially invite you to my free "meet me in NYC" party. Oh, and in an effort to be totally transparent, there will be a cash bar, but no obligation to drink or spend money.
When: May 17th, 6-9pm
Where: Houndstooth Pub, 520 8th Ave (at 37th St), New York, NY 10018
Why: Have a drink with me and meet other fashion industry professionals (hint hint: good networking opportunity!)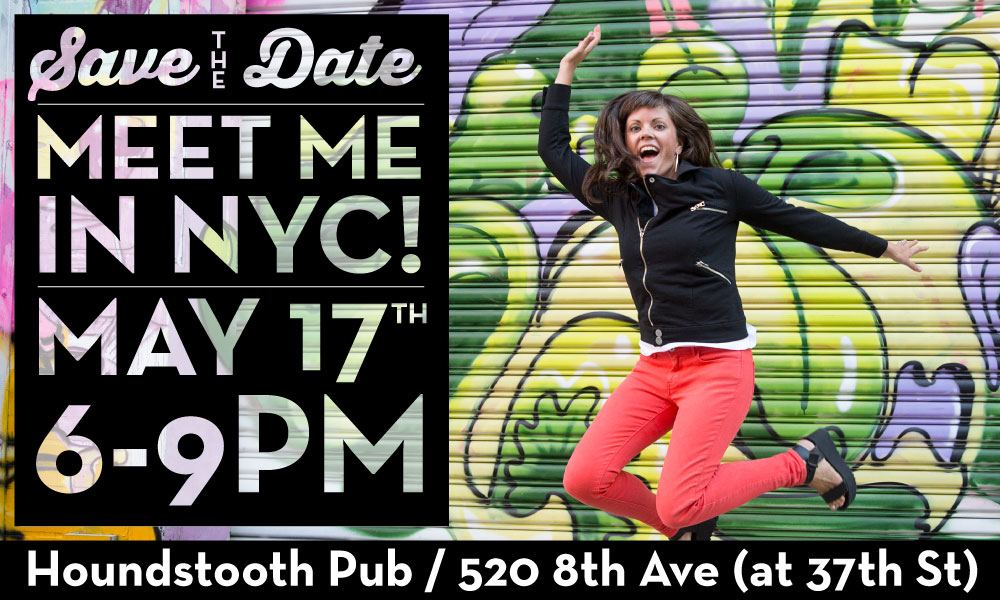 Let me know – can you make it?!
Click here to RSVP the event is over!
I'd love to meet as many of you in person as possible and look forward to the chance to chat and have a drink together.
YOU are the reason I am here and doing all of this – and while you get to know a lot about me, I only get know a little about a few of you. Give me a chance to change that.
Look forward to seeing you…in real life, real soon.
xx Heidi
PS: In case you're wondering, throwing this little "party" is a roller coaster ride of its own for me. I'm riddled with anxieties and wonder if anyone will show up. There could be just 5 of you or there could be 50 of you. I have no idea if you'll come, and I'm scared. But if just one of you makes it, I promise to spend the whole night with you, and our little party of two will be well worth it. I am happy to voluntarily get on this "party" ride, and I will make it all the way to the end.