Using Illustrator's offset path feature allows you to do exactly that – create new paths that are offset from existing paths.  These are great shortctus for drawing stitches (dashed lines) along the edge of seam lines on fashion flats, appliqué, patches and more.  In the tutorial below, I'll show you how to add stitching to straps on a bag tech sketch.  Instead of manual drawing this (or using a pattern brush), I'll use the offset path feature in Adobe Illustrator to accurately place the stitching a specified distance from the existing paths.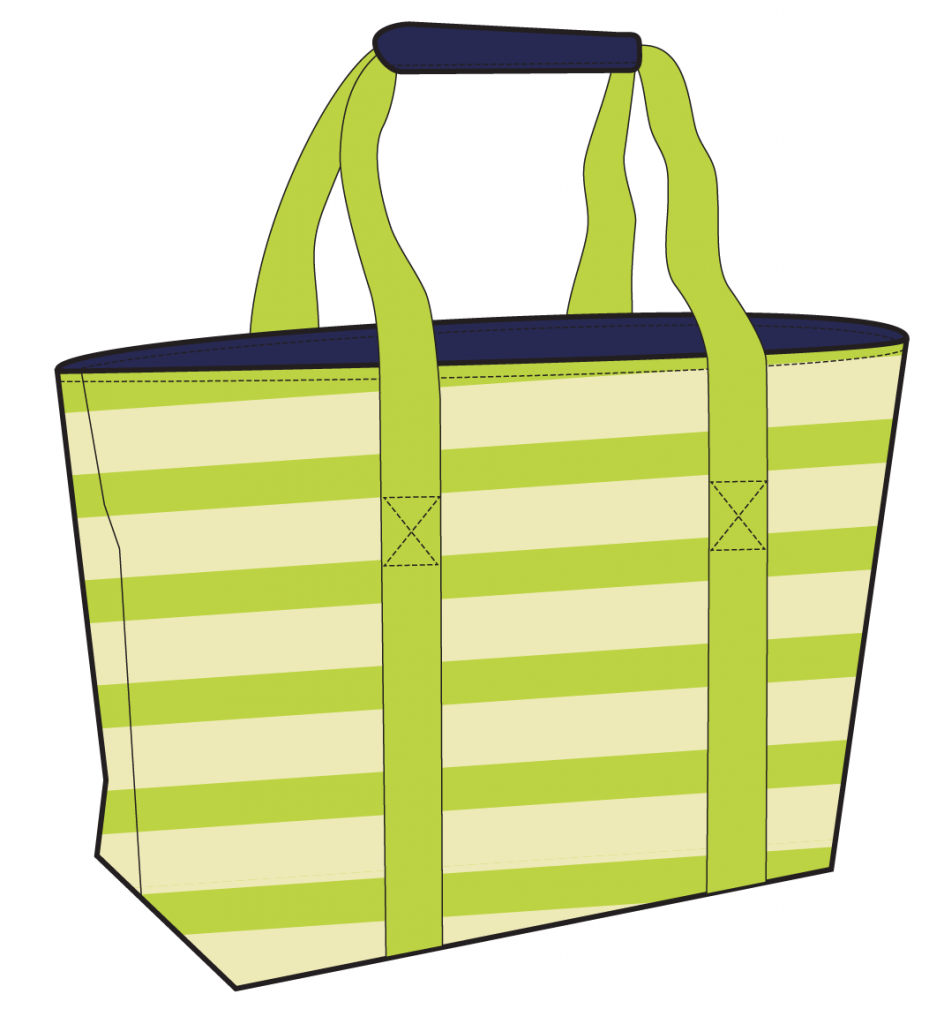 I'll start by selecting the paths that need stitching (note this works best on closed paths) and choose Object > Path > Offset Path… 

A dialog box will pop up with some options.  Check the Preview box if it's not already, and change the value until you get the desired result.  Depending on your needs, you may want a positive value which will make the path grow larger than the existing path, or a negative value which will make the path shrink smaller than the existing path.


Once you get the result you want, click ok.  This will create a new instance of the path offset the exact specified amount from the original path.  Use that path now to create your stitching.  In this example, I removed the fill color and changed the stroke to be dashed. I now have a perfect stitch line that follows the edge of my straps accurately.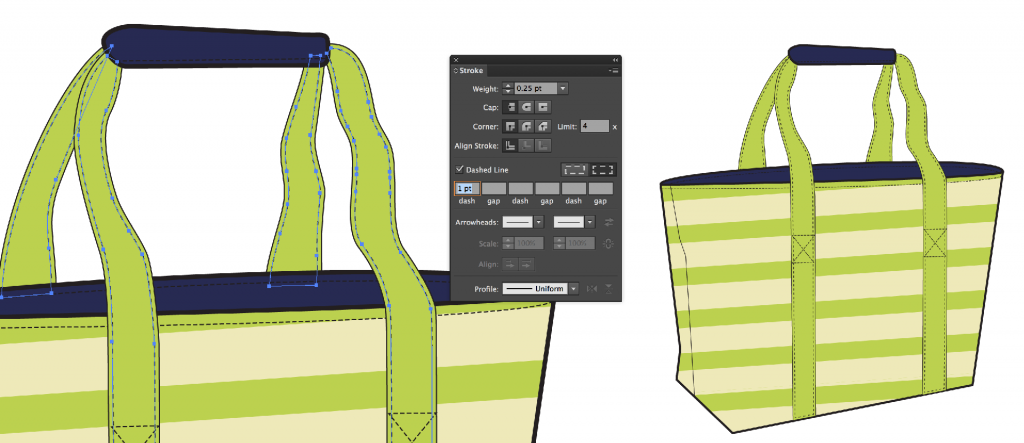 ---
---
Another great use for Offset Path is for patches.  If you want to show that letter patches, let's say varsity letters or similar, are sewn onto a garment, Offset Path is the easiest way to do this (better than pattern brushes as sometimes the corners can get a little funky).  You will first need to turn your text from editable text to vector paths.  Do this by selecting the text and choose Text > Create Outlines.  NOTE: Once you do this, the text will no longer be editable and you cannot go back and convert this back to text later, so if you want to make a copy of the text as editable text on the side of your artboard, that may be a good idea.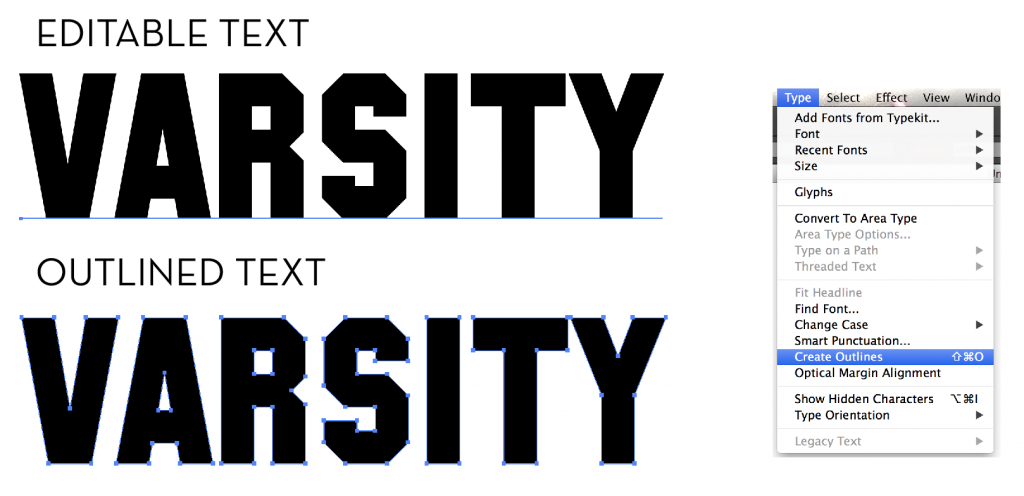 Next, select the outlined text and choose Object > Path > Offset Path…  As we did before, turn Preview on and change the value accordingly to get the desired result.

One more example that offset path is great for is pattern drafting in Illustrator.  Use it to accurately add seam allowance to your patterns.  With your pattern piece at full scale, use the Offset Path option to create a seam allowance path that is exactly 3/8″ offset (or your desired seam allowance measurement).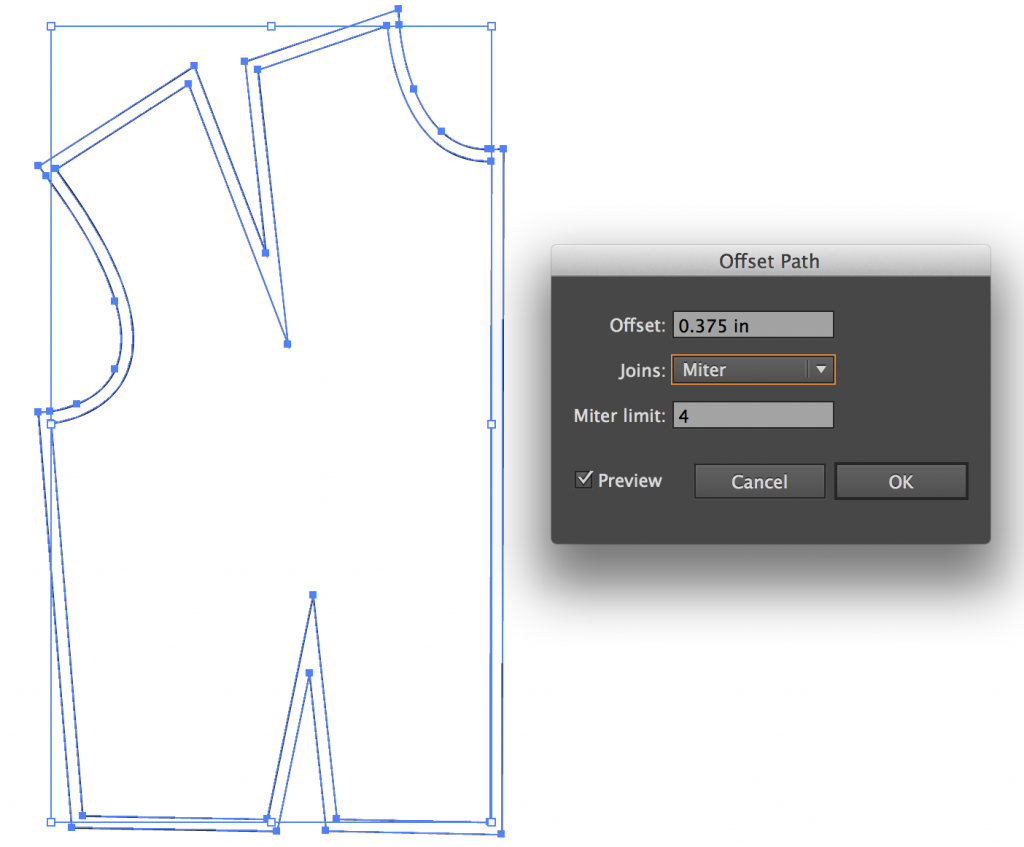 The uses for Offset Path are endless – these are just a few of the common examples that are relevant for many designers.  Play around with the feature to get comfortable with it and use it for accurate stitching, seam allowance and more!
Save this tutorial to Pinterest so you can find it later: