SFD028: Thanksgiving Thanks! A Special Holiday Message Just for You
It's Thanksgiving week in the US, so we're taking a holiday on the podcast. But I did create a short holiday message just for you to say thanks for all your support and give you a heads up on a few things we're planning for 2018.
Listen now here:

---
And if you want to give your feedback on the idea I shared about recording your questions for the show, you can send your input to podcast at successfulfashiondesigner dot com.
Look forward to hearing your thoughts, thanks again for all the support, and hope you have a great week, holiday or not 😉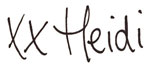 xx Heidi
Heads Up: We use cookies to customize your experience and track how you interact with our site to serve you better. OK more info