Creating a direct-to-consumer (DTC) business in the fashion industry isn't easy. Learn from serial entrepreneur and new fashion designer Allison Floam on this episode of The Successful Fashion Designer – I promise it's an episode you don't want to miss.
Allison shares the story behind her latest business venture, Bello Belts. The company specializes in unique, handcrafted belts for women and men. Allison is using her diverse background in business and finance to craft a unique company that is breaking molds in the fashion industry and innovating in their own way.
Hear about the importance of selecting the right suppliers, how you can balance direct-to-consumer and wholesale sales opportunities, and the top 4 tips for aspiring fashion design entrepreneurs. Listen now!
Outline of This Episode
[0:43] My guest for this episode is Allison Floam, and she shares her journey as a serial entrepreneur
[3:44] How Allison got started and why she chose NYC-based production for Bello Belts
[12:55] Securing the right suppliers is key to a new fashion business
[18:30] Allison reflects on the past year of Bello Belts business
[27:30] Where did the funding come from for Bello Belts & how they secured customers
[33:05] Moving into wholesale opportunities as well as DTC avenues
[41:47] The best 4 tips for aspiring entrepreneur fashion designers
---
The benefits of choosing local production vs. overseas options
Allison understood the importance of flexibility and collaboration when she was selecting production companies for Bello Belts. Since she didn't have any fashion design experience prior to starting this company 1 ½ years ago, she wanted to keep the production close to home.
Bello Belts offers countless combinations of belt straps and buckles in various sizes and widths, and Allison wanted to be involved in the entire production process. She explains that "It's hard to maintain control over a diverse product line with overseas-based production." That's why she chose to keep production based in NYC. She's been extremely happy with her production so far, and you can learn from her journey. Don't miss this episode for all the details.
Strategic areas to look at when securing new supplier partnerships
Selecting your suppliers for a new product is an essential step in creating a direct-to-consumer business. Without utilizing the best suppliers possible, your product quality and entire business will suffer.
Allison has AMAZING suppliers that she's very thankful for. She went to online guides, visited stores and factories, and gravitated towards the warm, welcoming people who were understanding of entrepreneurs. She urges other fashion entrepreneurs to trust their instincts when it comes to talking with potential suppliers. Always go with the people who are comfortable with collaboration and those who can answer your questions about materials, sales opportunities, and other details they specialize in.
Handling the challenges of selling DTC as well as through wholesale opportunities
Even though Allison started Bello Belts with the intention of being solely a direct-to-consumer business, she realized that wholesale opportunities may be a great avenue for growth in the future. With the first year of business under her team's belt, they began to understand the key balances between having many SKU items, inventory, and production times. Once they refined the online selling process, Allison and her team began looking at other opportunities to get the Bello Belts name into the industry.
That's when Allison discovered the immense value in having customers see Bello Belts items in person. The product quality and value shone through! During the various in-person events and pop-up shops that Allison hosted she really enjoyed selling the product face-to-face. As Bello Belts moves forward they are examining wholesale opportunities to supplement the original direct-to-consumer business model, and you can learn from their journey. Be sure to give this episode your full attention.
The best 4 tips for aspiring entrepreneur fashion designers
Allison has years of entrepreneurship experience that she shares with listeners on this episode of The Successful Fashion Designer. She explains 4 essential tips that you need to hear:
Keep experimenting!
Surround yourself with people who support your weaknesses
Be vulnerable in asking for help
Be obsessively focused on identifying WHO your customer is
The most successful direct-to-consumer business entrepreneurs aren't afraid of utilizing other team members to make the best team possible. They innovate on their own terms, pay attention to what's working in the business and adjust accordingly. For more insights, be sure to give this episode your full attention.
Connect with Allison
Save this "Discover How One Fashion Design Entrepreneur Created a Flexible Direct-to-Consumer Business" episode to Pinterest so you can find it later!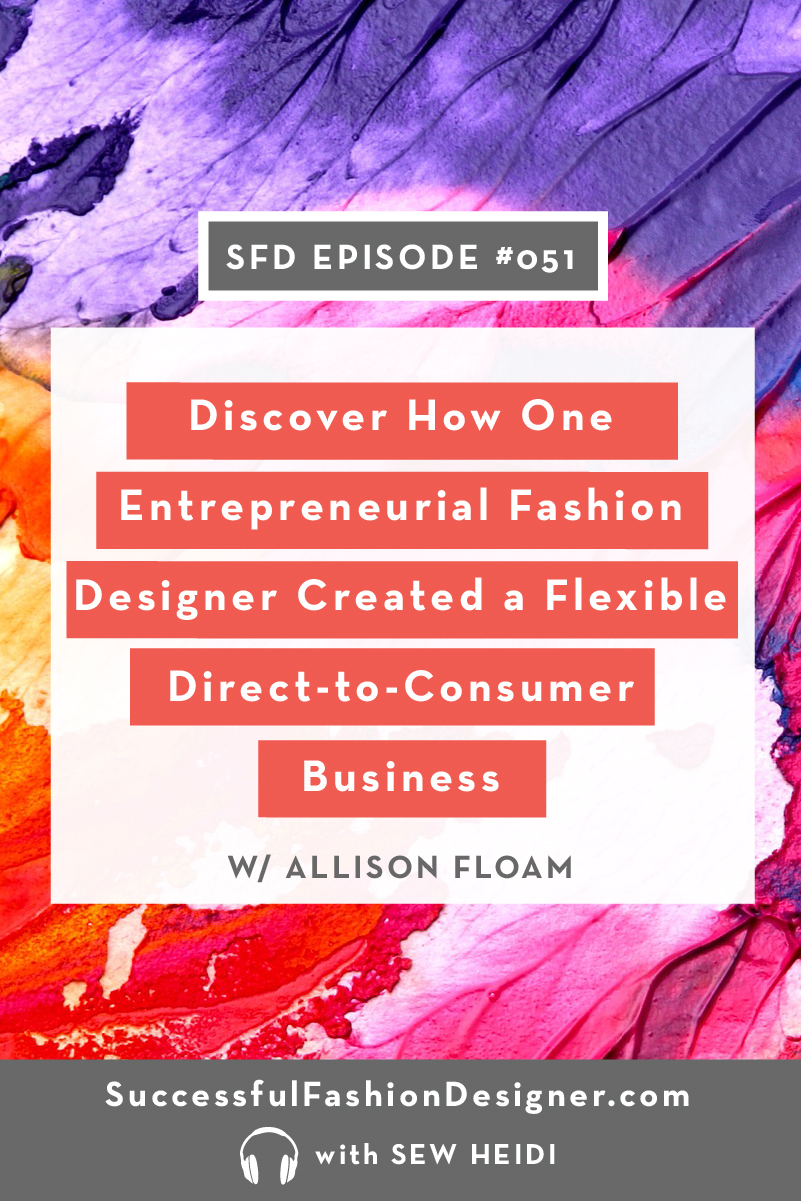 Subscribe to Successful Fashion Designer on
iTunes, Stitcher, Google Play, YouTube or Spotify