Starting June 1 2017, all new content will be posted at SuccessfulFashionDesigner.com.
SewHeidi.com will stay up through June 2017, but will NOT be updated.
Here's why.
In 2009 when I branded myself online as Sew Heidi, I had no idea what it would turn into – or how much it would stick with all of you.
(And I'm literally blown away by how much it gets googled!)
Back then, I actually had time to sew, and the name was fitting. As my businesses have grown into something much bigger (that don't have anything to do with actual sewing), I've rebranded as Successful Fashion Designer.
Here's what this means for you.
You can still expect the same great content, tutorials and free resources. We have a lot of big things planned beyond a name change – so get ready for Bigger. Better. And more.
---
The Site
The new site looks and feels the same – just with a new logo and new name.
---
The Email List
If you're already on the Sew Heidi email list, you'll stay on the list and won't notice much change except for my email address.
---
Your Bookmarks
If you have sewheidi.com pages bookmarked, they'll automatically forward to the new site. However, I recommend you update them. URL structure will remain, for example:
sewheidi.com/tutorials/how-to-make-a-lace-pattern-in-illustrator-photoshop/
Will change to:
successfulfashiondesigner.com/tutorials/how-to-make-a-lace-pattern-in-illustrator-photoshop/
---
Lastly, thank you!
I'm grateful for all of you and the support you've shown me over the years and hope you continue on me with this journey. I'll still always be Sew Heidi (and you're welcome to always call me that), but as I reach new stages with the businesses, this new name is more fitting and appropriate.
Here's to many more years of success and fun together!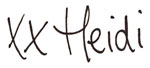 ---
---