There's nothing more I love than a good fashion career success story. And a few weeks ago, a girl named Savannah emailed to tell me how she went from product development to fashion designer.
It started back in 2013 when she graduated from fashion design school…but then got stuck in product development for 5 years.
Like many of you…
…She wanted to break into the creative side of things.
…But, her portfolio from school was "a little bit sad" (her words not mine).
…And she didn't have any real world "design" experience.
So, what did she do?
Well, this is the part of her story that I find insanely amazing.
Because instead of complaining about her situation but not doing anything to change it (like most people)?
Savanna took MAJOR action:
She listened to my podcasts (not just once, but often twice)
She updated her portfolio using my free book
She improved her Illustrator skills with my free tutorials
Then? She got herself some results.
We're talking REAL results.
Like A NEW DESIGN JOB results.
See Savanna's fashion career success for yourself: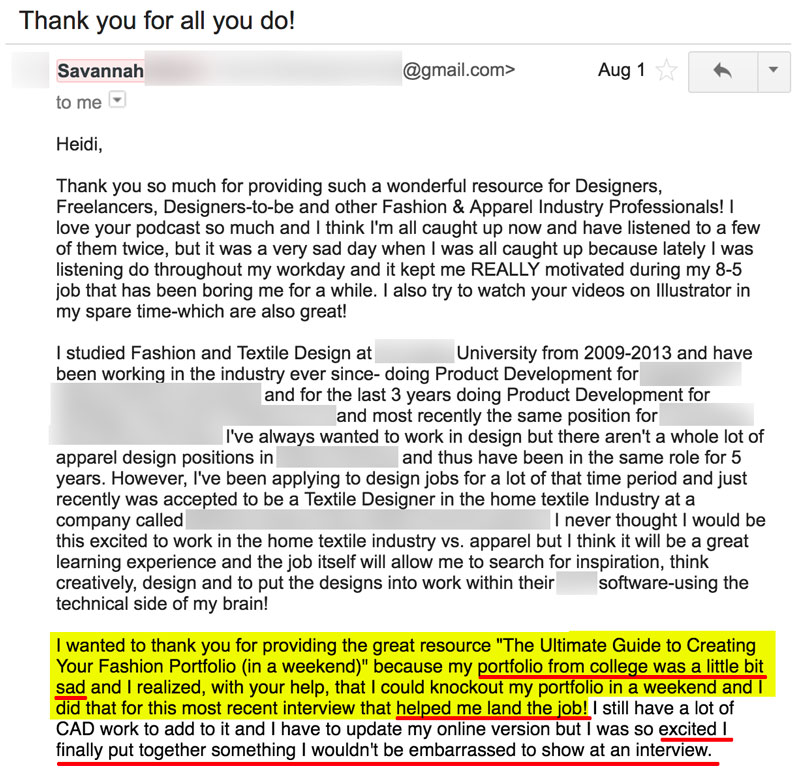 First, HUGE CONGRATS Savannah! You should be really proud 🙂
Second, you have no idea how much I freaking LOVE this story.
Not just because Savannah finally got her first fashion design job after getting stuck in product development.
But I specifically love it because she did it using my FREE content (like my book on portfolios and the SFD podcast).
Now, I know what you may be thinking. Because many people have asked me this before:
"Don't you wish she would have bought one of your courses? Why do you give so much away?"
There's a reason I have so much free material.
And there's a reason I make sure it's really freaking good.
Like help-you-get-a-new-job good.
I want you to gobble it all up.
Read every last word.
Watch every last video.
Listen to every last podcast.
Squeeze every last drop you can out of that content.
FOR FREE.
Because I want you to know that if my free stuff can get you results like Savannah's?
It may make you wonder what magic is inside my paid courses ?. *Sneaky me*
Which is why today, I'm excited to let you know I have some more awesome free stuff for you.
Since the portfolio book came out, a lot of you have asked for critiques.
And while I couldn't honor all your requests, I did offer critiques to my paying students under one condition:
They let me share them with you.
They said yes (thanks ladies!)! Which is why today, I'm excited to share with you my new mini series:
Five Minute Portfolio Critiques
Got five minutes? Pick the one that's best for you and hit play:

Trying to land your first fashion design job? Even if you work in a different industry, like Jasmine, here's how to put together a kicka$$ collection like she did.


Fashion school grad? Like Candace, you're probably making these portfolios mistakes. Here's what to do instead.


Been in the industry forever like Lisa? Here's what to include and what to leave out. (Hint: quality over quantity)


Overwhelmed by creating a full blown website? You don't have to. Like Nhina, this is all you have to put together.


Not sure if it's easy for brands to "get you" as a designer? Like Sam, here's how to make your work standout.
---