Plan A Professional Photo Shoot with These Every Day Essentials
I typically coordinate and manage 4-6 photo shoots a year and have learned a thing or two over the years on how to be best prepared!  I've got a 3 day shoot this week outside of Boston; Scroll down for a quick list and overview of what I do/bring for a professional photo shoot!
SHOT LIST: Detailed list including details about each shot, the outfit needed, any specific accessories or props. This list is in a spreadsheet format and has time allotted for each shot scheduled throughout the day to ensure we stay on track.
SHOT/INSPIRATION BINDER: In addition to the spreadsheet, I have a binder with inspirational tears for each shot as well as a CAD mock up of the exact outfit / props for each shot. I typically keep the binder in the same order as the shot list. I don't let go of this binder once throughout the day! It's my photo shoot bible!
BOX OF SUPPLIES: Lint roller, clips for clothes that are too big, safety pins, scissors, tape, hair ties, bobby pins, tissues, Q-tips, batting/foam (never know when you need to pad a garment). And my biggest secret weapon? Binder clips! These are great for clipping clothes that don't fit the model right. I typically have them clipped allover me the whole day – on the hem of my shirt and jacket, on my pants pockets, and sometimes in my hair!

---
CATALOG TEMPLATE PRINTOUT: Most of the photo shoots I manage are for catalogs, so I bring a printout of the catalog showing where certain photos are slated to go. This helps to know whether a shot should be horizontal or vertical as well as to know what may be next to it on either page that could affect what kind of photo we want. Photographers love having this as a reference when shooting.
SNACKS: Shoots are LONG days that typically start early! I always make sure to have plenty of items that are easy to eat and nourishing. My go to items: bananas, grapes, tangerines, nuts, bagels/cream cheese, hummus, carrots, pretzels, granola bars, and of course bottled water. Straws are essential too so as to not mess up lipstick!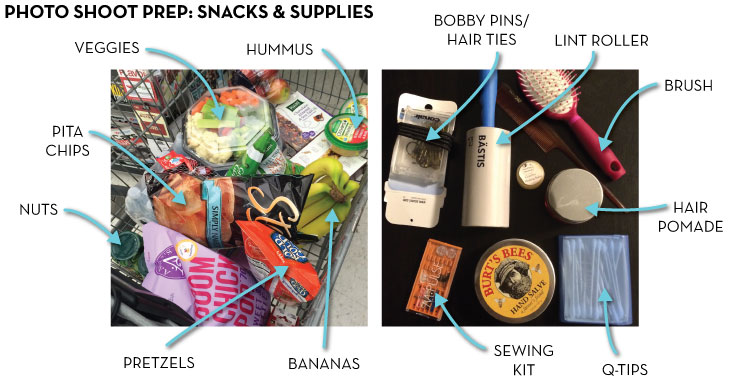 Heads Up: We use cookies to customize your experience and track how you interact with our site to serve you better. OK more info