Last week, for the first time ever, I shared the full, unedited version of my fashion journey with you. It included:
And your response was overwhelming.
My inbox was flooded with 100s of emails from you, and to my surprise, you were all thankful. Because no one else is talking about this stuff, you were relieved someone finally was.
Initially, I was anxious and nervous about how you would react. Would you think I was a fraud (because my fashion line turned into a collection of guitar pick earrings that I hated!) or a dream crusher (because I told you the harsh financial realities of having your own fashion brand and how FUCKING hard it is to sell product!)?
But you didn't. I didn't get one negative or mad response. You were happy to hear honesty and refreshed.
And even more important, you realized you weren't alone. That there are other people going through the same exact things as you are.
Your story and my story and everyone else's stories are surprisingly similar.
Almost every email back from you looked something like this: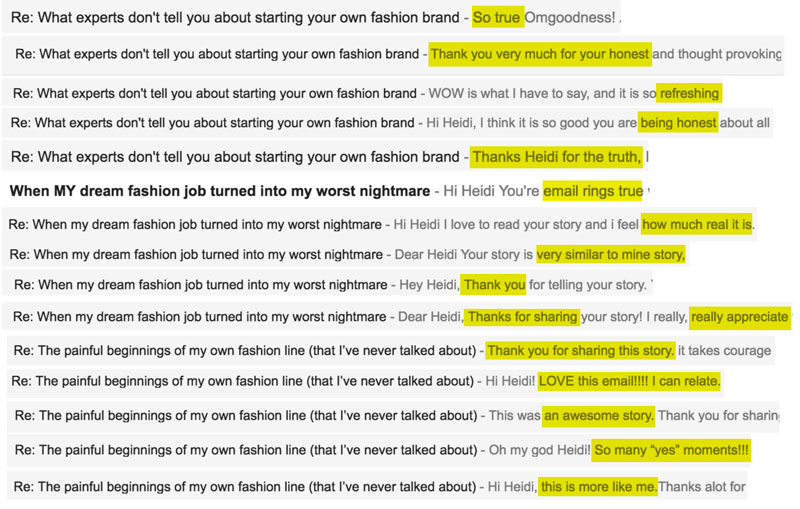 I've never gotten this much reaction to anything I've put out.
I've never gotten this many emails, and your replies have never been this emotional.
So, I wanted to continue the conversation. I wanted to share some further thoughts on all of this and to emphasize the importance that none of us is alone.
Which is why I bumped the previously scheduled episode to next week, and did an impromptu recording to further discuss what we're all going through and the realities of working in fashion.
Because this is really important stuff. And no one else is talking about it.
We'll be back next week with a regular episode, but in the meantime, I hope you enjoy what I have to say.
And as promised, here are more (embarrassing) photos of my fashion line, Funkelctic.
I previously shared these on my Insta stories and a lot of you told me how much you loved seeing my journey. So, even though it makes me a bit nauseous to "permanently" put this out into the world (Insta stories disappear after 24 hours), here is the unedited photo album of my fashion line journey from about 2004 – 2009.
Notice the progression over the 5 years!
When I first started, I didn't know how to sew a garment from scratch or draft patterns, so I modified existing garments and reused vintage materials (slips, scarves, curtains, men's western shirts converted into skirts, re-worked women's blouses). There was no cohesiveness to anything, but hey, I made stuff and put it out there. Here are some of my first runway looks (I cringe now):

Next up were the first dresses I made from scratch.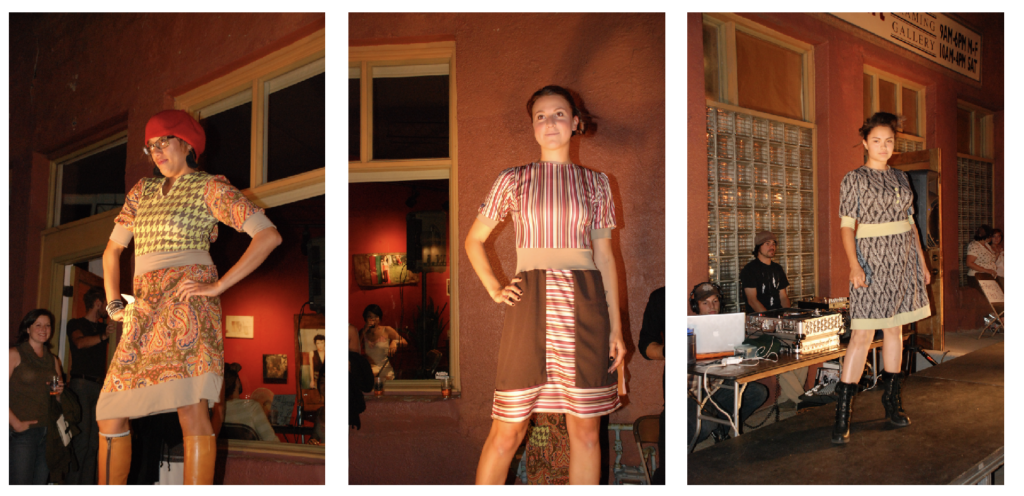 This collection was my first "cohesive" line made from vintage polyester I slowly collected at the thrift store and estate sales. I couldn't find all the photos, but here's what I did scrounge up from old CD's and Facebook.

Next was my take on winter dresses. I still love this collection!

For my last Funklectic collection before I dissolved the business in 2009, I just went all out and had fun. The goal wasn't to sell these skirts (and none of them did) but just to do something whimsical inspired by Sarah Jessica Parker's tutu in the intro credits of Sex & The City.
This was my line of record bracelets, purses (that I wound up having to cancel orders for because they came too hard to manufacture), and guitar pick earrings. These are the products I wound up selling wholesale at trade shows because they were easiest to produce and had high profit margins (compared to clothes). I ultimately grew to loath my best seller, the guitar pick earrings (I had over 100 different styles!).

Some miscellaneous pics of me sewing, trying to model (eek), and at one of the many "markets" trying to sell:

I've talked before about the importance of a support network. My mom and dad have always been behind me, telling me I can do it and showing up to encourage me. Marc has been with me for most of this journey (we're going on 15 years together!) and even got on stage with me to MC some fashion shows. If you don't have support from your family (I know not everyone does), find a community – either locally or online – that does. The value of a support network is priceless.
Thank you again for your continued listening and encouragement for the show. I am so excited to see what 2018 has to bring for all of us.
Lots of love from the bottom of my heart,