Many of you have loads of Q's about working in fashion…and I know it can be hard to find answers. Maybe you don't know any industry experts to ask. Maybe your coworkers are tight lipped and not willing to share their secrets. Maybe you just don't even know where to go.
Which is why I'm adding a monthly mailbag episode to the SFD podcast! Once a month, I'll take the best questions from listeners and answer them on the show.
(If you want to submit your Q, email it to me anytime at podcast@sewheidi.com for consideration.)
Here are the questions I answer in the first mailbag episode!
On getting started in fashion, from Bridget [02:20]:
Do you think studying under the major fashion design in college would be a waste of time & if not will my minimum knowledge make it unsuccessful for me?
On getting more work as a freelancer, from Eirini [07:25]:
How do you sell your freelance services at social media such as instagram without coming across too pushy and get clients?
On the logistics of being a freelancer, from Kim [13:40]:
How are you able to do the product development side (fit comments, tech packs, vendor communication) as a freelancer? The last company I worked at we would have meetings daily and go over issues altogether etc.. Do you contact the factories and update the client as needed on a specified basis?
On protecting yourself as a freelance fashion designer, from Elvie [17:52]:
I'd like to get your advice on customers who will use your service once and then seem to disappear and not contact you again. I've had a few customers mainly just starting/ new businesses who approach me, have me work for them on a project maybe even two, get as much info, tech packs and my supplier contacts to then not contact me again. I know I do a great job for them (as their feedback is always quite positive) but I feel like they kinda use me just to get the contacts for manufacturers or suppliers. Is there a way I can protect myself from these kinds of situations? Has this ever happened to you?
On launching your fashion brand without any money, from Oge [25:43]:
My question is everybody you have invited to speak will always say that you need so much money to start a fashion line, as an immigrant and a fashion design student am really striving Hard to make it in the fashion industry, I have a blog, am a fashion stylist and now lunching my Online store and is very very difficult, can you please discuss on how to start small process and methods? Example I design my own t shirts and patterns and do the whole sewing myself because I can't afford manufactural now am i doing the right thing or not?
On balancing fair prices and fair profits for your fashion brand, from Nicola [32:16]:
Many people I've spoken to advise that it's best to talk about what benefits the product offers consumers as a way of justifying pricing, which is great marketing advice. However, people want a quality garment that doesn't cost the earth too. What's the ethos behind fair pricing while still making a profit????
---
---
Resources mentioned in this episode:
If you enjoyed this episode and have questions you want answered, email them to podcast@sewheidi.com for consideration. I'll pick the best ones and include them in the monthly mailbag show.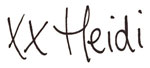 Save this "Mailbag Episode" to Pinterest so you can find it later!