If you want a job in any part of fashion, knowing how to draw fashion flats in Illustrator is a mandatory skill.
The problem? Adobe Illustrator can be a really frustrating software to learn. And it can feel like everything takes FOREVER.
But it doesn't have to!
CUT YOUR ILLUSTRATOR TIME IN HALF WITH THESE TUTORIALS ⏰
Oh. And also!
I'm giving away my free fashion trim library.
---
Now, before we get to the videos, there are few things you should know first:
If you're frustrated with sketching in AI (or if it takes you forever), you're not alone
If you don't know how to draw fashion flats quickly in Illustrator, it's not your fault
But like it or not, Illustrator is a vital skill for working in fashion
So let's talk about some of these things real quick!
You see, I've been drawing fashion flats in AI for over a decade during my career as a fashion designer. And I'm pretty fast. I can bust out a detailed sketch in less than 20 minutes. Watch!
For a long time, I thought that was the norm! But then I asked thousands of fashion designers on Instagram:
"How long does it take you to draw a fashion flat in Illustrator?"
MOST OF YOU TAKE WAY TOO LONG! SEE: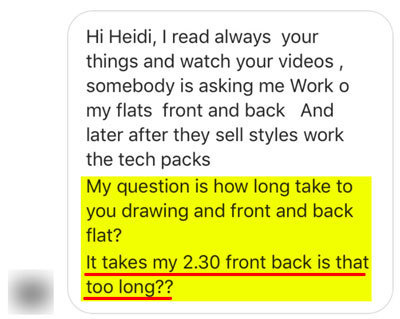 Which is a BIG problem!
Because if you want to get a job in fashion, brands expect you to draw a fashion flat with Illustrator in 20-30 minutes.

And if you can't? It's impossible to fake your way around it.
YOU'LL BE PUT YOU ON THE SPOT WITH A FASHION FLAT TEST
These flats tests are intense, anxiety inducing, and they can make or break whether you land your dream fashion job.
It's exactly what happened to this designer, and it can very easily happen to you.

If you take longer than 30 minutes to sketch one flat, you're not going to get the job. It's as simple as that.
Which may feel impossible! And you're probably thinking right now:
"There's no way I could draw that fast. Everything in Illustrator takes FOREVER!"
Even drawing simple things zippers or trims like buckles and buttons in AI can seem like an eternity.
I know it does…which, BTW, did you grab my free trim library yet?
SAVE YOURSELF HOURS AND STEAL MY HARD WORK ⏳
Don't create this stuff from scratch, just drop your info below and I'll send you the trims.
---
Now listen: it's NOT your fault that you struggle with AI and everything seems to take AGES.
It's because fashion school does a shit job at preparing you for the real world fashion industry.
They don't teach you how to use Illustrator to draw fashion flats (or how to create tech packs, another fundamental skill for working in fashion).
I know this because I get messages from designers like this ALL THE TIME: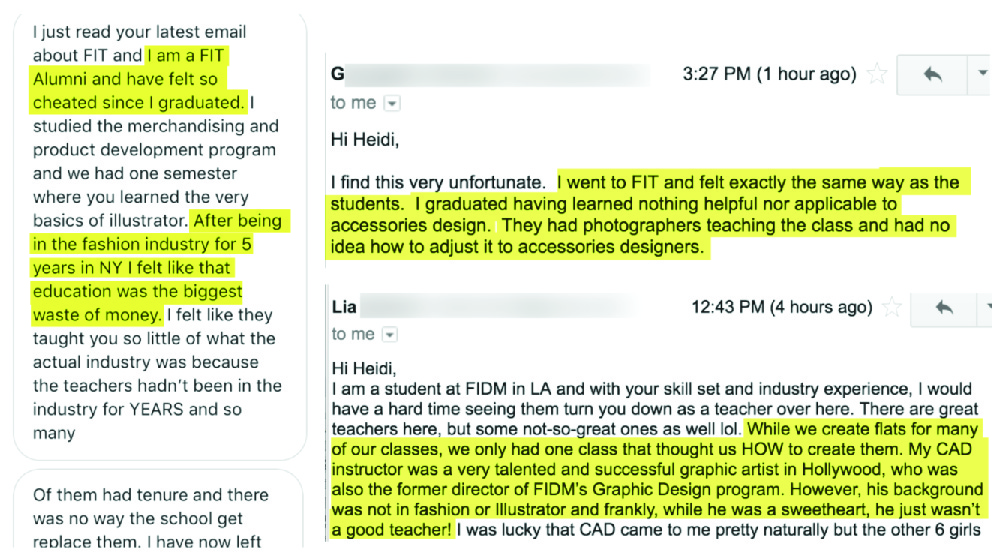 And it crushes me to see fashion designers like you investing tens of thousands of dollars in fashion school when professors don't–and aren't even qualified to–teach the skills you actually need to get a job in the fashion industry.
It's actually mind blowing. And it's insane to believe that this is what happens at fashion school.
But I've had firsthand conversations with faculty from the industry's top schools including FIT and Parson's about their lack of Illustrator training.

I asked why professors don't teach fashion students vital skills like Adobe Illustrator and tech packs.
Their responses are ENRAGING.
They say things (and I QUOTE!) like this:
"As long as there's a warm body teaching the class, that's all that matters."
"Professors haven't worked in the industry in ages and don't keep up. They have tenure, so they don't have to be relevant."
"I point my students to YouTube and tell them to figure it out on their own."
So if you're fighting with Illustrator (like many designers)…you're not alone.
If you're lucky, you have a backup plan! Maybe you can draw by hand really well!
So you usually just revert back to sketching with pen and paper because it's SO much faster.
You can bust out fashion flats like BOOM!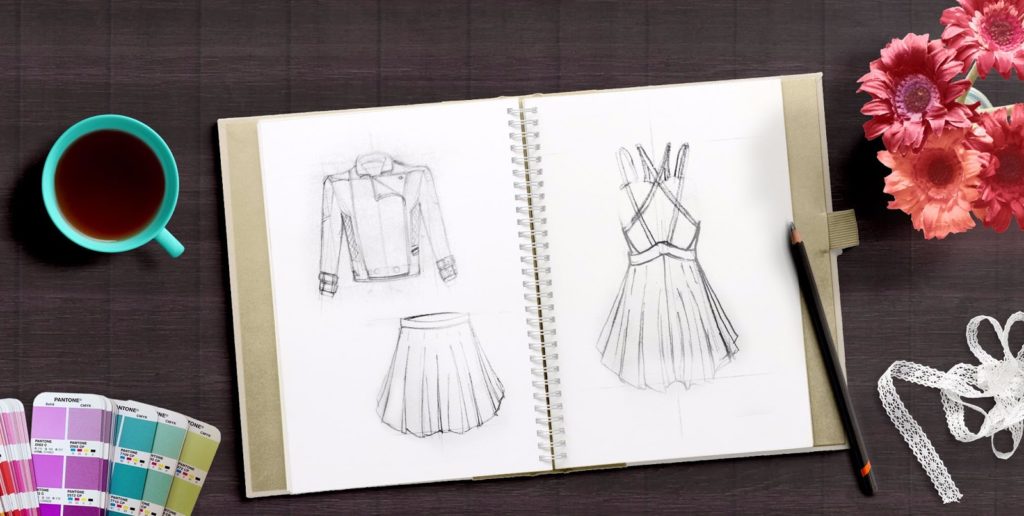 Plus, your hand sketches are still a hundred times better. So when you need to get a design out really quickly, a hand sketch wins every time.
Now, I'm not going to lie to you.
When drawing a fashion flat 100% from scratch, you very well may be able to do it by hand more quickly. I've seen fashion designers who are good with a pen, and man can they draw!
But you see, here's the thing…
Every time you sketch a fashion flat by hand…
YOU HAVE TO CREATE IT 100% FROM SCRATCH ✍️
You must draw all the details over and over, every time. There's no way to recycle bodices, sleeves, collars, trims, or any of the other elements that go into your designs.
If you need to make changes, you're either drawing the entire thing over again, or you're trying to erase lines and reshape things.
And that is tedious AF.
But every time you sketch a fashion flat in Illustrator…
YOU ARE RECYCLING WORK YOU'VE ALREADY DONE ♻️
Your sketches literally start to build themselves as you "frankenstein" the different pieces together from designs you've already drawn.
Sure, you may add new style lines or construction details, but you hardly ever have to draw 100% from scratch.
Adding zippers, buckles, or pockets is all done with a few mouse clicks!
Seriously!
IN ILLUSTRATOR, YOU CAN USE TRIM LIBRARIES LIKE THIS ONE. OVER AND OVER!
I'll send you mine, absolutely free! Just drop your info below for an instant download!

Not only can you add a zipper, button or buckle with a few clicks, things in AI are a lot easier to edit…and changes become very quick.
Which is why–even though AI can be hard to grasp at first–in the long run, Illustrator is 100x more powerful than hand sketching.
Because here's the other amazing thing about Illustrator: there are tricks you can use to make AI do the work FOR YOU! Yaass!!!!
And most things you need to draw don't have to be created from scratch! Yaass again!!!!
ILLUSTRATOR HAS TOOLS THAT DRAW THE FLAT FOR YOU
Now, we'll get to the free video tutorials in just one sec so you can learn How to Draw Fashion Flats in Adobe Illustrator (in 20 mins!).
But first, I want to address one other point that comes up ALL the time.
"Heidi, fashion flats are BORING! I want my sketches to look beautiful!"
I get it. And I know that drawing flats in Illustrator may not be as sexy as hand sketching, using watercolors, or all the rendering illustration techniques you see all over Pinterest like these: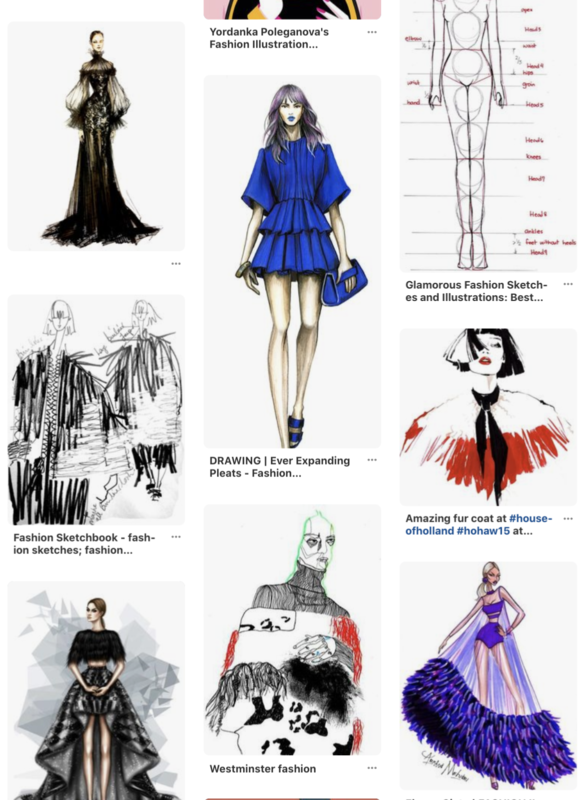 But you know what?
In any fashion design career, fashion illustration is irrelevant (unless you're actually a fashion illustrator, which is a whole different thing).
You'll never have the time–or the need–to sketch beautiful designs like these.
Instead, you'll be required to sketch fashion flats in Illustrator.
BECAUSE FASHION FLATS ARE HOW IDEAS ARE COMMUNICATED
Strong CAD skills will make or break your chances at getting a fashion job. You need to draw fashion flats to communicate ideas both internally for design meetings, and to factories for production.
The point of these sketches is not for them to be beautiful. It's for them to be functional.
Fashion flats are essentially blueprints to communicate an idea. They're not meant to be sexy or Pinterest worthy!
Sorry to burst your bubble, but it's just not how it is!
Now, don't worry, I will share 2 simple tricks in the free video tutorial series that you can use on your fashion flats to add more dimension with just a few clicks!
It's a great way to add a little more "life" to your flats to make your portfolio or presentation really POP.
Like this (sexy, right?! Or maybe I'm the only Illustrator nerd who thinks so…oh well!)!!!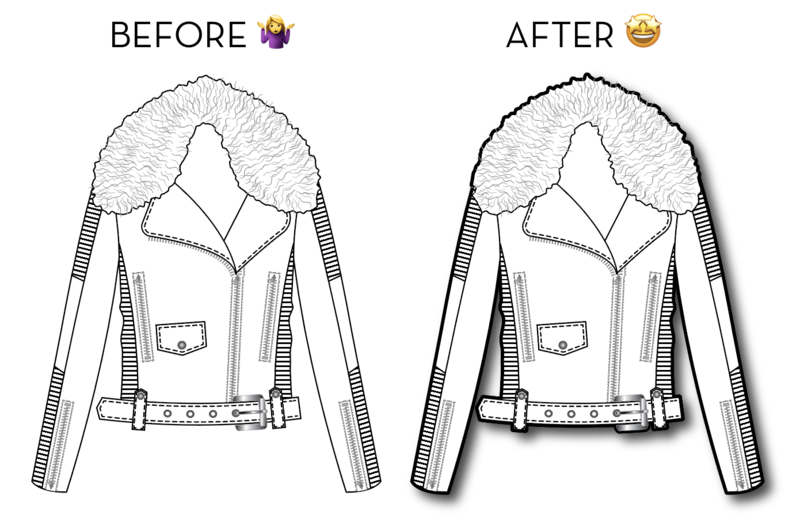 So, let's get started. In this 4 part free video tutorial series, you'll learn:

HOW TO DRAW A FASHION FLAT WITH ILLUSTRATOR (IN 20 MINUTES!) ⏰
---
PART 1: DRAWING THE OUTLINE OF THE BODICE
---
PART 2: REFLECTING HALF OF YOUR FLAT AND ADDING MORE DETAILS
---
PART 3: SIMPLE TRICKS TO DRAW COMPLEX DETAILS QUICKLY
---
PART 4: SECRET SHORTCUTS TO ADD DIMENSION TO YOUR FASHION FLATS
---
HERE ARE ADDITIONAL TUTORIALS MENTIONED IN THESE VIDEOS
---
REMEMBER TO DOWNLOAD MY FREE TRIM LIBRARY
Save yourself the hassle of creating this stuff from scratch and swipe all my hard work. The trim library works for any industry.
Just tell me where to send it.