When it comes to learning Illustrator for your fashion design career, you have options.
Now, contrary to the title of this chapter, some of these options are NOT free. Don't worry, at the end of this guide, there are 37 of my hand picked Illustrator tutorials that ARE free (organized so you can QUICKLY find what you need based on YOUR unique situation).
But for the sake of putting together a comprehensive list, I wanted to include both free AND paid options to learn.
When it comes to learning FAST? That's really up to you.
I know designers who've binged Netflix-style on my 100+ free tutorials or gotten through some of my premium courses in a week (even my Illustrator Masterclass, which is part of Freelance Accelerator).
You CAN see fast results…IF you put in the time and effort.
There is NO magic pill. It takes work and dedication. And you HAVE to practice.
Like anything in life.
The main reason I wrote this chapter? Is to show you that NOT all options to learn Illustrator are the BEST options. (Regardless of price.)
And SOMETIMES, the option you assume is the BEST is actually the WORST.
So read this section closely, choose carefully, and consider what's MOST important to you:
Listing a well known fashion school on your resume?
Or learning from someone who uses Illustrator daily in a REAL life setting?
I will show you exactly how to decide in a minute.
But right now, I want to tell you the HARD stuff you need to hear.
How to kill your fashion design dream: the truth no one else will tell you
If you take the wrong Illustrator course?
You can leave MORE CONFUSED than when you started, like Hayley:
"I was so confused because of the way he explained things. It felt like learning a new language. He might as well have been speaking Chinese to me."

– Hayley on learning Illustrator from the wrong teacher
You can get stuck with a GRAPHIC DESIGN teacher who has NO idea how to apply the tools to fashion:

You can get stuck with a teacher who lectures from a BOOK — something you could DIY for WAY cheaper:

As a result? You'll lose so much confidence that you'll QUIT: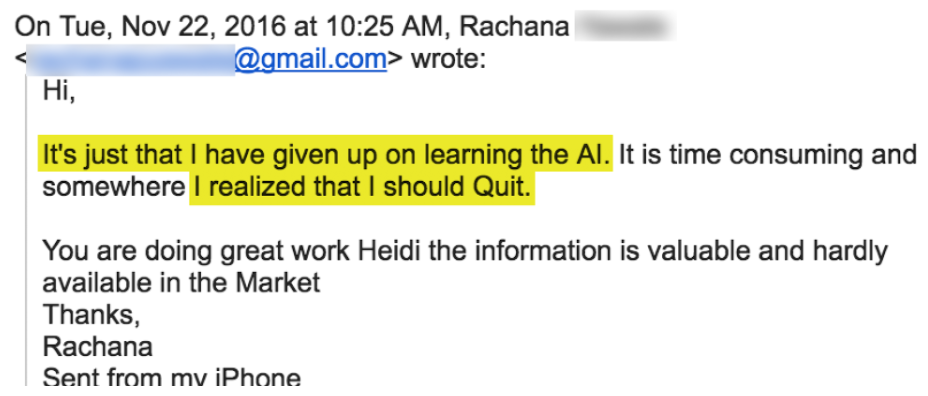 I know it SUCKS to hear this. But I believe you have the RIGHT to hear the truth.
Because I don't want you to waste TIME and MONEY on methods that don't work.
Or worse, GIVE UP on your dream all together.
Because knowing Illustrator in the fashion industry? It's the difference between creating your dream fashion career and missing out.
Whether you want to work for a big brand or have freedom and flexibility as a freelancer, to get ahead in fashion Illustrator skills are mandatory.
98% of fashion design jobs REQUIRE proficiency and hand sketching is insufficient.
See for yourself. Of 20+ listings on StyleCareers.com, NOT ONE listed hand sketching. But they ALL listed Illustrator:

And it's impossible to have the work-life balance and uncapped income of a thriving freelance career without strong digital skills like AI.
Your Illustrator skills will SET YOU APART from the competition.
So ask yourself, CAN YOU:
Sketch flats quickly and accurately to convey your vision to factories and buyers?
Create seamless repeating patterns and colorways – and apply them to your beautiful flats?
Layout line sheets and presentation boards?
Because whether you're freelancing or working for one brand full-time, this is what brands REQUIRE: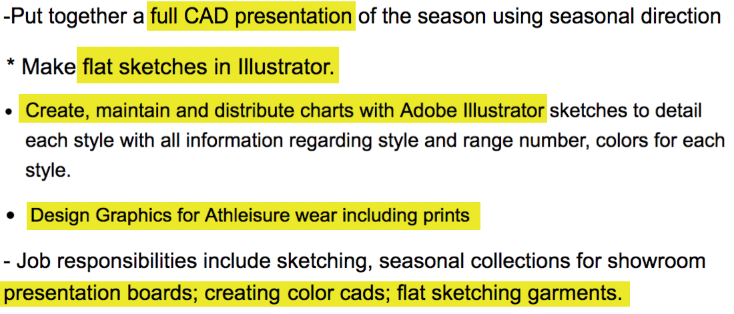 I firmly believe that the best way to work in fashion is as a true remote freelancer. And for freelancers, stronger digital skills mean happier clients, more referrals, and more money in your bank account!
Even if you decide to get a traditional job, the days of assistants and graphic teams to digitally translate your ideas are *POOF* gone.
Companies are cutting back and designers are expected to know how to do EVERYTHING.
I experienced it firsthand in 2008 shortly after landing my dream job in fashion.
2008 was a BAD year. Global economies crumbled and fashion brands were no exception.
Sales plummeted but overhead stayed HIGH. Layoffs swept through companies like tidal waves.
My manager was the first to go. Designers fell like dominoes.
In just WEEKS, our team of 20 shrank to 8.
Somehow, I was one of the last designers left.
I wondered WHY and HOW?
Some of the MOST experienced staff were let go. Me? I BARELY had any "real" fashion experience.
And then the obvious reason HIT ME UPSIDE THE HEAD.
I knew how to do EVERYTHING in Illustrator. I was GOOD. And I was FAST.
Flats took me MINUTES when other designers took HOURS.
I could mock up colorways and design variations while the CEO hovered over my shoulder.
I could pull presentation boards together in ONE afternoon.
What they needed was designers who could "DO IT ALL".
And most of the team? Their computer skills DID NOT make the cut.
No matter your experience in the industry — entry level or 20+ years — Adobe Illustrator for fashion design is MANDATORY.
And you'll be TESTED.

Even if you've been in the industry FOREVER and can draw flats really fast in CM (Colour Matters, some of the outdated fashion software we talked about earlier), it doesn't matter.
Brands needs you to be fast in ILLUSTRATOR: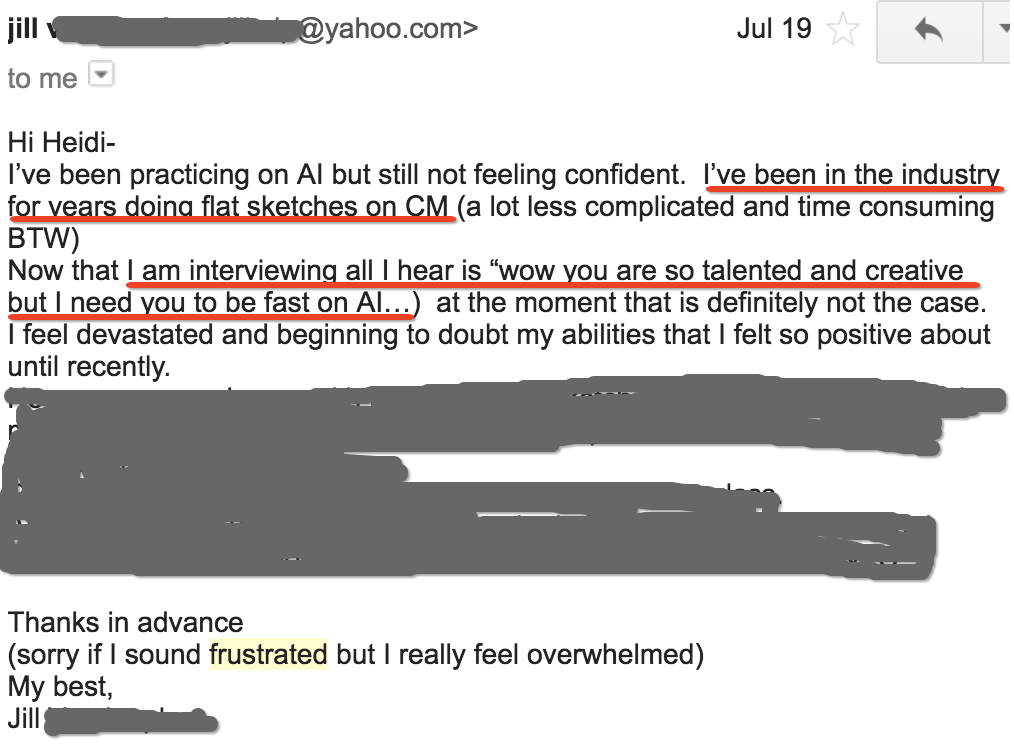 Ok. Now I KNOW you're probably feeling PANIC.
DON'T.
The reason you're reading this is to get on the BEST path to learn Illustrator for fashion design.
Which is what we'll go through next.
But I've heard SO many horror stories, that I want to get all of this out on the table so YOU can make a better decision for your future. SO that YOU are armed with the right knowledge and choose the right path to learn.
So that you don't become the next heartbreaking email I get.
Instead, I want you come SINGING to me with a success story, like some of the designers I'm going to introduce you to later.
You can choose your own path to proficiency. But some are more treacherous than others. (Hint: fashion school is usually your worst enemy.)
You know what people tell me ALL THE TIME? It goes like this:
"If I'm going to spend money on a course to learn Illustrator, I want to be able to list a reputable fashion school on my resume."
#FACEPALM
With 10+ years of experience in fashion, I've seen FIRSTHAND what comes out of fashion school.
And it is NOT PRETTY.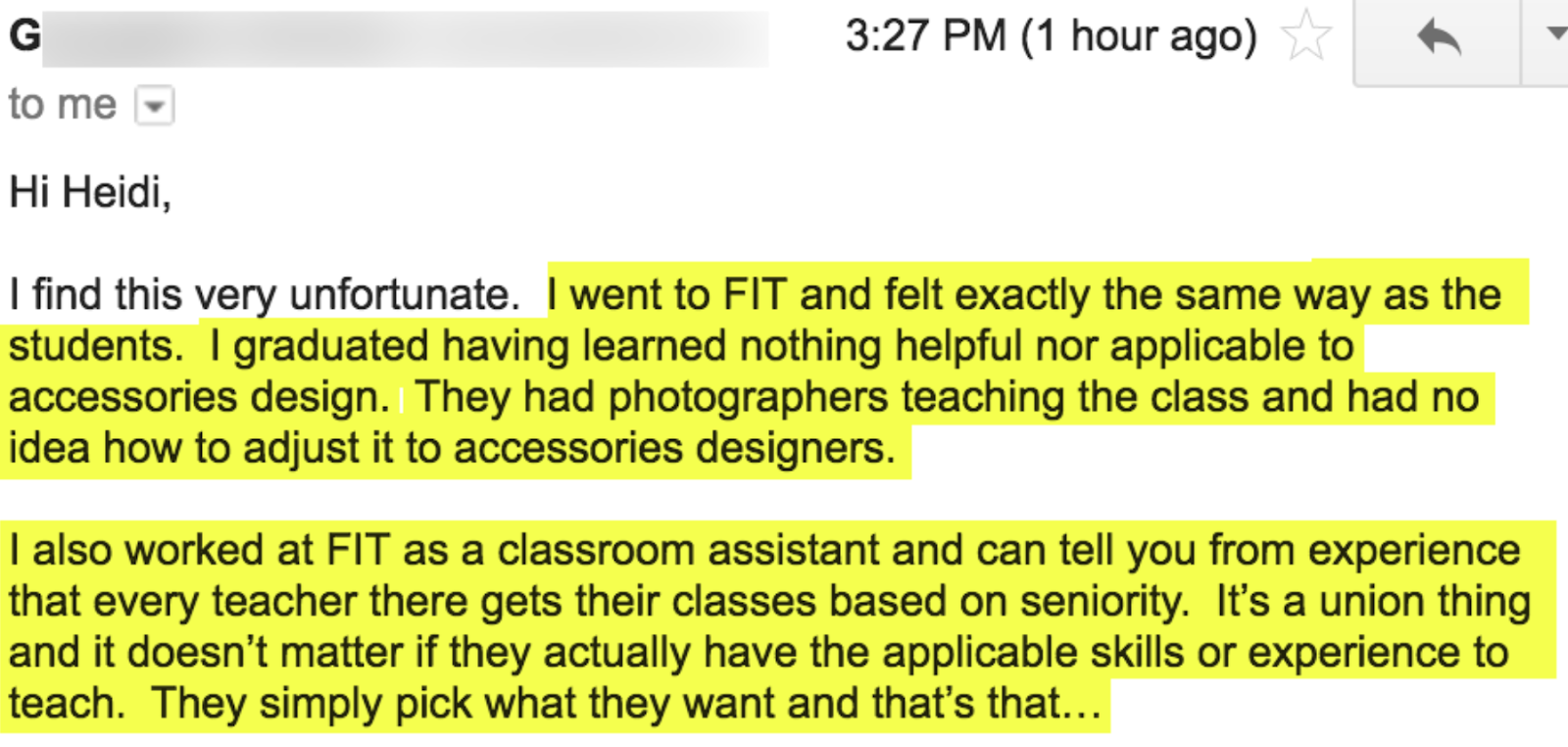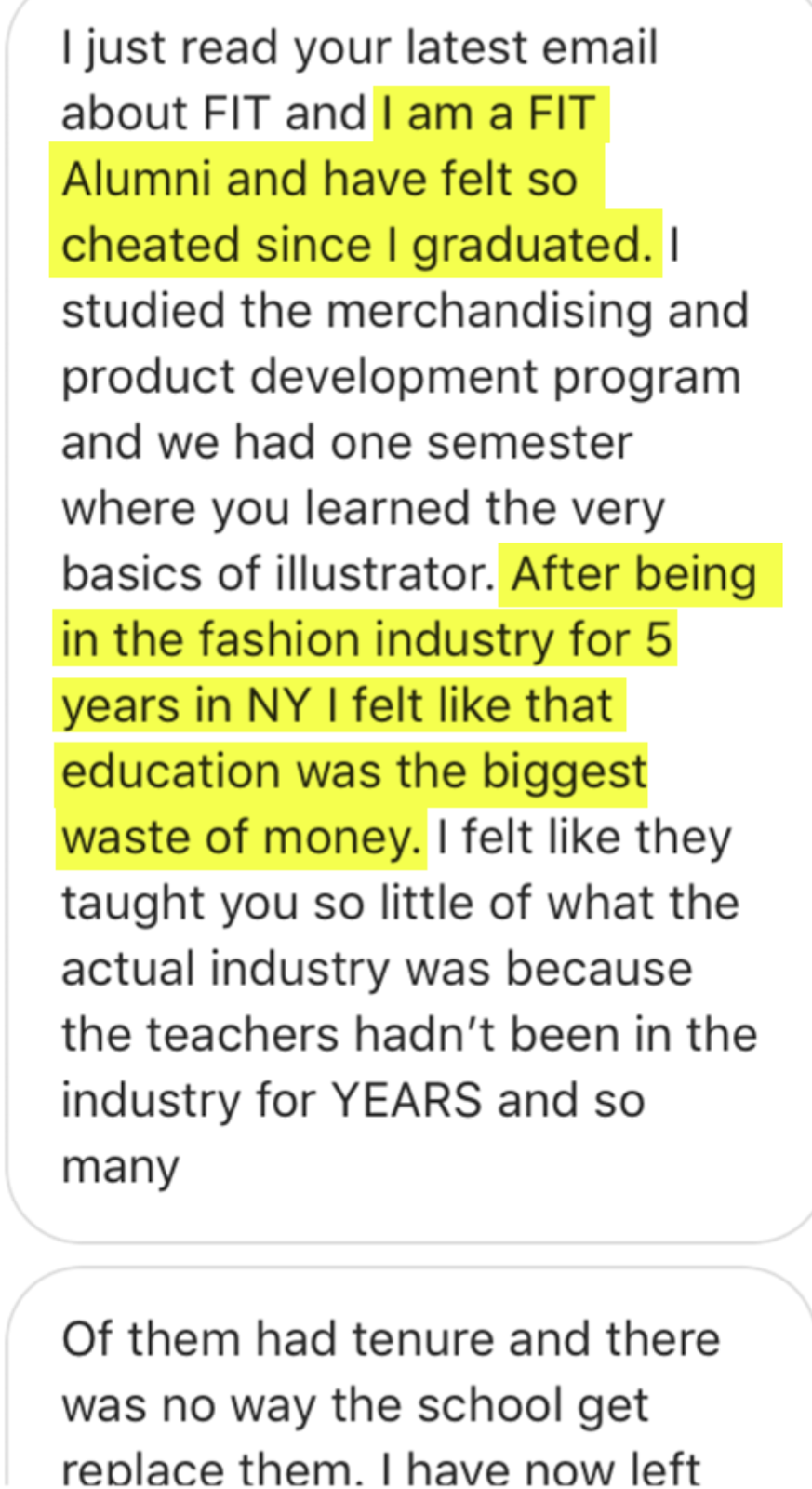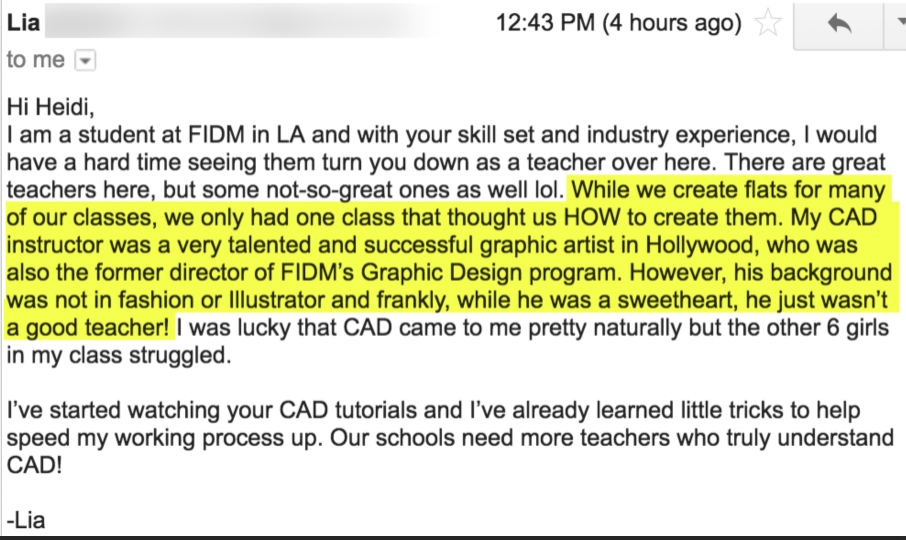 Beyond what students say? Here's something SCARIER.
I've talked to professors and faculty FACE TO FACE at "reputable" fashion schools. The things they've said are FRIGHTENING.
I quote:

Parson's professor after admitting their Illustrator teacher was terrible:
"The administration doesn't care. As long as there's a warm body teaching the class, that's all that matters."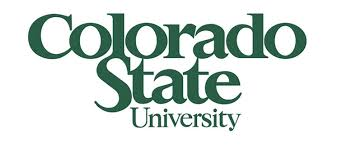 CSU faculty:
"The professors just can't keep up with the technology. We have one class, but it's not enough. So I tell students to go home and learn on YouTube."

FIT professor, copied from her website:
"Are you enrolled in another school or program? Our course is a great supplement to your current curriculum. Some designs schools only offer a limited amount of Adobe Illustrator courses and in many cases don't leave you proficient enough to perform on the job."
Speaking of FIT? Oh, have I got a GOOD one for you.
I was a guest lecturer in their Illustrator class once. After my 30 min presentation?
The students told me they learned more than they had ALL semester.
They asked me why I wasn't teaching the class. Because they were learning NOTHING from their teacher.
(I even found out years later that they PETITIONED to bring me in as the teacher.)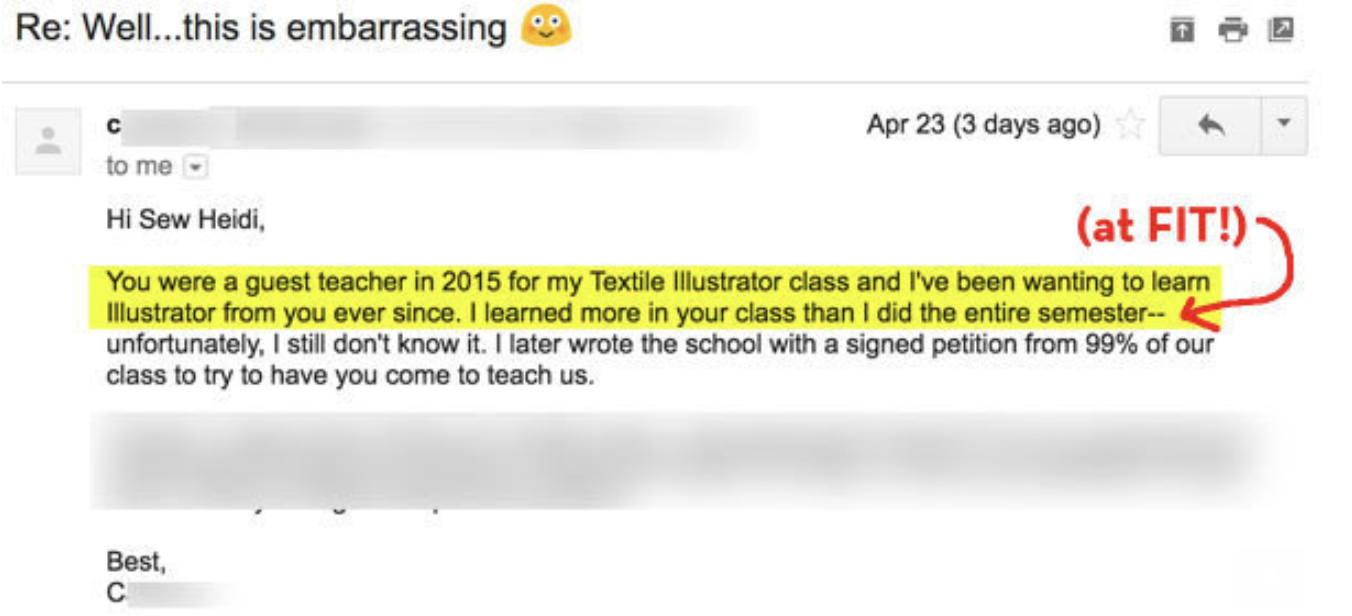 But you know…that TENURE thing…
Listen.
This guide isn't meant to be a RANT on fashion schools.
But I know for a FACT that many of their Illustrator classes (even at "reputable" schools) are taught by professors who:
Have never actually worked in the industry
Have never used Illustrator on the job or in a real life setting
Teach it out of a graphic design book (yes, this happens) and students have no idea why they even need to know the software to work in fashion
So if it were me? I'd RUN. I'd run as FAR away from those fashion schools as possible.
Because listing FIT, FIDM, or Parson's on your resume doesn't mean SHIT if you don't actually have the skills you need to help your first freelance clients or pass the Illustrator test during your interview.
Sorry if I sound harsh, but man this makes me ANGRY.
And I hear too many designers caring about "learning at a proper school" when I KNOW they're probably not going to get what they need.
Instead, they'll leave bruised, battered, and UNPREPARED for the real world.
So I wanted to make sure and hammer this one home.
Got it? Cool. RANT DONE.
Let's look at your options to learn Illustrator, one by one, with all the pros + cons.
---
---
Illustrator Courses at Fashion Schools
PROS
You will:
Get a certificate and can list it on your resume (it looks good "on paper")
Learn in-person (at least in classes that haven't stayed permanently remote since the pandemic)
Network with other designers
You may:
Get connections to job opportunities
CONS
It's inconvenient. You have to:
Show up at set times and places
Jump through application, enrollment and registration hoops
Take pre-reqs just to get the class you actually need
It's outdated and ineffective. Teachers:
Don't have time to stay up with technology and aren't using AI daily in a real world setting
Are unqualified and don't have the skills you need, so instead share my free videos with you:
Have tenure and are "just a warm body" (like Parson's and FIT faculty have told me).
Course structure and support is lacking. You will:
Only learn basic skills and will STRUGGLE to get what you really need
Be stuck with students who don't understand basics and waste HOURS of class time while you lose out on learning important skills
Be left HANGING when you have questions or need support after the semester ends.
Now, some fashion schools have been making more of an effort to update their digital curriculum in recent years. FIT for example now requires 3 semesters of digital coursework for their Fashion Design AAS, some of which does cover drawing flats in Illustrator.
But even the best fashion schools require a MASSIVE time commitment and a STAGGERING financial investment!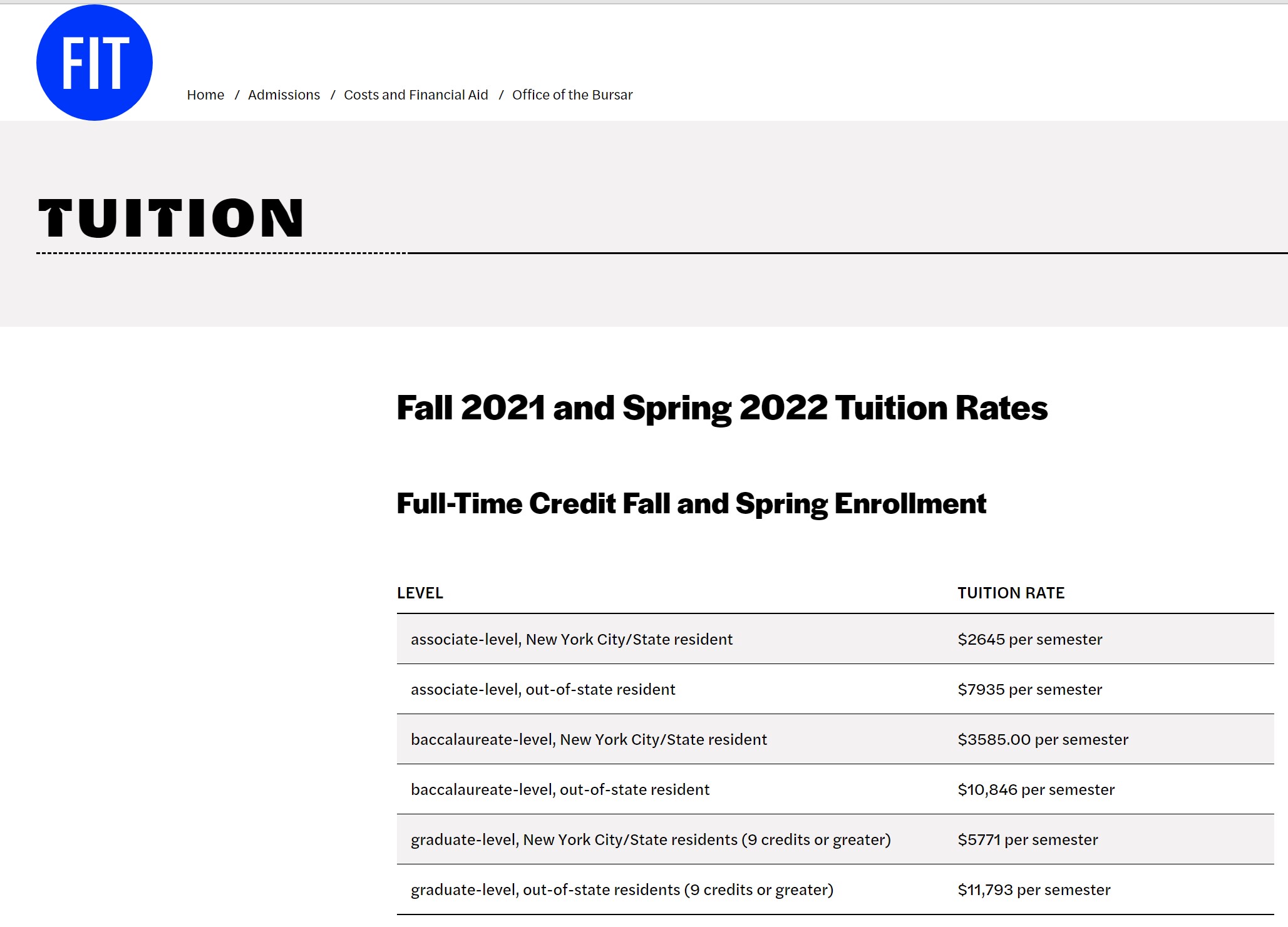 In case that's tough to read, an undergrad semester at FIT can cost anywhere from $2,645 to $10,846!! And remember, that's for just ONE semester. Most programs take 4-8 semesters worth of classes to finish.
All for that one little line on your resume.
A line which doesn't mean crap if you don't have the skills you need to actually work in fashion!
IMPORTANT – READ THIS!
The 4- or 5-day "bootcamp" style class may look attractive, but it's a TERRIBLE idea. Your brain cannot absorb the content that fast and you will leave more overwhelmed than when you started.
I know because I used to teach this way – it DOESN'T work. Every student told me it was TOO much in TOO little time.
If you choose to learn Illustrator in fashion school, make sure you:
Research the teacher and how qualified are they
Contact past students to get real feedback
"General" Adobe Illustrator Classes
This is a horrible option but I'm obliged to mention it because I know WAY too many designers who've done this.
PROS
CONS
You will learn how to design logos & brochures, but leave with no idea how to relate this to fashion
You may not even understand why fashion designers need to learn "graphic design" software
You will likely leave more confused than when you started
If you choose to take a "general" AI class, make sure:
Just don't do it. PLEASE, don't.
Learn Illustrator From a Book
PROS
It's cost effective
You get forever "access"
CONS
Books are expensive and HARD TO UPDATE, so they easily become vintage (and not in a good way like that Chanel bag)
There is no way to get help or your questions answered
It requires TREMENDOUS self discipline
If you choose to learn from a book, make sure:
The book is relevant to your version of AI
You have discipline to learn from a book instead of letting it gather dust on your shelf (I've been guilty of this, too!)
**And yes, I realize you're currently reading a book…but it's a digital book full of VIDEO tutorials! 😉
Get Custom Illustrator Training with a Private Tutor
PROS
You can focus on the skills you need and ignore the ones you don't
You'll get direct one-on-one support
CONS
The cost adds up QUICK
It can be hard to find someone QUALIFIED locally or online who's a good match for you
If you choose to get a private tutor, make sure:
You find the right person who has a teaching style you like
You get feedback from past students to make sure the tutor is qualified
You can afford enough lessons to learn everything you need
Learn Illustrator for Free on YouTube
PROS
CONS
You have to sift through a lot of bad stuff to find the good stuff
You'll suffer through poor audio / video quality
You may get a segment of how to do a specific task, but are then left hanging
You'll watch graphic design tutorials and try to relate them to fashion #hardAF
It requires TREMENDOUS self discipline
PSA: I'm not TOTALLY knocking YouTube. I mean COME ON, I have 100+ videos on there. Maybe you've even watched a few!
And later in this guide, I'll share a ton of them with you, organized in a way to help you find just what you need.
I'm just saying this is not ALWAYS the easiest and quickest route to proficiency.
Remember: Time is money.
If you choose to learn from YouTube, make sure:
You have the time and discipline to dig through tutorials and piecemeal things together
Learn Adobe Illustrator for Fashion Design From Online Courses
PROS
Content is more current and easier to update
You can conveniently learn from the comfort of your own home, 24/7
You can go at your own pace and view videos over and over
Depending on the course, you may get perks like:

Lifetime access
A money back guarantee
Interactive support
CONS
There's no in-person interaction
You may or may not get a certificate,
If you choose to learn from online courses, make sure:
You can preview content to make sure the teaching style works for you
The program offers the features you need (i.e. support, guarantees, etc.)
If you aren't getting what I'm saying by now, let me be totally BLUNT with you:
Online courses are the BEST way to learn. (And yes, I have a few of them. My very best stuff, including the Adobe Illustrator Masterclass for Fashion Design and my tech pack course, Design to Development, are bundled together inside my flagship course, Freelance Accelerator: from Surviving to Thriving [FAST].)
But before you open a new browser tab and start googling your options, let's dig a little DEEPER.
---
---
Because when it comes to online courses, there are BIG differences in what you'll get.
You may learn enough to get by on LinkedIn Learning or Skillshare for $99.
Or you might shell out $200 for a disjointed course from someone who BARELY knows their stuff.
(NOT NAMING NAMES, BUT I HAVE HEARD STORIES.)
Here's where they all fall short.
They won't support you.
Who do you reach out to when things go WRONG?
When you've landed your dream freelance client and you can't get Illustrator to do that ONE thing that will make or break the project?
These are the things that determine the SUCCESS of your career.
So what's the value of knocking your best client's socks off, so they want to hire you again and again (and tell everyone they know about you!)?
What's the value of the unlimited freelance income you can unlock, or the raises you'll get 2, 5, and 10 years from now?
The LITTLE moments. It's having CONFIDENCE. It's being NOT TERRIFIED to put yourself out there.
These are the things that make or break the journey that we're all on as fashion designers.
And I'm COMMITTED to being there for YOU in those moments.
That's not something Skillshare or any of these other online platforms will give you.
They WON'T be there for you. They WON'T have conversations like THESE: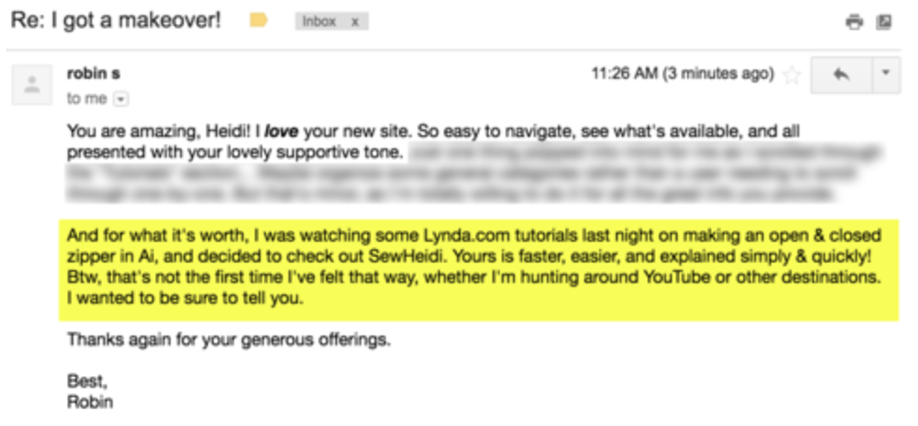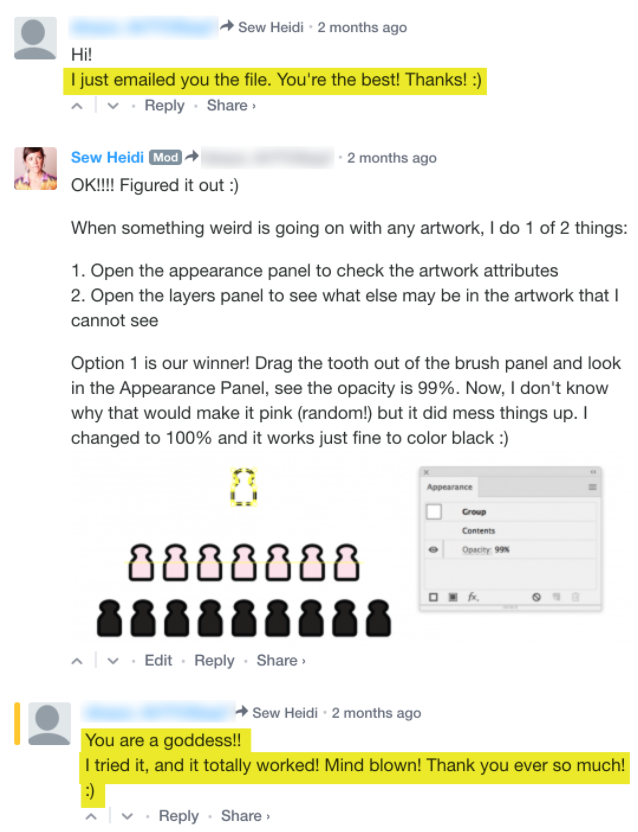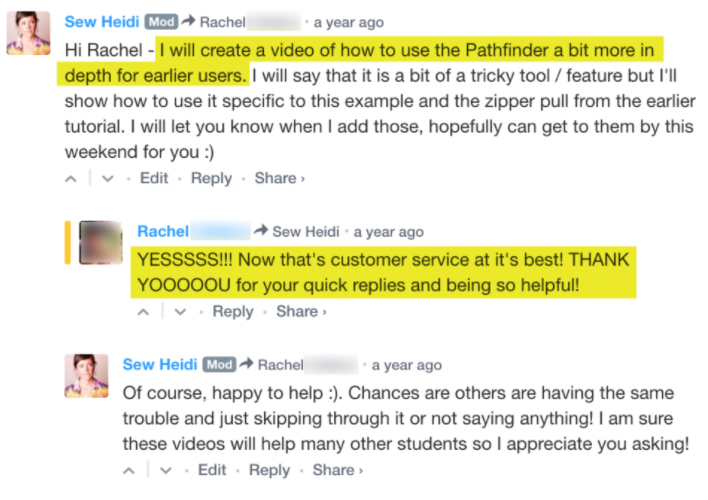 Because at the end of the day? It's not JUST about learning Adobe Illustrator for fashion design.
It's about what learning AI is going to DO for you. How is it going to CHANGE your life?
Get your designs into production like Barbara, a Masterclass graduate?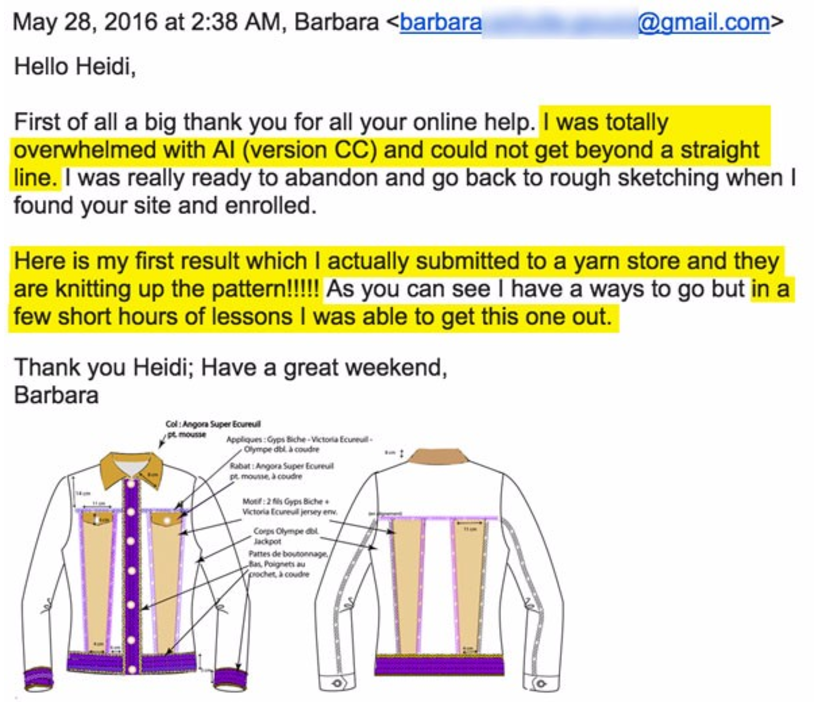 Knock your client's socks off (and get your work done in half the time) like Holli?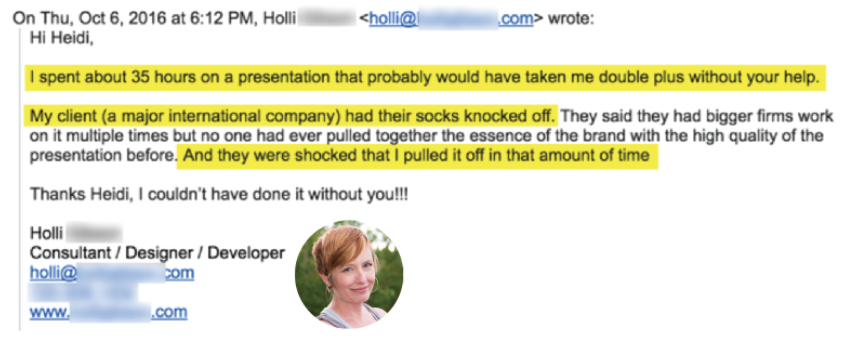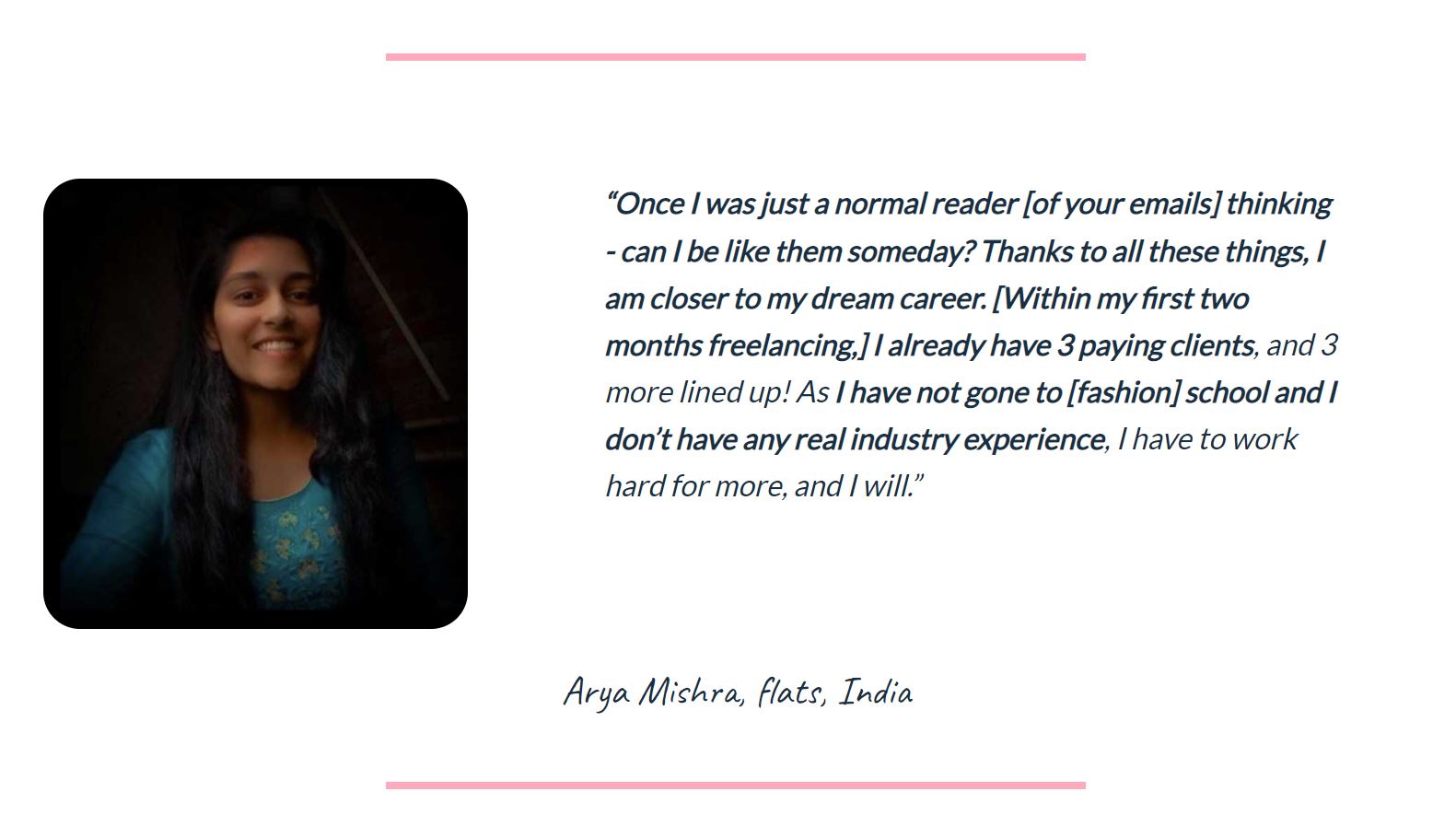 Get the confidence you need to leave your current job? Or just stop being intimidated and afraid of doing things wrong?

Because you know that more confidence in Illustrator would make you more confident in YOURSELF.
Sound good? Let's dive into the tutorials now.