MOST of the fashion design process is done in Illustrator, from sketching to coloring and repeating pattern design to presentation boards.
And here are some of the exact tasks you'll use Illustrator for:
CAD work like Fashion Flats & Tech Sketches
"Flats" are black and white drawings of a garment as if it were laying FLAT on a table. They include accurate construction and styling details (unlike fashion illustrations, which are more artsy).
Add callouts for construction details? They're now tech sketches. These are used in tech packs to visually show a factory how to make the garment.
(Newbie to fashion? Flats / tech sketches and tech packs are two great services to offer as a freelance fashion designer. That's why my premium Illustrator and tech pack courses are available to Freelance Accelerator students.)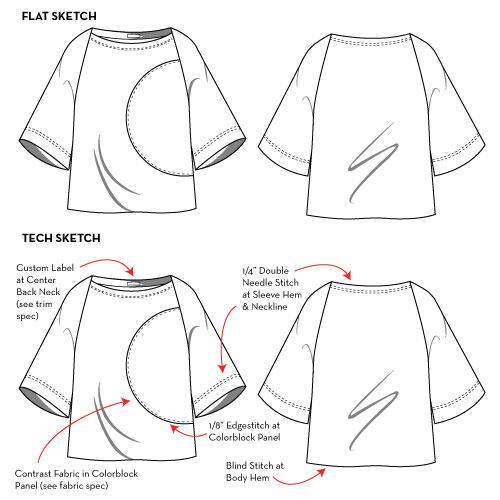 Textile (Surface) Design + Seamless Repeating Patterns
Illustrator has a pretty amazing pattern-making tool that makes it easy to create custom seamless repeating patterns. You can then fill your flats with them to mockup designs. The software allows you to infinitely customize the size, colors and direction (e.g. on the bias) of the pattern.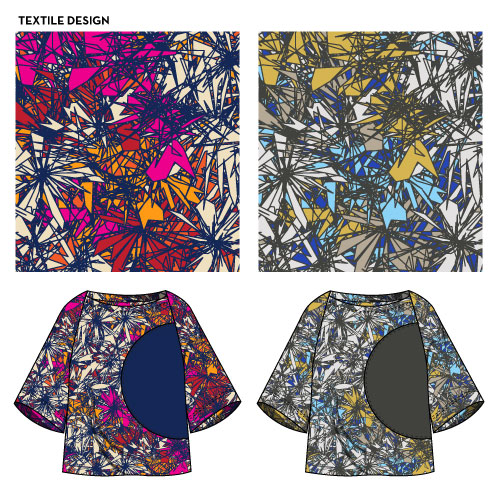 Colorways and Line Sheets / Presentation Boards
Fashion designers typically put all the garments in all the colorways together on one "board" to show the collection merchandised. These layouts are great for design meetings, buyer presentations, or catalogs to help present the line as a whole.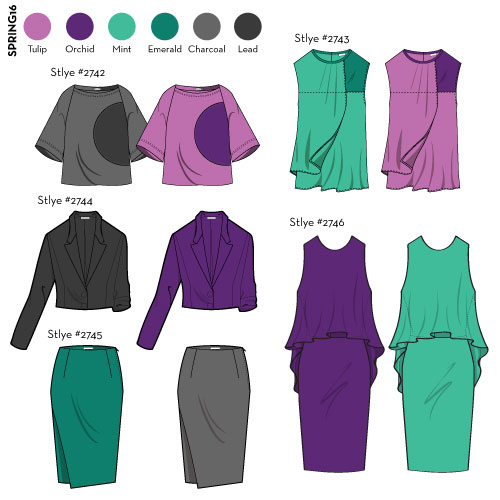 Tech Packs (Do NOT use Illustrator for this. PLEASE DON'T.)
I debated whether or not to even include this, but I let it make the cut for TWO reasons:
I know A LOT of designers and brands who use Illustrator for tech packs
Illustrator should NOT be used to create tech packs, and I wanted to take this opportunity to tell you why.
Tech packs in Illustrator are INEFFICIENT. And since I'm an efficiency NERD…
Here are 5 reasons you shouldn't use Illustrator for tech packs (and do them in Excel instead):
Illustrator does not do math, and things like graded specs require math. Luckily, Excel does this very well.
Illustrator does not do charts, and tech packs are full of gridded layouts. Like this one for colorways:

Or this one for your BOM (Bill of Materials):
Have you ever tried to create (and then edit!) a chart like that in Illustrator? It's a huge pain and waste of time. Excel does this with a few clicks.
Illustrator does not play very well with Excel. Meaning it's painful to bring data (like graded specs) from Excel into AI. Trust me, it's much easier to bring your AI sketches into Excel.
Most people don't have (or don't know how to use) Illustrator. But Excel? Almost everyone has it. So when your boss or client needs a quick edit, they can DIY it instead of bugging you for Every. Little. Change. #annoyingforeveryone
Illustrator doesn't link data…so when you have to keep inputting the same info over and over, it's a huge pain and a LOT of repetition. And of course (you guessed it) you can do this in Excel.
Illustrator is DESIGN software. Not DEVELOPMENT software.
---
---
(Don't believe me? Check out how I put tech packs together in Excel and download my free template. For super in-depth step by step learning, I have a comprehensive course on tech packs available exclusively inside Freelance Accelerator. I've "converted" plenty of designers who've graciously thanked me for cutting their tech pack time in half.)