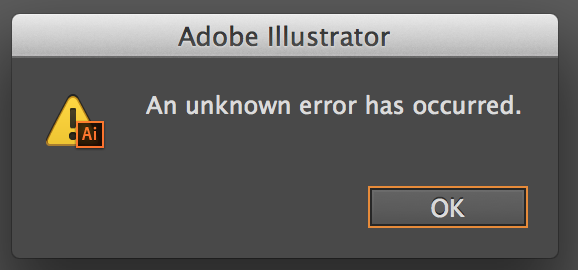 After fighting with AI CC over the past couple days (and feeling very frustrated), I found a few workarounds to this annoying error. I'm continually getting the "an unknown error has occurred" when I try to save various files.
I cannot figure out any type of pattern or consistent behavior that causes this. None of my files are overly complex or contain corrupt fonts which I've read can cause this. I've made sure my OS and software are all up to date and even uninstalled and reinstalled the software to no avail. I contacted Adobe this weekend as I was trying to meet an early Monday morning deadline only to discover their tech support is closed on the weekend. For a company of that size I was quite unimpressed with this.
I did find 2 temporary solutions that seem to work.
Turning off all layer visibility seemed to consistently allow me to save the file. As soon as I turned visibility back on and tried to save (no change or edit to the artwork, simply just turned visibility on), I got the error again. Weird.
Saving as an EPS seemed to consistently work. This is the solution I used to work through my project and meet my deadline.
I'll surely be on the phone with Adobe tomorrow and update this post with any info I find out that can hopefully solve this problem. If you're suffering from the same aggravation, hopefully one of the above two solutions will temporarily work for you.