You know that heavy feeling you get in your chest, when your heart beats fast and your head physically gets hot?
It's called being outside your comfort zone. And it's the best place you can hangout.
The concept is simple:
The magic happens outside your comfort zone. Yes, it's scary going "out there", but it's where I spend most of my time. I encourage you to do the same.
Why? Because your comfort zone is a selfish place. I didn't even realize this until one of my business mentors pointed it out: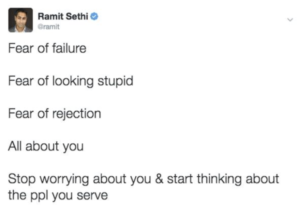 And it got me thinking…all the things I'm afraid of, all the things I fear, are selfish.
What if I'm not good enough and fail?

What if I don't know the answer and look stupid?

What if it's too hard and I can't do it?

What if people hate it (and hate me)?
ALL ABOUT ME. (And that's not how I want to go through life, do you?)
Yes, I fail, don't always know the answer, and sometimes I get hate mail.
But a lot of times, things go well. And if I wasn't getting out of my comfort zone, I wouldn't get emails like this from you:

All the things I do are for you. Live Q&As, interviewing podcast guests (yes, a podcast is coming), and creating tutorials and courses.
And yes, each and every one of these things scares me.
Even little things, like sending these emails to you and thousands of subscribers, make me uncomfortable.
And so I walk around all day, almost everyday, with the weight of fear and anxiety on my chest. Self limiting thoughts race through my head telling me why I can't do things.
But I keep going because of you.
And you know what? It gets easier. The discomfort, the fear, it gets easier with each scary thing you do.
xx Heidi