If you haven't thought about selling print-on-demand items on Etsy, you're missing out on a virtually FREE way to start a clothing line. Here are the steps to make it happen!
I hear from tons of people who dream of starting their own clothing brand. But they don't have the time, money, or know-how to make it happen, so they waste YEARS just spinning their wheels.
Or worse, they launch their brand, spend $10k+ on a fancy website, professional photos, and producing inventory, only to discover that their designs just don't sell.
These stories break my heart, which is why I've been putting together free resources on smart things to do when you want to start a clothing line. I wanted to help you understand the steps, find your customers, source affordable fabrics, and make sure you're ready to approach factories.
But no matter how prepared you are, starting a clothing line in the traditional way is still a massive undertaking! And with the expenses of setting up your business, manufacturing your line, photography, advertising, shipping, storage… it can cost a fortune.
If you've ever wondered how to start a clothing line for free–or if it's even possible!–then you're in the right place! Read to the end for all the insider tips, plus a quick checklist to get started!
---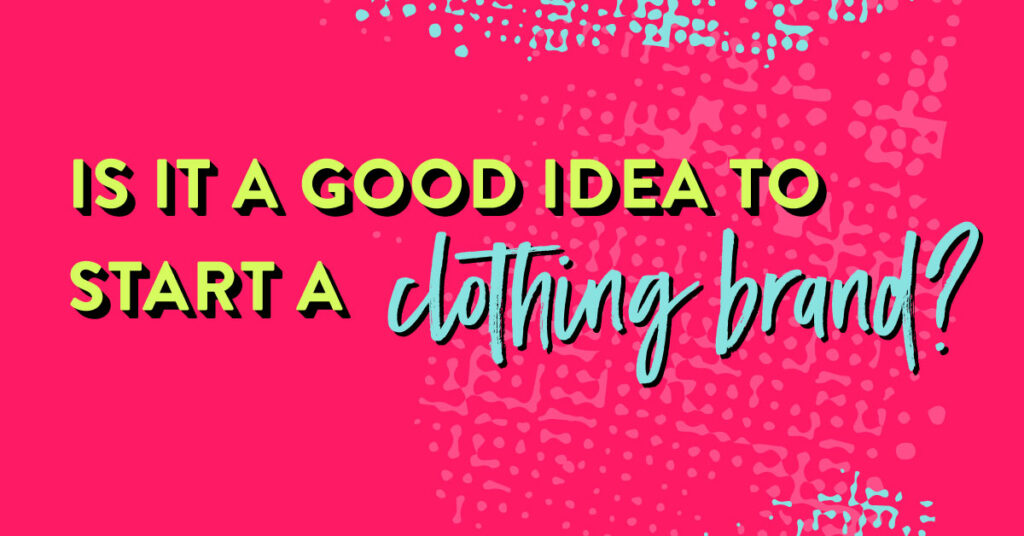 ---
A different way to start a clothing line: For free!
When super-talented Etsy success guru Jenni of Fuzzy and Birch told me how fashion designers are finding big success on Etsy, I couldn't wait to spread the word. So I interviewed her for the Successful Fashion Designer Podcast, and she dished out TONS of super useful info on how to get started selling clothing on Etsy–with almost ZERO investment.
The sellers she coaches make a profit with just a few hours a week, and hardly any money, selling print-on-demand clothing in their online shops.
Why start your clothing line in an online marketplace like Etsy?
The face of retail is changing, and most people buy clothes online. Jenni has seen a rise in Etsy clothing sales as a direct result of the pandemic, and she predicts that trend will continue.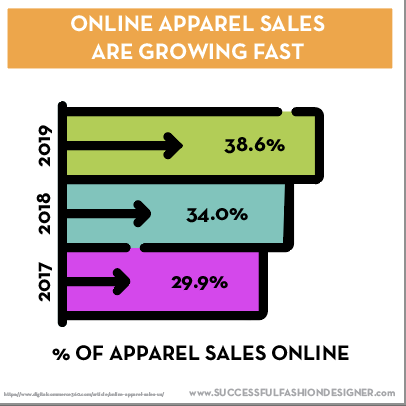 Now, if you're dreaming of having your own designs manufactured from scratch, you can. But you might want to give this option a chance first. It's a doable, realistic way to start, and what you'll learn is priceless!
Having your own website is incredibly time consuming and expensive, and no matter how amazing your designs are, it's nearly impossible to attract people to a standalone website. Using an online marketplace like Etsy to get started saves you the time and expense of having your own website, with the added bonus of getting tons of traffic through an established platform.
Selling your designs on Etsy is a (practically) FREE way to get your feet wet. You can learn how to run a business, start to build an audience, make a side income, and hone your style, all without draining your bank account (and your sanity)!
Why print on demand is an almost free way to start a clothing line
One of the easiest and cheapest ways to get clothes with your own design on the market is to use a print-on-demand supplier. Print on demand or POD is a service where manufacturers will print any design onto any item they produce and ship it directly to your customer.
This drastically reduces the work and money involved! Instead of doing the whole process from tech packs and sourcing to buying bulk production and packing and shipping every single order, you simply upload your designs to your POD supplier and they do the rest. You only pay when someone places an order, and you're never out money for items that don't sell!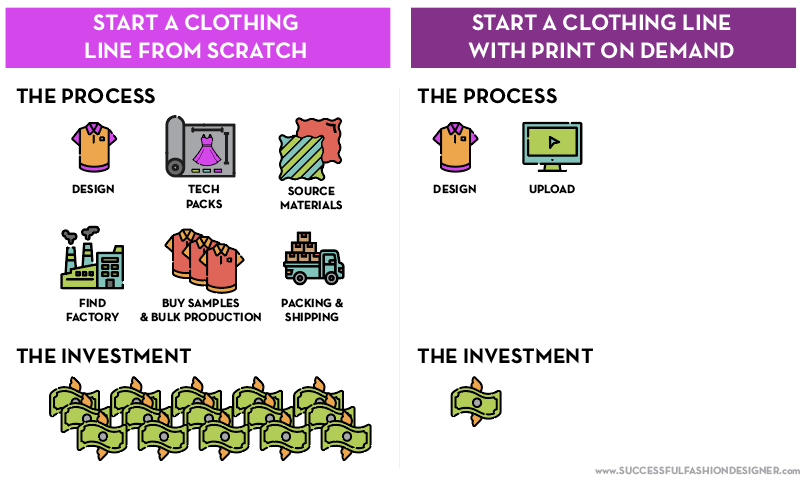 "[Print on demand] gives you the ability to behave like a big business really quickly with maybe $100-$150 dollars invested right out the gate and nothing else."
It's a fantastic way to get started instead of spinning your wheels for years because you don't have the time or money to launch a clothing brand in the traditional way. And once you get going, you can always transition to manufacturing your own clothing designs in the future!
So let's get to the steps for starting a clothing line for free on Etsy!
1. Make sure your clothing idea will sell
The first thing you have to do to start a clothing line for free is to make sure that there are customers for your product. Just because you want to make something, doesn't mean other people want to buy it. We've all designed something that was SUPER fun to make… but no one would want to actually wear. (Like A LOT of the pieces from my fashion brand Funklectic…)
Customer research for your clothing line on Etsy doesn't have to be as in-depth as customer research for a full-blown clothing line. But you need to know if there's a market for your product before you put your time and effort into setting up an online shop. While a well-stocked shop can be done in a few months (instead of the few YEARS it takes to get a traditional clothing line started), it's still time you don't want to waste on something that won't sell!
Here are Jenni's tips for figuring out if your clothing idea is likely to sell:
In the search bar on Etsy (or the marketplace of your choice), start typing keywords related to your idea. See how far down the suggestion list your keyword is (if it comes up at all). This will help you gauge how many people are searching for that keyword.

For example, if you want to start with streetwear sweatshirts, you could start by typing "street" and see if "streetwear" is suggested. If not, try a different keyword!

Look at the results for your keywords. How much competition is there? Of those, how many have a large number of reviews (indicating a large number of sales)? Don't waste your time with stuff no one's buying!
Look at the pictures for the first page of results. Can you compete?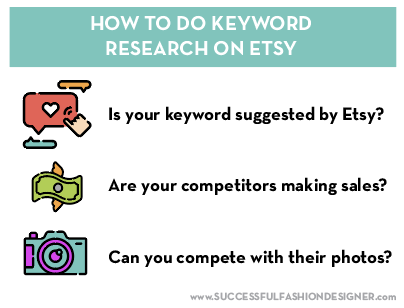 Clothing Line Tip: Photos are key! Your product photos have to be as good as, or better than, the best photos of your competitors in order for you to stand out.
Now you can do some trend research. What are people searching for right now? Just put your cursor in the Etsy search bar to see some of the most popular things people are searching for. Try this both logged in to Etsy and using an incognito or private browser window.
If you want to spend money on this step, you can even use a paid service like Merchant Words, which gives you Amazon search info (which Jenni says often trends ahead of Etsy's), or Marmalead, an Etsy keyword and SEO tool.
If you decide you want to check out those paid services, you can use Jenni's affiliate links to get 40% off Merchant Words with code FBIRCH, and a 14-day free trial of Marmalead.
Once you're confident that there's a market for what you want to offer, you can start setting up your side hustle!
2. Choose a print-on-demand supplier for your clothing line
There are tons of POD suppliers out there. You'll have to do some Google sleuthing to decide which one is right for you. Make sure you understand their policies and pricing–including printing, custom inside or outside labels, and shipping to your customer. You need a complete picture of how much each item will cost you, so you can price accordingly in your shop and still make a profit!
If you want somewhere to start, Fuzzy and Birch has a FREE list of print on demand suppliers. You can sign up to get that resource right here!
Clothing Line Tip: You should never have to pay a printer to sign up with them. You should ONLY be charged when you make a sale!
Check out what products you can have printed. Do you want to make hoodies? Sweatshirts? Accessories? Even if you just want to make tee shirts, make sure you like the brands and cuts they offer. And don't forget to think ahead–what options do they have for you to expand your line in the future?
3. Get great photos of your clothing designs
Once you've chosen a supplier and you know what styles you want to offer, it's time to do a little photo magic. Your photos are the MOST important part of your online store. But you don't have to shell out for a photo shoot!
Jenni's secret? Mockups! Use photos featuring the blank version of your garment, and Photoshop your designs on top.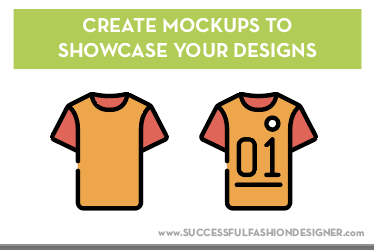 Some POD suppliers provide generic photos that you can use for mockups. But this is one place where a small investment can have a BIG return. Check out a digital marketplace like Creative Market, where you can find tons of options for quality photos of blank garments you can use to make beautiful mockups. More professional looking photos will make a huge difference in whether people click on your listing or keep on scrolling!
Clothing Line Tip! Don't have Photoshop? Get crafty and use a free app like Canva to create your clothing mockups!
4. Set up your online clothing store
It's finally time to see your digital storefront come to life.
Now, there are TONS of great guides out there on how to set up an Etsy shop. In fact, Jenni has tons of FREE tutorials to help you over at Fuzzy and Birch. But when it comes to setting up a successful clothing line on Etsy, there are some specific strategies to use!
To decide where to start, Jenni suggests using the trend and keyword research you did in the first step, and pick three trends you want to try this season. Start with just a few listings, and try to build your way up to around 40 over the next 2-3 months.
And don't worry about having too many listings. There are almost 70 million products on Etsy. What percentage of those are yours? The more you have, the more people will see your stuff.
But don't just list everything under the sun! While having a good number of listings is important, if your shop isn't cohesive, you're losing buyers.
Think of your shop like a retail store. What do customers see when they walk in? A bad garage sale, with random things thrown everywhere? Or a perfectly merchandised boutique, arranged with your ideal customer in mind?
If you really want to list things that are drastically different, and you know there's a market for both, the answer is to open a second shop. That's just more chances for your customers to find you!
Clothing Line Tip! A cohesive shop is KEY to converting browsers to buyers.
---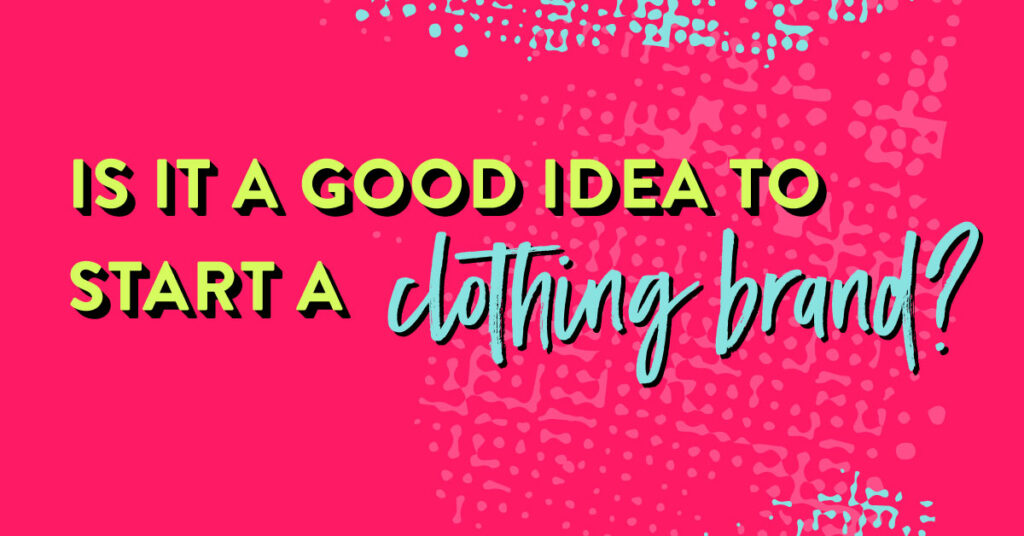 ---
5. Tips to list your clothing designs like a pro
Getting eyes on your shop takes more than pretty pictures and a great product. You also need the right SEO, or search engine optimization.
Don't be intimidated! You don't need to hire an expert. Keep it simple using the keyword research you've already done. Think about and research all the ways someone might search for your product. Then fill your title and tags with those words.
Jenni shared a really smart way to get more listings on your site, and to have more keywords you can rank for. Let's say you have a tee shirt that's available in five colors. You can make a separate listing for each color (while still making the other colors available on each one). Then on each listing you add different keywords to the title to give you greater search visibility.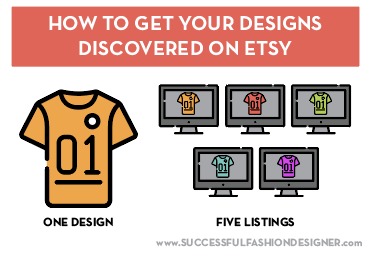 So your listings for a graphic tee with a sun design might look something like this:
"Graphic women's tee shirt gray"
"Unisex tee with sun design blue"
"Minimalist design tee men's black"
"Sunshine summer tee shirt pink"
"Beach graphic tee women's teal"
The point is to catch as many different keywords as you can, to get more eyes on the same item.
A word on offering customization:
It can be super tempting to give people every possible option. But when faced with too many options at checkout, people are way more likely to end up buying nothing! Don't make your customers work too hard.
To get a sense of what works, try going through the checkout process for several of your competitors (don't actually buy anything, just pretend!). How many customization options do they have, and how does the process feel to you? In your shop, try to strike a balance that gives your customers options without overwhelming them!
6. Assess your success and keep going!
Don't worry if your clothing sales don't explode immediately. According to Jenni, when they see shops getting at least one or two sales in the first two months, that means you're doing something right!
Clothing Line Tip! As long as you're getting a few sales, you can usually assume that more traffic to your online clothing store will mean more money in your pocket. Just make more of what's selling best!
Even if you just have a few sales trickling in, you can use that information to hone your offerings. Look at the things that have sold, and read your reviews, direct messages, and any other customer feedback you can get to look for commonalities.
Maybe your custom stuff is selling best, or maybe there's a particular theme that's resonating with people. For example, Jenni worked with a seller who realized her items with female leaders were all outselling everything else in her shop. So the seller focused on making more products with that theme, and she met her yearly sales goal in just a few months! Usually there's a thread connecting the things that people buy, and when you find it, you can make more of what people want.
You also need to keep on top of trend and keyword research, and pay attention to the seasonality of your clothing line, too. While starting up a shop takes a bit of work, it's these long-term efforts that will have the biggest effect on your clothing line's success!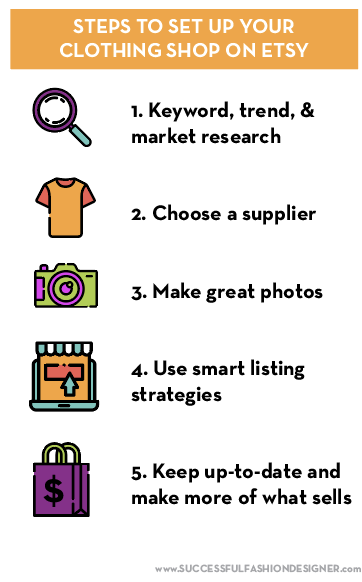 Why you should start a clothing line for free
Whether it satisfies your itch to have your own label, or it's just the first stepping stone to launching a cut and sew brand of your own, starting a clothing line for free online is a smart way to get started. You can test out new ideas, build an audience, and learn how to run a business, all while keeping your day job AND your savings! It's a win-win!
And if you want to listen to the full interview with Jenni, you can check it out right here!