This is Part 1 of a two-part interview (listen to Part 2 here) with startup fashion designer Rochelle Behrens. She started her clothing line, The Shirt, almost seven years ago after she saw a gap(e) in the market for properly fitting and fashionable button down shirts. The problem she wanted to solve? It's called "the gape", and some of us know it all too well: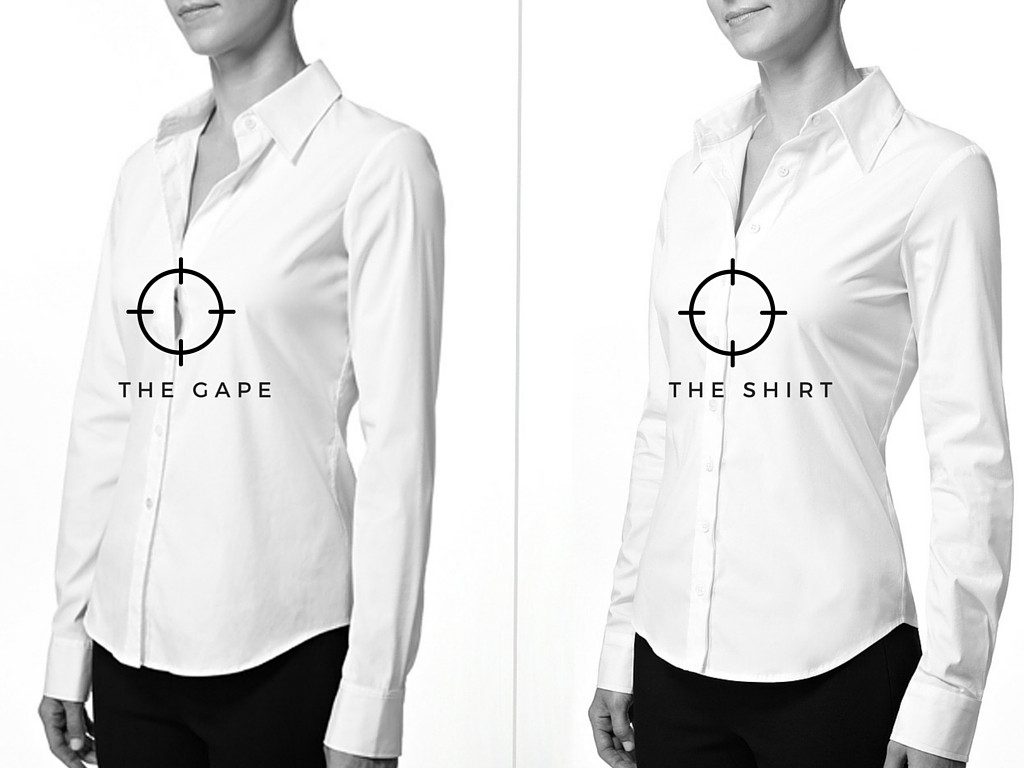 After years of working in politics in Washington, DC, Rochelle became frustrated and felt unprofessional in the ill-fitting shirts available in the retail market. So, she ditched her career in politics to pursue a more fashionable one of her own (even though she had no experience!).
---
---
Not only did she launch a successful label, she was able to patent the technology she used in her clothing line.
And if you know anything about patents and copyrighting fashion, you know this is no easy task.
I'm excited to introduce you to her. In part one of this two part interview, she generously shares her insights on breaking into this competitive industry, the challenges of selling online, and the keys to launching her successful clothing line.
In a competitive and brutal industry like fashion, you know that designers can be very tight lipped about their ways. In this candid interview, Rochelle tells all with specific tactics, strategies and actions she took (these are all things you can do too!) to get her clothing line off the ground and build it up to the successful brand that it is today, starting with no industry experience.
You will learn:
Steps you can take to transition from a career that has nothing to do with fashion to starting your brand (even if you no experience)
How one introduction can be all you need to get started
Why being inquisitive is the best way to learn
Strategies to sell bigger and what you can do to take your sales to the next level
Why differentiating yourself in the market is the key to success
How getting out of your comfort zone can be best way to make connections
Why defining a super specific niche for your clothing line makes it easier to succeed
How to strategically navigate the "secretive" fashion industry and actually get answers to all your questions
Music by buukwerm (Creative Commons) / Don't Stop