5 Deadly Fashion Portfolio Mistakes that Will Cost You the Job (and what to do instead)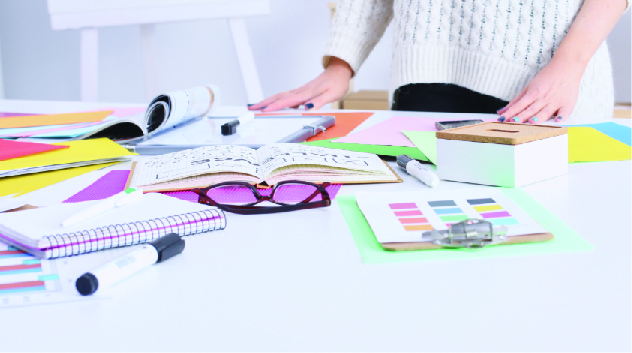 I know we've spent a lot of time talking about building relationships, having conversations, and creating a "network" in the previous chapter.
And A LOT of the success in your fashion design career will depend on that. But beyond that, you do need a solid portfolio.
Because before you have those relationships (and even after), people who consider hiring you WILL judge you based on what they see in your portfolio.
Which is why your portfolio can make or break your chances of getting a job.
But the truth is that most designers do a ton of things wrong in their books! Chances are, you're doing the same…
Whether you have 10+ years experience or are looking for your first job, I guarantee you're making some super deadly fashion portfolio mistakes.
I know not only because I've seen 100s of designers make them, but because I've been guilty myself.
You see, recently, I discovered my old portfolio buried in a dusty box in our garage,
And I had one of those "OMG I SHOWED THIS TO PEOPLE?!" moments.
My book was full of fashion, graphic and web design. It was a kajillion pages long and super scattered. It also had ALL my handmade designs.
Back then? I felt super proud of my work.
But today? I realize how terrible it actually was.
Here's a quick peak of what I shared on my Insta stories…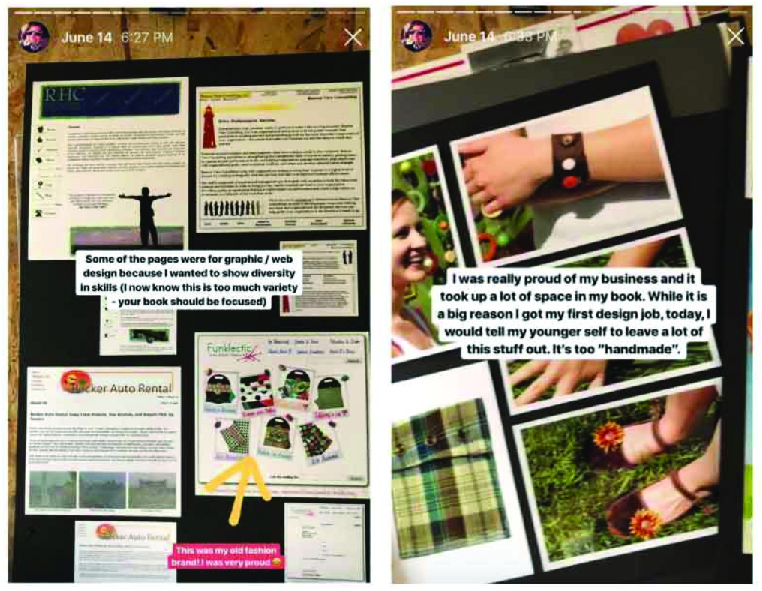 Anyway, the point of this chapter isn't to show you my old (embarrassing) portfolio.
It's to help you AVOID the same deadly mistakes I made.
But first, I want to remind you of the ONE portfolio rule I have to share with you. Any question you have about your portfolio? This rule will give you the answer. It's so powerful and it works so well, I call it the Portfolio Golden Rule.
So, if there's just one thing you learn and remember when working on your portfolio, make it be this:
The Portfolio Golden Rule:
"This [project / collection / design] speaks to the brand, tells them that I understand their market, customer and aesthetic, and visually shows them that I am the right designer for the job."
Think of it like a litmus test. If the answer is yes? Include it. If it's no? Leave it out. And if you're not sure? You'll need to figure it out.
Afterall, you're a fashion designer. It is your job to figure out what designs and trends are right for a brand. And it is also your job to figure out what styles and projects are right for your fashion portfolio.
So, how exactly do you do that? Let's dig into the 5 deadly (and most common) mistakes AND go through what you can do instead.
Fashion Portfolio Mistake #1: Including Designs from Multiple Categories

Whatever you do, please, PLEASE, PLEASE DO NOT poop out all your ideas and wide breadth of experience in your portfolio. People are busy and don't have time to look at stuff that isn't relevant to them.
Footwear! Handbags! Womenswear! Kids! Etc! It will overwhelm hiring managers.
But, what if you CAN do all of that? Great! I am proud of you, and you should be too. But the bottom line is that a womenswear brand doesn't want to see kidswear and vice versa.
Instead, choose 3-5 projects that speak to the brand and follow the Portfolio Golden Rule:
"This [project / collection / design] speaks to the brand, tells them that I understand their market, customer and aesthetic, and visually shows them that I am the right designer for the job."
Remember, hiring managers only look at a resume for 6 seconds, so they'll probably spend just 10, 20 or MAYBE 30 seconds looking at your portfolio to decide if you're a consideration. So, grab their attention fast by showing them JUST the stuff that speaks to their brand aesthetic!
And if you're willing to take a job in footwear or kids or mens? Create a different portfolio for each category. This is exactly why I suggest creating multiple PDFs (instead of a website) in my Ultimate Guide to Creating Your Fashion Portfolio. It's also the same advice Shellie (a fashion recruiter from episode 53 of the SFD podcast), and Sheena (a senior fashion designer), who I interviewed in episode 11, suggest.
Fashion Portfolio Mistake #2: Including Fashion Illustrations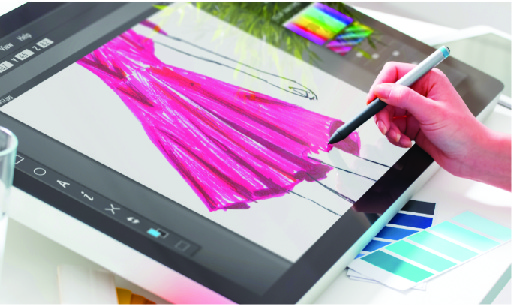 Most designers can't draw beautiful fashion illustrations like these, and my bet is that you can't either.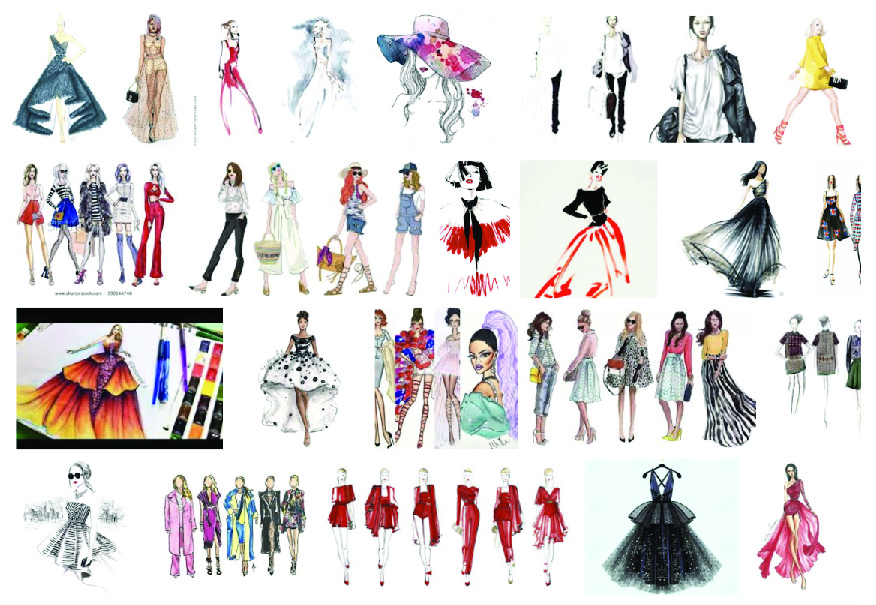 Don't feel bad, neither can I. See?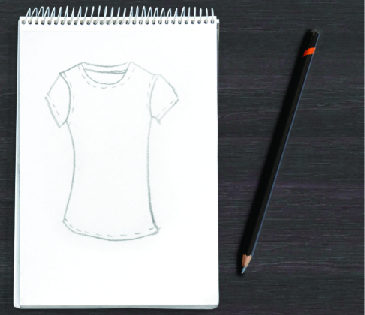 Which is why – most of the time – including your fashion "illustrations" is a mistake. They're just not that good!
And no offense – most designers can't draw that well. It's even something I discussed with Bjorn Bengtson in episode 1 on the SFD podcast. Bjorn is a design director with 20+ years of experience at brands like Theory and Greg Norman. He too says that most of the time, it's best to leave your fashion illustrations out of your portfolio.
Why? It doesn't matter if you can draw or not, because in in 99% of fashion jobs, you don't have time for Illustrations like these.
These "fashionable" sketches are sometimes used for promotional reasons or in catalogs (and they're often drawn by a professional "fashion illustrator"). But a lot of brands have no use for sketches like this. They're just not practical and have no purpose.
When you're on the job? You will be sketching fashion FLATS. In Adobe Illustrator. ALL DAY LONG.
They need to be drawn with accurate construction details and proportion, like this: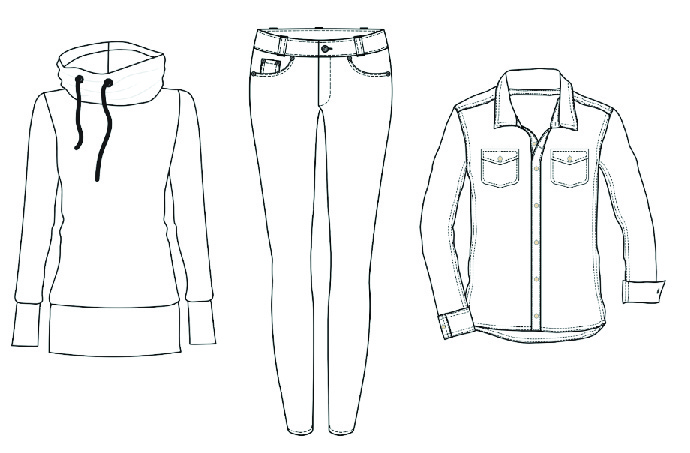 This is how you'll be expected to sketch and design at work, and proficiency in Illustrator is required for 99% of fashion jobs, so make sure to include digital fashion flats in your portfolio.
Now, there is one exception. If you do hand sketches as part of your design process, these can be great to include. They can even be rough doodles you have in your sketchbook like this: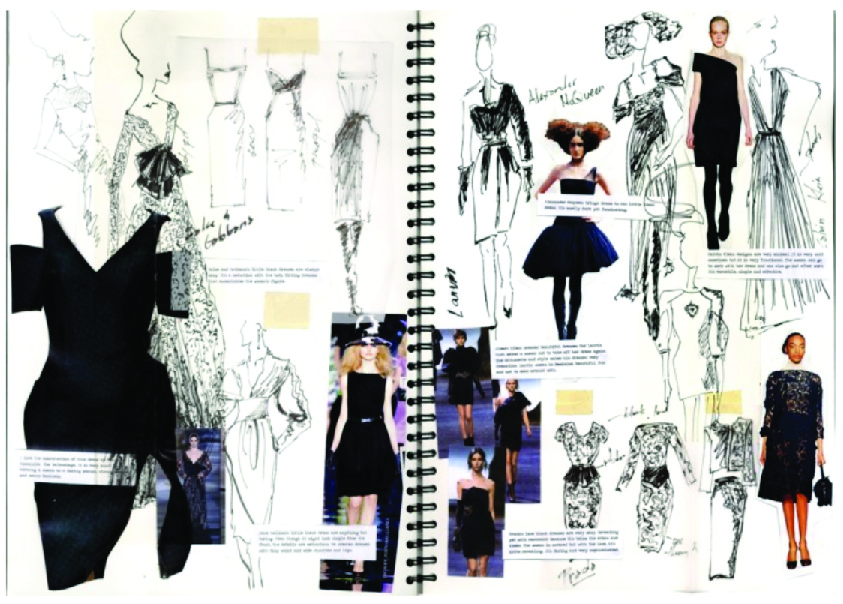 If they show your process, then include them. If you don't do these hand renders? Then don't worry about it. As I told you, I'm not a hand sketcher and many designers I know aren't either. Instead, focus your efforts on sketching fashion flats in Adobe Illustrator.
It will make your portfolio stand out and will make brands want to hire YOU over the competition.
---
---
Fashion Portfolio Mistake #3: Showing "Conceptual" Collections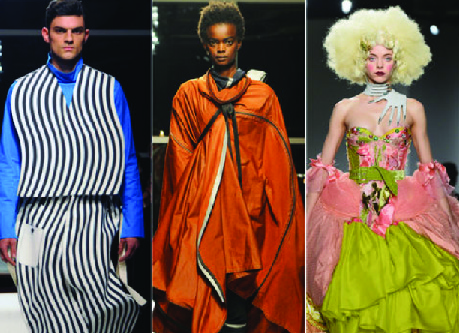 When I interviewed Shellie Simpson on episode 53 of the SFD podcast, she shared a boatload of amazing advice on fashion job search success. We've already referenced her interview a few times in this book, but we're going to share this one again.
Why? Because 1) I know you may have skipped around the book (like I told you) and missed her advice earlier and 2) because as a recruiter, Shellie is in the strategic position of knowing what brands want and what designers actually get the jobs. She gets to see why certain applicants are successful over others, which means she has a VERY powerful point of view.
And when I asked her what was the biggest mistake that fashion school graduates make? She said it was putting too much emphasis on their senior collection.
Because here's the thing. Senior collections are VERY "conceptual". They're very artsy because that's what fashion school teaches you.
Senior collections tend to mimic what you see on the runway. You may love this kind of fashion and it may be the reason you fell in love with the industry in the first place.
But the truth? Conceptual designs do not get produced and do not go to market. They are created for runway flair and PR and marketing.
I mean think about it – when was the last time you saw someone, in real life, wearing something that you'd see on the runway. Maybe once in a blue moon?! Maybe never?!
MOST fashion that is designed and produced is commercial. We're talking everyday clothes for everyday people. And this is what brands want to see in your fashion portfolio.
So, if your book is full of conceptual designs like these, then you my friend have some work to do.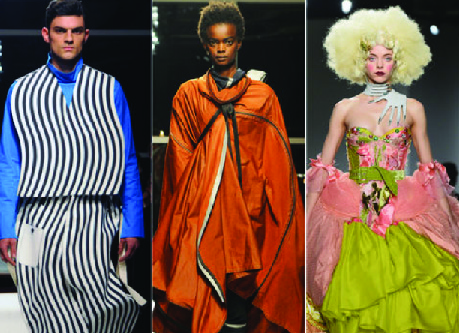 If you have any internship experience, that is amazing to include (I outline exactly how to do this in my Ultimate Guide to Creating Your Fashion Portfolio). And if you don't? That's ok. You can do a couple self-directed projects.
Spend some time really looking at the brands you want to work for and what they're actually selling online or in stores. Then, put together some ideas that are genuinely commercially driven based on what your research show. It's exactly how my guest from episode 60 of the SFD podcast, Carla, landed her first fashion design job, and it's how you can too.
Sketch your ideas up as fashion flats in Adobe Illustrator to show brands that you understand their aesthetic AND you know how to sketch detailed flats. (Because as we've already discussed, this is what you'll spend most of your time doing.)
Fashion Portfolio Mistake #4: Showing Hand Sewn Designs
I sure you are very proud of the senior collection and all the designs you created yourself. I am proud of you too.
Which is why this next part is so hard to say, but it's the truth. It's a mistake I personally made when I was first getting started, and it's advice many SFD podcast guests have shared.
Do not include photos of your handmade garments in your portfolio. Chances are, your photography is not amazing, and your friend modeling in your apartment or backyard isn't doing that great of a job.
No offense to you (or your modeling friend), but this kind of work does not belong in your portfolio.
This works on Etsy (where I found these examples), but this is not what you should be showcasing to brands for a fashion design job.

These photos will do more harm than good.
If you have photos that look "good enough", include them. What does "good enough" mean? Well, you're a fashion designer, so I'll leave that up to your judgment.
But chances are, for most of you, the rule of thumb is to leave the handmade stuff out.
Instead? Show a few tech sketches and tech packs to demonstrate that you understand how to spec a garment for a factory.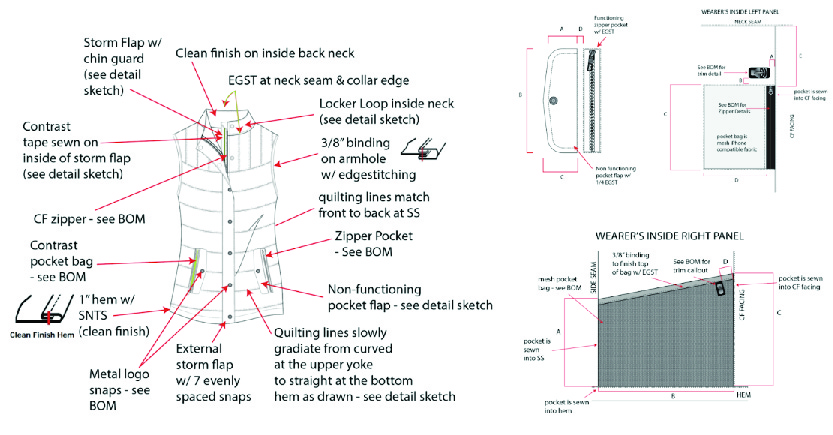 Afterall, once you're on the job, you're not going to be creating garments by hand. Which is why brands don't care how great your sewing machine skills are!
You'll be putting together tech packs to communicate designs to a factory for production. Show them you know how to do this, and you'll be light years ahead of the competition.
Fashion Portfolio Mistake #5: Showing Way Too Much – or Not Enough – Inspiration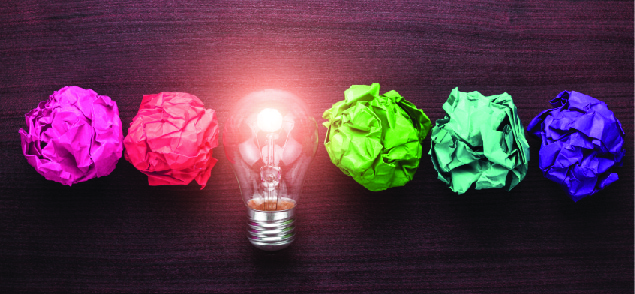 Too many designers either show nothing for inspiration and just show a finished collection…or they totally over do it.
Brands want to understand your process, and they want to see where your ideas come from. So you do need to show some inspiration…but you don't need a giant cork board collage that encompasses every idea and color palette.
I see this mistake a lot from fashion school grads. They create giant mood boards that look like this: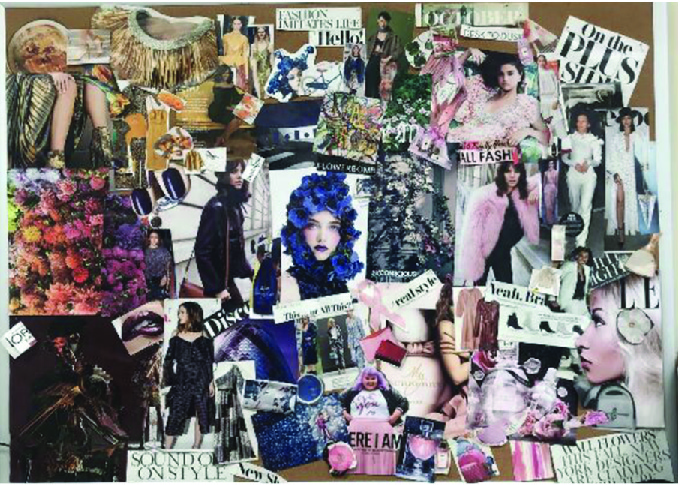 To be honest, I'm not even sure what's going on here. There are a lot of color palettes and a million ideas and inspiration happening. It's not clear what the actual collection would be about or who the customer really is.
Instead, include a small collage of inspo that is cohesive and makes sense when you look at the final collection.
Here are a few examples:

I know a fashion portfolio can be a daunting and overwhelming task. So, if you're ever unsure about what to include and what to leave out, I have TWO fashion portfolio rules you can follow.
If you ever get stuck and wonder "should I include this?", follow these rules to make sure your portfolio is exactly what brands want to see. I promise it will help you land your dream fashion job.
RULE 1. The Process Portfolio
Simply put, it means that your portfolio should show the process you go through as a fashion designer. Brands not only want to see the finished designs you come up with, they want to see where your ideas come from.
Where do you get inspiration? What makes you tick? Where does your POV (point of view) come from?
RULE 2. The Portfolio Golden Rule
"This [project / collection / design] speaks to the brand, tells them that I understand their market, customer and aesthetic, and visually shows them that I am the right designer for the job."
What you've read here is a great starting point. But if you're looking for ALL the step by step advice on how to create your fashion design portfolio you could ever wish for, you can find it in my free book on portfolios. You're welcome ;).
Go to Chapter 8: The End!