It all started about 15 years ago – back in 2000. And surprisingly, I do remember quite a bit about learning Illustrator 9 (way back then).
I remember fighting with the Pen Tool.
And I remember finally having my "aha!" moment.
I gave myself a project that forced me to learn this fussy tool, and in hindsight it was probably one of the best decisions I ever made.
I was in my first Illustrator class for my major in graphic design. The assignment was to do a self portrait – so I chose shoes. I always thought that shoes said a lot about a person, and mine had a lot of character. So I took my favorite shoes and drew them (I would much later learn that sketches like these are called fashion flats!).
Now, bear with me here – I do still have the physical printed version of my self portrait shoe project – it's just that it's sitting in my dusty garage in storage back in Denver while I sit here half way across the country typing this in NYC (and one day when my husband and I finally deal with all that stuff and I rediscover the shoes, I promise I'll update this post with an actual photo).

I do remember what shoes I drew however (I mean really, how could I have forgotten!), so I can share that with you. They were the ones that filled my closet back then at the young age of 18 (and don't judge – some of these are a bit cray cray but I loved them anyway!):
Side note: I'll have you know that the black and white flame ones are an actual photo of my pair that I pulled from my Instagram account – the rest of the pics I just found online.
Anyway, those were all the shoes for my self portrait project, and I drew all of them with the Pen Tool as fashion flats in Illustrator – so in the end they looked something like this: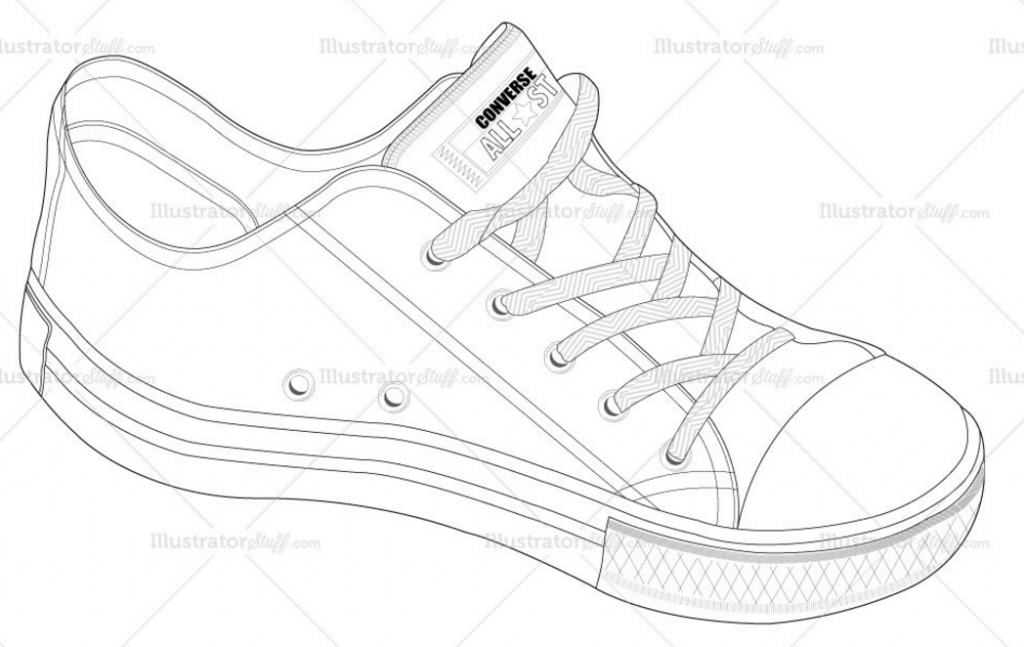 After drawing all of those shoe fashion flats, wouldn't you know that I totally dominated the Pen Tool.
And you know what else happened? I loved every minute of fighting with that Pen Tool. Why? Because I was working on a project that I was really excited about – I loved shoes so much which made me love the project that much – and in the end, it made me love the Pen Tool too.
All this work and finally killing it with the Pen Tool got me thinking – and I realized that you'll be best equipped to successfully tackle something if you can work with something that makes you really happy. Like shoes, duh!
So the next time you're trying to learn something in Illustrator, maybe it's the Pen Tool like I was, or repeating patterns, or whatever it is, practice with something that makes you really excited, and you'll not only enjoy the process a lot more, you'll find success much more quickly.
Here's the link again to my free mini fashion flat sketching course that I created just for you.