There's a reason I'm writing this post a few days after New Year's. I bet you've been overwhelmed with emails and articles about resolutions, goals, and all the other things you "should" be doing at the beginning of 2017…and you've barely had a chance to pay attention any of them.
If you're anything like me, you were busy with family, too many bottles of wine, loads of laughs (plus some drama?!), and you neglected your inbox for a week. #AMIRIGHT?
So I figured…what's the point in reaching out when you're already bombarded? Instead, I wanted to give you (and me!) a few days to catch up.
But now that we're halfway through week one of 2017, I finally found time to write down my thoughts on starting the year right…and I hope you can find a few minutes to read them.
Here's how I've started my new year…
One of my yoga teachers believes in keeping resolutions by choosing just one word to define your year.
As soon as she said this, I knew what my word would be:
CAN…as opposed to can't.
I chose this word about a week ago, and so far it's been perfectly fitting.

A few days ago (while nursing a 5 day hangover after an awesome New Year's weekend with my sister, nephew and husband) I watched the movie Joy.
And if there's one word to describe Joy, it's CAN.
Joy teaches you to fight hard for what you want and no matter how many times you fail, you CAN do it. And in the end, the wins will be worth it.
So my friends, keep going and be strong. You CAN do this.
(And if you need a little pick me up + inspiration, just watch the movie.)
Now, to be totally honest with you, (because I don't believe in putting up some facade that I'm perfect and everything comes easily) sometimes I feel like I CAN'T do it.
Like I have no idea what I'm doing, that no one cares, that none of this matters. I have days where I want to give up. Quit. Say I'm done.
But then emails like this hit my inbox, and tears of joy fill my eyes (no pun intended!):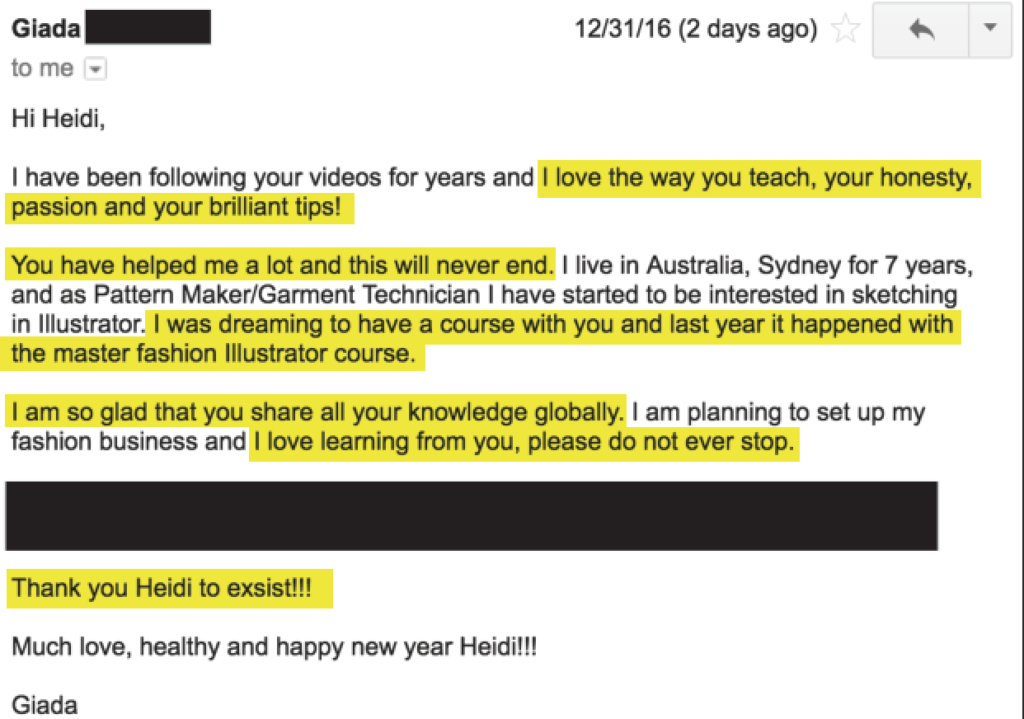 And I know that on those days when I want to give up, I shouldn't.
I decided (inspired by my sister) to start printing out these notes and hanging them up. I already have 3 up from just the past few days, and even the act of putting them on the wall made me feel better.
So whenever I feel like I don't want to keep going or can't do it any more, I will read them. And I will keep going. Because I CAN.
Now your turn. Do two things right now:
Decide your one word
Figure out what you will do to help keep you on track with it
Just like I started printing out nice notes from you, what can you do to remind yourself how awesome you are on days when you feel like shit? (Because honestly, we all have those days and anyone who says they don't is just lying.)
Xx Heidi
P.S. Whoops! I forgot to officially say it, so Happy New Year 🙂