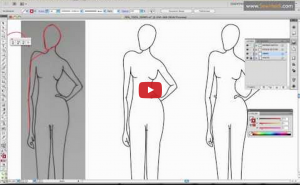 I was doing some updating on my YouTube channel recently, and I hit play on one of the first videos I ever published. (If you care to watch, it's this one: Drawing Fashion Illustrations with Illustrator's Pen Tool) – even the thumbnail hurts my eyes a little:

The embarrassment I felt in watching just the first 20 seconds was palpable and visible – my face got red, my gut started churning and the first thing I thought was:
"I should delete this video."
This specific tutorial is my most viewed video to date with 216,467 hits (at time of writing). And I know why. It's one of the most searched for topics regarding Illustrator for fashion. But OMG it's terrible.
---
---
I left it up and just buried my feelings about it for a few days.
Later that week I was listening to a podcast, and the interviewee said something that resonated with me:
"If you're not embarrassed by the first version of your product, you've launched too late." – Nathan Chan, @foundrmag
Which was clearly exactly how I felt about the first version of my product. EMBARRASSED. And then I got over it and felt totally ok about the quality of the first version of my product. And it's staying up there – for good (I still get tons of views and people still comment that it's helping them). If I don't have it there as a constant reminder of where I started, I wouldn't have a reference for how far I've come. And if I waited until it was perfect to share it with you – well, I probably would have never released it at all.
So where does that leave us? With a new tutorial and a little bit of inspiration for all of us.
A New Tutorial
I've done a major overhaul on this video tutorial and turned it into a mini course: Fashion Flat Sketching with Illustrator. It's shot in HD with high quality audio – no ums or likes – my teaching "voice" has matured quite a bit, and if you're curious how much – watch both videos and please do let me know what you think about the difference.
A Bit of Inspiration (for all of us)
My take away from this is that we're all really good at making excuses (myself included):
I'm not ready yet / I'm not good enough / I'll get to it when I have more time
And it's time we stop thinking this way. We have to start now. Go out there and do it. There's no better time to get started than right this instant.
Let's Make a Pact

This week – as in right now as you read this – take something that you've always wanted to do for yourself – a project you want to create, a new skill you want to learn, a community you want to be part of, and whether you feel like you're ready or not – get it done or at least get it started. Choose something small that's manageable to start with – don't overwhelm yourself and don't over commit – the last thing you want to do is set yourself up for failure. So be realistic, but get it done.
Need some inspiration? Here are 3 easy places to start:
Create a blog on a topic you're passionate about or knowledgeable on (you can set one up for free in 5 minutes with WordPress no matter how tech savvy you may or may not be)
Find a meetup group that interests you and go alone. It's scary – I know – but I promise, the people there are nice and I guarantee you'll meet some cool folks. Not sure what to do when you show up alone? Find someone else who looks like they may be there alone too and ask them, "what brings you here?" (I stole this line from one of my favorite people in the industry – Gretchen with Pattern to Plan – check out the amazing stuff she's doing). It's an instant conversation starter (I speak from first hand experience), and I bet you'll make a new friend.
Last but not least: Learn the Pen Tool (or another Illustrator skill that scares you) and draw your first fashion flat sketch (it doesn't matter if it looks as bad as my first video does – just do it – I promise that each one you do after that one will get better and better).
And what do I promise to do?
I'm going to start talking to you more and letting you inside my head. I'm very good at giving you technical information, but I've never really shared too much about myself or my life. I've never felt like I've been able to find "my voice" – but if I don't start now and give it a shot, I'll surely never find it. I've been talking to and have been inspired by various family members (Marc & mom – that's you!), friends, and colleagues (Gretchen – I'm looking at you!) lately about this – and it's about time I make a change on that level. You can consider this post as my first small step towards that goal. And as I get ready to hit the publish button on this post, you bet I'm a little nervous, but there's no time like the now to get started, or else we'll probably never do it…so here we go.