As fashion designers, we become really protective of our work. And we often wonder, how do we protect designs we do for test projects, or things we share in our online fashion portfolio? In this chapter, we'll go through what your options are and the best way to do this.
Unfortunately, you may not like all my answers, but I'll do my best to give you solid advice.
How do you protect the fashion designs you create for test projects?
This is a tough one. A really tough one. Test projects are the evil beast that reside in our industry.
On one hand, I completely understand their importance.
On the other hand, it's an unfortunate truth that some brands will not hire you but instead take your ideas and use them as their own.
So, how can you protect yourself? Well, it's a fine line, and one you may not be able to control crossing.
You may be able to avoid sending work in email and say you'd rather present it in person. If you get kickback from the brand and they want you to send it digitally, that's a call you have to make.
Your choices:
If they won't agree to seeing the designs in person, this could be your first red flag. You could end the conversation here knowing that if this is a brand that's going to steal your ideas, it may not be a brand you want to work for. They could also just be really busy and want to review your work before wasting anyone's time. You have to use your gut and make the best judgment call.
If you do send it digitally, there is always a risk, and there's not much you can do about it. Watermarks won't do anything, and you can't copyright designs. So even if you put your logo on the corner and note that it was designed for a test project, as far as I know, you don't have any recourse (again, I am not a lawyer).
As much as I'd like to help change the way our industry works in regards to test projects, I'm just not sure it will happen.
When I wrote the Ultimate Guide to Being a Freelance Fashion Designer, I talked a lot about putting our foot down to "freelance" gigs that are really "temp jobs" without benefits.
(And I'm proud to say many of you have emailed to let me know you've been calling brands and recruiters out on this! I'm hopeful that one day, this abusive employment pattern will no longer exist.)
But test projects…man, test projects are another beast.
First, they happen in other industries, like programming. My husband is a developer and always has to do test projects for new opportunities.
Second, like I said earlier, I do understand the point. If I were a brand, I'd want to see a small capsule collection to make sure you were the right candidate.
Here's why:
It's a big time and cost investment to hire a new person (employee or freelance), and it's fair to do some due diligence before committing.
That said, I have hired fashion designers before. And I have required them to do test projects to make sure their skills were a good match.
BUT, I have always paid them for the test work. I've told them to spend no more than 1-2 hours putting something together, and have compensated them for that time.
But this is not the norm, nor do I expect it ever to be.
As much as I wish you could all put your foot down to this, I think it has potential to do more harm than good.
Because asking to be paid for a test project to land a new opportunity in any industry is just not going to come off well, and to be honest, I can see why.
Listen, the industry is competitive, and at some point, you do have to put in the effort and time to prove you are the right candidate. This is just the way it is, and I don't think it will ever change.
Now, there is a fine line between a test project and making a candidate jump through hoops.
Again, this is an art, not a science, but depending on how badly you want an opportunity vs how ridiculous you think the request is, you're going to have to make a judgment call.
Is asking you to design a 3-4 piece capsule collection and a color palette reasonable? Probably.
Is asking you to design a 12-14 piece assortment with 3 prints and multiple colorways reasonable? Probably not.
Use your gut and make the call as to what you think is fair vs what seems abusive or like they're taking advantage of you.

How do you avoid plagiarism / protect your fashion design work online?
There's not much you can do.
You have to show your work, and unfortunately, anyone can rip it off. There's nothing watermarks or self imposed copyrights will do to protect you.
So instead of worrying about how you can protect old work, invest your energy in creating new work.
Now, I know for textile designers who often sell prints they've already created, this is a whole different scenario. If that is you, take the advice Michelle Fifis shared in episode 8 of the Successful Fashion Designer podcast and instead of showing finished work, share more of your behind the scenes process.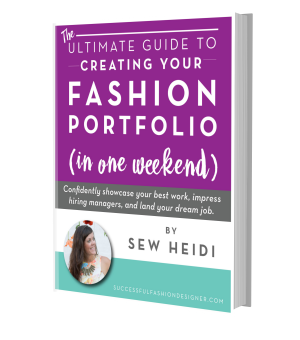 CREATING A FASHION PORTFOLIO IS OVERWHELMING AF
You can go it alone, OR get step by step guidance with examples, checklists, and best practices (for free)!
Drop your info below for a free copy of my book to help create a professional portfolio!
By signing up, you'll get access to weekly emails with free tutorials, templates and occasional offers.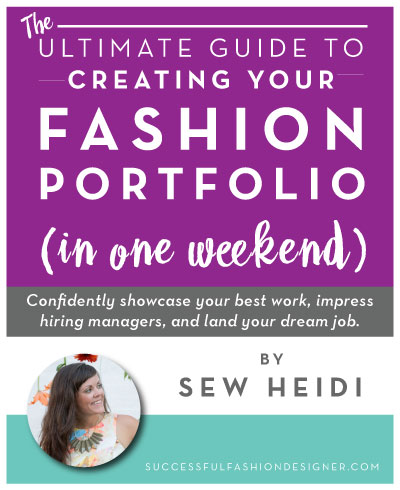 Table of Contents

Chapter 1: Fashion Design Portfolio Layouts: Online and Physical Books


Chapter 2: Fashion Design Portfolio PDFs: Digital Tech Tips


Chapter 3: Fashion Portfolio Overload: How to Stay Organized


Chapter 4: What to Do When You're Stuck on Your Fashion Portfolio


Chapter 5: What (and How Much) to Include in Your Fashion Design Portfolio


Chapter 6: Can You Include Client / Company Work in Your Fashion Portfolio?


Chapter 7: Portfolios for Fashion Design Students and Entry Level Jobs


Chapter 8: Fashion Portfolios for a New Category or Job


Chapter 9: Fashion Portfolios for Technical Design or Merchandising Jobs


Chapter 10: Job Interviews and Your Fashion Portfolio: Meeting Brand Expectations


Chapter 11: Finding Fashion Portfolio Inspiration


Chapter 12: Fashion Portfolio Checklist and Layout Examples


Chapter 13: Getting Fashion Portfolio Feedback


Chapter 14: Updating Your Fashion Portfolio and Being Prepared for Opportunities


Chapter 15: Protect Your Fashion Design Portfolio


Chapter 16: Fashion Portfolio Motivation: Competition and Staying Relevant


BONUS! 73 Free (and Cheap) Fashion Trend Forecasting Websites + Resources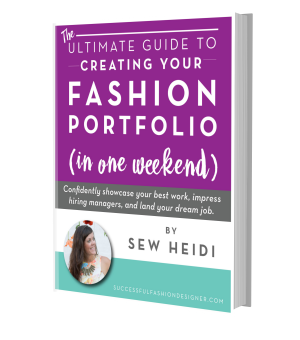 GET THE GUIDE DELIVERED TO YOUR INBOX
Download a PDF and get the BONUS fashion portfolio checklist!
Just tell me where to send it!
By signing up, you'll get access to weekly emails with free tutorials, templates and occasional offers.