Fashion media coverage is a challenging area for any fashion business, but Lorraine Sanders has perfected the process after years of working as a journalist. On this episode of The Successful Fashion Designer, she discusses how to tackle fashion media and press on your own, without the use of a PR firm.
Lorraine explains 4 key areas that are essential for effective media coverage that positively impacts your bottom line. It's an episode that will surely get you thinking, and it's one not to be missed!
Outline of This Episode
[0:45] Lorraine Sanders is my guest for this episode of The Successful Fashion Designer
[4:45] Lorraine shares the stories behind Spirit of 608, FEST brands, and PressDope
[10:09] The importance of creating opportunities for yourself in your career
[24:13] Build your network of connections before asking for fashion media coverage
[31:35] Answer THIS question for more successful fashion media coverage
[42:04] Set your media coverage goals and maintain your connections
[55:00] This is what it looks like to work with Lorraine's company, PressDope
---
---
#1 – Build a solid list of potential publications and writers
One drawback to not utilizing a PR firm in fashion media is not having the credibility of the agency to back up your "ask." Before you can ask a journalist to cover your product or brand, you first need to identify prospective publications that fit into your niche market.
Start by building a solid list of those highly targeted people. Building a relationship with potential writers should be your priority long before asking them for coverage. Then, determine what content you're going to pitch to which writers. Keep in mind that you should always be asking yourself, "What do I want to get out of this press coverage?" If you're not clear with your fashion media publication goals, you'll waste time and money without seeing any positive impacts on your bottom line.
#2 – Help writers answer this question, "Will my readers think more highly of my publication after publishing this content?"
Every writer wants to feel like they've "discovered" you. Publications are always looking for the "next best thing" and they want to ensure that the stories they publish are adding value to their publication. When you're going after highly-targeted writers, if you're a good fit for the publication, the appropriate fashion media coverage will follow.
If the content you're pitching helps a writer answer the main question of "Will my readers think more highly of my publication after publishing this content?" they're more likely to focus on your product or brand. To hear more insights on why focusing on the right content is critical to fashion media success, don't miss this episode of The Successful Fashion Designer.
#3 – Create credibility for your brand, even if you're not working with a PR agency
Even if you choose to pursue media coverage on your own, without the use of a PR agency, you CAN create credibility for your small brand! This is achieved by focusing on a number of key areas:
Professional, on-brand social media accounts
Publishing on third-party platforms such as Medium
Having engaged digital followers
Publishing your founder's story, creating quality original content, and demonstrating that you're active in the industry can also show potential writers and publications that your brand is a force to be reckoned with and deserves media coverage. Don't miss even more tips, listen now!
#4 – Follow up and maintain your fashion media coverage connections
It's simply not enough to have a few great press coverage events or product launches. It's essential to maintain your relationships with fashion media contacts in between major quarterly events or product unveilings. Continue the conversation with your hard-earned connections! Consider smaller events such as minor product launches once per month, and don't forget to send out thank-you notes for previous media pieces!
If you plan your entire fashion media coverage process months in advance, you'll keep your schedule and your sanity in order. Don't miss the rest of this educational conversation with Lorraine Sanders on this episode of The Successful Fashion Designer.
Resources & People Mentioned
Connect with Lorraine
Save this "Follow These 4 Tips for Enhanced Fashion Media Coverage" episode to Pinterest so you can find it later!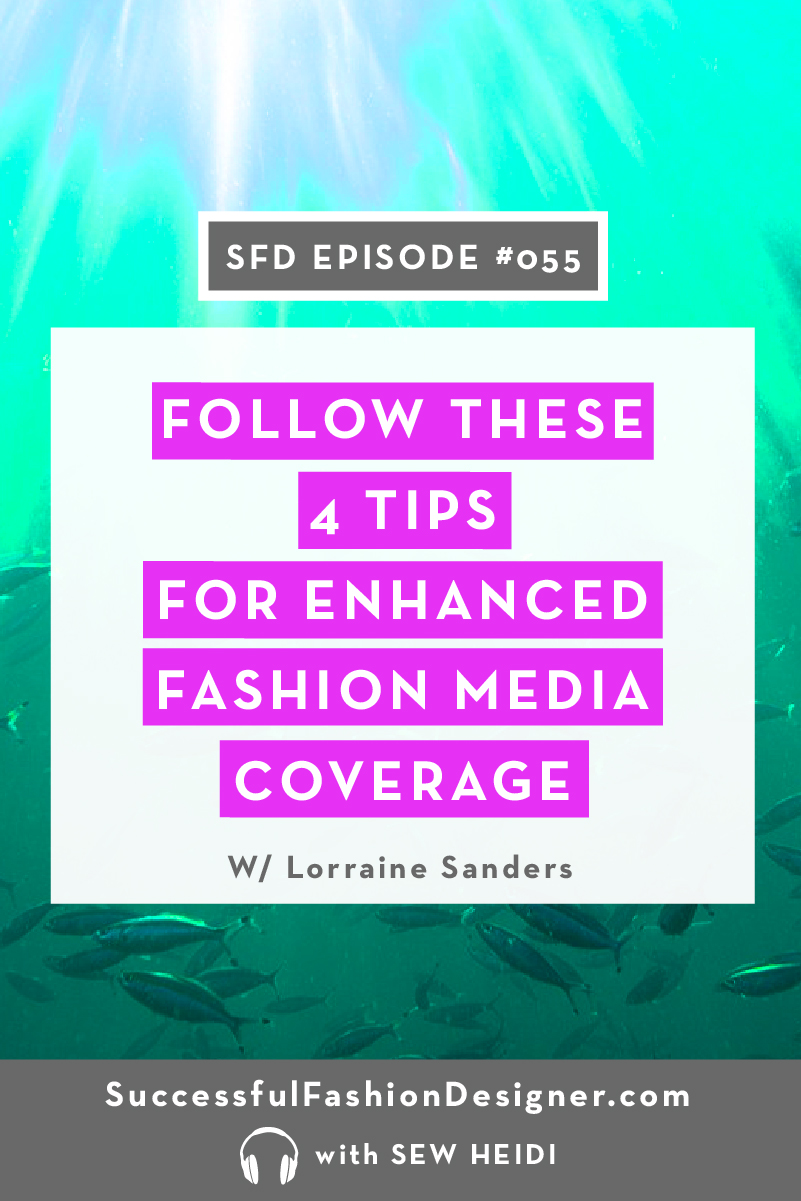 Subscribe to Successful Fashion Designer on
iTunes, Stitcher, Google Play, YouTube or Spotify