One area of the fashion industry that unites us all together is marketing – getting the right message about our products to the right people. On this episode of The Successful Fashion Designer podcast, I interview Robyn Spady, a lifelong handweaver and fashion industry professional with over 17 years of experience.
Throughout our engaging conversation, we discuss the 4 main pillars of fashion marketing: product, price, position, and promotion. Robyn shares her secrets to successfully networking with industry pros and how to handle hearing "no" in challenging conversations.
Her advice will surely help you approach fashion marketing the right way. It's always easier to grow from small success than recover from large mistakes. Start your business off on the right foot by giving this podcast episode your full attention!
Outline of This Episode
[3:45] Robyn Spady, textile expert and fashion professional, is my guest for this episode
[5:50] Robyn shares how she got started in handweaving and why she enjoys this niche market of fashion design
[16:55] Overcoming intimidation while networking in your niche market
[24:26] Learn to understand the "no's" you receive in fashion design
[32:55] The importance of marketing to the right people
[42:28] Navigating through the 4 P's in fashion marketing
[56:51] Keeping your brand fresh and examining buyer/wearer demographics
[1:03:24] Here's a tool that helps gain your brand exposure
---

---
Networking doesn't have to be intimidating! Use these tips to secure great connections
Networking in the fashion industry shouldn't feel like a burden. It should always be about connecting passionate people to others in a shared community. You can leverage people and their extensive knowledge without taking advantage of them, and reaching out with questions could lead to career-changing conversations.
Robyn shares main tips for networking success on this episode. Here they are!
Do your homework on potential contacts
Be prepared and respectful when initiating a conversation
Focus your questions on one specific topic – not the entire industry
If you receive a "no" or "not right now," understand the reasoning behind that decision
Fashion marketing is about 1 thing – communicating with the right customer
The goal at the heart of fashion marketing is communicating your brand's message and products to the right buyer at the right time. Robyn encourages all fashion designers to be laser-focused on the right type of customer. She explains, "If you market to everybody, you'll miss everybody."
Many fashion designers fear missing out on sales if they have a target audience that's too focused. But that belief simply isn't true! Robyn believes that "When you meet a customer's need beautifully and better than everyone else, the result will be more business than you know what to do with!"
Don't fall into the trap of creating products for every demographic in every size. Learn from Robyn's extensive experience and develop your targeted fashion marketing strategy. Check out this episode for all the details.
Here's how to navigate the "4 P's" in fashion marketing
Defining the "4 P's" in fashion marketing for your brand will give you a launchpad for future marketing initiatives. Robyn shares a few key ideas on each of the 4 and wants you to understand them. Check it out!
Product – Understand what your market is looking for regarding trends and functionality
Price – Know that overpricing and underpricing are two sides to the same dangerous sword. Know the value of your product and price it accordingly – people will want to pay!
Position – Your position establishes the image/identity of your brand in the minds of your customers. Encouraging your buyers to be educated in the eco-conscious decisions behind your products or the fair-trade practices are all part of positioning.
Promotion – Promotion answers the question, "How will you spread the word about your brand and your vision?"
Consider buyer vs wearer demographics to increase sales and keep products fresh
Continuing with her belief that no brand can serve the needs of every customer, Robyn wants every listener to consider buyer vs wearer demographics when designing. She points out that the wearer isn't always the buyer (for example, grandparents purchasing clothing for a grandchild), and that special considerations in marketing and design need to be made accordingly.
Rotating through various fabrics, colors, cuts, etc. will keep your products fresh in the eyes of buyers. Local boutiques are always searching for new and exciting pieces – your brand needs to evolve as buying interests shift. To hear more about how to keep your products on the racks, be sure to listen to this episode of The Successful Fashion Designer podcast.
Resources & People Mentioned
Connect with Robyn
Save this "SFD058: Navigating the '4 P's' of Fashion Marketing and Overcoming Networking Intimidation, with Robyn Spady" episode to Pinterest so you can find it later!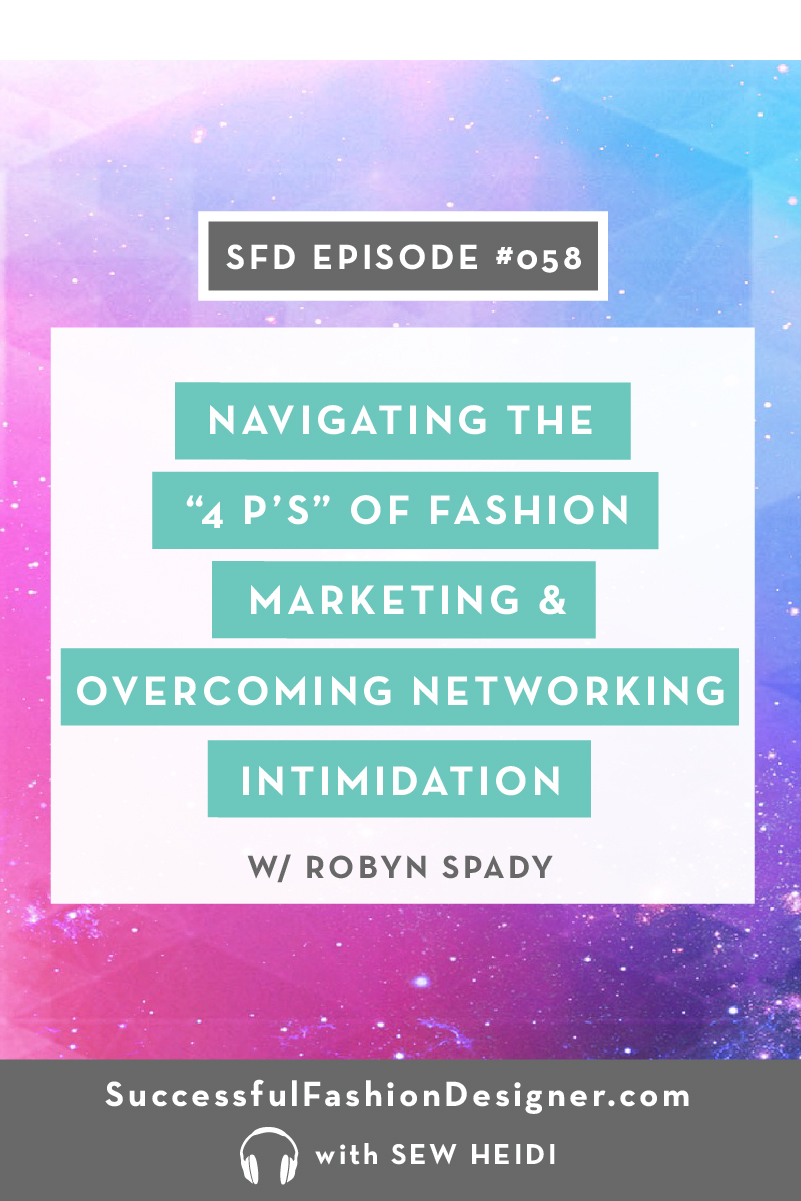 Subscribe to Successful Fashion Designer on
iTunes, Stitcher, Google Play, YouTube or Spotify