Kimberly Ponniah didn't take the typical route into the fashion world. Yet through grit and perseverance, she went from knowing almost nothing about the industry to running a successful fashion design business. She now works full-time designing her own line of accessories, Wild June.
Through years of experience, Kimberly learned how to use festival vending and more to grow a fashion brand from the ground up. From the euphoria of a successful launch to hating her business, she has been through highs and lows. Now, she's sharing what she learned with you.
In the interview (which you'll love), we will cover:
How Kimberly got started in her fashion design career
What she did to make her first-ever festival a success
What it's like working with factories as an unknown designer
How Kimberly dealt with a factory that couldn't deliver on its promises
Kimberly's sink-or-swim moment–and how she managed to make the most of a product disaster!
How she used exposure at festivals to build her customer base
How Kimberly funded the early years of her fashion design business without burning out
What she learned from her experiences with trade shows, wholesaling, and working with a showroom–and what she wishes she had done differently
How Kimberly missed out on her dream account–Twice!!
How WildJune has evolved to earn 5X the income
The most valuable resources Kimberly relied on as a new fashion designer
And more!
Press the orange play button below to listen here, or listen on Apple Podcasts:
---

---
FROM BUSINESS SCHOOL TO THE BUSINESS OF FASHION
Kimberly didn't grow up dreaming of a career in fashion design. In college, she studied business. But she never quite fit in. After she graduated, she realized she'd chosen the wrong major. When she started traveling and fell in love with India, she knew she wanted to build a career that would let her spend more time there.
In 2011, after a lot of research and some fateful advice from a business advisor, Kimberly decided to start her own line of belt bags. Since she didn't have any background in fashion, she knew she would need help. She started with an ad on Craigslist for a technical designer. That's how she met Liz, who became an invaluable advisor and friend. Liz helped Kimberly learn the ropes and plan for the ups and downs of starting out as a new fashion designer. Together they finalized Kimberly's designs and put her very first sample run into production.
Kimberly quit her job and let go of her apartment before she even received the first shipment of her new accessories. The day she received her products, she barely looked at them before putting the box in her car and driving ten hours to set up as a vendor outside Burning Man. She wasn't even sure she'd be accepted as a vendor!
Kimberly's courage paid off. She was allowed to sell at the bazaar, and that first festival was a huge success. Kimberly sold almost everything she had brought. But getting started in the fashion design business isn't always smooth sailing.
FACTORY FAIL
Kimberly happily returned to India, and spent six months there looking for factories to put her line into production. Finding factories as an unknown fashion designer was hard work, and she had to figure things out as she went. It didn't get easier after choosing a factory. Her first production run was delayed by months. And when it came, things got worse.
Kimberly had put down $7,000–a huge amount to her, yet only a third of the factory's minimum order. And instead of the beautiful belt bags she'd been waiting for, she found herself neck deep in merchandise that was literally falling apart.
She could have let that setback derail her. Instead, she set out to get those belts sold. Not only did she do it, but in the process she even grew her brand's reputation and following. "I was in it for the long haul," she remembers. It was her sink-or-swim moment, and she asked herself, "Am I gonna sink, or am I gonna swim? I'm a swimmer. I'm gonna swim through this."
LEARNING THE HARD (AND HARDER) WAY
At that time, Kimberly was working all kinds of "mindless" jobs in order to support her budding fashion business. She was physically exhausted, but she kept her mind on her business goals. Part of that was making her first visit to the MAGIC fashion trade show in Las Vegas. There she met Roger, the owner of a factory in Indonesia. He could produce her designs at a much better quality—with no minimums. This was a major turning point for her fashion design business. Now she had products that matched quality she wanted to be known for.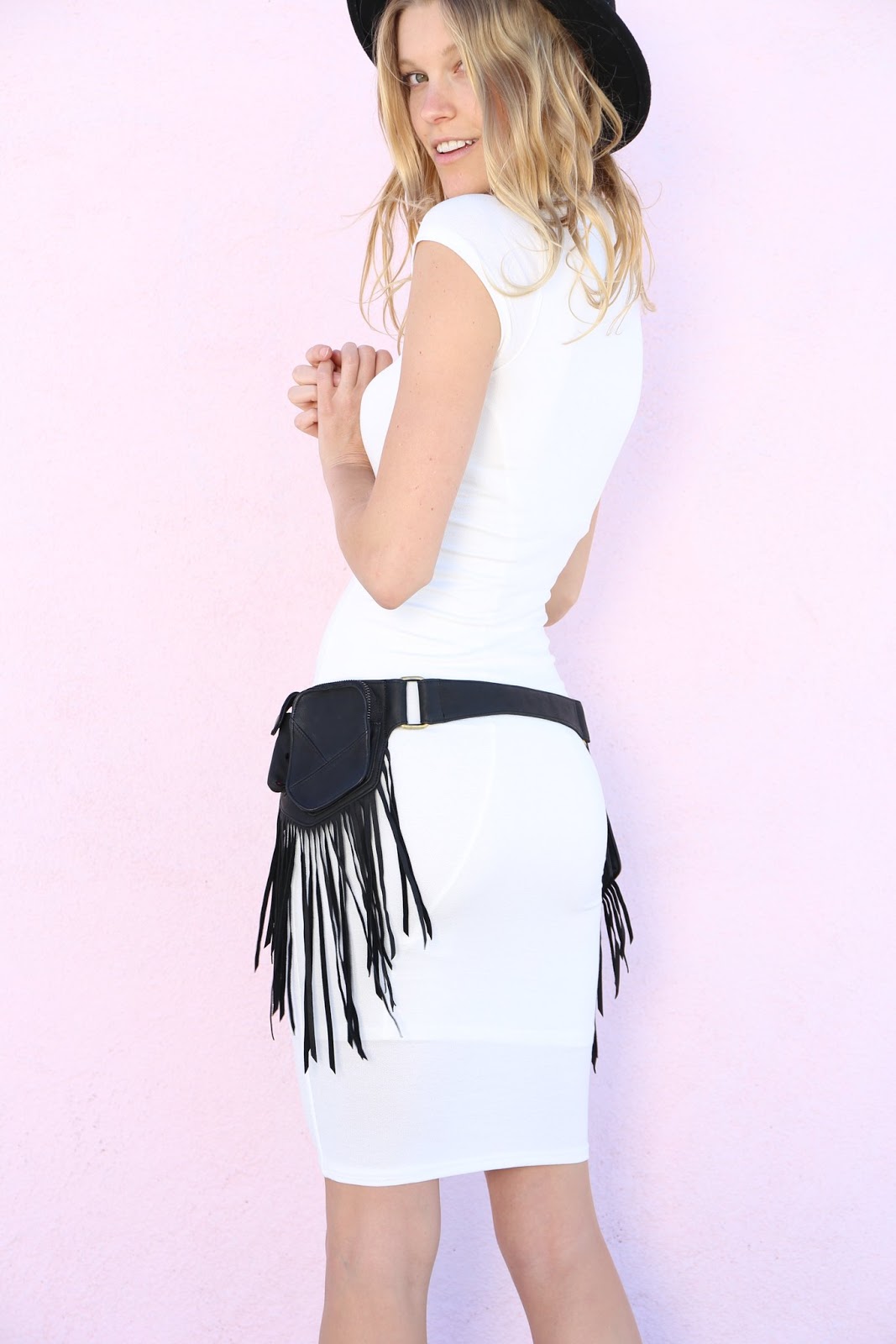 Although she had found a great niche market, Kimberly wanted to grow her business and branch out from the festival scene. She'd been vending at 13 festivals a year and was ready for a change. So, she brought her new designs to another trade show in New York. That show was another big success. Not only did she write a ton of orders, but she was also noticed by wholesale giant ShopBop.
Wholesale was a different animal. Although her belts sold well, Kimberly had to adjust how she did things. There were intense shipping requirements and major price point differences. She learned a lot about designing fashion accessories for production, but she also felt that it took a toll on her business.
When she realized wholesale wasn't the right path at the time, Kimberly decided to work with a showroom. She got in touch with several and was excited to be accepted by her first choice. It was a big monthly expense at a time she didn't even have her own apartment, but she believed it would be worth it. Then she found out there was an even bigger catch: the showroom wanted Kimberly to completely rebrand her business. And they only gave her a month and a half to do it.
As part of her contract, the showroom asked Kimberly to add multiple new designs, new types of accessories she had never made before, create a catalog, and design multiple seasonal collections. But the biggest change was renaming her company. Up to that point, she'd been selling her belt bags under the name Bohemian Hips, but the showroom told her that the name limited her accessories' market. So she reluctantly–and expensively–rebranded her entire company under the name Wild June. When all was said and done she had invested thousands in the process. Unfortunately, the sales from the showroom were nowhere near what she had hoped.
Although she learned a ton about price points, customer needs, and making herself more marketable, Kimberly quickly realized that the showroom wasn't the right fit for her fashion accessory business. She moved on, but it took time for her to fall back in love with her business.
LOOKING FORWARD
Kimberly persevered through all of the setbacks she experienced as a new fashion designer. She had started her journey prepared for years of hard work and no profits, and she made it through. Now, she runs her business full-time–and finally has her own place again! She found a balance with the festivals she attends as a vendor, and has time to be an artist. Looking to the future of Wild June, Kimberly's thinking about trying wholesale again, and even launching a clothing line.
Kimberly is an example of what's possible for new fashion designers who are prepared, determined, and willing to work hard to make their dream a reality. We can't wait to see what she does next!
Resources & People Mentioned
Enjoy the show? Help us out by: