The fashion industry is competitive AF. And while there are a kajillion generic articles out there on "fashion design career advancement"…
All they do is outline roles and salaries from the Bureau of Labor Statistics…
And they're written by "copywriters" who have never actually worked in fashion…
And they're filled with inaccurate industry claims…
(Like one of the top Google results that says entry level designers start out as patternmakers. Patternmaking is one of the most advanced and refined skills in the industry. This is NOT where you will begin. #eyeroll)
These articles do nothing to actually help you advance your fashion career.
So from someone who has 15 years of industry experience, has earned over $100k+, and has helped thousands of fashion designers advance their careers…
I wanted to share some actual real life tips you can implement for career advancement, getting a promotion, and making more money in fashion.
Why The "Fashion Design Career Path" Charts Are Useless
It's impossible to look at a "fashion design career path" chart from one of these generic articles on careertrend.com and get an accurate idea of what your advancement opportunities actually are.
Why?
Because the reality is there are SO few of those opportunities available. The higher up you get, the more competitive it gets.
Here's why:
Similar to any industry, the organization is structured like a pyramid. There are a lot more entry / junior level roles than there are upper management / director / executive positions in the fashion industry.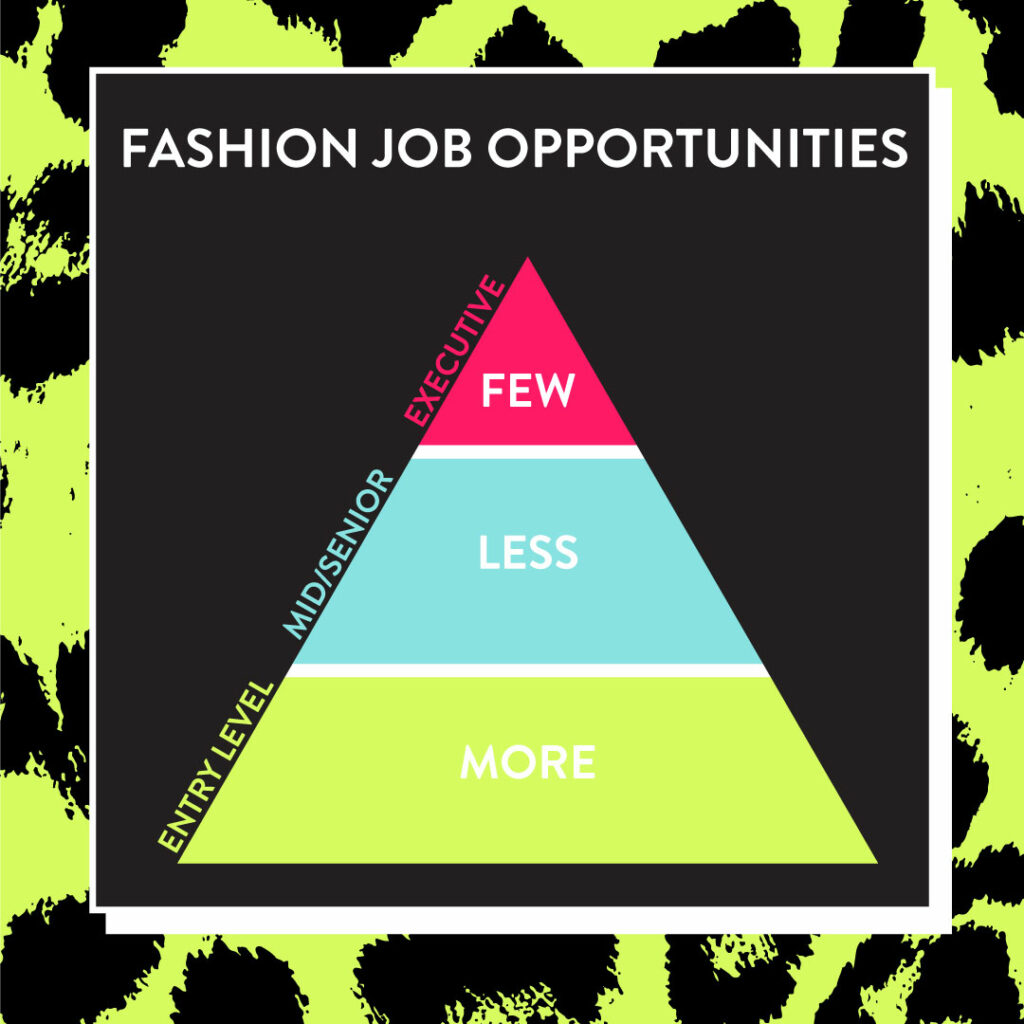 I did a search on StyleCareers, the fashion industry's #1 job board. At the time of writing this article (April 2022), here's what I found.
52 "entry level" apparel / fashion design job openings
11 "mid to senior management level" apparel / fashion design job openings
And an abysmal 0 (ZERO!!!) "executive" apparel / fashion design job openings

So when it comes to getting those coveted higher up roles, it's really, REALLY, REALLY hard.
Now I realize that a lot of higher up jobs are not listed, but instead are secured through a professional network or hired internally.
But either way, there are very few opportunities for advancement. Many designers spend 5-10 years in an assistant / associate fashion designer role until they eventually age out and leave the industry.
If you're just getting into fashion, or you want to advance your career, chances are it's not going to follow that dreamy path that careertrend.com sold you.
A smooth sailing trajectory from assistant designer to associate designer to junior designer to head designer to design director over the span of 7-10 years hardly ever, EVER happens.
So what can you do instead? I'm not here to just poop on your parade and tell you it's impossible to advance your fashion design career.
You sure AF can have amazing advancement. It's just not through the traditional path of working your way up the corporate ladder while putting in a grueling 60-80hrs a week in a toxic office and forgetting what your family looks like.
So, How Do You Get A Better Job (And A Promotion) In Fashion?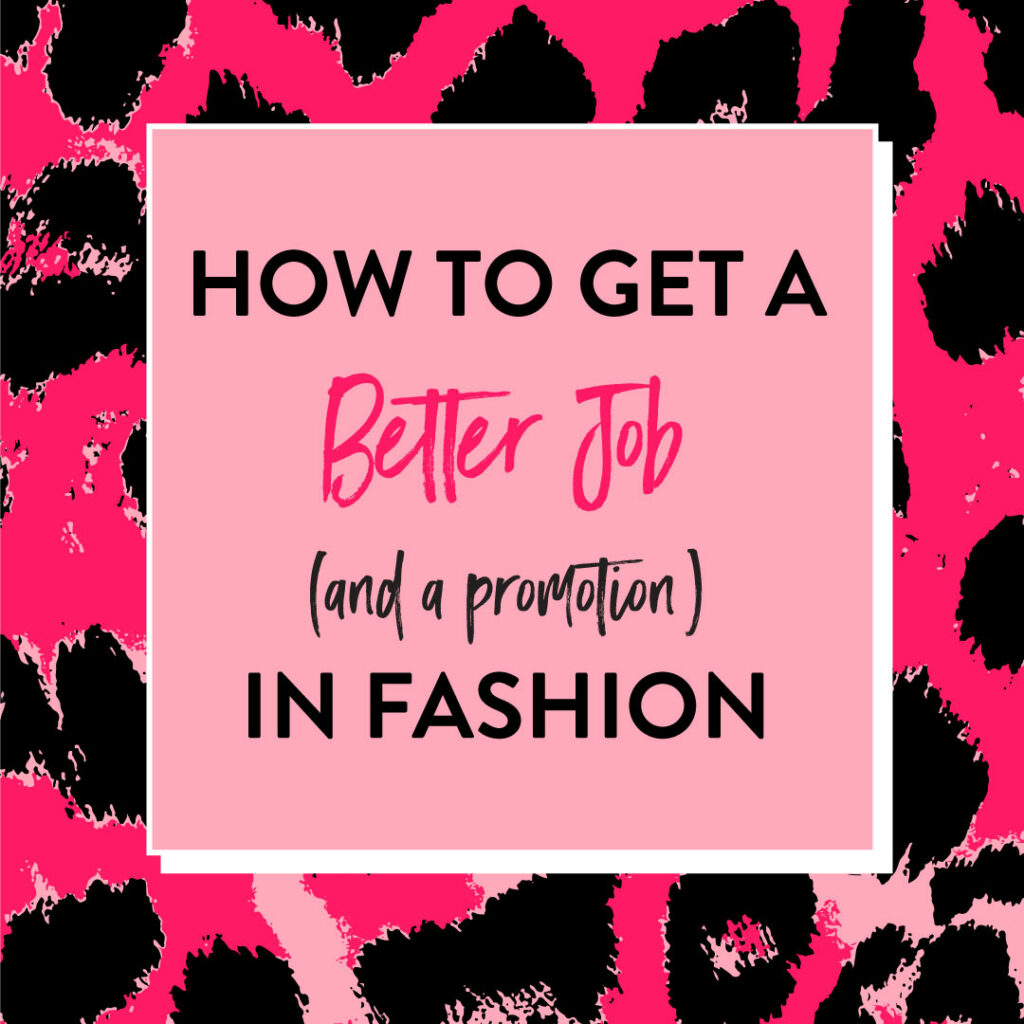 The best way to get a better job (and make more money) in your fashion career is by becoming a freelance designer. It's the only way YOU can give YOURSELF a promotion.
Now, I'm not talking about abusive permalance "temp jobs" disguised as freelance jobs. You know, jobs you find on StyleCareers that look like this: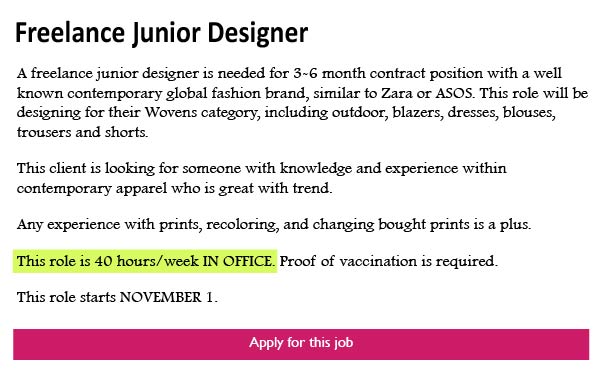 I'm talking about true remote freelancing where you work with a variety of brands you love and set your own schedule.
It's your best option for your fashion career advancement (no matter where you live).
I know this from my own experience, earning $100k+ a year as a freelancer without a fashion school degree. (While living in Denver, CO – hardly a fashion hub.)
I also know this from the experience of the ~500 students inside my premium program, Freelance Accelerator: from Surviving to Thriving (FAST).
Like FAST grad Mari Medina, a Puerto Rican sweater designer who said buh-bye to her corporate gig where she wasn't getting ahead and started freelancing for brands she actually cared about. Bonus points is her newfound flexible schedule to raise her newborn daughter. Talk about #owningyourfuture!

Like FAST grad Alexandra Agreda from Pennsylvania, a fashion school dropout who left her abusive full-time industry job and now earns more in one day of freelancing than she did in 2 weeks working for a brand. She had started to hate the industry, but freelancing helped her fall back in love with the work she was so passionate about. Talk about #careeradvancement!

Like FAST grad Alison Hoenes from Missouri who earns 75% more as a freelancer than she did in her full-time job. With only a couple years of experience, she kickstarted her freelance career as a patternmaker and is absolutely crushing it. She's booked 3+ months in advance, and best of all, she loves the variety of clients she gets to work with. Talk about #movingonup!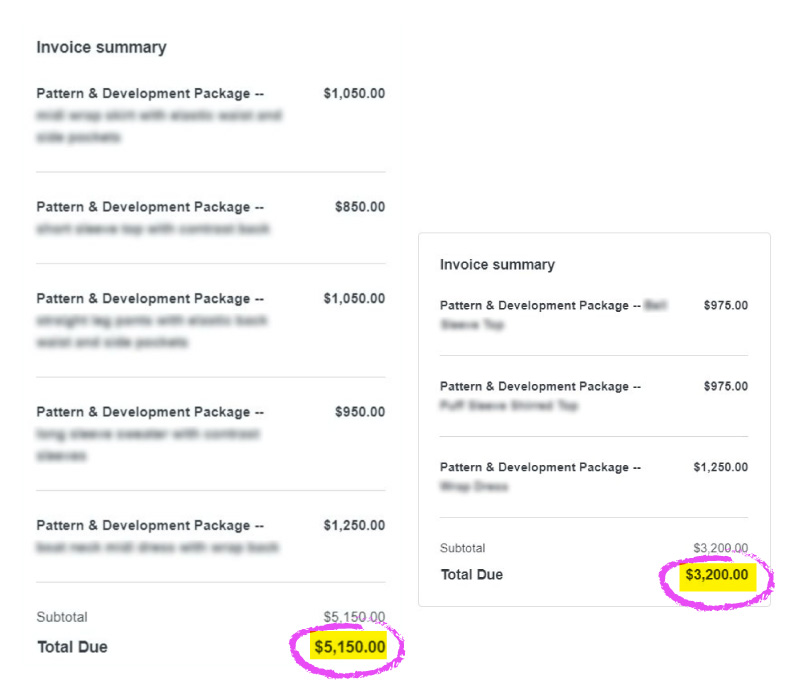 Do You Need Additional Training Or Further Education To Advance Your Fashion Career?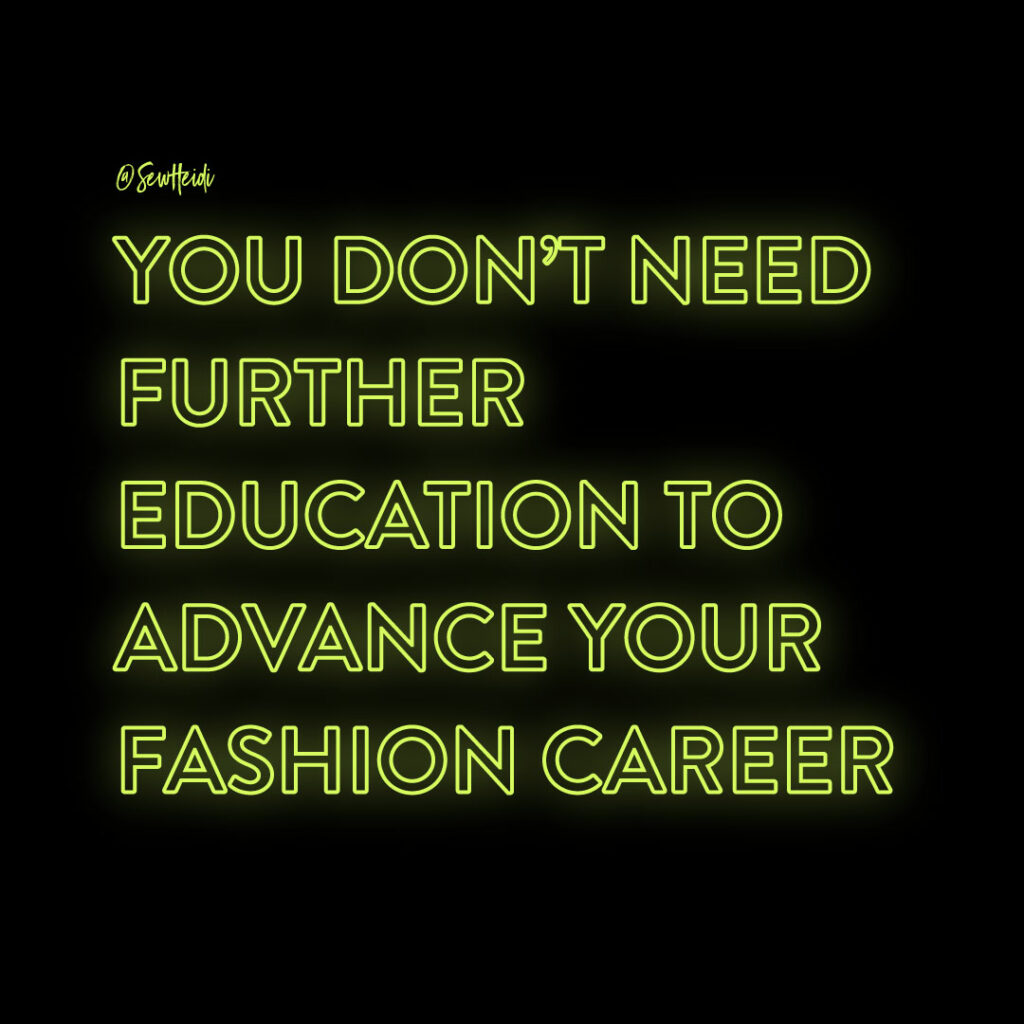 You don't need to pursue additional training or advanced education to move your career forward. There's no need to get an expensive master's degree or go back to college.
If there are certain skills you want to learn, online courses can be great. But as a freelancer, there is no requirement to pursue further education.
I guarantee that no client will ever ask you "what degrees do you have to qualify for this role?" It just won't happen.
The truth is, you can make a lot of money as a fashion freelancer with just one service.
Most people think as a freelancer, you have to know all the things and have all the skills. The opposite is actually true.
Fashion freelancers who specialize in one category or one service get ahead much faster.
Like Eleni from Greece, a FAST grad who exclusively does tech packs. She works part-time (because she wants to) and consistently earns $3000-$4000 a month. That's about 4-5x the average wage of a full-time fashion design employee in Greece. Best of all? She started her freelance career without any "real" industry experience.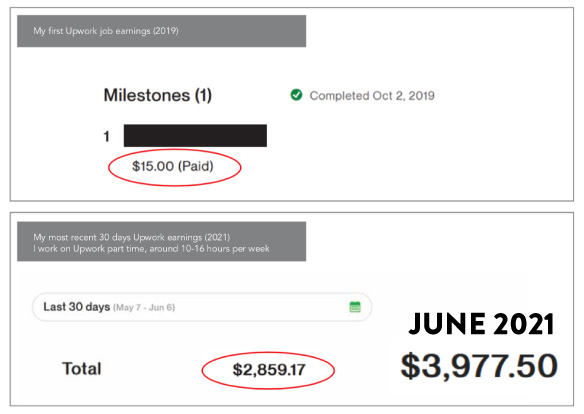 Curious what your freelance service could (or should) be? Our free Niche Finder will help you figure it out.
Freelancing Is The Best Way For Fashion Design Career Advancement. You'll Get A Promotion Too.
Freelancing is accessible to way more people than full-time jobs. It's also how you make the most money. Jobs are competitive and many offer low salaries. When you add in the fact that you'll be working 60-80+ hrs a week, your actual wage is not that great.
As a freelancer, you get to set your own rates and have unlimited earning potential. Your fashion salary can be whatever you want it to.
But beyond this, freelancing is a great way to advance your fashion career because…
There Are A Lot Of Freelance Opportunities In The Fashion Industry
Most people used to think "freelancing" in fashion was pretty uncommon, especially before the pandemic. It's always been possible – my career started back in 2009, and many designers in our SFD community built successful careers before March 2020. It just wasn't something people talked about.
But since Covid, things have changed. There is so much more opportunity to work as a freelancer in fashion, and there are 2 big reasons why.
Brands are more open to remote work and they learned that hiring freelancers is less risky than full-time employees
There are more startup brands (a lot of designers who were let go said, "screw it, I'm not working for someone else again, I'm finally starting my own brand") that need freelancers.
There is a lot more opportunity for career advancement as a fashion freelancer than working as an employee. And you get so many more benefits – like working with a variety of brands you love, setting your own schedule, and unlimited earning potential.
So if you want to advance your fashion design career…
And give yourself a promotion…
Without pursuing further education…
The best way to do it is as a freelancer.
YOU GOT THIS!!!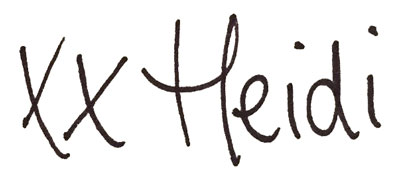 xx Heidi