Many of you have loads of Q's about working in fashion…and I know it can be hard to find answers. Maybe you don't know any industry experts to ask. Maybe your coworkers are tight lipped and not willing to share their secrets. Maybe you just don't even know where to go. Which is why I'm excited to be back with another mailbag episode to give you fashion design career advice.
Once a month, I answer your Q's on the Successful Fashion Designer Podcast. This month, I'll be giving my best advice on industry terminology (samples vs prototypes), made to order fashion, trend research jobs, and textile design.
(If you want to submit your Q, email it to me anytime at podcast [at] sewheidi [dot]com for consideration.)
Here are the fashion design career advice questions I answer in this mailbag episode!
On the difference between prototypes and samples, from Samari [01:36]:
I was interested in knowing what is the difference between a prototype and a sample?
On how to break into fashion if you don't have a design background, from Antonio [07:08]:
I currently have a bachelor's degree in business and a year of work under my belt as a buyers assistant. I wouldn't say I have a background in design but I do draw very often especially on my iPad and just started learning Adobe Illustrator with the help of your videos. Do you think it would be worth it to go back to school for fashion design. I find I am not qualified for the design jobs I want and I am not sure how to get in the industry without a design background.
On getting a job as a trend forecaster, from Stamatina [10:18]:
I have an idea and wanted to know your opinion/feedback.
How amazing would be if I can find a job that is trend forecasting? Of course, I do love designing and I am getting ideas for my portfolio but I think ultimately – trend forecasting would be the next big thing I would love to do. I am trying to google information, and the requirements and even if companies are hiring. It's not so easy to find as, there are companies who do this specifically out there and are worldwide.
Could you offer any feedback?
On creating a "made to order" fashion brand, from Breanna [13:31]:
My name is Breanna and I am the owner and designer of Bre Nikole. I design pants for tall women, or at least I want to.
I'm struggling to find a manufacturer/cut sew factory as well as funding for production. I've building my brand for some years and I'm ready to put product out. Until I have the right funding, I was considering doing "Made to Order". What do I need to consider for myself and customers when doing "Made to Order"?
On learning textile design, from Karly [18:25]:
I subscribe to and love your podcast! And I signed up for your Illustrator class, but can't seem to find the time to learn it.
A little about me:
I am a working mom with you 2 baby boys…. I run a brick & mortar family business in which my favorite part is that I have fairly high end coastal boutique. I recently launched a website which I am growing slowly due to the fact that I am a one woman show who does everything myself. I am also "an artist" with lots of creative energy that I don't always get to use. My dream has always been to launch my own label that I can sell in my boutique and on the website. I want to design my own prints to digitally print. I find myself always wanting to take a first step towards this, but not sure what to do. Must I first learn Illustrator so that I can design my prints myself, or is there a way around this? I am considering hiring a consultant like I heard on one of your podcasts to help me get started, do you think this is a good idea? I have zero time, but feeling like I need to follow my dream asap!
Thank you for reading and THANK YOU for all that you do to support all of the people with fashion dreams!!
---

---
Resources mentioned in this episode:
If you enjoyed this episode and have questions you want answered, email them to podcast [at] sewheidi [dot] com for consideration. I'll pick the best ones and include them in the monthly mailbag show.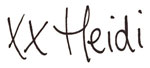 Save this "Mailbag Episode" to Pinterest so you can find it later!