Questions about your free downloads? Find answers here!
Thanks for understanding that I'm unable to provide personalized answers to questions for free downloads. So to help you out, I've answered the most common ones here!
(Psst! If you want help with freelancing in fashion, the best (and only) way to get that is by enrolling in Freelance Accelerator: from Surviving to Thriving (FAST).)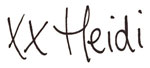 ---
Q: What software do I need?
A: Most of our free downloads are for use in Adobe Illustrator.
---
Q: How do I unzip the file?
A: On most computers, all you have to do is right click on the zip file and select "Extract" or "Extract All." Most computers will allow you to choose where the extracted files will be saved. If this doesn't work, just Google "how to unzip a file" and the type of computer and operating system you're using.
---
Q: The file won't open. What can I do?
A: Ensure you have downloaded the file directly to your computer, not to a smart device or dropbox. Also double check that the computer you're using isn't blocking downloads and has the necessary program (like Adobe Illustrator or Microsoft Excel) installed. If you're still having trouble, shoot us an email at learn (at) sewheidi (dot) com and we'll send you a link to download the resource again. Most of the time, that fixes the problem!
---
Q: How do I do this [specific thing] in Illustrator?
A: Due to the massive number of questions we get, we aren't able to give individual help with Illustrator outside of our courses. However, we have over 100 free tutorials from just getting started to creating technical sketches for production, and everything in between. If you want more support, check out our premium courses and get on the waitlist!
---
Q: How can I get Heidi to review my portfolio, resume, or collection?
A: While we love seeing the work you're creating using the free resources and courses, unfortunately I'm not able to give individualized feedback on portfolios or other work. If you've already used the free Ultimate Guide to Creating your Fashion Portfolio, we suggest reaching out to another contact in the industry, such as a former coworker, fashion school friend, or someone else you respect in your network. And don't forget to pay it forward and help out others in the industry, too!
---
Q: Can I use the Illustrator files in [some other software]?
A: While AI files may open in other software, we don't recommend or support their use outside of Illustrator. We teach our courses in Illustrator because it's the industry gold standard for vector fashion illustration and technical sketches!
---
Q: Do I need a tablet, Wacom, or other special equipment?
A: Nope! Both our freebies and our premium courses are taught with just a regular computer, mouse, and keyboard! But if you prefer to use Illustrator on another device, you can.
---
Q: What if I don't see my question here?
A: If you have general questions not shown here, send us an email at learn (at) sewheidi (dot) com. Please note we are not able to reply to every email or give advice on your personal situation.
---