It's not often we literally go this far behind the scenes of the fashion industry on the podcast. But when the Outdoor Retailer trade show landed in my backyard (Denver), I knew I had to show up with my recorder to capture impromptu podcast interviews.
Now, if I'm honest, doing this made me pretty anxious…
You see, schmoozing in real life makes me uncomfortable. In fact, it's one of those things I often dread for weeks beforehand. I've gotten so used to working from home and doing conference calls that my "in person networking muscle" is atrophied.
And walking up to complete strangers on their turf (their trade show booth) gives my nerves a good shake.
But you know what happened? It was a blast and I'm thrilled I did it. People were excited to tell their story, share their fashion industry insights, and talk about how the OR trade show was going.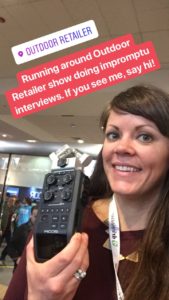 In this Successful Fashion Designer podcast episode, I compiled these trade show floor interviews into one "mixed tape" episode. You'll meet some amazing people who share their stories and insights on:
How brands are dealing with retail vs wholesale as the industry shifts and product distribution leans towards direct to consumer
The importance of respecting your retail partners to create a better landscape for everyone
Hard lessons learned after decades in the industry
Why finding or creating the right partnerships can make or break your success
Using apparel as a canvas to support urban artists and charitable causes like lymphoma and leukemia
How technology is being used to break down workplace gender barriers
Here are the 7 wonderful people you'll meet in this episode:
These interviews were SO fun to conduct and even more fun to edit together into one amazing segment. I hope you enjoy meeting these awesome people and getting a behind the scenes peak into different brands from the Outdoor Retailer trade show. Watch for another "trade show floor" episode coming on 2/26, I've got two more interviews from OR to share with you 🙂

---
Enjoy the show?
Help us out by:
Save this episode to Pinterest so you can find it later: